Wherever you and your loved ones will be for the holidays, why not pay a visit to a special exhibition at an art gallery? Luxury Defined reveals five unique opportunities to immerse yourself in beauty and artistic stimulation.
1. An Atlas of Mirrors – Singapore Biennale
Simultaneously represented at eight different galleries and arts venues throughout the republic's cosmopolitan capital, this major endeavor brings together contemporary works across an interconnected series of nine "conceptual zones." Each represents a different take on concepts and ways of seeing that locate the curated works within particular contexts, ranging from a focus on myths, "cyclical time, and ahistorical realities," at the Singapore Art Museum, to notions of memory and cultural identities, split between the SAM at 8Q gallery and the Peranakan Museum.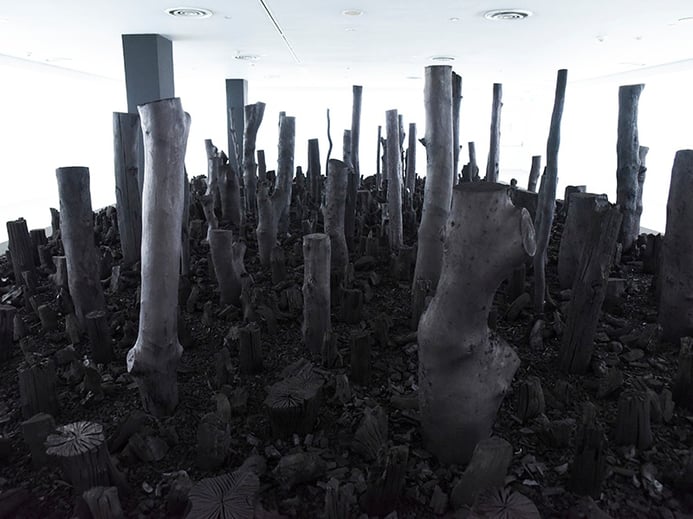 Billed as "a constellation of artistic perspectives," the festival features 63 artists and art collectives in all, drawn from across Southeast Asia, and the East and South Asia regions. Among the more evocative sub-themes are "A Presence of Pasts," tackling Singapore's colonial history, and "A Breath of Wills," looking more broadly at the self and the other, and "sites and voices of resistance." As so often with large-scale contemporary arts events, the key is to become immersed in whichever element first presents itself as interesting – and then go giddily with the flow, wherever it may lead.
The Singapore Biennale runs until February 26, 2017
2. American Painting in the 1930s – Musée de l'Orangerie, Paris
In addition to the fine permanent collection of mostly Impressionist works, and the centerpiece – Monet's exquisite self-designed Water Lilies spaces – this exhibition makes the little gallery by the Seine a must-visit for anyone in the French capital over the holidays. Mounted jointly with the Art Institute of Chicago, "American Painting in the 1930s" sees, not least, Grant Wood's iconic and much referenced American Gothic displayed in Europe for the first time.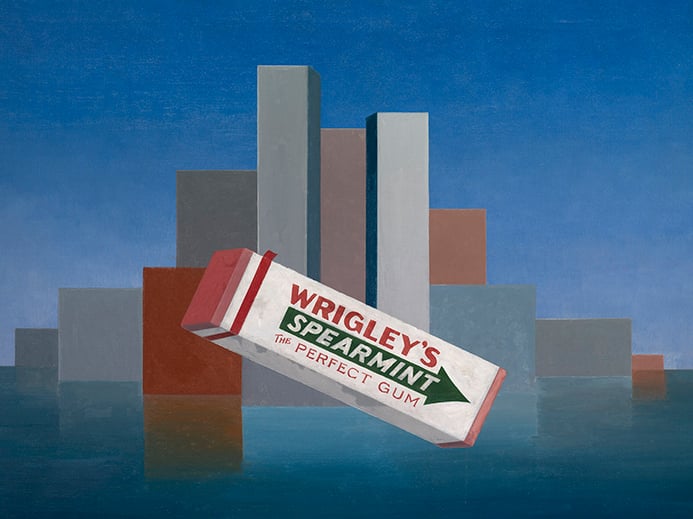 In turning its focus on "The Age of Anxiety" when the United States was plunged into turmoil by the Great Depression, l'Orangerie offers a challenging and eclectic collection, ranging from portraits to true Surrealism. Offering a keen, at times visceral social commentary, the exhibition in places makes for uncomfortable viewing. Besides Wood's masterpiece, other standout works include his deeply satirical Daughters of Revolution, Georgia O'Keeffe's Cow's Skull with Calico Roses, the hard-hitting American Injustice by Joe Jones, Wrigley's by Charles Green Shaw, and two works by that realist master documenter of American isolation, Edward Hopper – Gas and the irresistibly narrative New York Movie.
"American Painting in the 1930s" runs until January 30, 2017
3. Liliane Blom: Pink – A Cherry Blossom Fantasy – VisArts at Rockville, Washington DC
Located to the northwest of Washington DC and easily accessible from the US capital, the city of Rockville, Maryland, is home to a thriving local art scene. At the epicenter of this is the VisArts gallery. Within, its Kaplan gallery space has currently been transformed by Rockville-based multi-media and installation artist Liliane Blom into "an immersive dreamscape of floating cherry blossoms, sound, video and digital paintings" – a joyfully interactive installation for all ages, with more than a touch of the Land of Oz.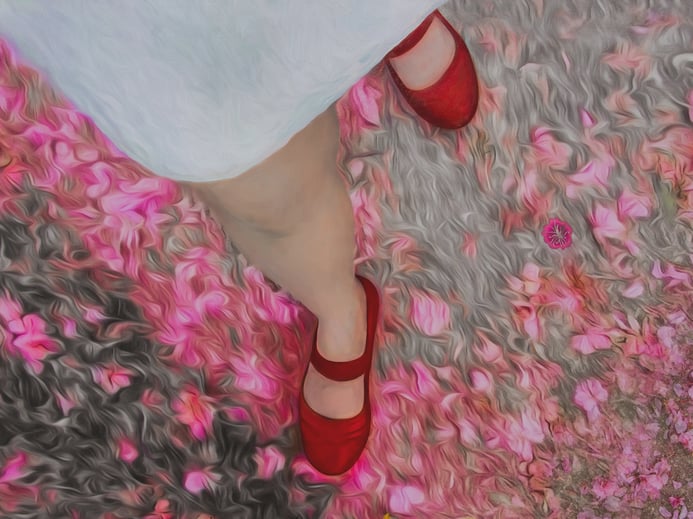 Of French/Norwegian extraction, Blom is a frequent exhibitor in the Washington area. She was classically trained as a painter and is also an award-winning photographer. For "Pink – A Cherry Blossom Fantasy," she has employed her technique of combining both media in digital paintings, printed on canvas or watercolor paper and then enhanced with oils and pastels, and sometimes additionally with gold and silver leaf. It is Blom's stated intent to "attempt to bring the vastness and beauty of the outdoors indoors through multi-sensory experiences" – specifically, for this event, "the spring into the winter." Enchanting.
"Liliane Blom: Pink – A Cherry Blossom Fantasy" runs until January 15, 2017
4. Fábio Baroli: Matuto. Matreiro? – Baró Galeria Jardins, São Paulo
With his detailed, near-photorealistic style and focus on modern daily life in his home country, young Brazilian artist Fábio Baroli has established a reputation for capturing the reality of the nation's working class. Its title roughly translating as "Provincial. Crafty?," his current exhibition in the most populous city of South America brings together a collection of oils on canvas. The pieces range from storytelling portraiture to rewardingly convoluted street scenes, plus studies of that ever-present feature of the bucolic world, domestic fowl.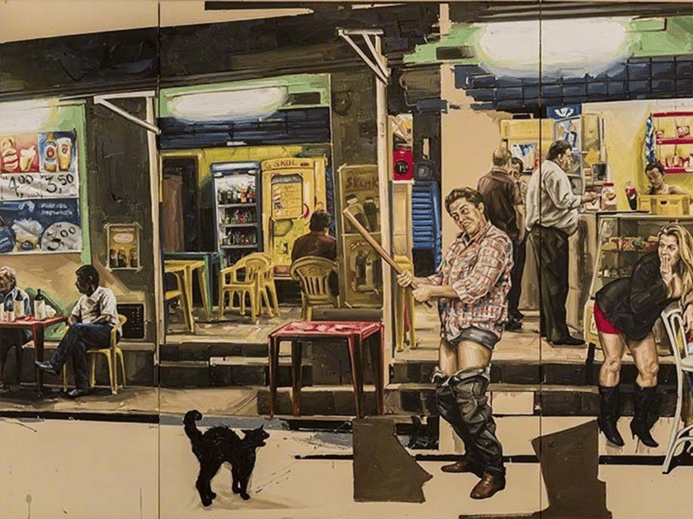 One highlight, Não mexo mais em gato (I Do Not Love Cats Any More) – depicts a man, not necessarily the artist, engaged in a comical standoff with a hostile street feline, outside a low-rent bar for locals. His open pants have slipped down around his thighs and he wields a makeshift weapon, yet the spectacle is ignored almost entirely by surrounding drinkers. As an evocation of late-night life in the less considered corners of a vast metropolis, this seems hard to beat.
"Matuto. Matreiro?" runs until January 14, 2017
5. Beyond Caravaggio – The National Gallery, London
In terms of artistic recognition – within their lifetime and for today's masses – a select few compete with Michelangelo Merisi da Caravaggio. His alone, though, is bloody infamy. Dead at age 38, traveling to the Pope in 1610 to be pardoned for murder, the hothead master of chiaroscuro, or "tenebrism," left no studio or pupils, but – as testified here – many disparate followers, including Valentin de Boulogne and Matthias Stom, plus a formative influence on Baroque painting.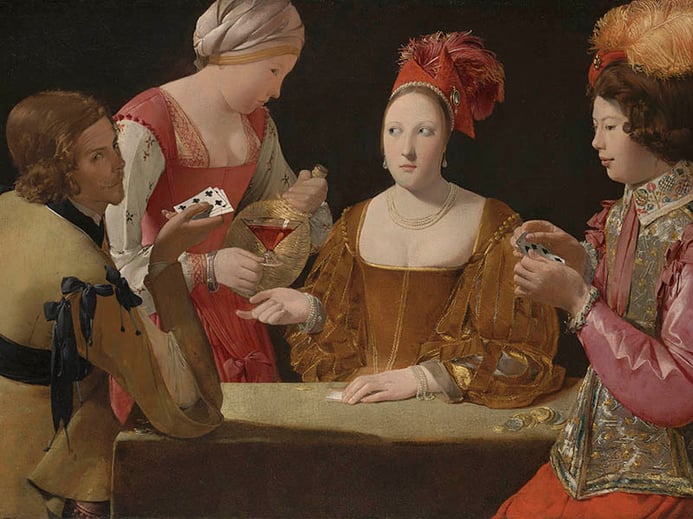 A handful of Caravaggio's works – among them the endlessly absorbing The Taking of Christ – are displayed in themed rooms, the aim being to illustrate how his ideas and style were carried forward, by the "Caravaggisti," throughout the 17th century and beyond. Thus, though no known Caravaggio painting features a candle, naked flames beget the crucial shadows in many of the exhibited works. Likewise, his own venerated Cardsharps (head northeast to the Museum of the Order of St John to view a disputed copy) has led to a near sub-genre of paintings by the likes of Georges de la Tour (pictured).
"Beyond Caravaggio" runs until January 15, 2017