From Albania to the UK, Mexico to Saudi Arabia, countries from six continents are participating in the first London Design Biennale, each presenting specially commissioned works in contemporary design, innovation, creativity, and research. Each piece responds to the biennale's 2016 theme "Utopia by Design," exploring social equality, sustainability, migration, water, and pollution. Director Christopher Turner explains: "We chose the inaugural theme, Utopia by Design, to celebrate the 500th anniversary of Thomas More's classic tale Utopia, and to reflect on the rich history of modern design it inspired. Design teams from over 35 countries will exhibit ambitious installations that explore how architecture, design, and engineering might contribute in some way to making the world a better place and our cities more livable."
Here's what caught our eye:
ALBANIA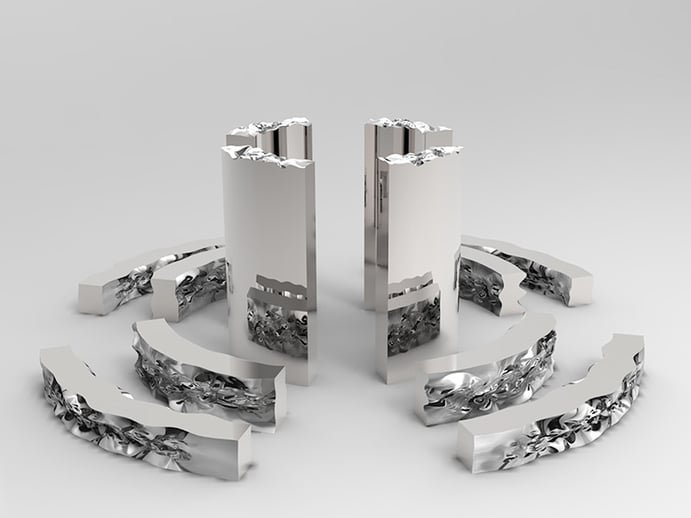 French philosopher Louis Marin believed that every political system was haunted at its center by utopia, an unconscious and repressed dream of better that occasionally returned to disrupt the present. Albania's design team, led by Helidon Xhixha, took inspiration from Marin for his Bliss sculpture, which greets you as you enter Somerset House. A circular arrangement of steel benches and columns that "surrounds" an empty space, the installation was designed as a place of self-reflection, and also somewhere to rendezvous with others.

FRANCE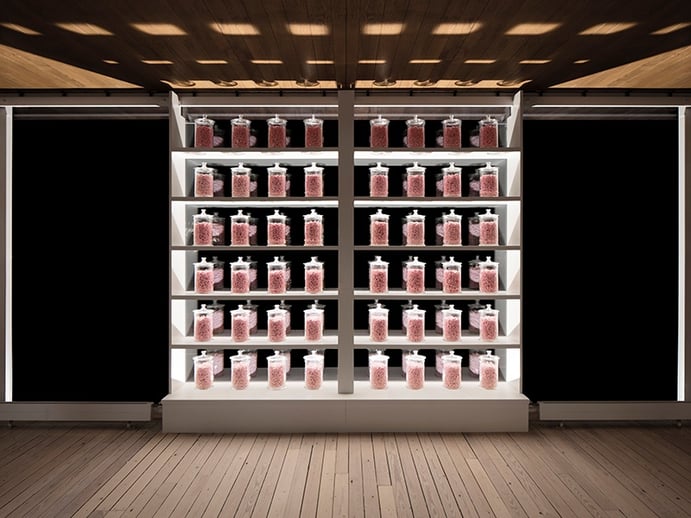 What do pink sweets have to do with the Syrian refugee crisis? When France's Benjamin Loyauté visited a Syrian refugee camp in Lebanon, he took pink sweets which he handed out to the people he met, while talking to them about their experiences. The Astounding Eyes of Syria, the film he made during his visits, lies somewhere between fiction and documentary. A vending machine within the installation space sells the candy, with proceeds going to help Syrian families and refugees and to help preserve the country's cultural heritage.
ISRAEL

Israel contributed two socially focused projects as part of its Human.Touch installation, to showcase how design can impact positively on society and human need. One of its ideas –Aid-Drop by Yaniv Kadosh – shows how much needed supplies could be air dropped in cardboard helicopter-like vessels. The other – Sharona Merlin's Louder – is a set of speakers for deaf people, which are designed to be stepped on, sending vibrations of sound through the body. Both projects aim to position "designers' power as activists," demonstrating how design can improve people's lives.
MEXICO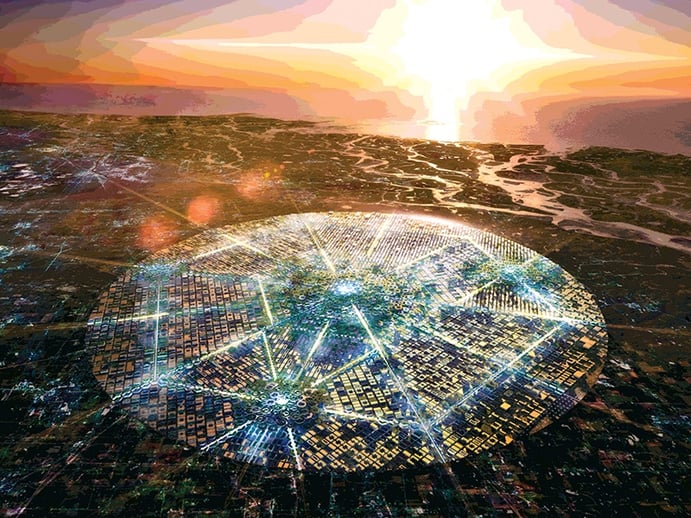 Human geography students will tell you there are two main urban typologies: the radial star shape, where streets emanate from a central point, or the grid of regular, identical blocks. Fernando Romero, of Mexico, adds a third option with his Border City. His hexagon design is intended to be easily replicated, making it ideal for developing communities, or those in a "border situation."
NETHERLANDS

An ethereal blue glow at the end of one of Somerset House's corridors draws you to the Netherland's contribution. Design Diorama: The Archive as a Utopic Environment is an installation of memorabilia, objects, and products sourced from the home of architect Rianne Makkink and designer Jurgen Bey. The foam diorama aims to showcase the narrative power of objects and "index their relations to the world." "The most interesting aspect of Thomas More's Utopia is that it doesn't actually exist," say the diorama's creators. "The relates to the way that dioramas represent reality. The diorama must show a perfect world in order to be believable, but that perfection creates an environment that is totally unreal."
SPAIN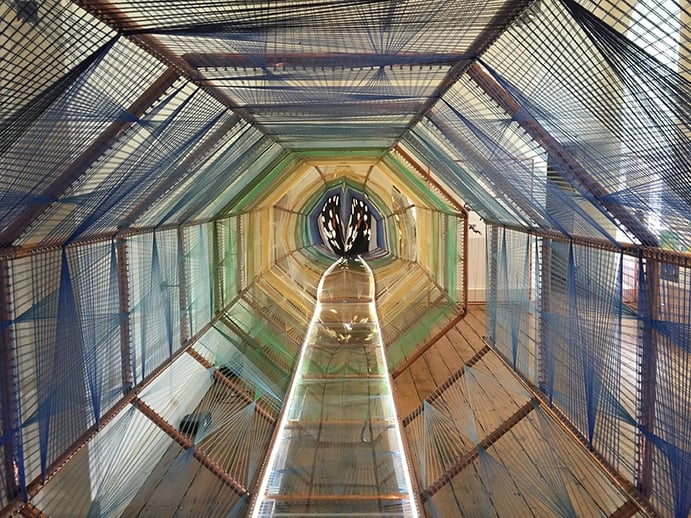 Spanish team Dimeloami Productions imagined what a Spanish city might be like 100 years from now, in VR Polis, Diving into the future. Visitors to the Spanish space in Somerset House are greeted by a woven "magic time tunnel", the work of architect Maria Levene. "It's a time tunnel, a worm hole, an invitation to the future," she comments. Walking beyond the "worm hole" you are presented with virtual-reality headsets, which offer visions of an interactive floating city you can navigate your way around. The design team chose Santander as its Utopia as a nod to the fact that the city is a test bed "smart city" – thousands of sensors placed around the city center monitor air and noise pollution, ambient light, and traffic levels.
TURKEY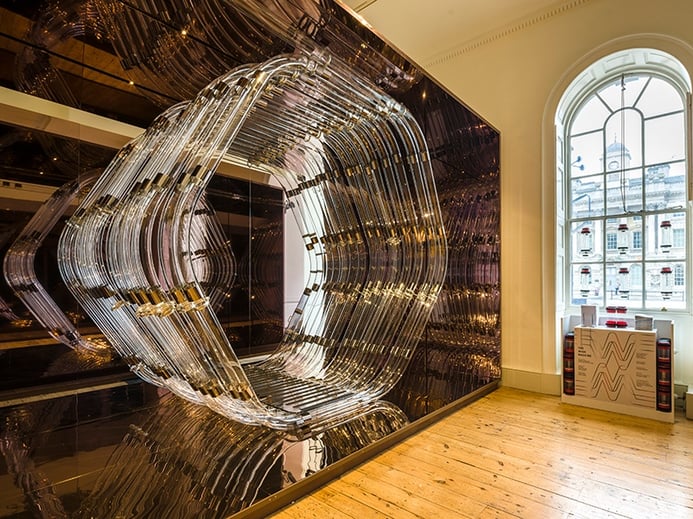 Turkey's The Wish Machine is an interactive installation that invites visitors to write down their wishes for a future utopia. These are then folded up and put into a hexagonal tube. The notes are then propelled along the cylinder, which forms a tunnel through which visitors can walk. Reminiscent of how money used to be transported around banks and supermarkets, The Wish Machine was designed by Seyhan Özdemir and Sefer Çağlar, founders of the Autoban studio, as a response to the European refugee crisis and Turkey's position as a land bridge for migration between the Middle East and Europe.
UK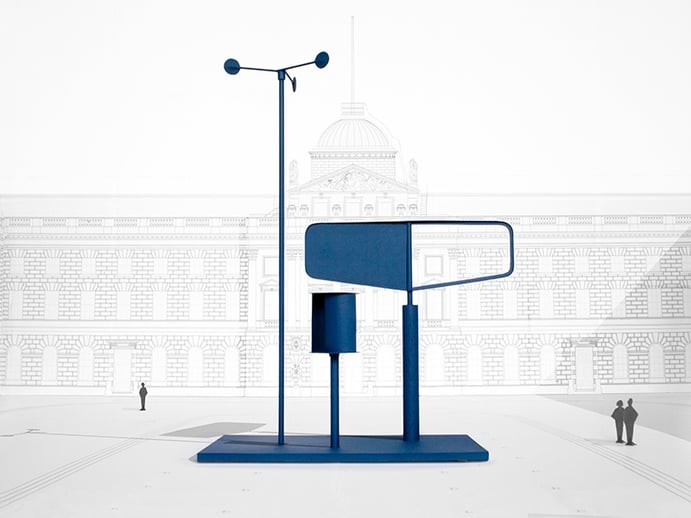 Any Brit will tell you there's almost nothing as important as the weather. With this in mind, the UK's Edward Barber and Jay Osgerby created Forecast, an installation that moves with the wind, inspired by weather-measuring instruments. The London-based designers (who created the London 2012 Olympic torch) created the kinetic piece – a group of wind masts and rotating elements – for the courtyard of Somerset House. Movement will be triggered as the wind increases or changes direction.
London Design Biennale runs until September 27.