All those who think that smart devices are all function over form, think again. Around the world, scientists, inventors, and designers are working together to marry tradition and technology, style and functional features. No longer does wearable technology simply equate to a fitness tracker or smartwatch. From interactive garments to intelligent jewelry, the high-end fashion world is seeing a new swathe of wearable technology that, until recently, wouldn't have been out of place in a sci-fi blockbuster. Now, it's just a matter of time before tech-infused clothing and accessories become a staple of our wardrobes.
A new take on tradition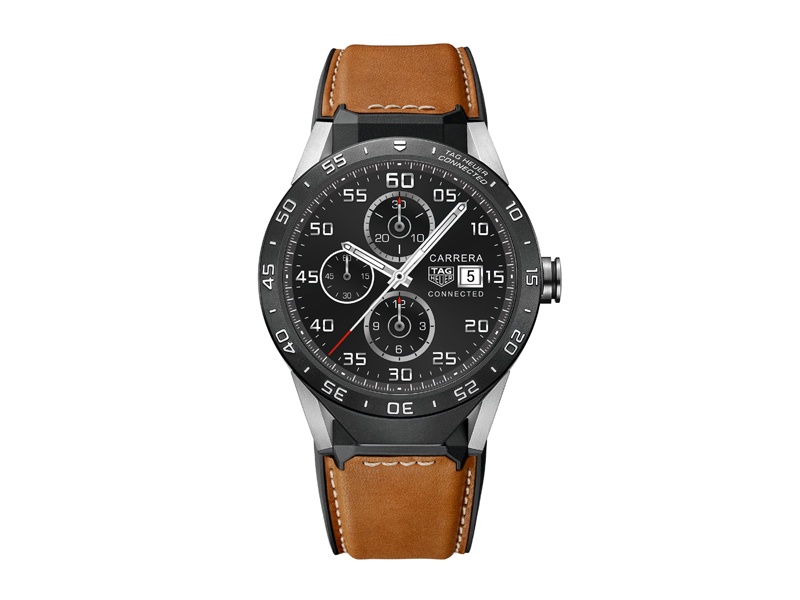 This might look like an ordinary watch, but this is the TAG Heuer Connected smartwatch, with a digital display and best-in-class touchscreen technology. Bold, custom themes allow numerous display options and Android Wear connects the watch to thousands of apps at the Google Play store – as well as a custom suite of microapplications, including alarm and stopwatch features to optimize performance, precision, and perfection. After being at the forefront of Swiss watchmaking for more than 150 years, "we couldn't ignore the smartwatch trend," says TAG Heuer CEO Jean-Claude Biver. "Our vision is clearly and simply what TAG Heuer has always stood for: Swiss avant-garde since 1860. We have to be in the front of innovation and creativity. We must continue to be the trendsetter and never be a follower."
Ring the changes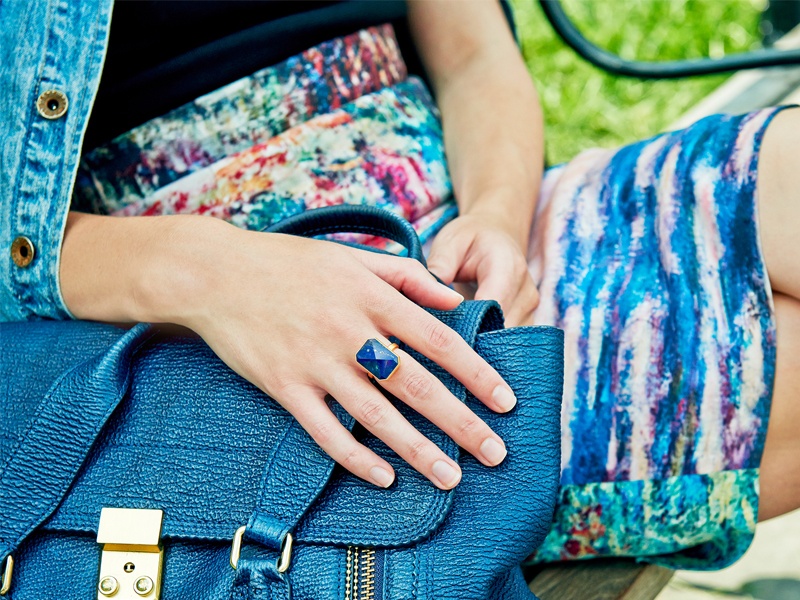 Trackable devices don't have to be plastic, black, and lacking in elegance. Game-changing jewelry from Ringly monitors steps taken, distance covered, and calories burned, as well as connecting with certain apps, and, through vibrations and light patterns, alerting wearers to incoming phone calls and messages. Made from plated gold and semi-precious stones, the ranges of rings and bracelets are pretty, dainty, and discreet – cleverly hiding their technological capabilities within. "The concept of luxury and how it relates to wearable technology is really interesting because with technology we have the power to deliver differentiated experiences, unlike traditional jewelry or accessories, which rely on differentiated designs and materials," says Ringly's founder Christina Mercando d'Avignon. "The technology of this new category of accessories will help us lead more productive, balanced, and healthy lives – which, in my opinion, is the ultimate luxury."
The future's bright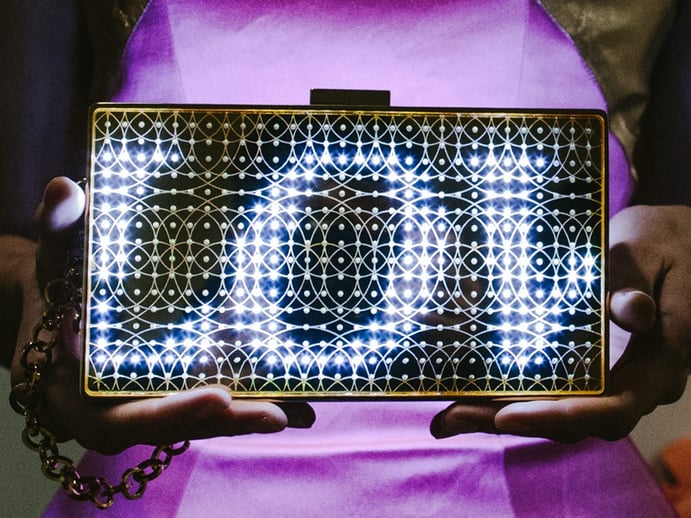 Since its launch in 2004, CuteCircuit has taken both the fashion and digital worlds by storm. Using patented technology and conductive fabrics, its clothes and accessories become digital displays with tiny micro-LEDs woven into the garments – meaning their color, design, or pattern can be changed at the wearer's will, and even display text. The fashion label is well on the way to becoming a favorite of A-list entertainers: Katy Perry was an early supporter, wearing one of its custom-made gowns to the Costume Institute Gala at the Met in 2010. However, creative director Francesca Rosella and CEO Ryan Genz are keen to stress that they also have a ready-to-wear line: simply download a smartphone app to control the LEDs on your dress. Rosella believes this could lead the way to a more personalized fashion industry: "At CuteCircuit, we believe that in the future all the devices that we carry with us today, such as smartphones, cameras, and watches, will disappear and any functionality will become embedded into our clothes. This is because garments are the natural interface between the wearer and the environment that surrounds them. Our garments are a second skin that connects us to people and places in a more emotionally engaging manner. The future of fashion is as a surface for personal expression."
Connected clothing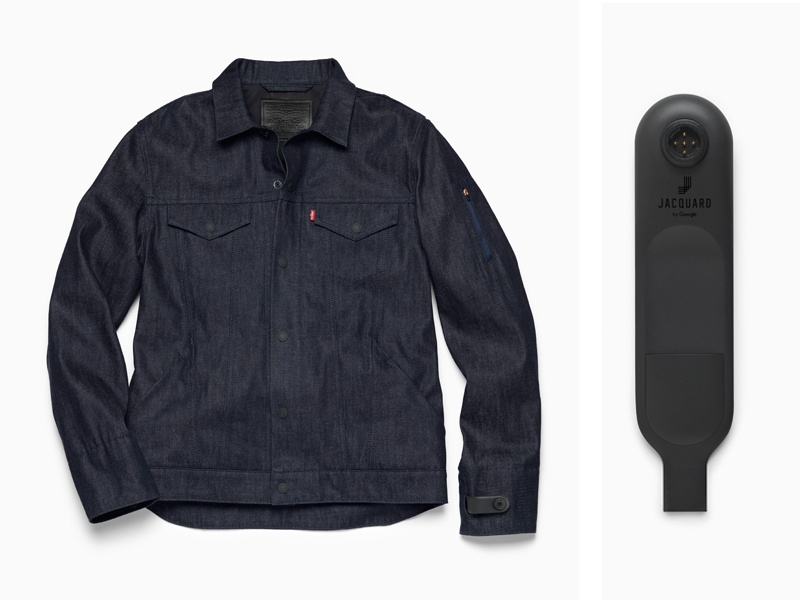 Heralded by its developers as a "blank canvas for the fashion industry," Google's Project Jacquard is perhaps the most striking application of wearable technology. They've created conductive yarn that can be woven into textiles with standard industrial looms, enabling any fabric to take on interactive capabilities. Complementary components are engineered to be as discreet as possible, no larger than a button on a jacket. These miniaturized electronics capture touch interactions, and various gestures can be inferred using machine-learning algorithms. Levi's is already implementing this technology in the Levi's Commuter Trucker Jacket, due for launch in 2017. "In our hyper-digital world, people constantly struggle to be physically present in their environment while maintaining a digital connection. The work that Google and Levi's are embarking upon with Project Jacquard delivers an entirely new value to consumers with apparel that is emotional, aspirational, and functional," says Levi's head of global product innovation Paul Dillinger. With a simple touch of a jacket sleeve, cyclists can wirelessly access their phone and favorite mobile apps to adjust music volume, silence a phone call, or get an ETA for their destination.
Fashion-forward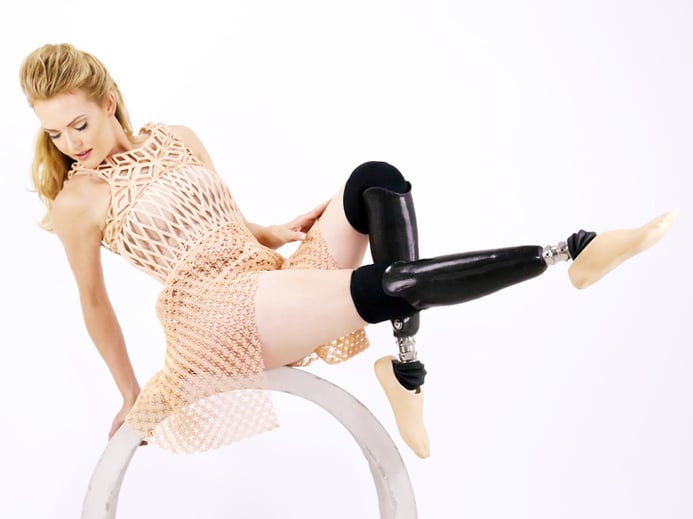 While preparing to graduate in fashion design from Shenkar College of Engineering and Design in Israel, in 2015, Danit Peleg became the first person to design and 3D print an entire ready-to-wear fashion range. The 28-year-old's graduate collection – produced entirely at her home, with each outfit taking around 400 hours to print – showcased the potential of 3D printing to upset the fashion industry status quo. Using a flexible 3D-printable material called Filaflex, Peleg was able to structure her garments as if they were traditional textiles, creating feminine and flattering pieces of clothing. She says, "I believe 3D printing may revolutionize the fashion industry by digitizing our clothes and making them 100 per cent personalized, and reducing production and shipping time significantly." Expect to see lots more from the 3D-printed fashion world; Peleg herself was chosen to design the dress worn by US snowboarding Paralympian Amy Purdy during her dance at the opening ceremony of the Rio 2016 Paralympic Games.
Body basics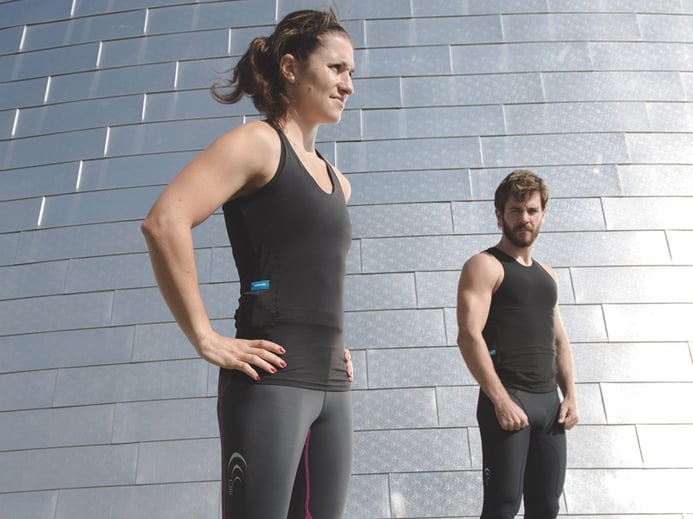 Currently, wearable fitness technology tends to equate to a smartwatch or fitness band, but Montreal-based company Hexoskin looks set to change that. Hexoskin works under the principle that the best way to monitor and record information about your health and fitness is to place sensors in several locations on your body, rather than a single unit around your wrist or chest. The result? Stylish biometric clothing that can capture several measurements in addition to those that would be monitored by the average smartwatch or fitness band, including heart and breathing rates. Long-sleeved shirts or tank tops can be worn during exercise, and connect to a smartphone app so users can track their fitness progress over weeks and months. And the clothing's function is not limited to exercise: the garments can be worn during sleep, to help users understand how their body operates at night.