From November 7–13, the sound of corks popping will be heard all over New York City, in celebration of the 4th Annual New York Champagne Week. This year, Champagne Week features Lehmann Glassware's Jamesse Prestige collection, which boasts the "perfect champagne glass." Designed by top sommelier Philippe Jamesse, of Chateau Les Crayères in Champagne, France, the collection is elegant, with sleek and refined curves. But while Jamesse Prestige claims to have it all, there are many other barware pieces that are a pleasure to behold.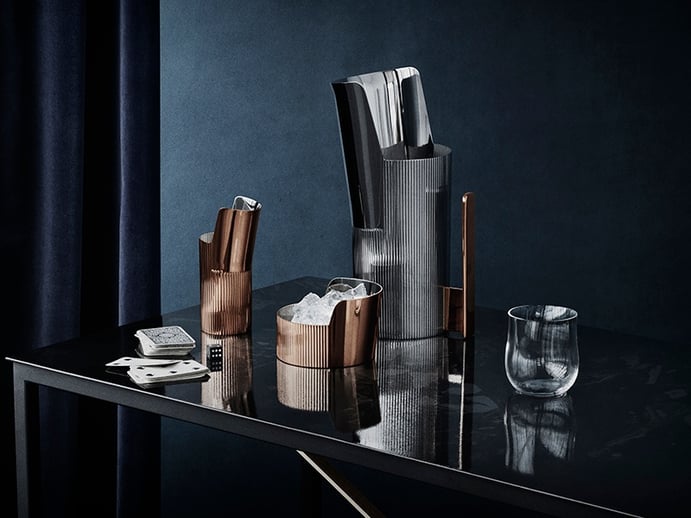 Georg Jensen
"Two words come to mind when I think of working with Georg Jensen: freedom and challenge," says Spanish-born designer Patricia Urquiola, who has partnered with the Dutch brand to produce a range of barware remarkable for both its sculptural form and simplicity. "My imagination was generously allowed to run wild, but stainless steel is a new material for me. This created challenges when we moved from concept to production – but challenges are what move design forward, and I'm so proud of what we've achieved here. The simplicity of stainless steel feels warm and masculine, while the stripes give it an unusual elegance."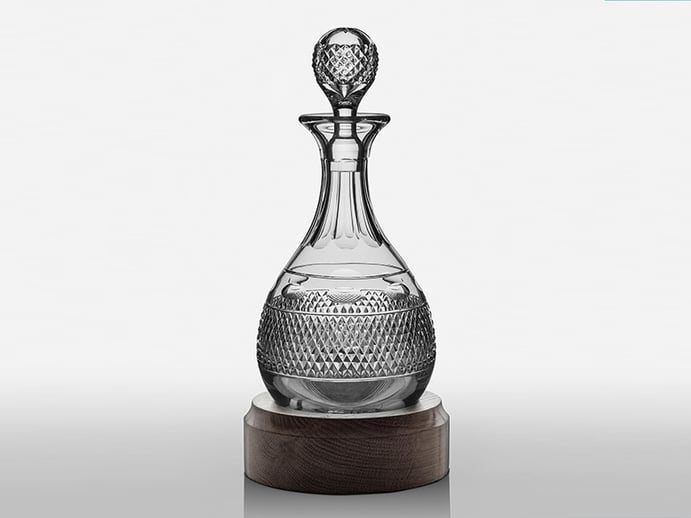 Amara
Luxury online retailer Amara began life as an interior design firm 11 years ago. These days the reputation of its finely curated selection of homeware precedes it, but husband-and-wife team Andrew and Sam Hood still aim to bring expert knowledge and cutting-edge design to the home. We love the Grasmere Hogget Decanter that "exhibits the very best in Georgian styling and features handmade craftsmanship that promises to be a standout accessory in any home." It's from Cumbria Crystal, "a traditional brand, perfect when it comes to adding timeless designs to your barware accessories."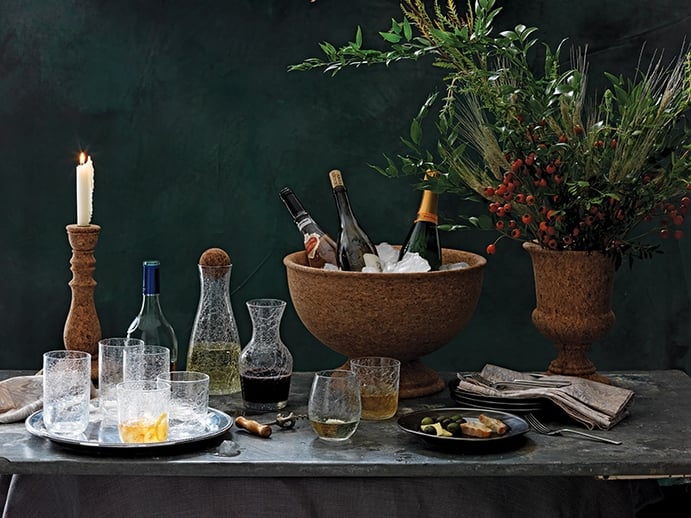 Juliska
The ethos behind Juliska is "to love and live well," says co-founder Capucine de Wulf Gooding. Each piece is hand-blown in Prague by "humble men blowing refined glass. Each piece is perfectly imperfect. In that sense they carry the essence of humanity." The Hugo crackle glass sparkles like fractured ice, and is the result of a special and ancient glassblowing technique which creates fragmented scars that are as unique as they are timelessly modern.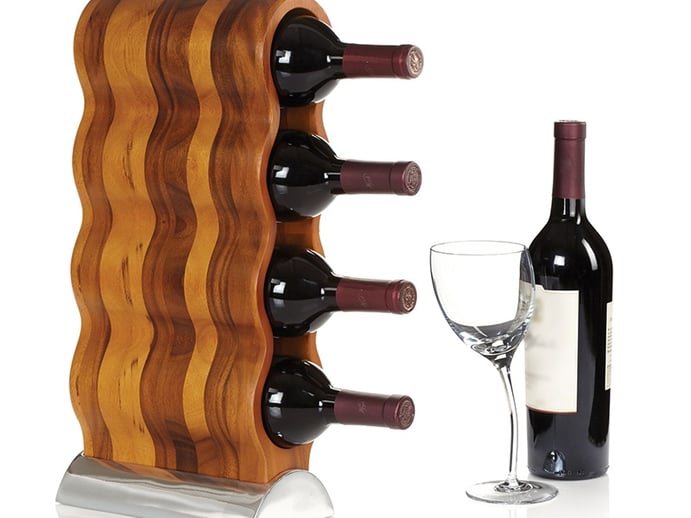 Nambé
Founded in the small village of Nambé just outside of Santa Fe, the brand has stood for timeless quality and artistic integrity since it began over 60 years ago. Pieces by Nambé have been exhibited in the Museum of Modern Art in New York and the British Museum in London, and the brand's trademark alloy is renowned the world over for its unique quality. Resting on its Nambé Alloy base, the Curvo Wine Rack's acacia wood form curves rhythmically to create spaces for up to four wine bottles. The designer describes the wine rack as a "beautiful and functional art piece," and one that can be displayed from the side or the front for two distinct effects.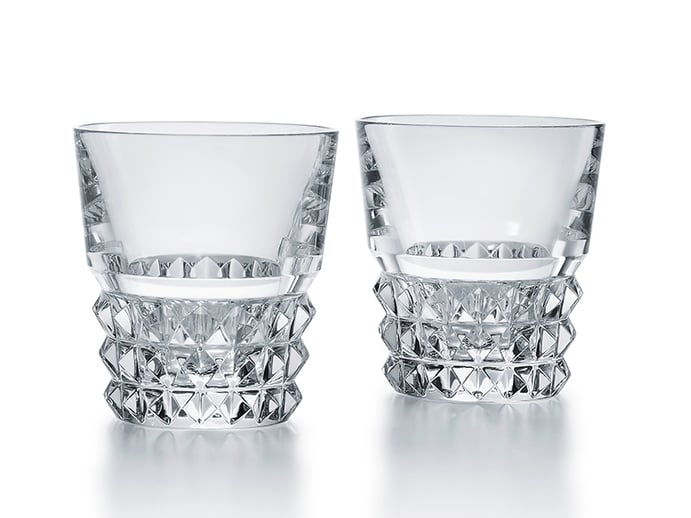 Baccarat
Baccarat's story goes back to the mid-18th century to when "the world's most famous crystalworks" was founded in Lorraine. A Baccarat pitcher was awarded to King Charles X as a gift in the 19th century, and its iconic designs have featured at many an important historical moment in time. The Louxor collection was inspired by Egyptian architecture and in 2016 was made into a precious set for refined connoisseurs. Consisting of six glasses and a decanter in a Baccarat-red box, the set displays the company's know-how in the art of fine crystal glassware through its diamond-shaped surfaces and ruffles, which create surprising light effects. Limited to just 2,000 sets, the extremely elegant Louxor makes an exceptional gift.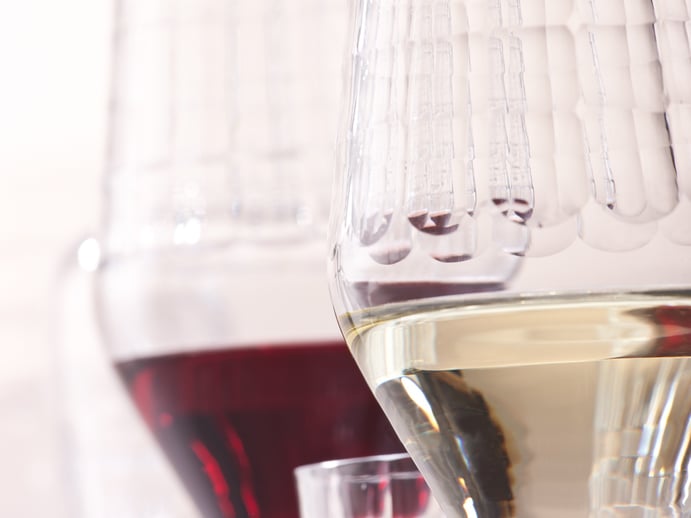 Zwiesel Kristallglas
Zwiesel Kristallglas has been in the glassmaking business for more than 140 years, and in that time has created a reputation for itself in Germany and across the world. The development of the new Hommage Collection by Charles Schumann was overseen by the legendary founder of Schumann's bar in Munich, and the resulting 42-piece series is an homage to classic bar culture. According to the company, "With reserved shapes and timeless elegance, the basic form presents itself with softly drawn stems and smooth radii." Hommage Comète reinterprets classic grinding with modern refinement, Hommage Glace makes it appear as though the glass is moving, and Hommage Carat has an elegant, plane-grinding structure. In short, it is an understated yet premium bar series.