Eric Wind of Christie's New York has seen a wide range of vintage watches come across his desk. From quality to rarity to provenance, the timepiece specialist details the key factors that any aspiring or experienced collector needs to consider.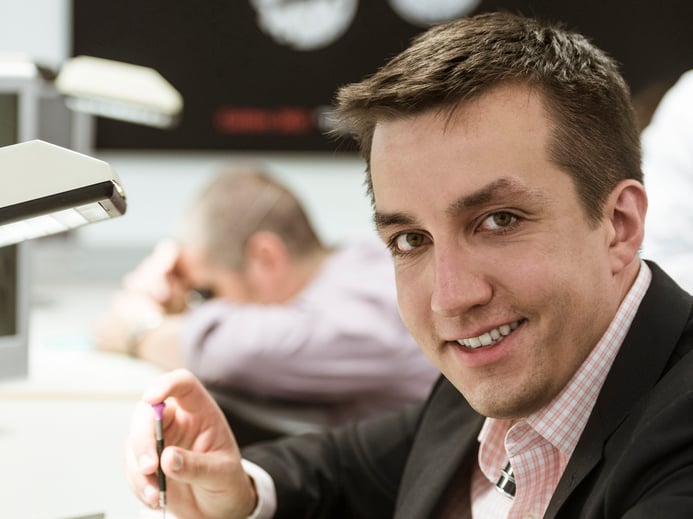 What are the most important things to consider when shopping for a vintage watch?
The first rule of collecting vintage watches is to buy what you like. Ultimately, these are wearable pieces of art and wearable investments. Some people buy them just to put away in a safe, but I would say most of our clients actually like to wear these watches – depending on the occasion. Second, you need to consider the source of the watch. It is important to buy from trusted sources such as Christie's, particularly if you are not yet an expert on the subject.
Beyond that, criteria to consider include quality, complications, condition, rarity, style, provenance, historical association, and competition.
It is far better to build a collection of high-quality models than swoop in and purchase a high number of mediocre watches in a short time.
QUALITY
When considering quality, we simply mean the manufacturer of the watch, whether the movement is finely finished, and whether the dial is made of a special material or took additional time to construct.
A complication is a feature beyond the standard display of time in hours, minutes, and seconds. Examples of complications include date displays, automatic movements, chronographs, split-second chronographs, minute repeaters, alarms, moon-phase indicators, annual calendars, and perpetual calendars. One of the most popular complications for vintage watch collectors is the chronograph.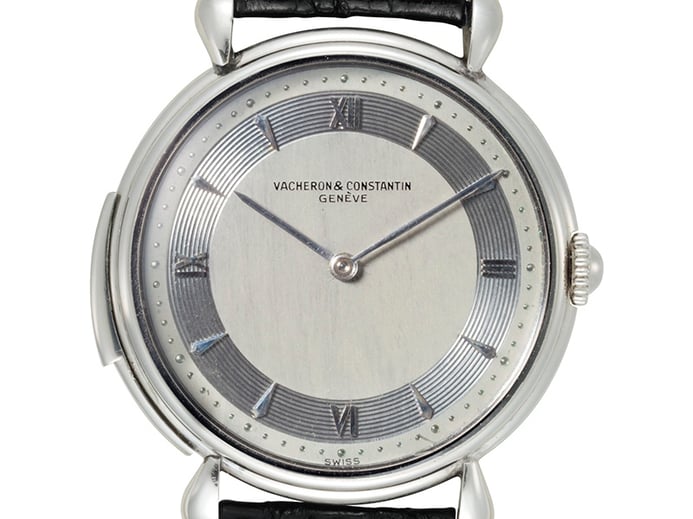 CONDITION
For considerations of condition, a collector asks: Has the dial been touched? Is the watch case unpolished? Are the parts original? If not, what has been replaced? Does it come with the original box(es), papers, bracelets, etc? The ideal for a collector is to find a "new old stock" watch that has never been worn or touched and is sitting in its original box with the original receipt and paperwork.
RARITY
This is determined by production – the number made – and survival. Many military watches, for instance, no longer exist or have replacement parts. The ultimate "want" for collectors is something confirmed as unique.
STYLE
Style is, of course, another key factor. This encompasses the case metal, dial color and material, case size, and case shape. For example, while gold, oversized time-only watches with large lugs and unusual case shapes, such as from Vacheron Constantin, were extremely popular in the 1980s, these types of watches have lagged in popularity. On the other hand, timepieces with complications, or sport watches such as dive watches, have increased in value.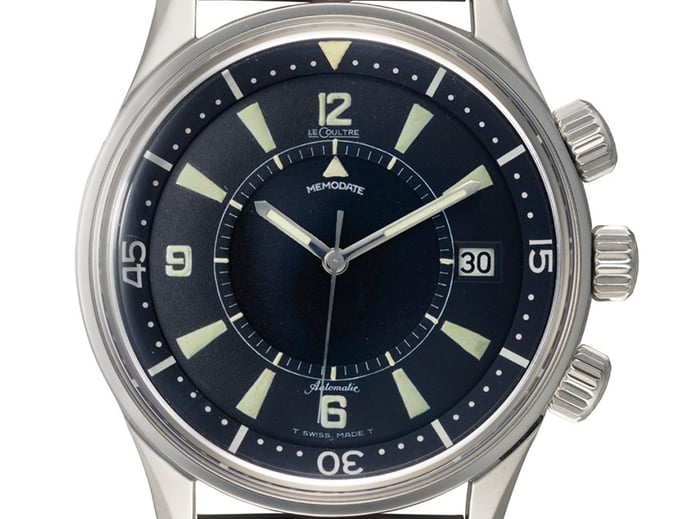 HISTORY
Provenance and the history of a watch are also of growing importance. Collectors often like to know who previously owned the watch – does it come from the original owner or the original owner's family, for example – or whether it has circulated in the dealer community. If the watch is "fresh to market," this can boost its value and desirability.
Celebrity association can also increase the attractiveness of a watch and has been used to build hype around certain pieces. Indeed, watches have been named after people who wore them; any vintage Rolex Daytona with a so-called exotic dial is called a "Paul Newman" after the actor and race-car driver who wore one. Likewise, any Rolex chronograph with calendar is now called a "Jean-Claude Killy" after the legendary skier. Other examples include the Gallet "Jim Clark" chronograph, the Universal Genève "Nina Rindt" Compax, the Heuer "Jochen Rindt" Autavia, and the OMEGA "Ed White" Speedmaster.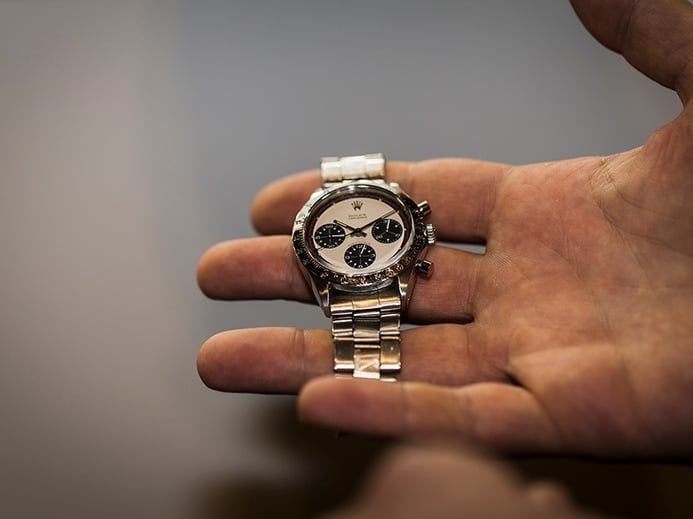 BUYING AT AUCTION
If one is buying a watch at auction, the uncertainty as to at what price the auctioneer's hammer will fall is one of the more exciting and nerve-racking elements of the process. The level of competition for a watch will influence its value and final price. Sometimes, two bidders have a long and intense history, and seeing that the other is pursuing a watch makes one willing to go further in bidding. Or, if someone is looking for a particular watch to build or complete a collection, the bidder might go to great lengths to secure it.
THE X FACTOR
Finally, there are a number of "X factors" that can drive up the price of a watch at auction. The quality of the auction house and catalog can have a significant effect on visibility and credibility. Christie's, which has been a market leader in watch auctions for nine years running, has seen strong and record prices in the context of thematic auctions, such as our Rolex Daytona and OMEGA Speedmaster auctions. There is also the possibility of a watch gaining coverage and endorsements from collectors and blogs, which can lead to a bump in the final price.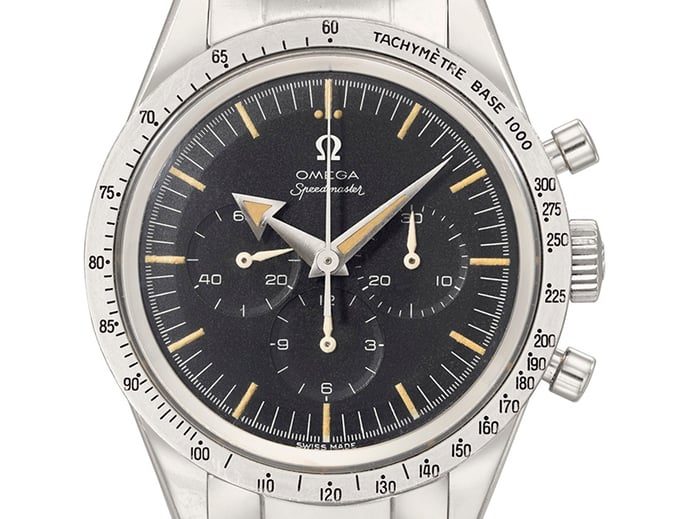 What research should buyers do before investing?
Researching auction results and dealer prices will aid you in concluding how much you want to pay. For some extremely rare, exceptional, or unique watches, you will need to determine your top-level price. For more common models, it becomes a question of where the market is and how much one is willing to pay in comparison with other results.
It is always helpful to learn the origin of the piece and whether it has previously been offered at auction. View the photograph of the watch to ensure that the dial and other parts have not changed since it previously came to auction. Previous auction results will also aid in anticipating the price of a piece.
The uncertainty as to at what price the auctioneer's hammer will fall is one of the more exciting and nerve-racking elements of the process.
When buying at auction, clients should be careful to read the condition reports we have to prepare for each watch. In addition, speak to the watch specialists about bidding. We may provide insight on the appropriate price for the watch, our thoughts about its overall quality, and further considerations about the timepiece's provenance and history.
Which brands are especially collectible and why?
The two primary kings of watch auctions are those made by Patek Philippe and Rolex. Breguet, Vacheron Constantin, and Audemars Piguet have also made vintage watches that can reach well into the six- and sometimes seven-figure range. And we are seeing unprecedented growth in prices over the past year in certain vintage chronograph models from OMEGA (the Speedmaster) and Heuer (the Autavia).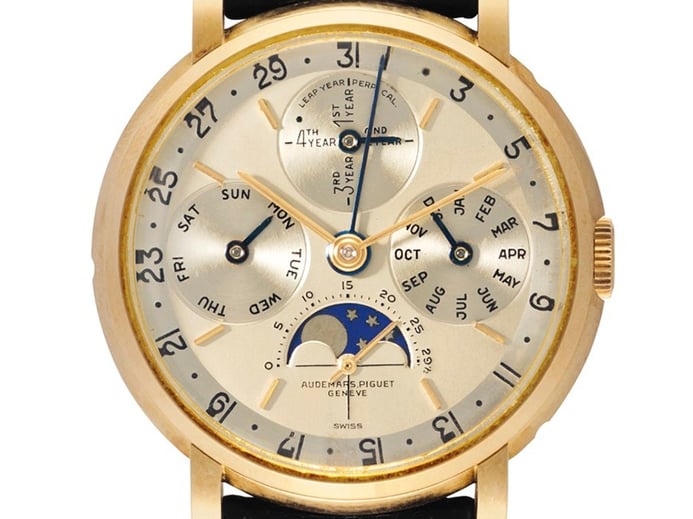 The vast majority of wristwatches that have sold for over $1 million at auction have been from Patek Philippe. This year saw the first Rolex to sell for over $2 million, and there remains continued growth in interest in very rare Rolex models.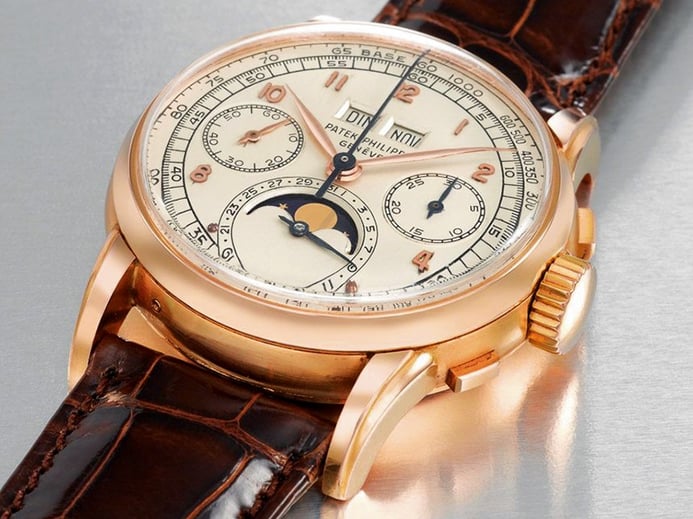 Some of the most significant growth, percentage-wise, has been in vintage chronographs in the under-$10,000 price range. With many new players in the vintage watch market, demand for models in this range has skyrocketed. One example is the aforementioned Universal Genève "Nina Rindt" Compax from the 1960s. I remember bidding on one in 2011 on eBay that ultimately sold for just over $2,300. In our auction in December in New York, we sold a mint one with box and papers for $47,500.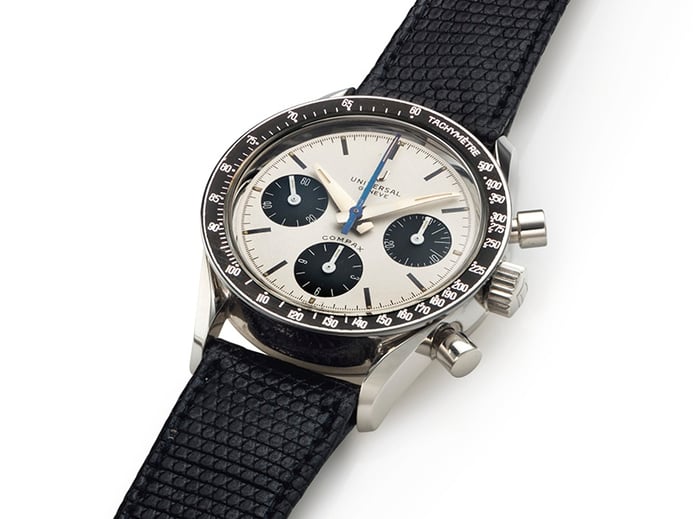 What should collectors be wary of or avoid?
It is important for aspiring or veteran collectors to be aware of the potential for fraud. It is absolutely critical that someone interested in buying vintage watches seeks the advice of a trusted, experienced authority, such as Christie's Watch Department.
And although we of course love to help excited and eager new collectors, we advise patience when building a collection. The best pieces take time to find. It is far better to build a collection of high-quality models than swoop in and purchase a high number of mediocre watches in a short time.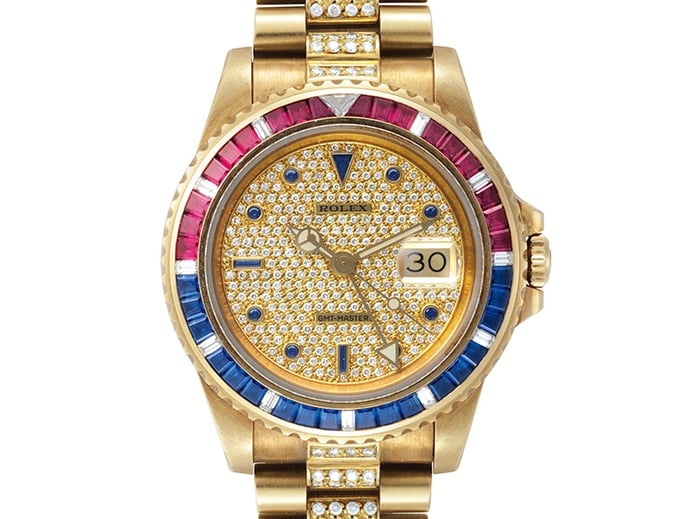 I will end by returning to my first bit of advice to any collector: buy what you like. One of the most enjoyable aspects of the hobby is buying watches you like to look at and wear. People who buy without taking their own tastes into account can end up disappointed later when they think about the collection they could have built if they had pursued their true interests.
Finally, please don't hesitate to contact me should you ever have any questions about the watches we are selling or if you want to know what your watch may be worth: ewind@christies.com