Prices of prime properties are set by location, features, size, rarity, provenance and—most importantly— by supply and demand conditions that determine what the market will actually bear. Today's new luxury landscape is increasingly a tale of misaligned expectations, characterized by a widening disparity between what buyers and sellers consider fair market value for prestige properties.
Bridging the Luxury Price Gap
The gap between asking prices and sales prices of luxury homes is widening, as evidenced by a study of 2015's top sales in 100 luxury housing markets worldwide. The highest priced home sold in each market traded on average 19 percent less than their original asking prices, compared to 14 percent less in 2014, indicating growing disparity between seller and buyer expectations.
The highest priced home in more than 100 surveyed markets worldwide sold on average for 19% less than asking price in 2015
Properties at low luxury price points reached close to their original asking price—homes in the $1-3 million range on average sold for six percent below their original list price, based on a survey of more than 250 agents from the Christie's International Real Estate worldwide network (See chart below). Agents who reported that their top sale in 2015 was listed at $30 million and above noted that these homes sold on average for 18 percent less than their asking price. This reflects to some extent the challenge of appropriately pricing ultra-prime properties at price points where comparable sales are limited and in some cases are non-existent. Seller expectations, however, are certainly a factor.
A return to realism for prime property sellers
Asking prices vs. sales prices for top residential sales globally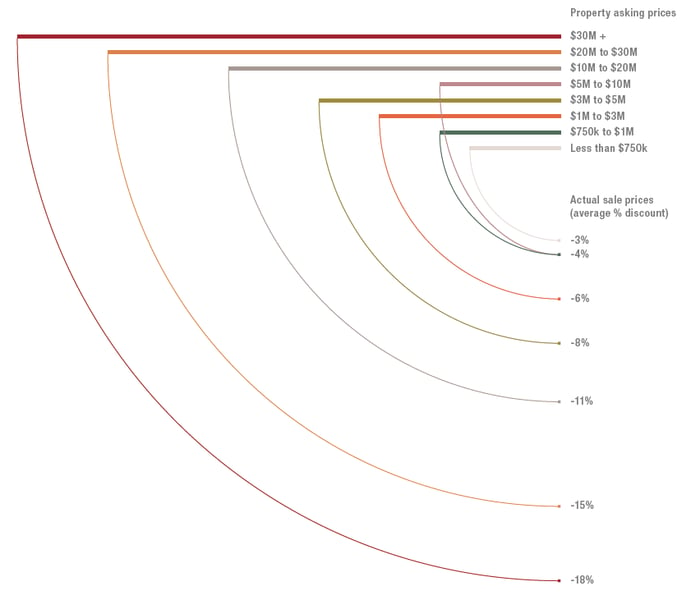 Emboldened by headlines touting record-breaking sales, house-price increases, bidding wars, and limited inventory, some trophy home sellers continue to list their properties at extraordinary prices, unconcerned that the potential pool of cash-rich ultra-affluent buyers has shrunk. On the other hand, wealthy buyers are focused on value and are pricesensitive, says Hall Willkie of Brown Harris Stevens in New York. "It has nothing to do with budget; they are out there and willing to buy, and are signing contracts—but it's only on properties where they feel the price is justified." This emphasis on value is reflected by the demographics of luxury home buyers, observes Ruth Kennedy Sudduth of LandVest in New England. "This cycle has been characterized by a sharp attention to value, a desire for the known versus the adventurous, and the almost complete retreat of older baby boomers as buyers. Gen X is a tough-minded, value-oriented bunch, and there aren't as many of them who are buyers as there are baby boomers who are sellers."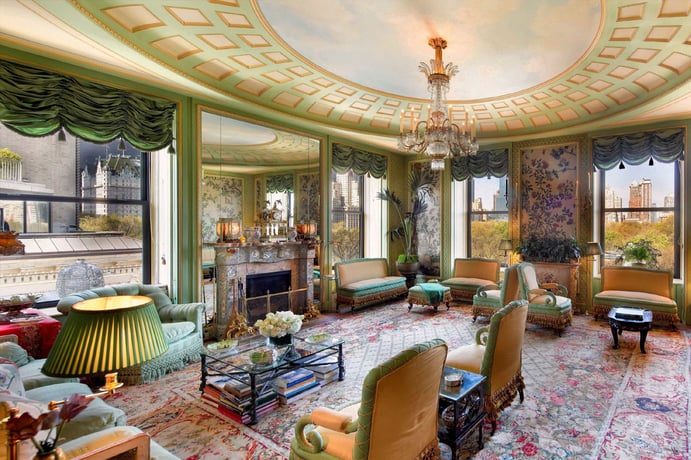 Expert brokers are counseling some overly aspirational sellers to rethink their pricing strategies to match the more cautious attitude of buyers today. "We do have some instances where the buyers have not stepped up to the plate to meet seller's expectations," says Jeff Hyland of Hilton & Hyland Real Estate in Beverly Hills. "We're working with sellers now to get more attuned to where the market really is." Adds Willkie: "There is never a market for overpriced listings. If you haven't had offers or are not getting the proper amount of showings, the market is telling you there is not interest, and you have to reduce the price."
Looking ahead, many brokers indicated that the market is set to remain strong for world-class trophy homes. "Best-in-class properties will continue to command impressive price tags and lots of interest, but there will be price sensitivity around any properties that aren't 'best of the best'," suggests Lulu Egerton of Strutt & Parker in London. "Overly aspirational sellers are going to become more realistic." Cesar Herrera of Provaltur in the Dominican Republic concurs: "In Punta Cana we are seeing new opportunities on luxury homes that have been on the market for some time. Sellers have started to realize that a price reduction will attract new buyers and an eventual sale."
All that notwithstanding, well priced trophy homes continued to command strong prices in the world's top cities for luxury property (see chart below). Four of the top 10 cities broke local area records for highest-ever priced residential transactions. Sydney registered the top all-time sale in its market last year with an A$70 million ($53 million) mansion in the suburb of Vaucluse. The historic deal, brokered by exclusive Affiliate Ken Jacobs, exceeded existing Australian residential records by more than 25 percent. Interestingly, the other three cities that recorded higher than ever top sales—Hong Kong, Miami, and Singapore—all saw a contraction in their overall luxury sales volume. The record sales are a testament to the enduring popularity of these cities with ultra-high-net-worth individuals as preferred locations for prime property investment.
Globally, the top end of the luxury market exhibited a solid number of high-value sales, demonstrating continued confidence in the enduring value of prime real estate. In 2015, 19 properties sold above $50 million (see chart below) and two properties were publicly reported to have sold for more than $100 million. Several other properties reportedly went into contract to close above that price point. The year's top reported residential real estate sale worldwide was the HK$1.5 billion ($194 million) single-family residence in Hong Kong's exclusive The Peak neighborhood by a mainland Chinese investor. The sale also broke Asia's record for the most expensive home by square foot (HK$151,653 per sq. ft.).
Well-priced trophy homes still command strong prices in prized cities
Four of the top 10 ranking cities for luxury real estate broke local area records for highest ever residential transactions in 2015—Hong Kong ($194M), Singapore ($67M), Miami ($55M), and Sydney ($53M). Another world record was reported to have been surpassed in Europe, with several news outlets reporting a private residential sale in France exceeding $300 million.
Several other luxury real estate markets surpassed all-time local record prices in 2015. A $23 million sale in New York's Adirondacks region brokered by LandVest bucked the trend of sale-to-list price disparity, setting a new luxury real-estate record for northern New England. "We knew the value of this property transcended the landscape scale, the vistas, the multiple lakes, the classic Great Camp, even the millions of dollars of sustainably managed timber," says Ruth Kennedy Sudduth, noting that worldwide interest in the property turned into multiple offers. "Ultimately the property sold above the asking price to an international buyer." Other resort markets also saw record-breaking sales in 2015. "We had two of the highest sales ever in our market in 2015," notes Chris Rhinesmith of Pine Acres Realty in Cape Cod, Massachusetts, who brokered the record-breaking sale, an $8.2 million oceanfront estate.
In 2016 and beyond, as the market adapts to the changing financial landscape, it will be interesting to watch how new ultra-prime inventory will be absorbed into the market and what prices that will bring. "What makes our market unique is the minimal amount of space for development," explains Jeff Hyland of Hilton & Hyland Real Estate in Los Angeles. An influx of ultra-luxury spec homes and new developments in the next two to five years is set to offer discerning buyers new choices in LA. "Here, the only new construction is at the site of an old structure that has been torn down—this situation ensures a consistent premium on properties in our market."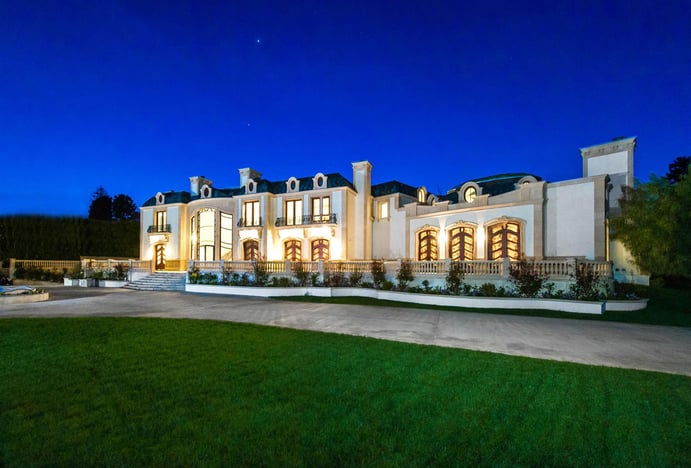 Record sales prices continue on a steady upward trend
Highest prices for residential sales in the world's top 10 markets for luxury property, 2012-2015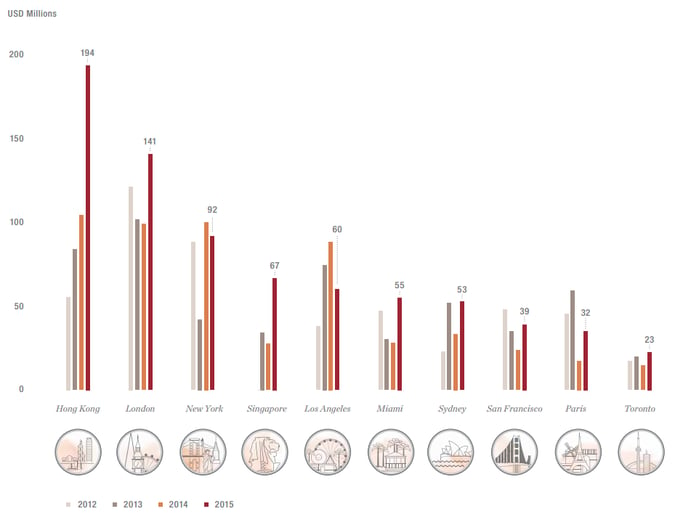 The top real estate sales worldwide in 2015
Individual residential sales priced at $50 million and above
SALE PRICE (US$)
PROPERTY
LOCATION
SALE PRICE (Local)

$194 million**

Barker Road Estate on The Peak

Hong Kong, China

HK$1.5 billion

$141 million

Terrace Townhouse W1

London, U.K.

£92 million

$91.5 million

Winter Garden One57 Penthouse

New York, New York, U.S.

-

$77.5 million

Fifth Avenue Duplex

New York, New York,

U

.S.

-

$71.2 million

Casa Apava

Palm Beach, Florida,

U

.S.

-

$67.5 million

Co-Op at The Sherry Netherland

New York, New York,

U

.S.

-

$66.7 million**

Ridout Road Estate

Singapore

S$85 million

$66.6 million

Monte Carlo Residence

Monaco

€60 million

$65.7 million

12th Floor Opus Penthouse

Hong Kong, China

HK$509.6 million

$60 million

Paradise Cove Estate

Malibu, California,

U

.S.

-

$59.4 million

The Singleton House

Holmby Hills, California,

U

.S.

-

$57.3 million

Further Lane Estate

East Hampton, New York,

U

.S.

-

$55 million**

Faena House

Miami, Florida,

U

.S.

-

$53 million**

La Mer, Packer Estate

Sydney, Australia

A$70 million

$52 million

Carton House Penthouse

New York, New York,

U

.S.

-

$50.9 million

Time Warner Penthouse

New York, New York,

U

.S.

-

$50.5 million

Encinal Bluffs Oceanfront Compound

Malibu, California,

U

.S.

-

$50 million

Eothen—Andy Warhol's Estate

Montauk, New York,

U

.S.

-

$50 million

Opus Residence

Hong Kong, China

HK$387 million

The top real estate sales worldwide to date in 2016 (as of May 1)
Individual residential sales priced at $50 million and above
| | | | |
| --- | --- | --- | --- |
| LIST PRICE (US$) | PROPERTY | LOCATION | SALE PRICE (Local) |
| $700 million** | WT Waggoner Estate | Texas, U.S. | Undisclosed |
| $100 million** | Crespi Estate | Dallas, Texas, U.S. | Undisclosed |
| $59 million | La Casa sin Nombre | Palm Beach, Florida, U.S. | Undisclosed |
** Denotes the highest ever residential sale price recorded in the local market
The Art of Pricing at the Highest Levels
In last year's edition of Luxury Defined, the $100 million price point was identified as a new benchmark for the world's most unique and luxurious properties. Contrary to media reports questioning the staying power of such a price point, the proliferation of real estate sales at and above this benchmark, and similarly realized prices for artworks in 2015, confirm that there is a narrow but strong market for both art and real estate at the $100 million mark. There are, however, fundamental differences in the respective marketplaces for these trophy assets.
Prices at the apex of the global prime property market are driven by the rarity, uniqueness, and quality of a residential offering, much in the same way as a masterwork of art. According to Capgemini, demand for exceptional pieces of art "outstrips supply at the high end, not just because of the rarity of the masterpieces, but also because their owners are often unwilling to sell, given the difficulty of finding assets with comparable return characteristics." In the art world, it is possible to create a moment for the sale of a piece of artwork. The sale becomes an event, the provenance becomes a story, and the auction becomes historic. In this way, the art market can effectively mobilize to sell masterpiece works of art. Behind the scenes, auctioneers can accurately price and market the work of art due to readily available information about the artist's body of work and the buyers of the artwork themselves. Pricing becomes a surer exercise as specialists can assign an estimated price or set a reserve based on the sale history of the painting in question, or the performance of other works of art by the artist. The type of buyer for a masterpiece work of art is also well understood, and auctioneers have tailored their approach to conform to trends and tastes in art collecting. Christie's sold three $100 millionplus artworks in 2015 by Picasso, Giacometti, and Modigliani, achieving prices of $179.4 million, $141.3 million, and $170.4 million, respectively. These masterpieces were the top three sales at auction in 2015, and Christie's was the only auction house to break the $100 million price point with its sales. The market for $100 million artworks is well developed, though not extensive, and the pricing of the art, and the identification of the buyers at this price point are comparatively easy to ascertain.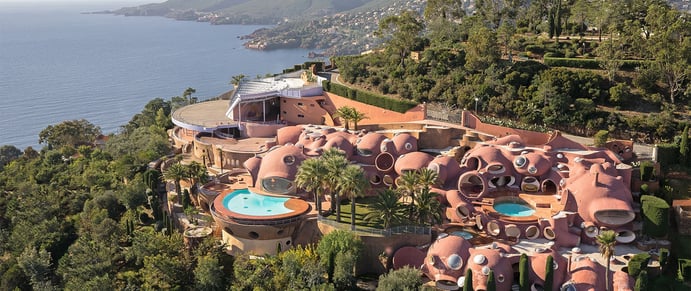 While the market for $100 million properties has been established, the pricing of such properties is complicated by the novelty of the market and the dearth of information about the goals of relevant potential buyers for each such property at the exact time it hits the market. An important point is that sellers don't have to sell and buyers don't have to buy and there is rarely time pressure to do so, so it can take a while to establish the market steering price. Properties that have sold above $100 million often have few readily available price comparisons. In this sense, sellers are in uncharted waters when it comes to pricing.
Complicating matters is the fact that homebuyers at this price point are ultra discreet, as are the location and the identities of the buyers, making advertising and marketing hard to pin down. Further complicating the market is the desire for private sales, with buyers and sellers wishing to avoid the media buzz that typically surrounds such a sale. Unlike art masterpieces, which are relatively easy to move and store, $100 million properties are immovable landmarks—a purchase of such a property places a buyer's name on the map.