But are cities really the luxury property markets most impacted by overseas buyers? In our survey of more than 80 markets worldwide, we discovered that the habits of international buyers tend to have the greatest impact in resort and second-home markets, especially those in Jet Set Destinations. Of the top markets with the highest percentage of international luxury home buyers, only three of our top 10 cities ranked in the list. Dubai ranked top of all cities, with three-quarters of prime property buyers hailing from overseas. London (44 percent) and Miami (40 percent) trailed significantly behind. Interestingly, Miami's luxury market is now witnessing an uptick in activity from Chinese buyers, fueled in part by the August 2014 establishment of the only cityowned EB-5 Regional Visa Center in the country, which is designed to encourage investment by internationals wanting to relocate in Miami.
At the top end of the spectrum, the Turks and Caicos Islands and Marrakech in Morocco relied on overseas buyers for 100 percent of their luxury home sales in 2014. "Due to its proximity to the United States and its offshore status, the Turks and Caicos Islands attract global HWNIs from North America and Europe looking for health and wealth preservation," observes Katherine Baryluk of Regency International. A soon-to-launch direct flight route from Brazil will further attract international buyers from South America to this picturesque Caribbean island, she anticipates.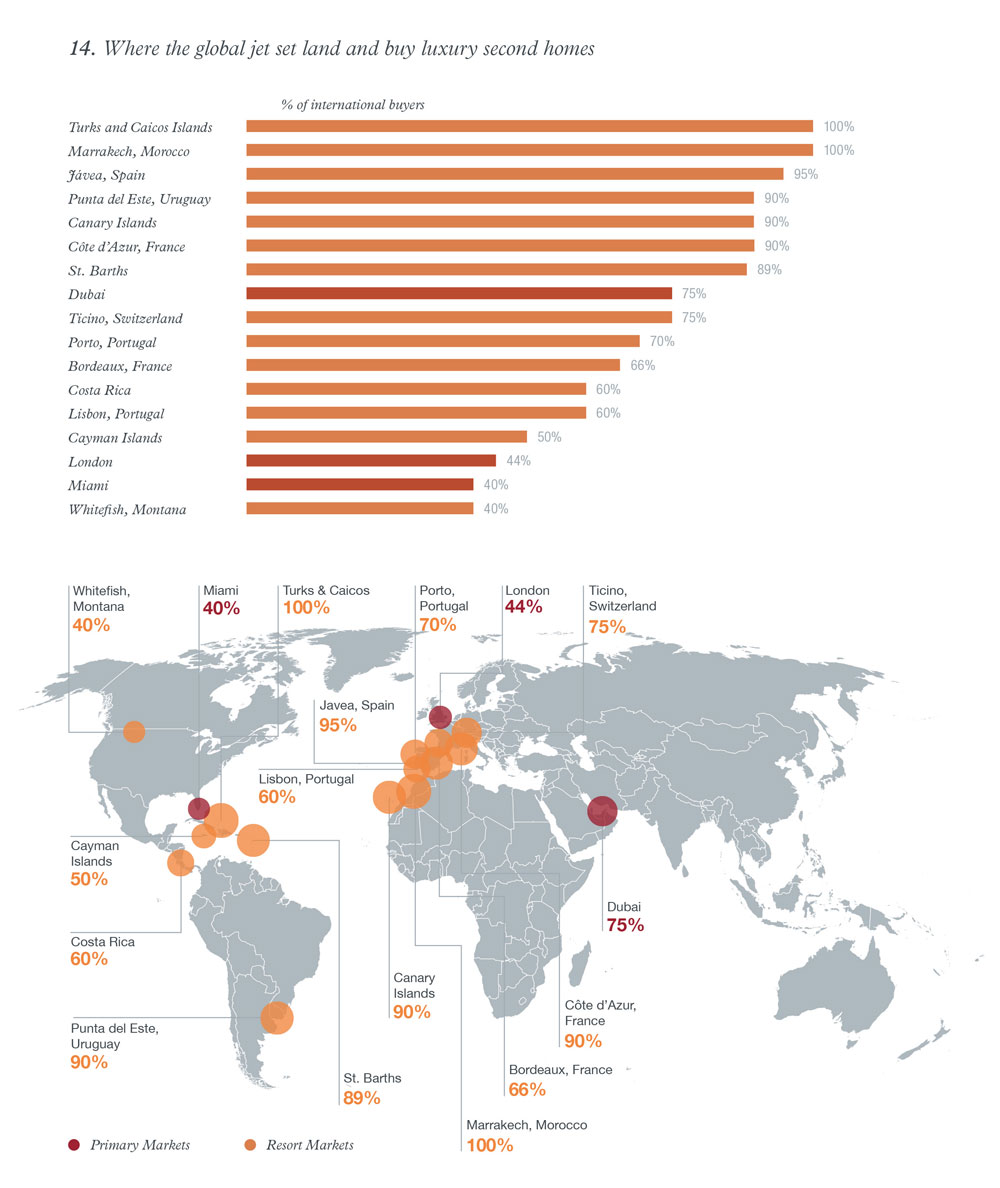 Markets with a high volume of international buyers are susceptible to the economic ebbs and flows of other countries. Punta del Este in Uruguay, with its 90 percent overseas home buyers, recorded a downturn in luxury sales volume, primarily as a result of the precipitous decline of Argentina's economy in 2014. There is reason for hope, however. "The appeal of our region is global," said Diego Roel of Terramar Servicios, who is seeing new demand from European buyers. "An influx in luxury buyers from Italy and Germany may boost the market and bring an uptick in our otherwise depressed luxury sector."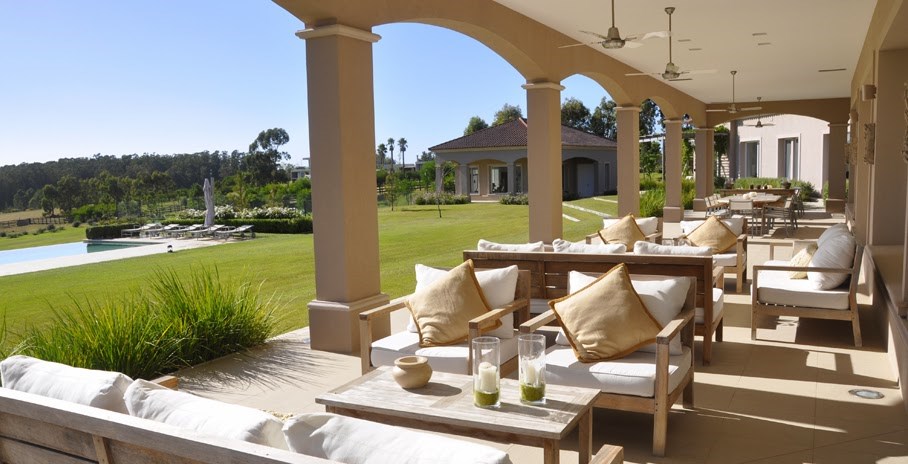 Interestingly, two of Portugal's luxury areas make our list of top overseas buyer markets, spurred on in part by government measures to attract international buyers with residency visas—commonly referred to as "Golden Visas"—as well as the retired foreign tax exemption regime. "In 2014 we saw a strong increase in the number of retired buyers from France, mainly related to the retired foreign tax exemption regime," says Ricardo Costa of LUXIMO'S in Portugal.
Somewhat surprisingly, the resort town of Whitefish in Montana, which has traditionally been considered a domestic resort market, caps our list of top international buyer markets. Thanks to its close proximity to Canada, more than 40 percent of its luxury home buyers hail from Montana's neighboring northern-border country. As the US dollar appreciates however, this trend may slow.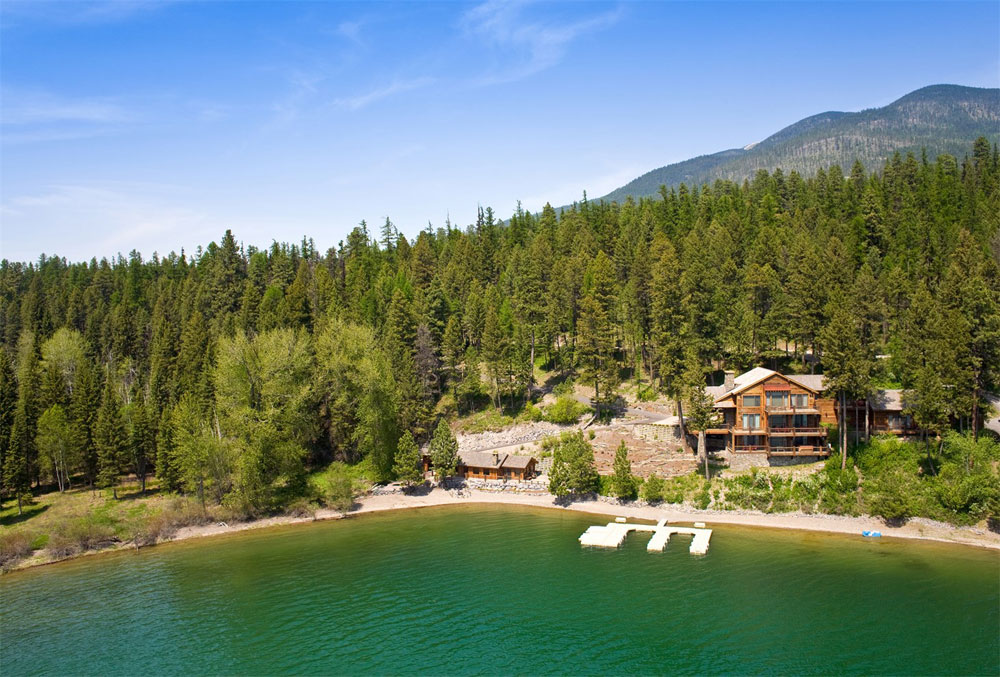 TAXES ON OVERSEAS BUYERS
A BURDEN FOR SOME, BUT NOT ALL
To better understand the international non-resident buyer in 2014, we explored the factors that affected the purchasing power, outside of the traditional lifestyle motivators—currency shifts and new taxes—to see what impact they had on the markets.
In recent years, significant international attention has spotlighted the French government's imposition of wealth taxes on its HNW residents. Luxury home sales across France have slowed as a result, but this may be more due to regional economic factors than taxes, which, despite the hype, are not drastically different from elsewhere in Europe. "The current fiscal environment in France for non-residents brings major opportunities to invest, thanks to a partial exemption on capital gains tax, the favorable euro exchange rate, low loan rates, and possible changes in 2015 on taxation of non-resident estates," notes Michaël Zingraf of Michaël Zingraf Real Estate in Côte d'Azur. "This is a very good time to invest in France, where the majority of economic levers are in favor of non-residents." Savvy buyers have begun to recognize these opportunities, Zingraf adds, noting that thanks to this uptick in buyer interest, his firm achieved its highest sales volume to date in 2014.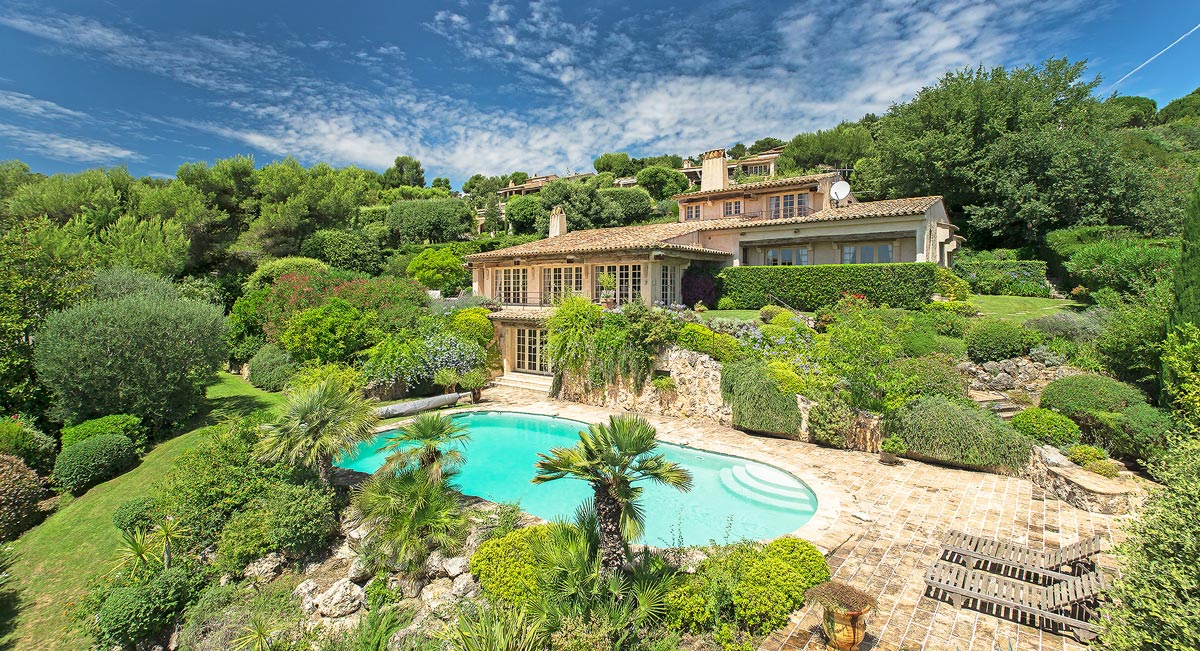 Mere rumbles of proposed legislation to penalize international buyers against purchasing local property have already had an impact in other markets. "Although the London market absorbed the Stamp Duty Land Tax change at the tail end of 2014, election posturing around a 'mansion tax' and non-dom tax relief has understandably caused buyers to suspend activity," says Andy Martin of Strutt & Parker. "The Prime Central London markets are most affected, while the regional markets with lower average prices have fared better. In reality the likely fiscal changes will impact the occupational taxes of the domestic buyers most, whereas international buyers will always weigh up domicile advantages. Market uncertainty is the most likely reason for the current pause and once the 2015 UK general election has passed and that uncertainty is removed the markets will revert."