Architecture, like all art forms, can be seen as a form of storytelling. Stone castles, thatched-roof cottages, half-timber manor homes: all summon the imagination and tell a story about their inhabitants and settings. Likewise, stories draw on the connotations of buildings grand and humble to illustrate and lend realism to narrative. The grand wall and isolated grey stone castles in Game of Thrones convey the cold and steadfast nature of the north, in contrast to the sunny Mediterranean cosmopolitanism of King's Landing—though now that HBO has confirmed that the forthcoming season 6 finale at the end of the month will be titled "The Winds of Winter," perhaps that northern cold will be creeping south this summer.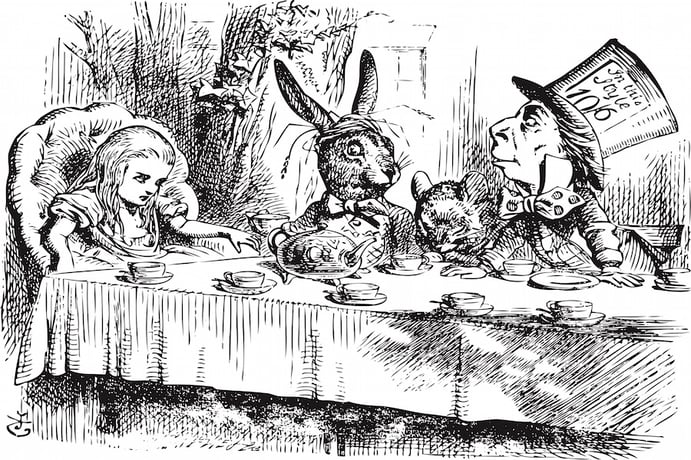 In sunnier, more whimsical stories, like Alice in Wonderland, the cozy cottage domesticity of opening the story with a riverbank and a rabbit hole let us know this is a fairytale in which unexpected magic coexists with familiar intimate family settings like tea tables, croquet grounds, and kitchens. In honor of Alice's Adventures in Wonderland sale at Christie's on June 16, Luxury Defined explores estates that borrow from the past. Mixing and matching the familiar and the surprising, or incorporating decorative motifs from myth and fiction, the homes featured here summon fantasy, imagination—and perhaps a bit of magic.
Magical Manor
Brabant, Netherlands
Set on a semi-island in the center of a lake, this magical Dutch estate enjoys a storybook setting, with nearly 26 acres of beautifully maintained gardens and parkland. Island outbuildings are reached via wooden docks framed by vine-covered porticos, and the surrounding gardens feature a waterfall, a fountain, water lilies, and broad grassy banks both shaded and sunny. The interior of this eight-bedroom property is elegant and roomy. Large windows allow natural light and scenic views of the grounds, while recessed ceilings give the rooms a quiet architectural grace. Details such as the curving wood staircase, with its carved newel posts and second-floor gallery, wood-framed arched interior doorways, and a handsome carved wood fireplace ornament the refined interiors. Featuring an indoor swimming pool with a live palm growing in its center, this bucolic eight-bedroom property is just a short drive south of the university city of Eindhoven, a center of industrial design, research, and industry.
Forestlike Fairyland
Ashland, Oregon
Shining Hand Ranch embraces stories inside and out. Set into the mountains of Oregon near a small rise flanked by oak trees that was once a wedding site for the area's native people, the home enjoys mountain views of Mount Ashland, Taowhywee Point, and Wagner Butte. The surrounding woodlands include native oaks and Siskiyou pine, and are home to eagles, hawks, deer, and elk. The interiors and exterior of this nearly-9,000 square foot, two-bedroom home offer an abundance of fanciful details. Hand-carved arched front doors are framed by copper trees; floor and ceiling materials reflect woods, river, and sky; the kitchen island is supported by manzanita trunks and preserved manzanita branches are set into dining room walls and ceiling; the living room fireplace is framed by entwined mosaic dragons; the master suite features custom-designed windows in the shape of spruce and pine trees. With world-class Shakespearean and modern drama almost year-round in nearby Ashland, this home's owners and guests are surrounded by stories.
Illustrious Estate
Grape Bay, Beach, Bermuda
Chelston estate has a truly storied history. This 14-acre beachfront estate, the former residence of the United States Consul General, has hosted President George HW Bush, Senators John Kerry and Edward Kennedy, Colin Powell, and Henry Kissinger, among many other dignitaries and celebrities. In true manorial fashion, Chelston has traditionally hosted grand fireworks shows every July 4th. The main house, at 10,000 square feet and three stories, features spacious public rooms and custom-painted wallpaper in the formal dining room. Commanding views of the ocean, nearby city of Hamilton, gardens, and lawns befit the estate's presence. Three three-bedroom guest cottages, a two-bedroom staff house, a pool house with a near-Olympic sized pool and view of the ocean, and a private beach pavilion are just a few of the many amenities that make this grand estate an illustrious and distinguished address.
Imagined Italy
Olbia Tempio, Italy
This five-bedroom Italian villa's timeless features—thick plaster walls, arched doorways and ceilings, and stone floors—fit perfectly into its wooded Mediterranean setting. Vine-covered terraces, stone walls, and an internal patio welcome the sea breezes. With its spacious private park, two master bedrooms with en suite bathrooms, and a separate area for live-in staff, privacy is assured even while the home benefits from the larger complex's custodian and direct beach access. Indoor/outdoor rooms, coved bedrooms that open onto private patios, and the magical feel of the Mediterranean give this home a timeless feel.
Contemporary Castle
Denbighshire, Wales
Built at the end of the 20th century, Castell Gyrn is a traditional Welsh castle with modern conveniences: double-glazed windows, modern plumbing, floor heating, and a garage. Architect John Taylor, who built the castle for his own use, included numerous romantic features such as the dragon tree carving, which breathes fire on entering the property, a formal walled courtyard garden with graveled paths and boxwood hedges, and a small outbuilding with a stone mosaic interior. The ground floor features double reception rooms, a library, a media room, and an en suite bedroom. Wood paneling and fireplaces of stone, wood, and granite give the rooms a timeless feel, while en suite bathrooms and a modern kitchen provide contemporary convenience. An additional two-bedroom house on the grounds, with its own driveway, provides guest housing.
Irish Estate
County Cork, Ireland
The 163 acres of Liss Ard Estate—including its private lake, separate lodge and coach houses, and formal gardens—capture the timeless beauty of the emerald isle. Near the 25-bedroom main mansion house is the Irish Sky Garden, designed by American artist James Turell, famous for grand earthwork pieces, enclosed rooms, and cameras obscura that invite viewers to contemplate light and space. The crater at the center of the sky garden creates a private space, enclosed yet expansive, that allows two people to lie toe to toe on a stone plinth at the bottom, contemplating the ever-changing Irish sky above.
Captivating Cottage
Quebec, Canada
Designed by Québec City's renowned architect Gilles Vilandré, this three-bedroom country home feels like a make-believe country chalet. Timbered ceilings, pine floors, and plaster walls throughout give a timeless quality to the 28-year old building, while whimsical touches like the curlicued screen set into the massive stone fireplace play with scale, furthering the fairytale feel. The entry hall's painted doorways and beams resemble a Van Gogh painting, while the four-season solarium's timbers recall a Tudor stage. The main staircase's modern open construction allows light to flow through and abuts an apparently ancient plaster stove, part of the large family room's built-in kitchen, giving a playful quality to practical touches. A combination of pragmatism with play characterizes the entire home, with useful amenities artfully integrated into the enchanted interiors.
Authoritative Estate
Milford Township, Michigan
Sweeping views and a hilltop setting compliment this six-bedroom home's castle-like construction. The long curving driveway approach and double-height entrance, with its polished stone floor and paired curved staircases framing a two-story reception area with a commanding view of the wooded property, provide a grand entrance that demonstrates that this home is its owner's castle. Wood framed arched windows, stone floors, marble counters in the spacious kitchen, and a large half-round dining room give the large and airy ground floor public rooms an impressive and elegant appeal that is at once timeless and contemporary. The master suite features a polished pink stone fireplace and matching podium for the circular tub; skylights and tripled windows ensure plenty of natural light. The wooded grounds feature a private pond, expansive front lawn, and framing conifers on the approach that echo the shapes of the home's four towers.