The laidback country of Uruguay, quietly nestled between Argentina and Brazil, is one of South America's most alluring hideaways. With a population of just 3.4 million, many of whom are European immigrants, it offers a unique mix of untouched natural beauty and ultra-luxury living, sophisticated European flavors, and a warm Latino spirit.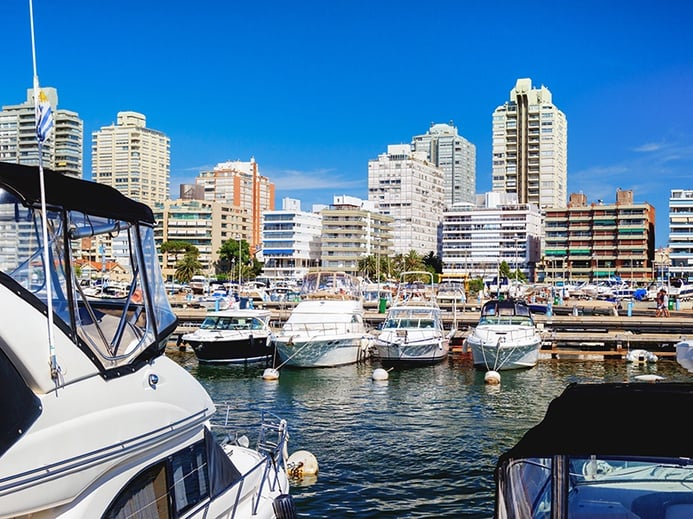 1. 410 miles of scenic coastline to explore
Uruguay's rugged coastline is a hotspot for secluded living, characterized by mile after mile of golden sand dunes, where, for most of the year, the only noise is the sound of the Atlantic Ocean crashing on the shore. However, residents get the best of both worlds as during the summer high season (December to January), it's pulsing with activity. The coastal city of Punta del Este, one of the most sought-after areas to buy property in the country and South America's equivalent of St Tropez, becomes a glitzy playground. But if it all gets too much, nearby Isla Gorriti offers a scenic hideaway. "You can get there by yacht in less than 30 minutes and it's the perfect place to relax and observe all the beauty and action of Punta del Este from afar, says Diego Roel, director of Terramar Christie's, an affiliate of Christie's International Real Estate. "Mansa Beach is my favorite place to watch the fantastic sunsets that Uruguay is famous for."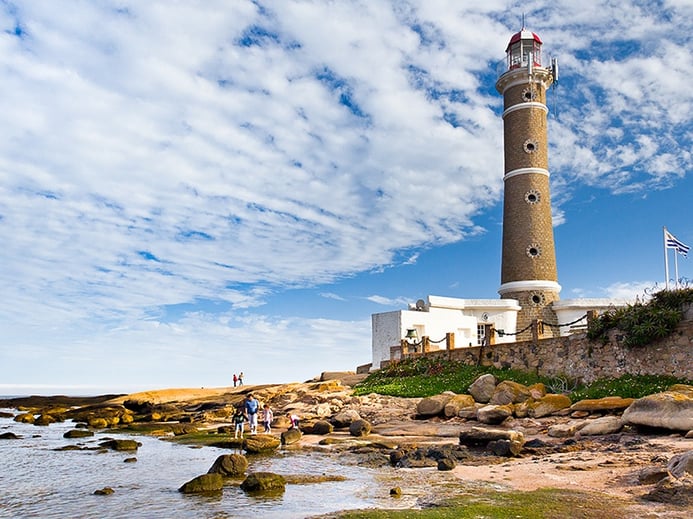 A 40-minute drive from Punta del Este is José Ignacio, its more bohemian yet equally exclusive neighbor. This sleepy fishing village has morphed into a fashionable lifestyle enclave in recent years. Modern villas, owned by the Argentine and Brazilian elite, bask in their cutting-edge design glory, looking down on the village's old lighthouse that dates back to 1877.
2. Property is spectacular and offers excellent value for money
This breathtaking 220-acre oceanfront property is the largest in the region. Its surrounding pine forests make it a deliciously private location, yet it's just a short drive from all the cosmopolitan activity of Punta del Este and the international airport. Designed by architect Pachi Firpo, Los Primos boasts a unique landscaped amphitheater and seven spacious bedrooms make it perfect for entertaining. Other luxury amenities include private horse stables, polo field, six-hole golf course and 450 meters of unspoiled beach. As Roel observes, "You have everything in your own world."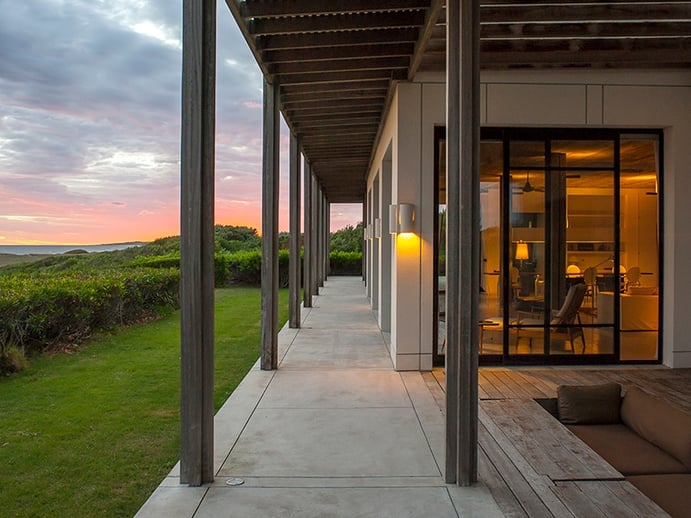 3. It has appealing tax incentives
By declaring fiscal residency in Uruguay (and spending just six months of the year there), foreigners pay no income tax on foreign income for five years and only 12% after that. They are also exempt from paying tax in their own country. "Many Europeans and Americans have taken advantage of this and invested in property in Uruguay," says Roel. He also reveals further incentives: "Now is a great time to invest in real estate. The value of properties in Uruguay is dependent on the economic situation in Argentina and Brazil as many citizens from these countries own second homes here. Since the two economies are coming out of a slowdown, buying property or land is very reasonable."
Now is a great time to invest in real estate; Argentina and Brazil are coming out of a slowdown
4. Uruguay is up-and-coming in the wine world
Its wine region may only be small (the entire country produces as much as one large winery in Argentina) but the Uruguayans consider it one of their most prized exports. The country's main grape is Tannat, a deliciously fruity, bold, and full-bodied wine and the lush green terrain and proximity to the coast offer a beautiful setting in which to taste it. There are numerous boutique, family run wineries situated around the city of Carmelo and further east. The charming century-old Narbona Wine Lodge is a must-visit, while Bodega Garzón is best seen from a hot air balloon ride that takes you over its picturesque vineyards and olive groves.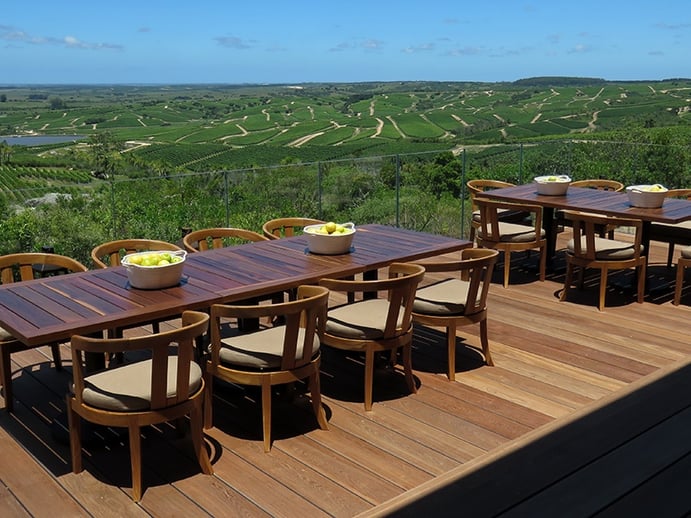 5. Alfresco dining at its best
With a wealth of fresh, local produce at their fingertips – such as beef from grass-fed cattle – Uruguayans take their dining seriously. Lunches are long and leisurely and dinners run late into the starry night. Overlooking rolling green hills, Garzón, the dining establishment of Argentine chef Francis Mallmann (and part of Bodega Garzón) is situated in the tiny rural village of the same name. Mallmann is an expert at cooking with fire, from traditional iron grilling techniques to the more obscure Incan infiernillo methods. One of the best seafood dining experiences is to be had on the wooden decks of the dreamy beachside La Huella in José Ignacio.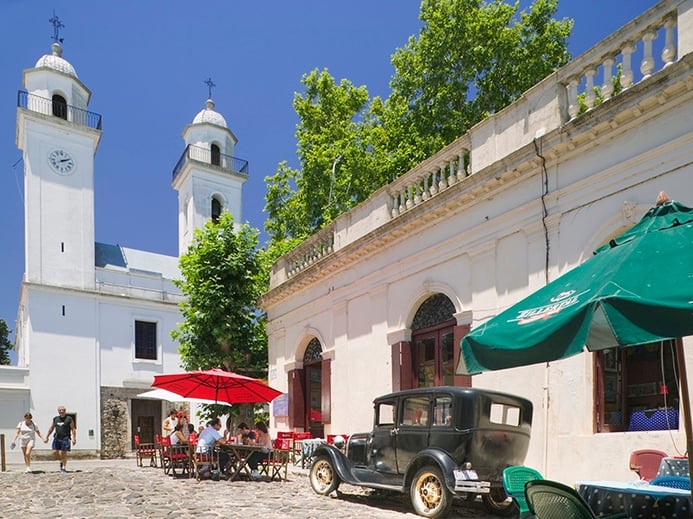 6. Colonial gems steeped in history
On the banks of the Río de la Plata that separates Uruguay from Argentina is the charming colonial town of Colonia del Sacramento, initially founded by the Portuguese in 1680. Time stands still in the historical quarter, a UNESCO World Heritage site, with its pretty lighthouse, antiquated drawbridge, and a maze of quaint cobbled streets and plazas to explore, surrounded by sweet-smelling jasmine and lapacho trees. Similarly, the coastal capital city of Montevideo, dating back to 1726, has an air of faded elegance and the old part of the city draws visitors with its impressive Art Deco buildings.
Time stands still in the historical quarter of Colonia del Sacramento, a UNESCO World Heritage site
7. R&R in exclusive resorts
There's no shortage of luxury hotels to indulge in for weekend getaways. The three VIK retreats, owned by Norwegian billionaire Alexander Vik, are all outstanding architectural feats. Spend the day swimming in the impressive 75-foot-long black granite pool jutting out over the sea and the evening cozied up in the sunken lounge of the luxury beachside Playa Vik Hotel. Or, paddle around in handmade canoes on the Laguna de José Ignacio while gazing out over the some 3,700 acres of green plains at Estancia Vik, a 12-suite ranch and an art lover's dream. The more recently opened Bahia Vik offers six luxurious bungalows hidden among the sand dunes, and more vibrant contemporary art, selected by Vik himself.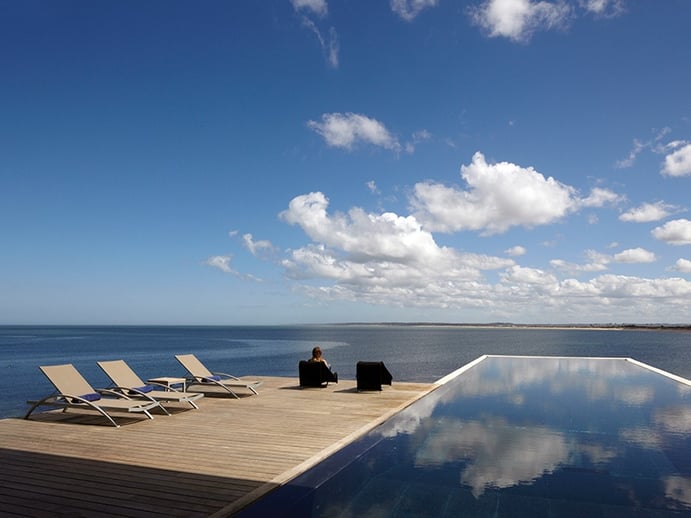 Alternatively, lying west on the shores of the Río de La Plata just outside Colonia, is the more intimate Rio Ancho, where you can unwind in the deluxe private home of Argentine owner Marcelo Susevich and his wife Miri Fioramonti, and feast on a fabulous seasonal tasting menu designed by Argentine chef Martín Molteni.
8. The great outdoors
Uruguay offers a wealth of outdoor pursuits. Thanks to the country's deep-rooted cowboy culture, horse riding is a prime activity, whether you're trekking through the Tacuarembó plains with the local gauchos (cowboys) or playing polo on beautifully manicured fields. Hunting, fishing, kite surfing, and golf are also popular pastimes for locals and visitors alike.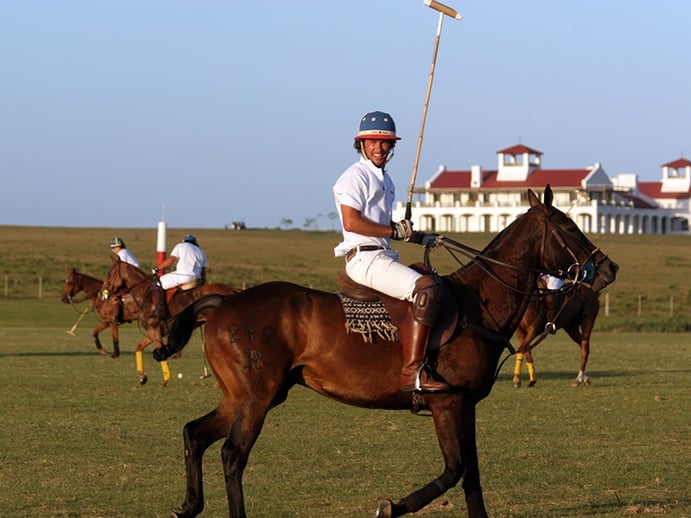 9. Boutique shopping
During the summer months, Punta del Este and José Ignacio play host to pop-up showrooms and upmarket fashion events by a roster of local and international designers. There's also a bevy of local designer boutiques to help you fit out your beach-chic wardrobe and home. José Ignacio-based boutique Sentido is a shopping gem, filled with unique furnishings and homewares, cherry-picked by owner Sol Rueda during her travels. Next door is the flagship boutique of her daughter and graduate of London's Central Saint Martins Anushka Elliot, whose one-of-a-kind pieces are highly coveted by the local fashion set.
10. The whole of South America is on your doorstep
Argentina's capital Buenos Aires is easily accessible by private plane or boat in just a couple of hours, and once you've soaked up the beautiful architecture, tango culture, and Malbec wine of this vibrant city, you're at the gateway to the rest of South America.