Privacy is king in Saint Barthélemy, and Villa Chanticleer (Villa RKK) reigns supreme. Sprawled high on a central plateau, overlooking the bay of Lorient on the northern coast, it is a peerless property on a Caribbean island famed for its exclusivity. A favored hangout of A-listers, St Barts stays on the front page, but its residents cherish its seclusion, and this wonderful estate royally delivers.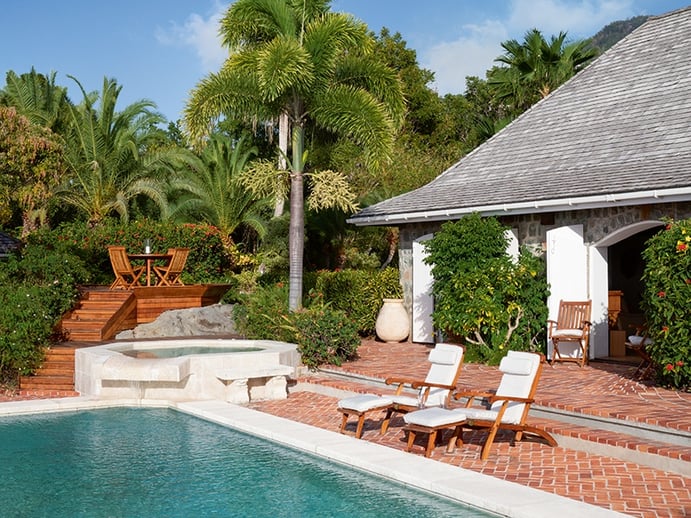 Built in a colonial style, somewhat reminiscent of the old plantation houses of Martinique, Villa Chanticleer bucked the island fashion for modernism back in the late 1970s when construction began. This five-bedroom, five-bath property is spread over three separate buildings. Each is surrounded by tropical gardens, lawns, palms, hibiscus, and bougainvillea, and linked by terracotta paths, a perfect fit for the location.
Total seclusion – inside and out
Entry is through a majestic stone archway framed by lush planting atop circular stone steps, its low pitch masking the treasures beyond. And the space is the other stop-you-in-your-tracks feature that sets Villa Chanticleer apart.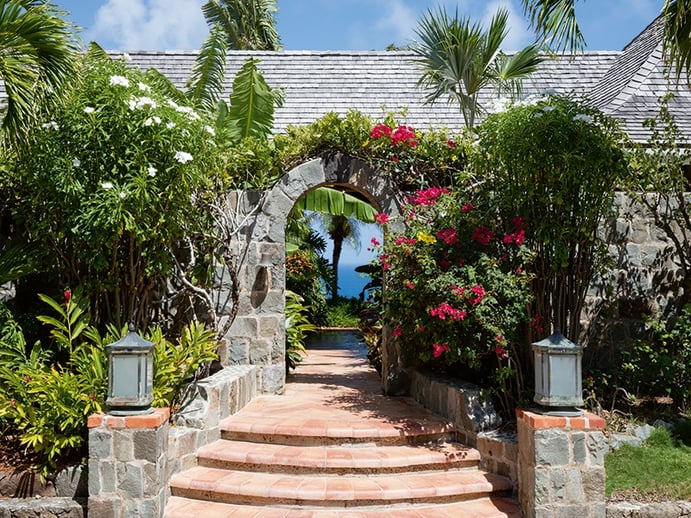 Set in more than three acres, six times the island average, it really is an estate. "The first thing that hits you is the feeling of space here," says Christian Wattiau of Sibarth Real Estate, an affiliate of Christie's International Real Estate, who is marketing the home. "Most of the land belonging to the villa is flat, so it's usable. The property is on top of a hill, so it has incredible views, but because of the topography nothing can be built directly beneath – making it very, very private. And in a place where privacy is paramount, it's a winner."
It is perfect for those who crave intimacy, but also a wonderful place for entertaining
"It is magnificent. So, so special," says Rick Moeser, Executive Director at Christie's International Real Estate. "Typically, properties on St Barts are small, built on a ridge of a cliff with a pool and a view. Something of this size is unheard of."
A balance of tradition and modernity
The main building, with its solid stone walls, oak framework, and herringbone terracotta floor tiles, houses an open-plan living-cum-dining room that radiates charm and tradition. Elegant dark-wood furniture, smooth with age and gleaming with a soft patina, gives off the air of a stately European home, though any formality is softened by the large, plump sofas and low-level coffee tables that make for a relaxed, cozy hangout.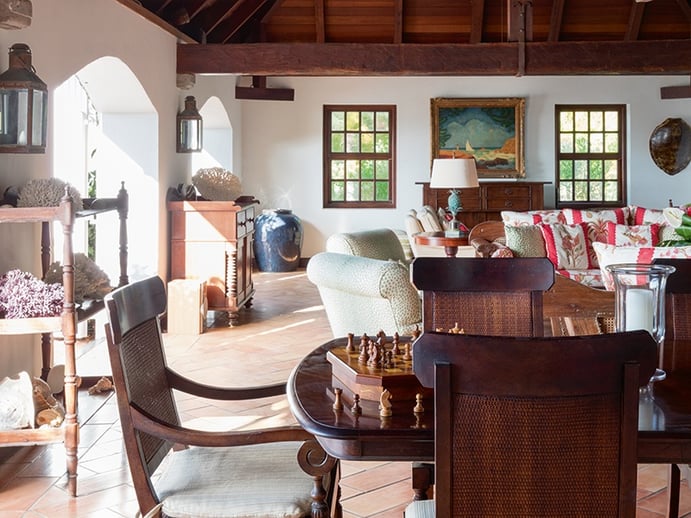 Naturally, this being the Caribbean, the room is a cool retreat from the heat of the day, made light and airy by three large openings along one side that extend the living space out to a terrace and infinity-edge pool.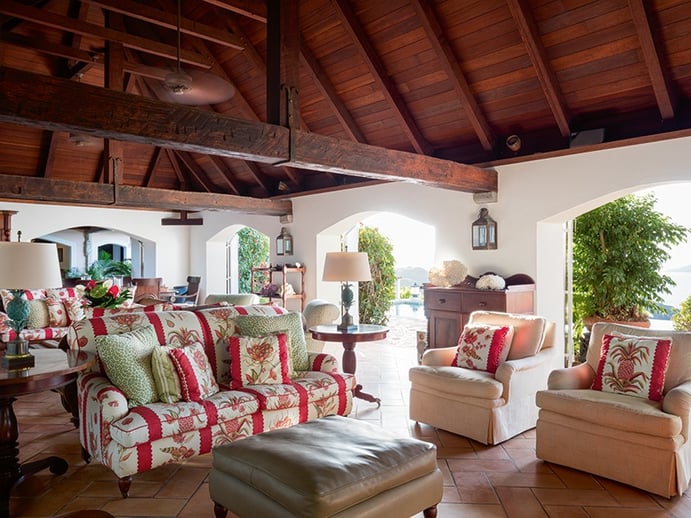 Also in the main building, a bedroom with en suite bath has an unspoiled ocean view, while a large kitchen displays the villa's classic style.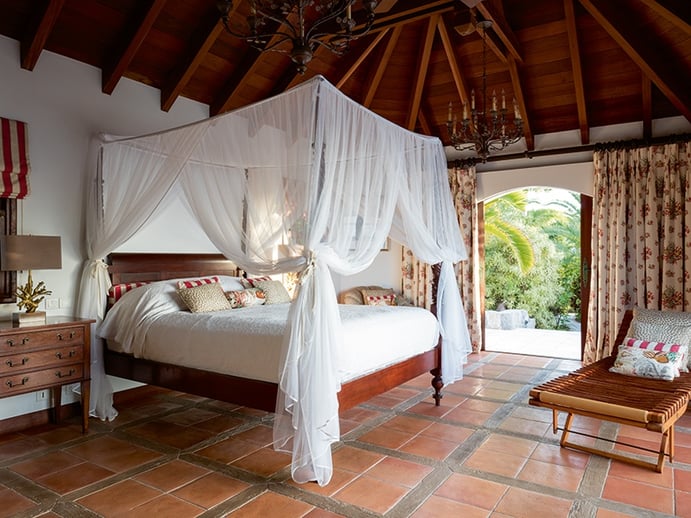 A cockerel mosaic – a nod to the old country, France – nestles between the stove and a bespoke range hood adorned with ornate carving, and hand-cut lapis lazuli terracotta wall tiles shimmer when caught by the light. Equipped with all modern amenities, a separate pantry, and an informal breakfast bar, it is a room equally suited to grabbing a bite or preparing a gourmet feast.
Impressive views and luxurious gardens
A standout feature of the villa, the infinity-edge pool is built out to the edge of the ridge, affording nothing but crystal-clear vistas of the ocean beyond.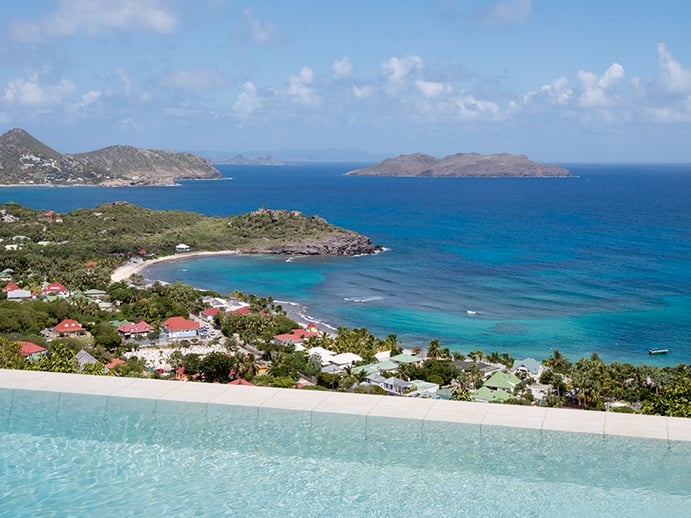 A surrounding terrace allows for such idyllic views throughout the day, while at night it is transformed into a personal VIP area – a place to relax and sip a cocktail in perfect harmony with the setting.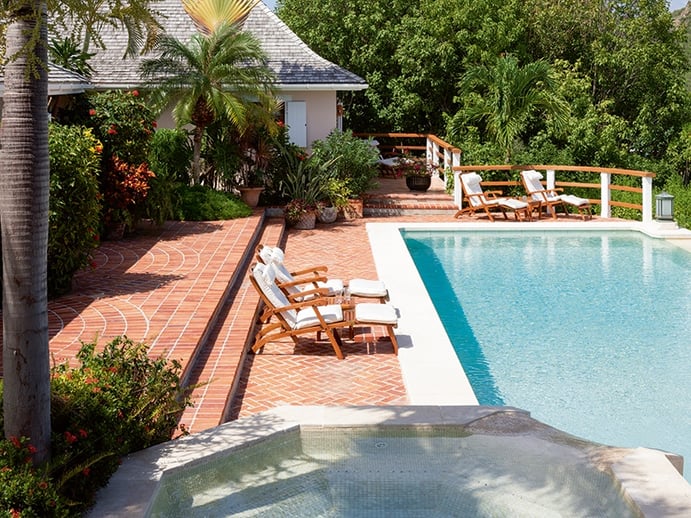 A short walk through the gardens leads to one of two cottages, housing a second bedroom and bath, with the master suite set a little further on and boasting a private plunge pool and terrace leading out to the main pool. At the back of the estate, another guesthouse provides two further bedrooms and en suite baths. A connecting terrace affords impressive views over the gardens and manicured lawn.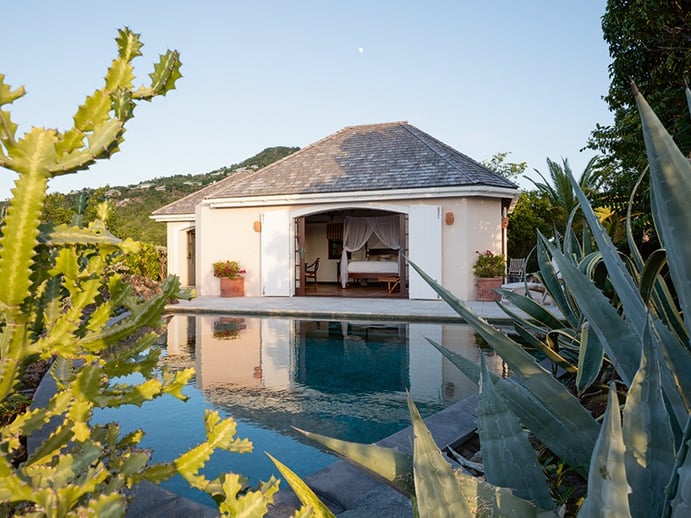 "Even the guest cottages are super-luxurious," Moeser says. "And the gardens are incredible, very unusual on such an arid island, with lush lawns and landscaping. They have been really fussed over by the owners, who've planted amazing orchids and exotic plants."
Everything you might need
The overall feeling at Villa Chanticleer is one of understated luxury, a slower old-world pace, a place to recharge. But there is plenty to tempt those who crave activity. There's a gym and Jacuzzi in the grounds, and 10 years ago the owners bought land on the other side of the small – just 10 feet wide – road that runs across the back of the estate and built a tennis court there.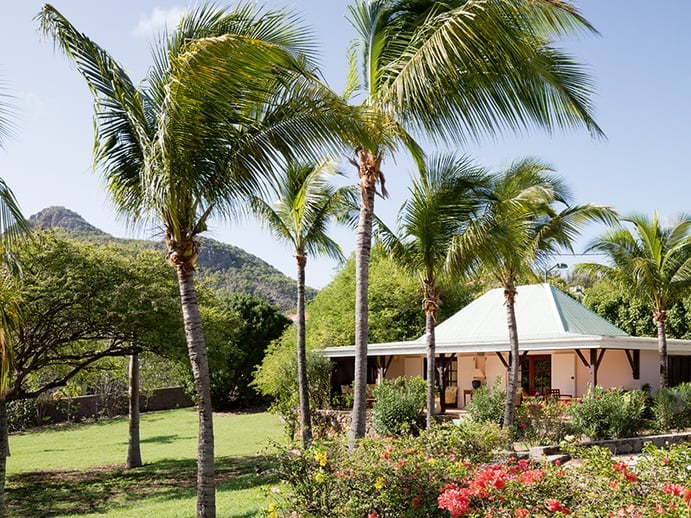 "Chanticleer is really a self-contained resort with everything you could possible want," Moeser says. "It is perfect for those who crave intimacy, but also a wonderful place for entertaining. The space means it is never cramped and also very private. Its central position allows for easy access to the whole island and all it has to offer, which gives you a real feel of the place as soon as you arrive."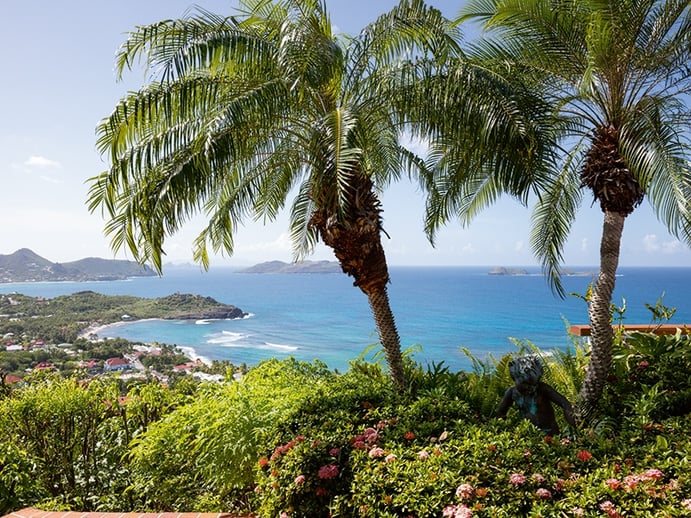 "The property faces north, which gives it striking views," Wattiau adds, "but its situation means it doesn't get blasted from the wind coming in from the east, and it is sheltered from the heat in the west. This works particularly well with the tennis court and it's these details that make this such a special place, with everything you could want for living here year round."
Photography: Pierre Carreau