To say that Saint Barthélemy is "just a Caribbean island" is a little bit like saying that the Rolls-Royce is "just a car." One of four islands that make up the French West Indies, Saint Barthélemy, more commonly known as St Barts or St Barth, is a white-sand paradise covering eight square miles in the northern arc of the Caribbean. Breathtakingly beautiful and effortlessly charming, St Barts balances peace with bustle, high glamour with local charm, and laid-back West Indies vibes with French elegance. Celebrities come, in particular, for the extraordinary sense of privacy bestowed on vacationers by both locals and other guests. Jay-Z, Beyonce, Harrison Ford, Marc Jacobs, and Diane von Furstenberg are just a handful of its well-known visitors.
"The atmosphere here is completely different to that on other Caribbean islands," says Cecile Tiberghien of Sibarth Real Estate, who swapped her French homeland for St Barts in 1997. "You have the mix of French and Creole culture, wonderful beaches, terrific restaurants, and plenty of activities — not just in terms of nightlife but water sports too. We cater to people who want to keep busy but also be peaceful and relaxed. There is also a feeling of security and safety, which you don't get on all the islands. It's very special."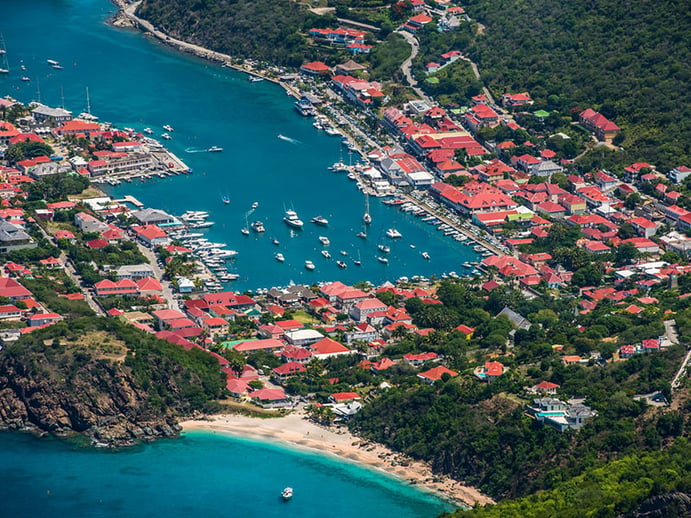 High season runs between Thanksgiving and January, becoming quieter after the wonderfully jazzy St Barts Music Festival and then gathering pace before Easter in preparation for the island's famous yachting regattas, the Bucket and Les Voiles, and the St Barth Film Festival. But guests wishing to enjoy the island at its most laid-back tend to visit during sleepier months, permitted thanks to St Barth's spectacular year-round sunny climes. The average temperature is 82.40F (280C), rising to 91.40F (330C), even during the rainy season between May and November, and the island enjoys low humidity.
Naturally, the first thing people tend to do after landing at Gustaf III Airport or pulling into Gustavia Harbor, is make a beeline for the beach. There are 14 white-sand enclaves to choose from, each boasting tranquil turquoise waters, naturally green hilly backdrops, and precious few other people. Toiny, Flamands, Lorient, and Anse des Cayes are surf nirvanas, while Saline is a super-glamorous hideout and Petit Cul de Sac is a snorkeler's haven. Grand Cul de Sac and St Jean offer the best conditions for windsurfing, Marigot nature reserve is a palm-fringed jewel, and Gouverneur is idyllically remote. Shell is bustling, Corossol borders an atmospheric fishing village, and the general public beach is a frenzy of sailboats. Last but not least is Colombier, nicknamed Rockefeller's beach because billionaire David Rockefeller once owned the property surrounding it. Accessible only by boat or hike, Colombier is certainly the trickiest beach to reach, so camping is a popular pastime.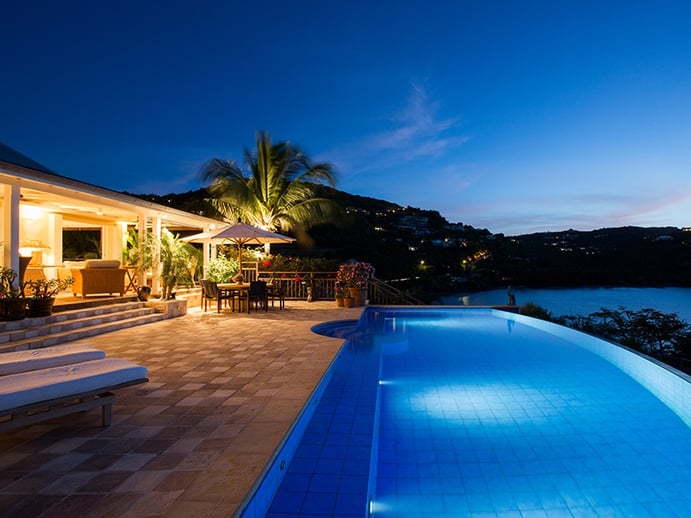 Alternatively, a completely private beach is another option. Sibarth Real Estate's gloriously secluded five-bedroom Villa WYB on the breathtaking Captiva estate boasts one of its own, along with one of only three private jetties on the island — so long as you don't mind the occasional gatecrashing turtle.
"St Barts has a particularly glitzy public image, but the truth is there's a real authenticity here," explains Tiberghien. "Yes, there are glamorous parties and impressive superyachts, but we also have a 9,000-strong population of people who live and work here all year round. The whole island is wonderfully mixed, with locals and guests enjoying the same beaches, bars, and restaurants. Couples love coming here on honeymoon, as do young families, but we also have visitors who have come every year for the last 25 years and grown very fond of its uniqueness."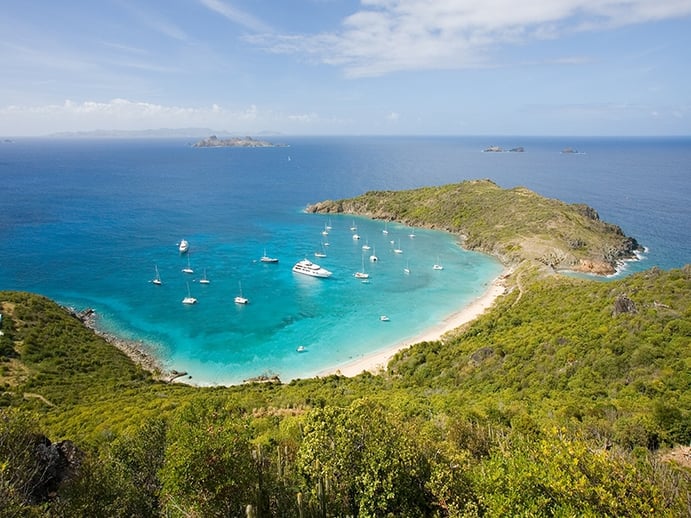 Water sports are hugely popular on the island, which enjoys terrific surf and offers awe-inspiring scuba diving and snorkeling opportunities thanks to its protected surrounding reef. Prime underwater sightseeing spots are to be found around L'Âne Rouge cape off Colombier or at Pain de Sucre (The Sugar Loaf), a high-visibility islet off Gustavia Harbor offering divers exquisite coral, turtles, sharks, eels, blennies, chromis, creole wrasses, barracuda, groupers, hermit crabs, and blue tangs. Experienced surfers will delight in the wild state of the waves at Toiny, while boarding novices can take lessons at the more gentle, family-friendly Lorient.
While riding the Lorient waves, gaze up at the lush greenery above the bay and you might just catch a glimpse of the silver rooftops of Sibarth Real Estate's exclusive Villa RKK, an expansive, five-bedroom hillside home surrounded by tropical gardens, an infinity pool, tennis court, and sublime panoramic ocean views.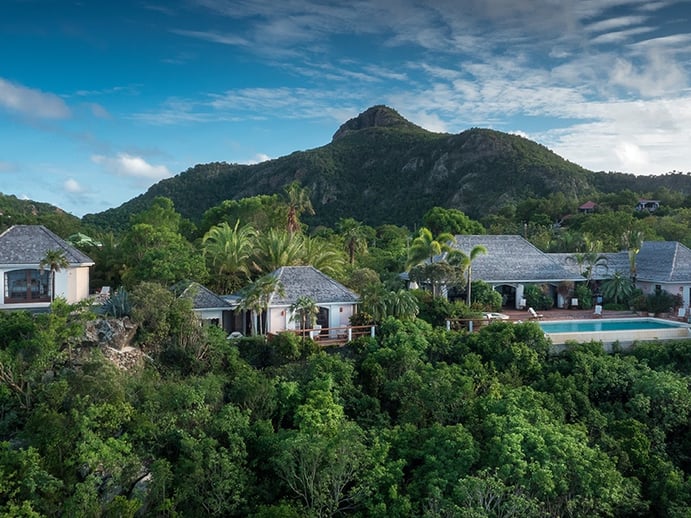 "Overlooking the bay of Lorient, this villa has the charm of an established family home," says Tiberghien. "It is built with cut stone, floored with terracotta tiles, and has furniture smoothed by the years. In the large garden, between the view over the sea, the lawn and the bougainvillea, time comes to a standstill."
When the time comes to rest your weary head after a hard day at the beach, the island's hotels offer effortless elegance and superior hospitality, with two in particular heralded as firm favorites.
Cheval Blanc St-Barth Isle de France is an exceptionally peaceful beachfront paradise surrounded by lush tropics and the flawless white sand of Flamands beach. Just 40 chic rooms, bungalows, suites, and villas are available, along with a spa, several dining options and bars, activities for both adults and children, a fashion boutique, and help crafting bespoke excursions and experiences, from private picnics on deserted islands, to romantic sunset cruises and weddings.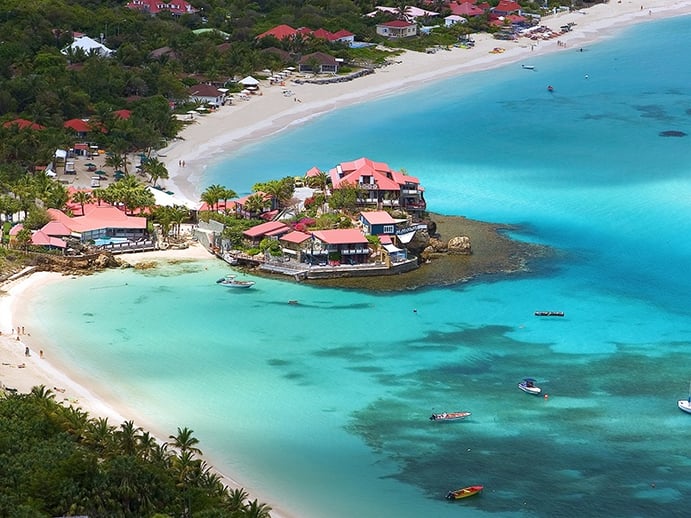 Eden Rock, which sits in the center of St Jean beach, is a somewhat different proposition. Similarly stunning, the atmosphere here is livelier and more playful; its most famous home-from-home is called Villa Rockstar, which has been described as "a hundred million dollar yacht on land" and comes furnished with its own screening room and recording studio. Eden Rock offers rooms, cottages, suites, beach houses, secluded onsite villas, and an offsite villa rental service, guests of which enjoy VIP access to the hotel's beachfront facilities.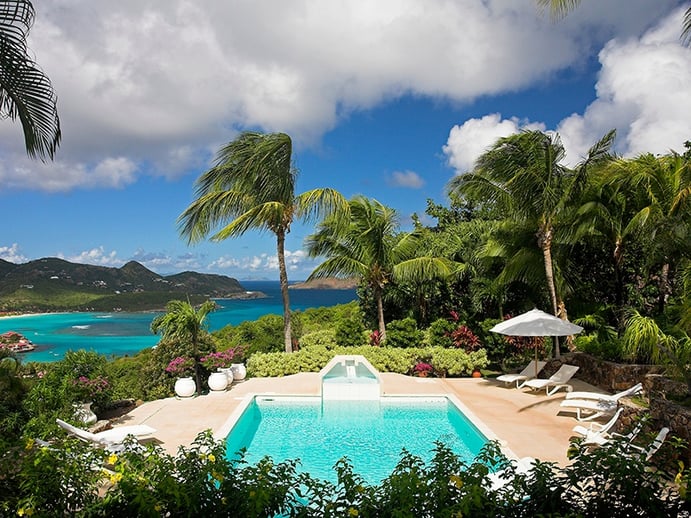 Some of the best views over Eden Rock can be enjoyed while standing poolside at Sibarth Real Estate's Villa Ado, a pristine, four-bedroom, classically Caribbean colonial villa, with magnificent dimensions, and a timeless elegance.
Elsewhere, Le Guanahani on Grand Cul de Sac is an enclave of "casual luxury" and a terrific hotel destination for families, with children particularly well-catered for, while Hotel Le Toiny — a five-star boutique establishment with just 14 luxury suites, whose ambitious new owners are currently expanding — is certainly one to watch.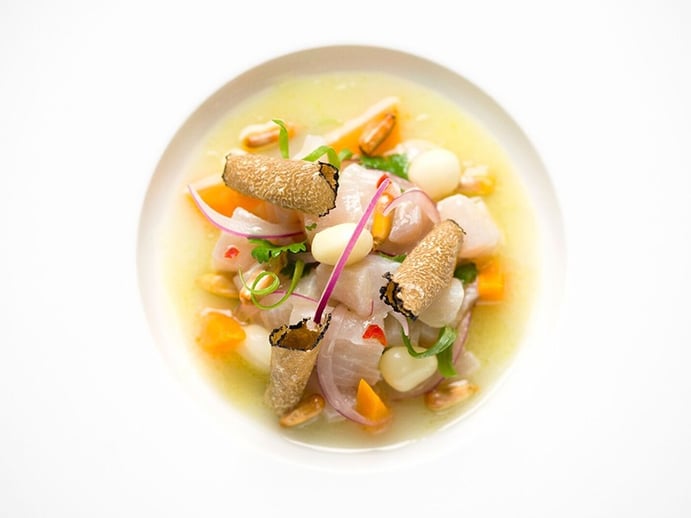 Hotels often offer St Barth's finest dining and drinking options, whether you're after a private, candlelit supper on the beach or a more sociable affair set to live music. Most hotel kitchens are run by world-class chefs and serve delicious international fare rich in assorted delicacies; lobster, mahi-mahi, foie gras, caviar, and truffle can be found on most menus. St Barth's various cultural influences means you are as likely to be handed a French menu as you are a Creole one, while tourism has led to an influx of popular Italian eateries such as L'Isola in Gustavia, which specializes in Amalfi seafood. Maya's, run by Maya Gurley and her husband in Gustavia Harbor, is considered the best Creole restaurant on the island, with an ever-changing menu including shrimp salad with green papaya, green curry mahi-mahi and tamarind-spiced pork. Eddy's is a smaller Creole option run by locals, while Bonito serves fantastic ceviche alongside spectacular views over the harbor, and local Gustavia eatery The Select has earned its title as the oldest bar on the island. Shell beach is home to Do Brazil, a tranquil restaurant in the sand serving spectacular cocktails.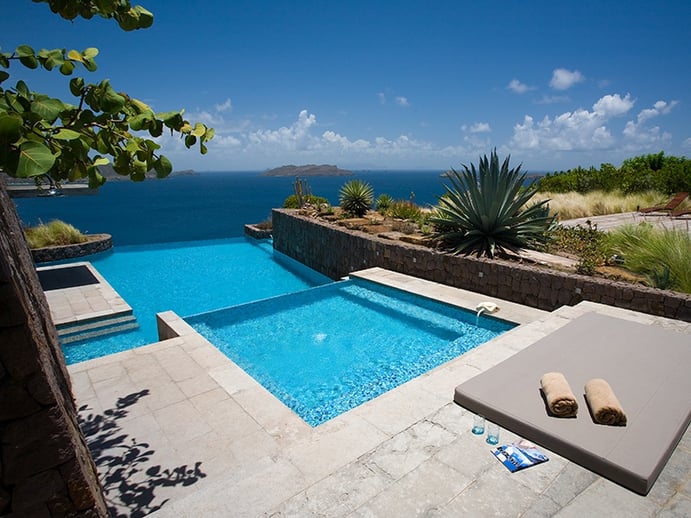 Of course, if you wish to enjoy sundowners with only your inner circle, consider Sibarth Real Estate's elegantly contemporary Villa Six, a heavenly, three-bedroom masterpiece perched high above Pointe Milou and affording some of the most jaw-dropping vistas — in particular, sunsets — on the island. Designed by Olivier Dain, Villa Six is an ode to clean, bright, open-plan modernity enveloped in natural beauty.
"What's so wonderful about St Barts is that it is simultaneously a place to be seen but also immensely private," says Tiberghien. "Famous people do visit, but when they do, people leave them alone. Everyone in the island respects one another."
5 top tips: An insider's guide to St Barts
Cecile Tiberghien, who has lived in St Barts for 19 years, reveals the island's most unmissable sights and activities

1. A day trip to Colombier beach
Only accessible by boat or by hiking around the side of the island, this stunning bay — also known as Rockefeller beach — is a beautiful, pristine, peaceful sunbathing and snorkeling spot. Pack a picnic and consider spending the night camping.
2. Take a jet ski for a spin
Hop on a jet ski and explore the island from the waters. The island is very small so it's easy to whizz all the way around it in one day, pausing for dips in your favorite secret swimming spots and pulling in for snacks at beachside eateries.
3. The Washing Machine
Not, in fact, a place to wash your clothes, but a collection of crystal-clear natural swimming pools on the wilder side of the island, which is totally unique and less built up. Remember to pack a swimsuit – you'll need a dip after your hike.
4. Surfing lesson on Lorient
The best school for surfing lessons, particularly for children, is on Lorient beach, where the waves aren't too dangerous.
5. Sunset cocktails at Do Brazil
Shell beach has the best sunsets on the island, and Do Brazil, sitting in Shell's sands, does the best cocktails. A perfect combination.