What do the Roman Pantheon, the Panama Canal, and the Hoover Dam have in common? They are all constructed of concrete. The Romans were actually rather fond of this now-ubiquitous building material (the Colosseum is also largely built of concrete), but it fell from favor once the empire collapsed, and was only "rediscovered" in the 18th century when advances in technology made it popular once more. (John Smeaton is widely credited with pioneering its revival when he added hydraulic lime to concrete, and pebbles and powdered brick as aggregate to create the third Eddystone Lighthouse in Devon, England.)
Today, concrete is quite literally, everywhere, from parking lots to sports stadia and shopping malls. It's also increasingly found in groundbreaking public and residential structures thanks to contemporary architects such as Zaha Hadid and Rudy Ricciotti (although it was Frank Lloyd Wright who championed concrete several decades earlier). A new book, 100 Contemporary Concrete Buildings (Taschen, 2015), showcases the work of these and other architects, from which we have selected our 13 favorites.
1 Tadao Ando, Roberto Garza Sada Center for Arts, Architecture and Design – Monterrey, Mexico (2009-12) © Shigeo Ogawa
Tadao Ando's first built work in Latin America is a six-story reinforced concrete building housing studios, laboratories, and teaching space for some 500 students. Shown here is the building's oversized concrete "anchor" which provides shade for pedestrians.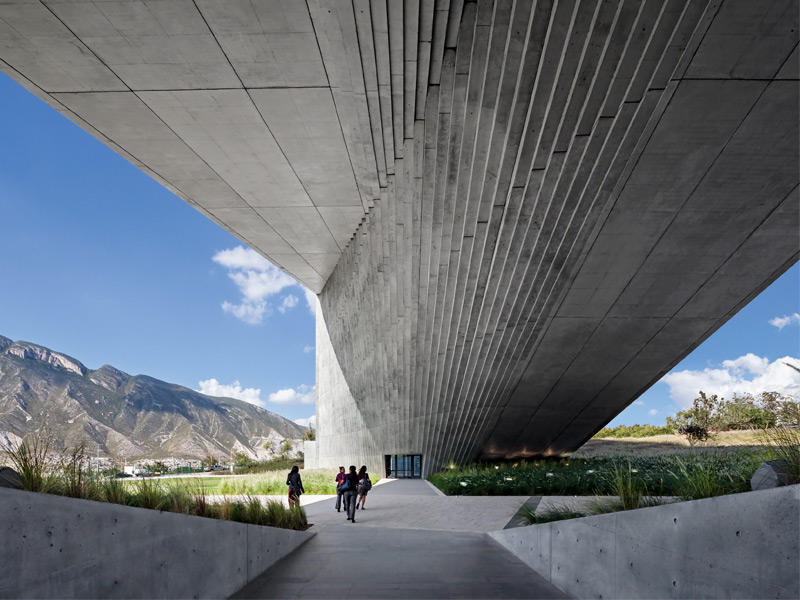 2 Chiaki Arai, Niigata City Konan Ward Cultural Center – Konan-ku, Nigata City, Japan (2010-12) © Chiaki Arai
This layered concrete structure contains a multipurpose theater, library, museum, and community center. Elaborate and uneven walls are used to distribute air conditioning ducts and lighting. Sliding walls allow spaces to be combined or separated as required.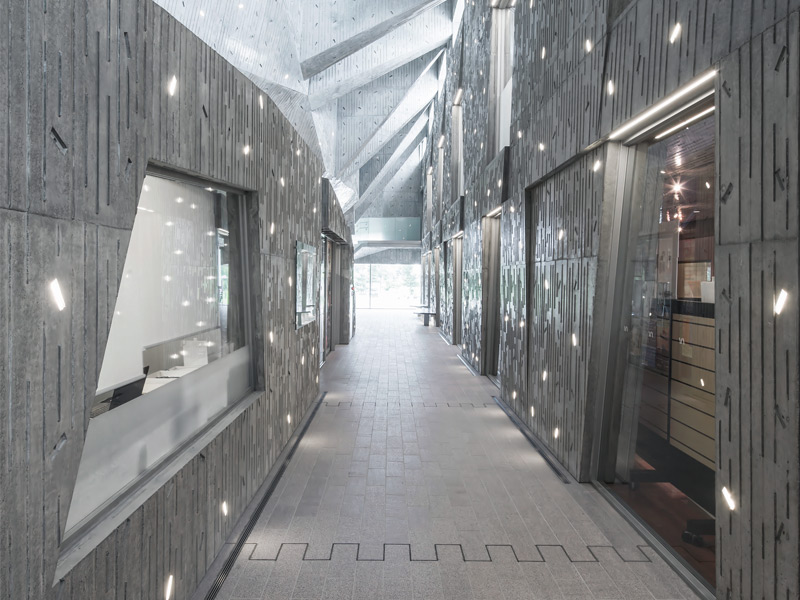 3 BAK, Cher House – Mar Azul, Villa Gesell, Buenos Aires, Argentina (2010) © Gustavo Sosa Pinilla
Set on a 0.14 acre site, this summer house, on the edge of a forest in Argentina's Mar Azul, is integrated into its surroundings. In order to take advantage of the undulating topology of the land, the architect created a series of "half levels" and sunk some of the spaces. Apart from the bed, couches, and chairs, all the furniture in the house is made of concrete.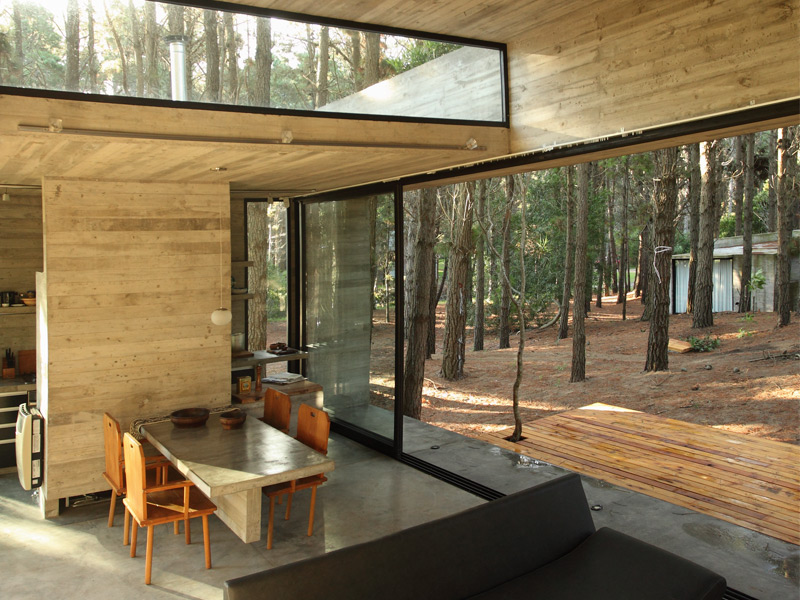 4 BNKR, Sunset Chapel – Acapulco, Mexico (2011) © Estaban Suarez
The client who commissioned this chapel – intended to "mourn the passing of loved ones" – wanted to take advantage of the spectacular views from the site and wanted the sun to set exactly behind the cross on the equinoxes. Due to a large boulder that blocked the view, in order to achieve this the structure needed to be elevated more than 16 feet, creating a footprint just half the size of the upper level and making it resemble what the architects describe as "just another boulder."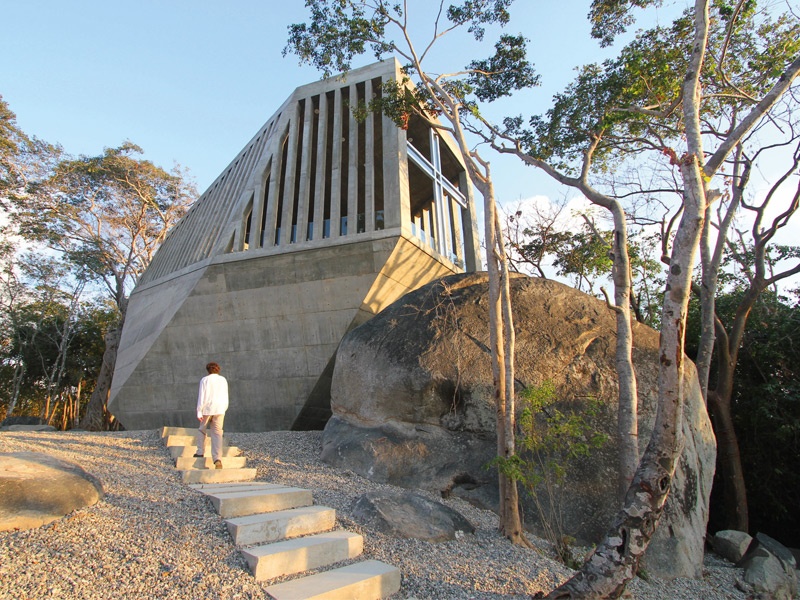 5 David Chipperfield, Joachimstrasse – Berlin, Germany (2011-13) © Simon Menges
Built as the offices of the architect, the exterior walls of this complex are made of insulating concrete, while interiors are finished with concrete floors and ceilings. The offices' bar/cafeteria contrasts long concrete surfaces with wooden benches and simple light fittings.
6 Eastern Design Office, On the Corner – Youkaichi City, Shiga, Japan (2010-11) © Koichi Torimura
This structure was built on a relatively small 0.06-acre triangular lot, which dictated the shape of the 42.6-foot-high residential complex. Each of the seven rental apartments features a 140-square-foot living room, two bedrooms and a prefabricated bathroom, kitchen, and toilet. The architects describe the building as "like a wrecked boat, the fictional tip of a boat as if it were escaping from town."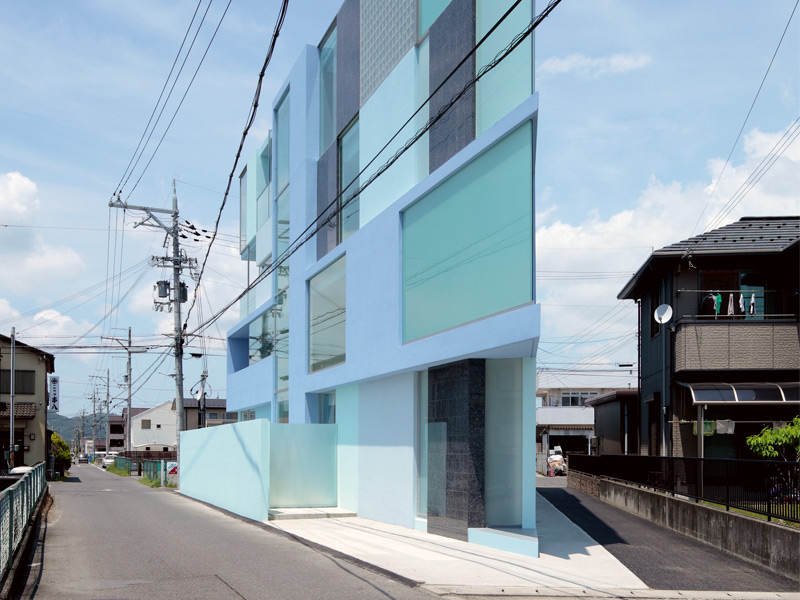 7 Zaha Hadid, Pierresvives – Montpellier, France (2002-12) © Iwan Baan
This 279,861-square-foot complex houses archives, a library, and offices for the sports department of the Hérault region of France and has been likened to a "horizontal tree trunk." Branches come out of this trunk, providing access to different areas of the building. A central "linear lobby" links the distinct areas.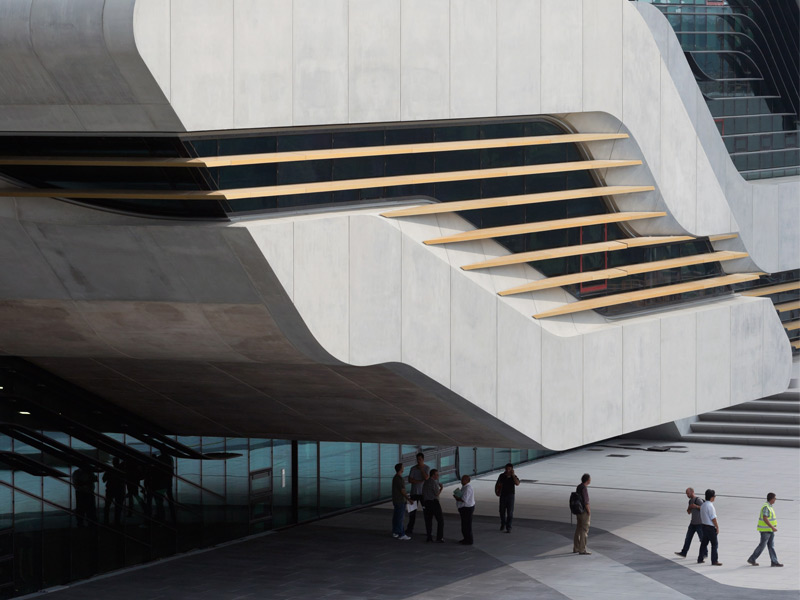 8 Lucio Morini + GGMPU, Bicentennial Civic Center – Córdoba, Argentina (2010-12) © Leonardo Finotti
The medium-rise tower features a cutout façade and houses ministerial offices. It sits alongside a contrasting long, low-rise administrative structure.
9 Reiulf Ramstad, Selvika National Tourist Route– Havøysund, Finnmark, Norway (2012) © Jiri Havran
This roadside stop is part of the development of the National Tourist Route between Kokelv and Havøysund. The meandering walkway ends in a focal point and gathering place with fireplace, outdoor kitchen, and benches. The site is made using locally sourced aggregate and is pigmented white with titanium dioxide.
10 Rudy Ricciotti, MuCEM – Marseille, France (2009-13) © Lisa Ricciotti
The MuCEM was completed in time for Marseille's turn as European Capital of Culture in 2013. The three-level exhibition space features eight different types of concrete lattice panels made with UHPC (fibre-reinforced ultra-high-performance concrete), which surround the building and serve as brise-soleils.
11 Studio MK27, MiCasa Vol. B – São Paulo, Brazil (2007)© Nelson Kon and Fran Parente
MiCasa Volume B is an annex to an existing store, reached via a small tunnel. The façade is made of exposed reinforced concrete. New lumber was used for the framework, with some wood not removed after curing. As the architect explains, this "rustic" method recalls Brazilian brutalism.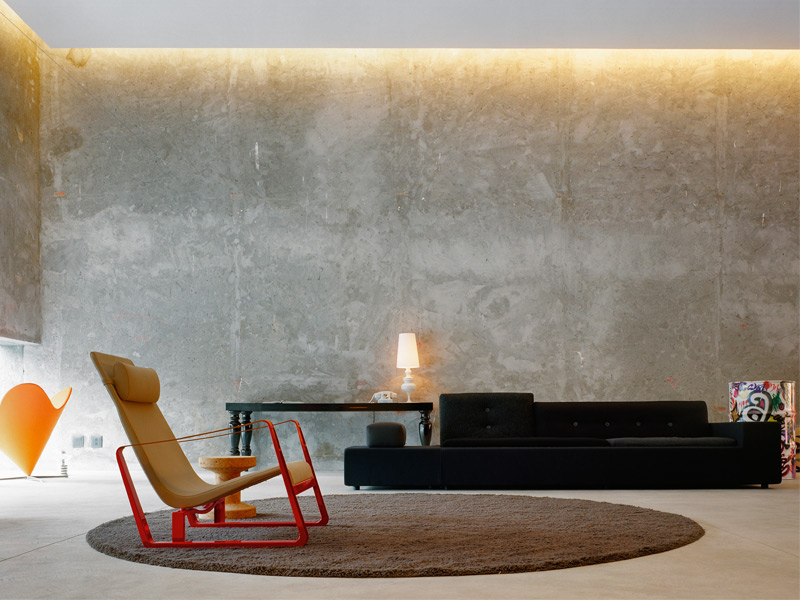 12 Bing Thom, Surrey City Center Library – Surrey, British Columbia, Canada (2011) © Nic Lehoux
The architects used computer modelling software to design the concrete formwork of this municipal center, which is part of the transformation of downtown Surrey and home to a library, cafe, and meeting spaces. The exterior concrete structure was carefully detailed as the final surface, eliminating the need for expensive cladding.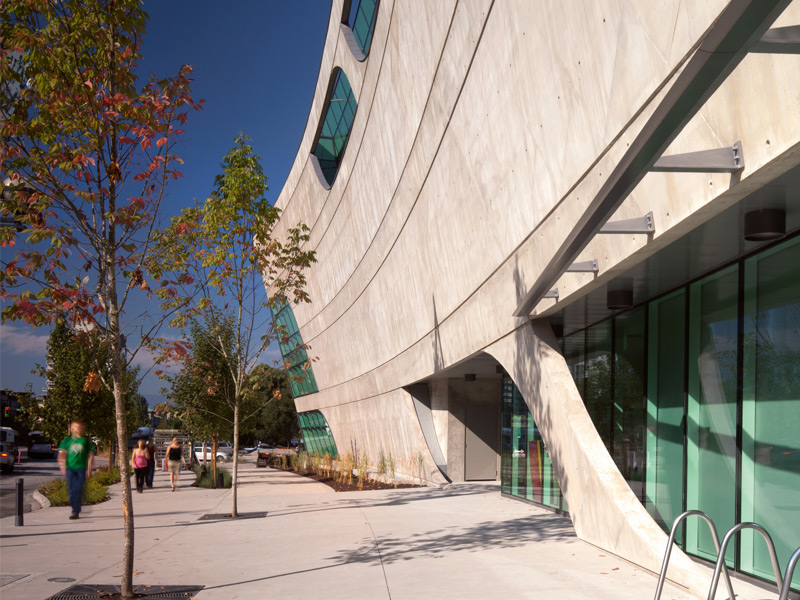 13 UNStudio, Ardmore Residence, Pontiac Land Group – Singapore (2011-13) © Pontiac Land Group
Concrete is the main structural material of this 36-story residential tower. The façade was made with cast-in-place, 98-foot-high "mega columns" with a structural ring beam between the columns. The rest of the façade is made with precast concrete panels. Features like bay windows and balconies are "woven" into one continuous line, and the façade pattern is reproduced every four stories.