This is the season, after all, for laying diets to one side and giving in to gastronomic desires. And if you're going to treat yourself to something sweet, why not do it in the most exquisite way possible? These fine, Michelin-starred dining rooms undoubtedly serve the most breathtakingly beautiful desserts the world has ever seen.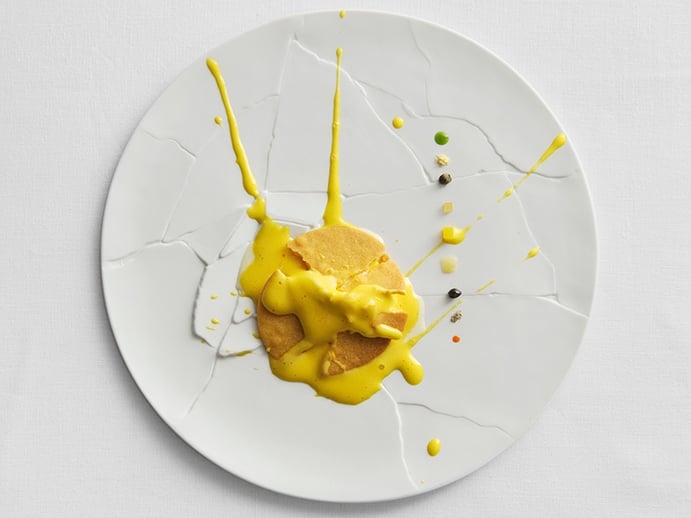 Oops! I Dropped the Lemon Tart
Osteria Francescana: Modena, Italy
Massimo Bottura's contemporary Italian dining room Osteria Francescana was named, this year, the World's Best Restaurant, by a panel of 1,000 gastronomic experts. The playful chef's most iconic dessert – Oops! I Dropped the Lemon Tart – is typical of his tongue-in-cheek menu, which breaks more than just dining convention. "I love the dynamics of a lemon tart, but hate all the fuss – cream decorations and stubborn crusts," says Bottura. "To get around all that nonsense, we purposefully crushed our tart."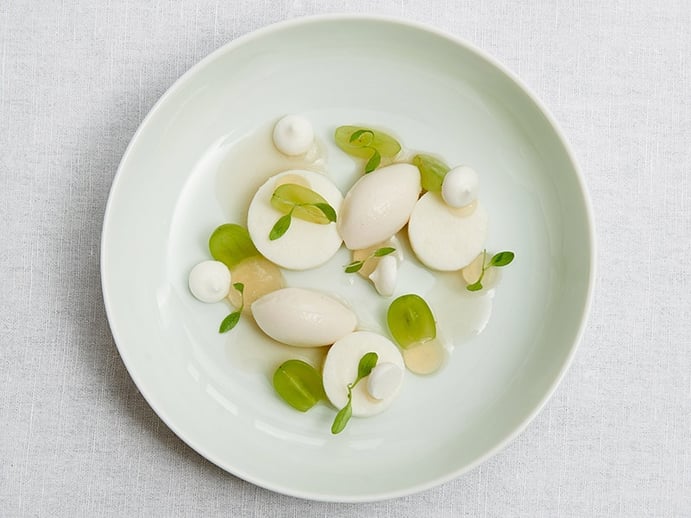 Calpico, Thompson grapes, and ginger
Tim Raue: Berlin, Germany
This elegant dessert, served at two-Michelin-starred chef Tim Raue's flagship Southeast Asian concept restaurant, was created in homage to a Singaporean establishment, André: "One of the best culinary experiences I have ever had," says Raue. "A very special dish was the dessert – with grapes and coriander seed. It was fine and tender, and inspired me to create our current dessert with [milk-based beverage] calpico, Thompson grapes, and ginger, garnished with [citrus-flavored] Ghoa cress. I really like the tenderness of the different textures, the interplay of sweetness and acidity, and especially the fluffy calpico crème Chiboust [crème Chiboust is the cream used to finish a Gâteau St Honoré]."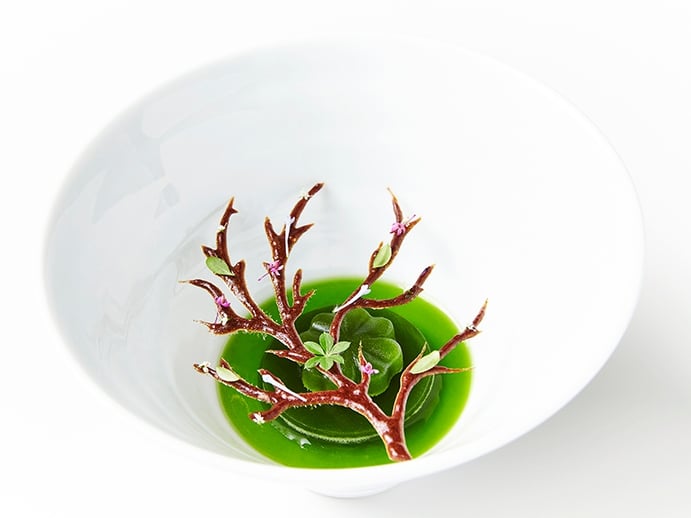 Walk in the Forest
Geranium: Copenhagen, Denmark
A signature dessert by three-Michelin starred head chef and Geranium co-owner Rasmus Kofoed, Walk in the Forest was inspired by the wild herbs, colors, shapes, and shadows of the lush Danish woodlands. At its base is a cream infused with white chocolate and woodruff, topped with a woodruff gel and a clover leaf-shaped frozen disc made from wood sorrel. The unique dish is finished with a crispy prune purée tree, and garnished with woodruff leaves and wood sorrel flowers.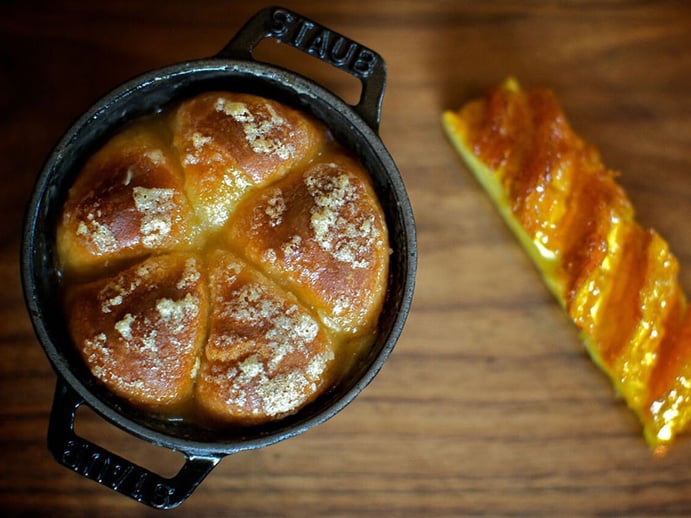 Tipsy Cake
Dinner by Heston: London, UK
Everything on the menu at Heston Blumenthal's London restaurant has been inspired by a historic dish sourced from the archives of the British Library or the kitchens at Hampton Court Palace; a "tipsy cake" is an 18th-century English pudding that became a Victorian favorite. It was a way of using up stale sweet bread, cake, or biscuits, which were covered with as much brandy and wine as they could absorb, then topped with custard. Heston's own variant – a light, baked brioche with a brandy and Sauternes cream, served with spit-roasted caramelized pineapple – has become one of Dinner's most iconic desserts.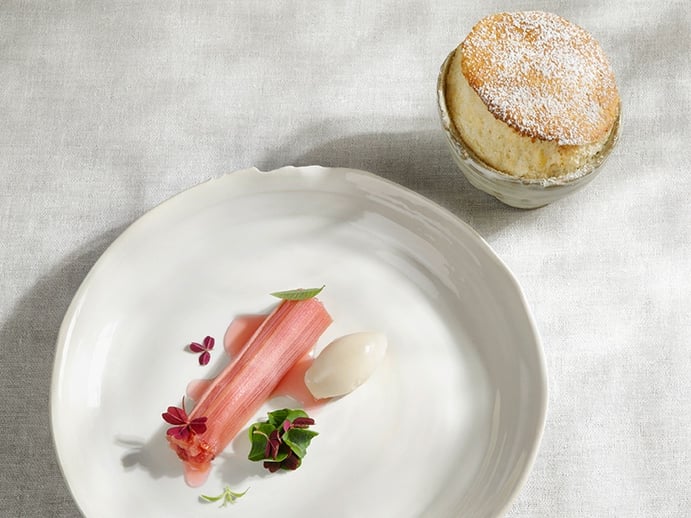 Hemp Seed Soufflé with Rhubarb and Cider
Steirereck: Vienna, Austria
Chef Heinz Reitbauer's modern Austrian restaurant Steirereck sits inside a glass box in Vienna's Stadtpark, and its interior – all poured concrete floors and starched white table linen – is similarly minimalist. Every dish on his lauded tasting and à la carte menus is thoughtful and precise; not to be missed is his utterly mesmerizing Hemp Seed Soufflé, which is served with frozen buttermilk with vanilla and lemon, a cider sorbet, marinated rhubarb with barberry, apple, elderflower, verbena, and wood sorrel, and a rhubarb sauce.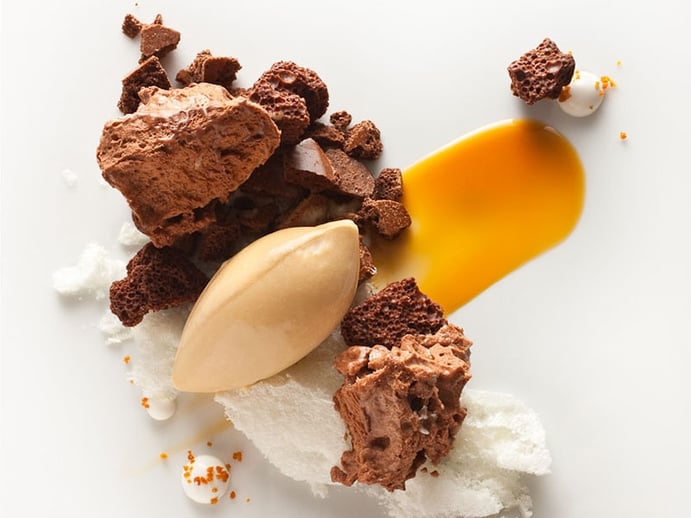 Chocolate and Milk
Eleven Madison Park: New York City, US
Playing on that classic, nostalgic childhood flavor pairing, Chocolate and Milk is a firm favorite at Daniel Humm's renowned Manhattan restaurant Eleven Madison Park – this year named both Best Restaurant in North America and third Best Restaurant in the World. The dessert's infectiously joyful plating plays with the various shades of white and brown, and with the textures of the ingredients, as well as with contrasting composed and spontaneous elements.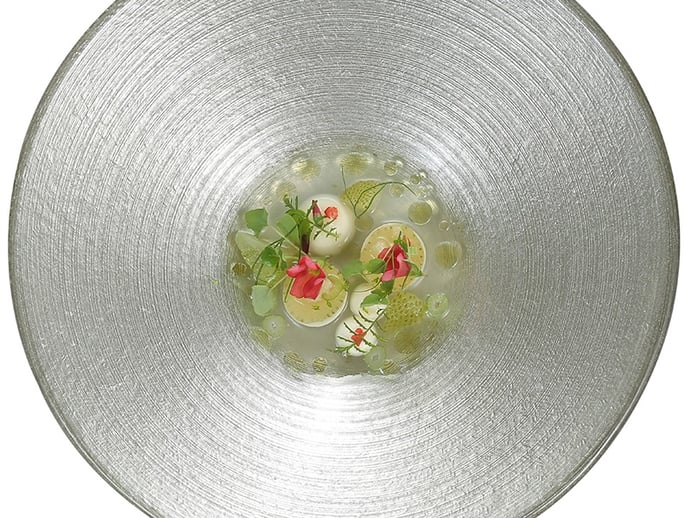 Gin & Jonnie
De Librije: Zwolle, Netherlands
De Librije, in the capital of the large Netherlands province of Overijssel, is a three-Michelin-starred restaurant and hotel. Head chef – and gin and tonic aficionado – Jonnie Boer has collaborated with Dutch distillery Onder De Boompjes to create his perfect gin. Together, they came up with Gin & Jonnie GastroGin, a blend of five peppers, verbena, fennel, citrus, and juniper, which he now uses as the base for this sublimely refreshing and palate-cleansing dessert of the same name.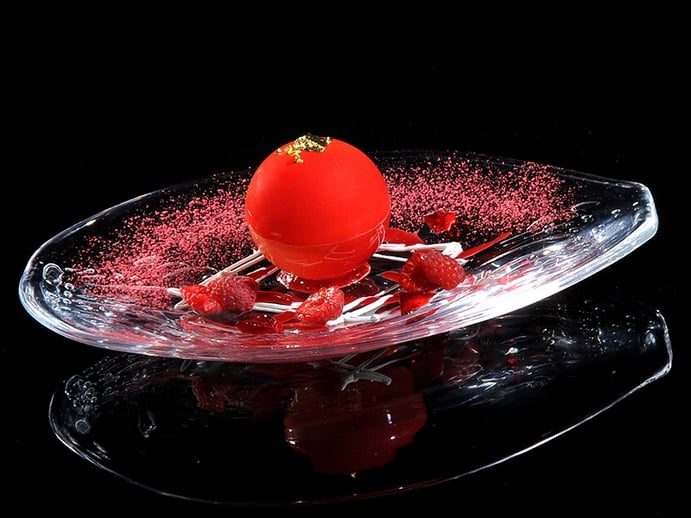 La Framboise
L'Atelier de Joël Robuchon: Las Vegas, US
Every meal at this award-winning, interactive concept restaurant from France's "Chef of the Century," Joël Robuchon, is prepared in full view of the diners; there is an open kitchen directly in front of the service counter. La Framboise's signature dessert is a dramatic way to end any meal here: when warm raspberry coulis is poured over a bright red sphere of white chocolate, it cracks and peels open like a flower, revealing yuzu ice cream within.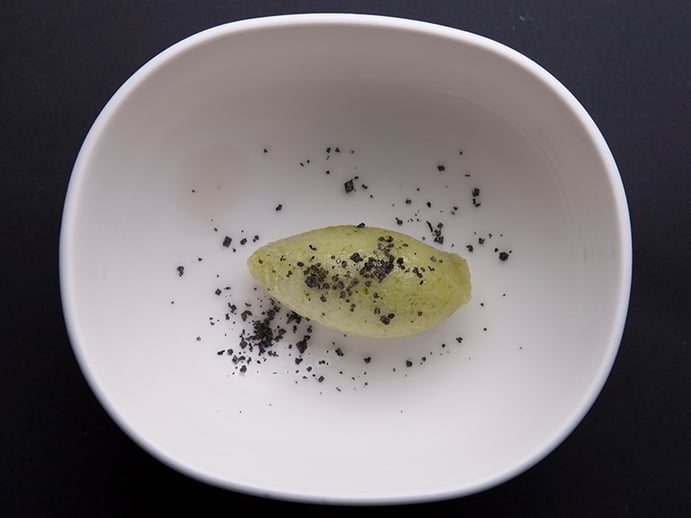 Nopal-Lime Sorbet
Quintonil: Mexico City, Mexico
Husband-and-wife team Jorge Vallejo and Alejandra Flores have always been committed to using ingredients from small, local Mexican producers at Quintonil. Their unique, bright green, sweet sorbet dusted with black lava salt is made using the nopal cactus leaf. "Even though it's incredibly nutritious, nopal is an ingredient that's rarely innovated with," says Vellejo. "It just hasn't been explored sufficiently, so we decided to try using it in new ways. We discovered that curing it in salt endowed it with qualities that made it perfect for a sorbet."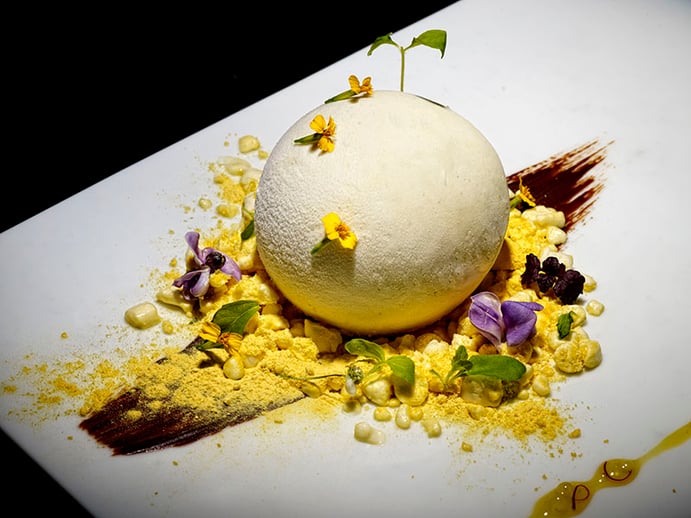 Mango Snowball
Gaggan: Bangkok, Thailand
Innovative Indian chef Gaggan Anand's 19-course tasting menu explores the whole history of his country's cuisine in a series of mind-bending and mouth-watering molecular mouthfuls. And at the end of "The Gaggan Experience," diners in his Bangkok eaterie Gaggan are rewarded with his famous Mango Snowball. This consists of a magnificent white chocolate and mango mousse sphere, sitting atop a bright yellow bed of freeze-dried and powdered mango. It's the tropical fruit, but not at all as you know it.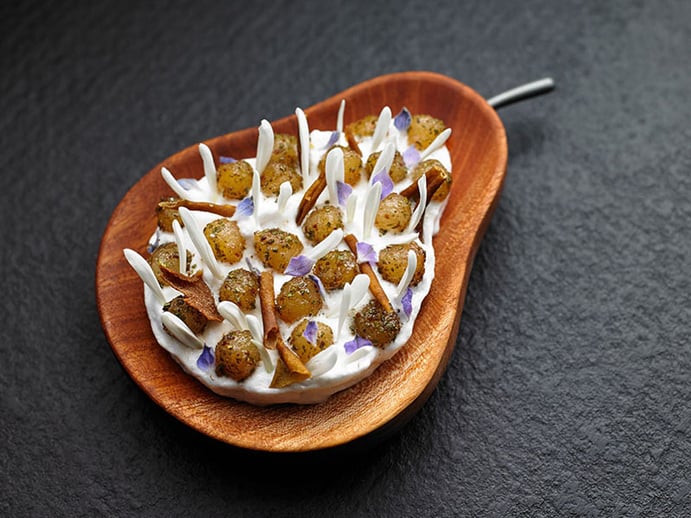 Pears and Maidenii
Attica: Melbourne, Australia
After working in its kitchen for 11 years, Kiwi chef Ben Shewry bought Attica in 2015 and has been steadily making the Melbourne restaurant's menu ever more bold: think salted raw red kangaroo and wallaby blood blinis. For dessert, though, you need not be quite so brave; Pears and Maidenii has a fresh curd sorbet base, flavored with Maidenii Australian vermouth, topped with tiny, sparkling balls of gingered French Beurre Bosc pear.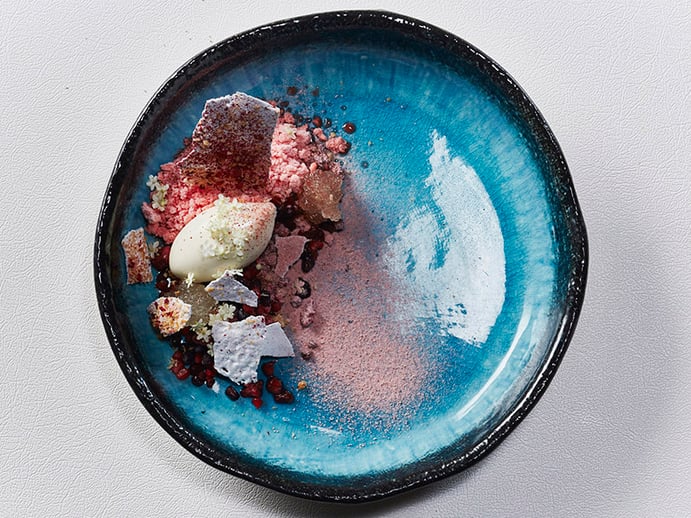 Summer Berries
The Test Kitchen: Cape Town, South Africa
Almost too beautiful to eat, the Summer Berries dessert served in Luke Dale-Roberts's South African restaurant include: the glorious berries themselves, an elderflower ice cream, strawberry and coconut meringue, and berry and lime snow. Speaking about his concept, Dale-Roberts says: "The Test Kitchen is serious fun. Our food is free to roam in whichever direction. If there is no immediate smile as we create a new dish, then we are on the wrong track. I want guests to be surprised and delighted, to wonder what ingredients we have used and how we made it. It should be an adventure!"