Designed by the world's leading architects, public libraries are increasingly becoming landmarks in their own right. Indeed, in much the same way property owners see a home designed by a star of the architecture world as an opportunity to live in a piece of art (identified as a major trend in Christie's International Real Estate's sixth annual white paper, Luxury Defined), they want "starchitects" to design their cultural spaces, too.
We've found six of the most inspiring libraries around the world, guaranteed to satisfy architourists and bibliophiles seeking a place to study, research, or contemplate—or just to admire the buildings for what they are.
1. Biblioteca Vasconcelos, Mexico City, Mexico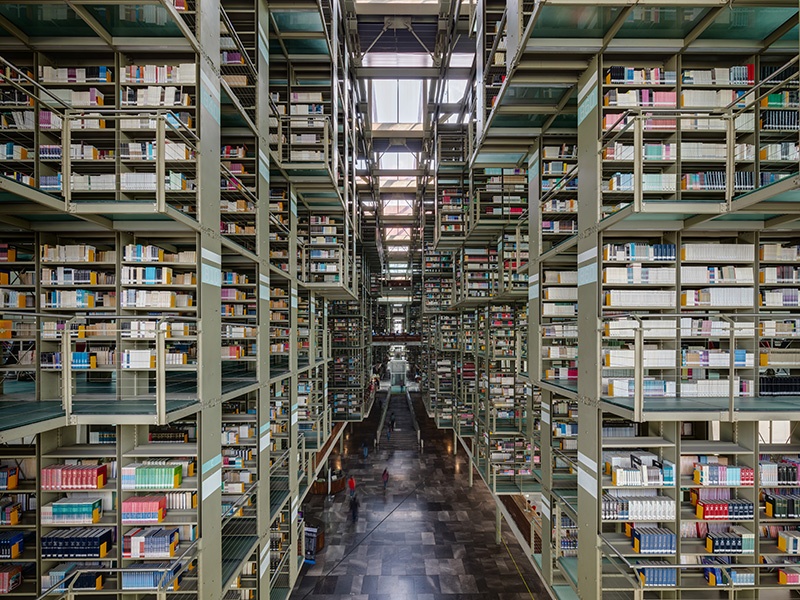 Opened in 2006, Alberto Kalach and Juan Palomar's audacious concrete, steel, and glass construction rises out of a lush botanical garden. Known locally as the "megabiblioteca," or megalibrary, it spans 409,000 square feet (38,000 sq m) and contains 470,000 books, including the complete collections of five of the country's leading thinkers—each contained in its own mini-library. Visitors can truly lose themselves in the biblioteca's world of books—there are transparent walls and floors, balconies, hanging shelves, passageways, and corridors that weave in, out, and among the collections. Gabriel Orozco's Mátrix Móvil whale skeleton installation is also on display for added wonder.
2. Peckham Library, London, England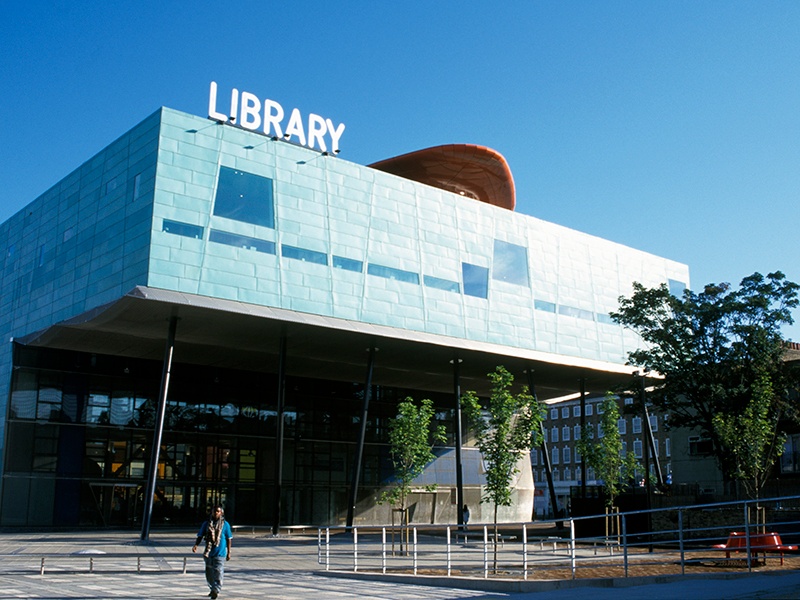 The work of the late Will Alsop (1947-2018), Peckham Library was awarded the fiercely contested Stirling Prize for Architecture in 2000 and had the judges reaching for superlatives to describe it. The project was, they said, "one delight after another," with an "extraordinary and innovative design." There's no disputing that: the building, which resembles an inverted L propped up by stork-like steel legs, gives sweeping views over the capital from its reading room, which hovers 40 feet (12 m) above the ground. Three sides are clad in a sheen of patinated copper, while the fourth is a wall of colored glass, enabling visitors to "take a clear or rose-tinted view of London," as described by Alsop at the time. Inside the reading room are three sycamore-veneered raised pods, two of which can be hired for meetings.
3. Villanueva Public Library, Villanueva, Colombia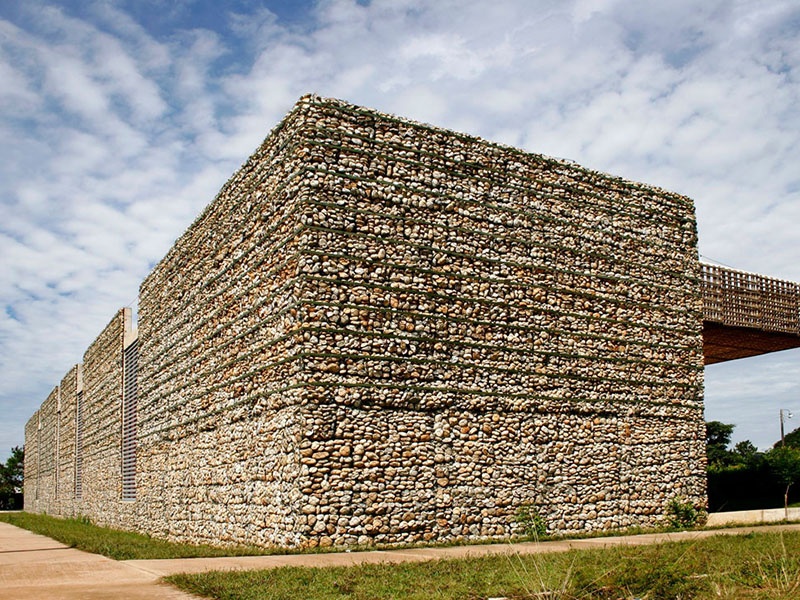 Completed in 2006, this unique building constructed from natural materials is the epitome of sustainability: it was designed by a team from Bogota, built by a local workforce including former guerrillas who are part of a rehabilitation program, and uses materials such as rocks from the local river and pine from an ecologically controlled forest. All done within a tight budget and with a brief that called for a low-maintenance structure. The library's architects, Carlos Meza, Alejandro Piñol, Germán Ramírez, and Miguel Torres—all of whom were still in their twenties when they won the contest to design the library—have created an edifice that is simply inspirational. The library also acts as a theater and an outdoor public space.
4. Central Public Library of Amsterdam, the Netherlands

Europe's largest library—the Central Public Library of Amsterdam—is an all-round cultural center, with a restaurant, café, theater, exhibition hall, and outdoor terrace. Part of the city's 27-strong Openbare Bibliotheek Amsterdam (OBA) network, it was designed by Jo Coenen and opened in 2007. Coenen's achievement here is treating the structure almost as a piece of sculpture. He has played with height, shape, form, and light to create recessed, private areas for study. Corridors and open spaces create opportunities for more communal activity. It's an immensely energetic structure, full of movement and vitality.
5. Sir Duncan Rice Library, Aberdeen, Scotland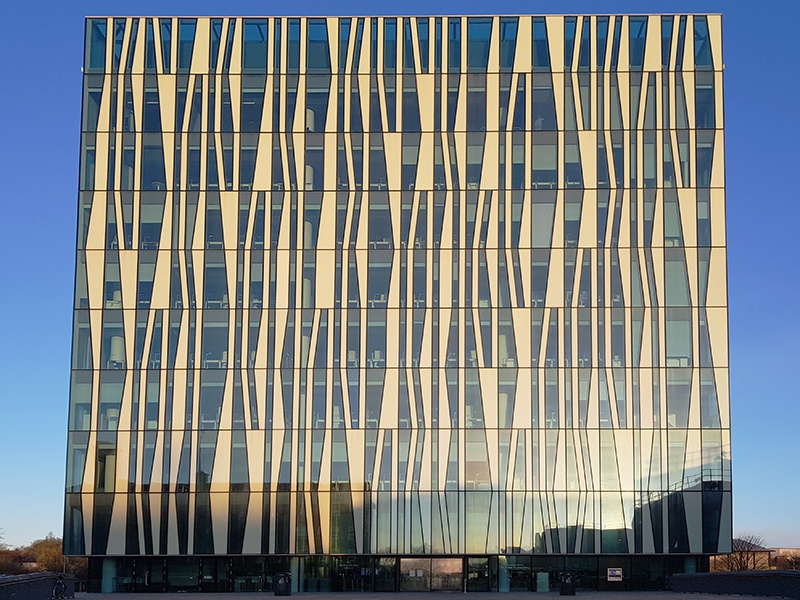 Denmark's Schmidt Hammer Lassen practice has an enviable global portfolio that includes libraries, hospitals, courthouses, and airports. Its contribution to Aberdeen's cultural-scape is this soaring edifice that in 2013 won both the Royal Incorporation of Architects in Scotland Award and the Royal Institute of British Architects Award. Designed as one large rectangular block with an interior "dynamic vortex"—an opening that spirals down from the spectacular atrium and which floods the building with light—the Sir Duncan Rice is as environmentally friendly as it is beautiful. Its intricate façade, which is made of irregular-shaped panels that act as a climate buffer, adapting to changes in temperature and light, shimmers in the day and glows at night. It is, says Morten Schmidt, part of the team that designed it, "a luminous landmark—a beacon for the city."
6. Library and Learning Centre, University of Economics, Vienna, Austria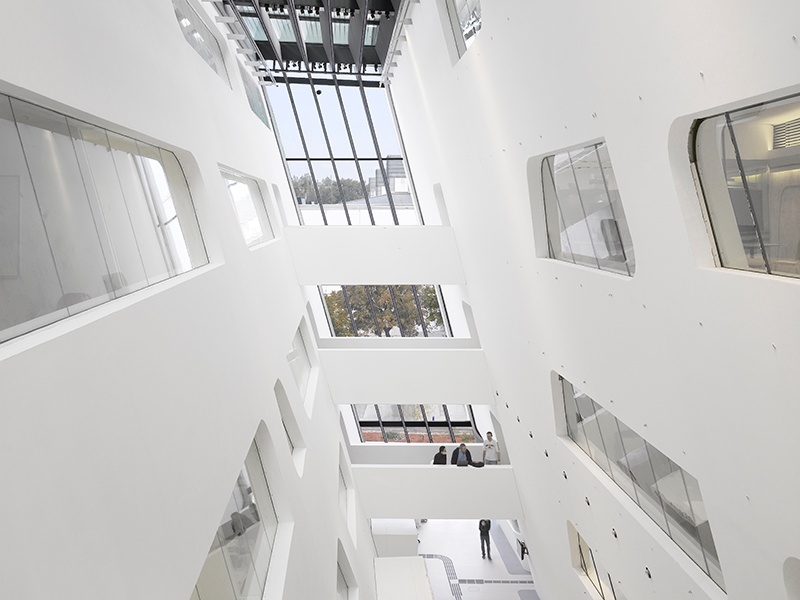 Strictly speaking, Zaha Hadid's glorious project for the University of Economics is not a public library, as no one but students of the university can borrow from it, but it would be tantamount to sacrilege to exclude the woman known as the "queen of the curves" and who truly put the star into starchitecture. From the outside, it's a brutal, square-headed juggernaut that juts its great jaw out over the campus. Inside, though, its voluptuous curves and fluid lines flow and wrap around a dazzlingly white, dramatic canyon that houses an auditorium, café, reading rooms, and, of course, the university's prized collection of books.
Homes with impressive libraries
Darlington, New Jersey, United States

An architectural masterpiece that has been described as "the American Versailles," Darlington was completed in 1907 and has been significantly renovated over the past seven years. Acknowledged as an absolute beauty, embellished with hand-crafted woodwork throughout, one of its indisputable key attractions is its spectacular library. The room features an elaborate Renaissance-style ceiling mural by James Wall Finn of Tiffany Studios and beautifully crafted bespoke furnishings by Francesco Molon.
The College, Devon, UK
The College is the ancestral home of one of England's greatest poets, Samuel Taylor Coleridge, author of The Rime of the Ancient Mariner, Kubla Khan, and many more. The magnificent property, in 21 acres (8.5 ha) of immaculate landscaping, has 10 bedrooms and 11 bathrooms. It also has a magnificent 70-foot-long (21 m) library, which contains 22,000 books belonging to the writer and his family (available for sale separately) and housed in oak-carved bookcases.