Want to know which lavishly decorated suite Coco Chanel called home in Paris? Or where Hunter S Thompson and Dylan Thomas produced some of their finest work? These grand accommodations around the world have welcomed many legends in their time—and are worth a visit today.
1. Ritz
Paris, France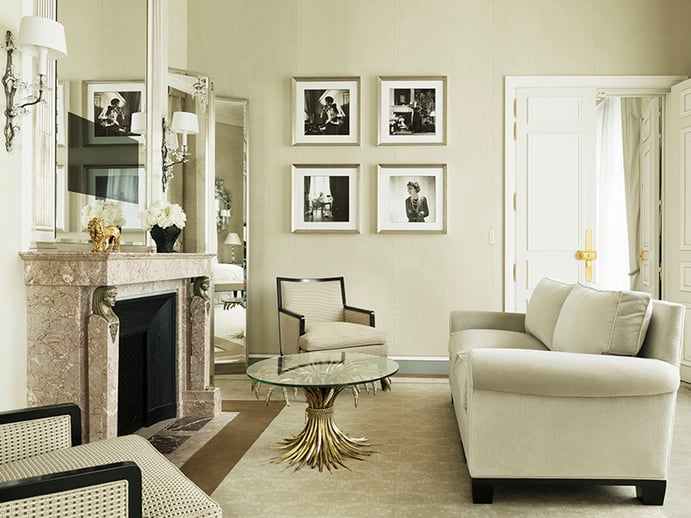 After a major refurbishment, the elegant Ritz Paris reopened in 2016 with suites dedicated to its famous residents and guests. The most en vogue of them all is the 2,024-square-foot Suite Coco Chanel, a tribute to the designer who furnished the room herself with personal items—such as the Asian lacquered dressing table and never-before-seen framed fashion sketches and photographs. Coco Chanel loved the Ritz Paris so much that she lived there for 34 years. The hotel maintains this fashionable legacy—hosting Karl Lagerfeld's pre-fall 2017 Métiers d'Art collection—and still attracts the fashion set during Paris Fashion Week. The Bar Hemingway and Salon Proust are tributes to other long-stay guests of note.
2. Baur au Lac
Zürich, Switzerland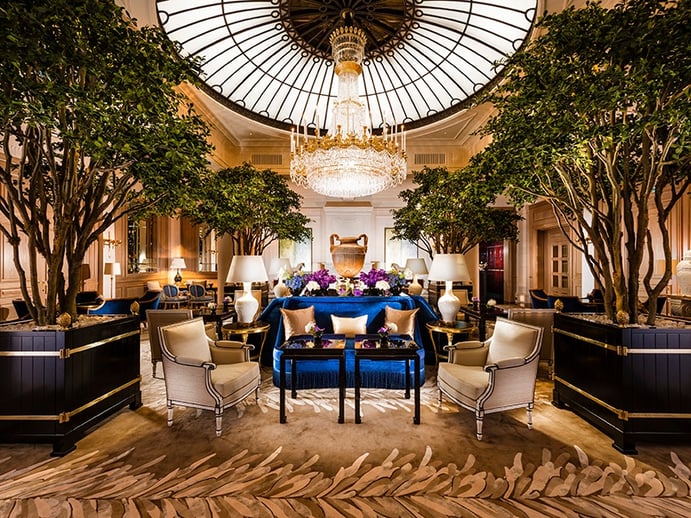 Painter Marc Chagall was a regular at Zürich's Baur au Lac—even doodling in its guestbook. The painter stayed in one of the hotel's suites while he was creating glass artwork for the nearby church of Fraumünster in the 1960s and '70s. He also painted in his suite, making a mess of the carpets. Guests at the hotel are within walking distance of the church should they wish to view Chagall's series of five stained-glass windows. Other artsy guests at the hotel included composer Richard Wagner, artist Joan Miró, and sculptor Henry Moore.
3. The Chelsea Hotel
New York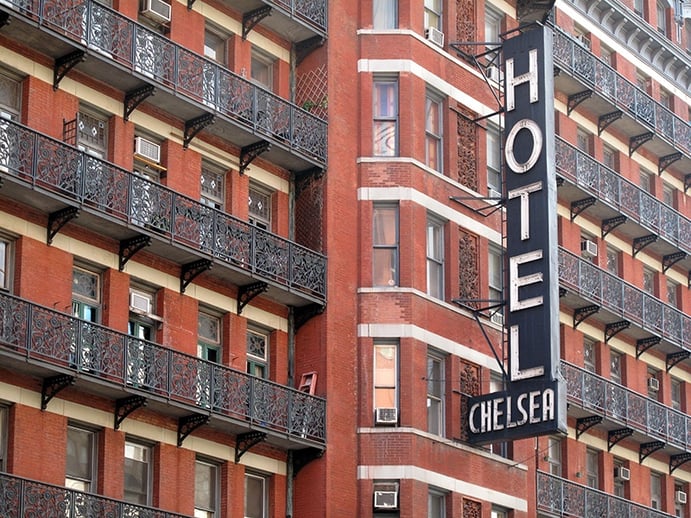 In her 2010 memoir, Just Kids, musician Patti Smith wrote about the red-brick Manhattan monolith that is the Chelsea Hotel: "I loved this place, its shabby elegance, and the history it held so possessively." Home to a staggering number of artists, musicians, writers, photographers, beatniks, and bohemians during its time, The Chelsea Hotel deserves an honorable mention despite closing for renovations in 2011. Also renting rooms were Janis Joplin, Leonard Cohen (whose song Chelsea Hotel No. 2 was inspired by his relationship with Joplin), Jimi Hendrix, Dylan Thomas, Arthur Miller, Jim Morrison, Bob Dylan, and Sid Vicious from the Sex Pistols. Andy Warhol also shot his landmark Chelsea Girls film at the hotel.
4. Chateau Marmont
Los Angeles, California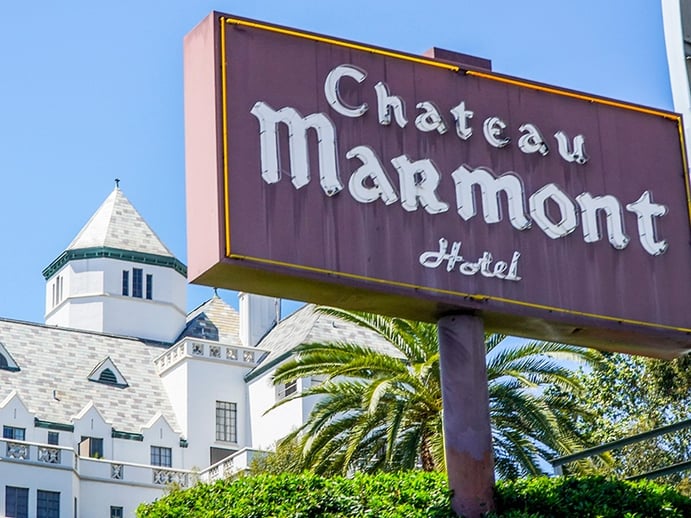 It might be impossible to visit Chateau Marmont without bumping into a celebrity. Sunset Boulevard's most showy hotel has offered the Hollywood glitterati a place to party and to disappear since 1929. Hunter S Thompson, Annie Leibovitz, Dorothy Parker, Bruce Weber, F Scott Fitzgerald, Tim Burton, Jay McInerney, and Natalie Wood have spent time here, while Robert di Niro often rents a bungalow nestled within the tropical grounds. Designed to look like a French chateau, there's an expansive pool terrace with views over Hollywood and a sexy bar where you might find the talk of tinsel town. Each room, suite, and bungalow is designed to ensure privacy, with thick, soundproof walls that are "perfect for hosting an impromptu party," as the hotel itself states.
5. Mandarin Oriental
Bangkok, Thailand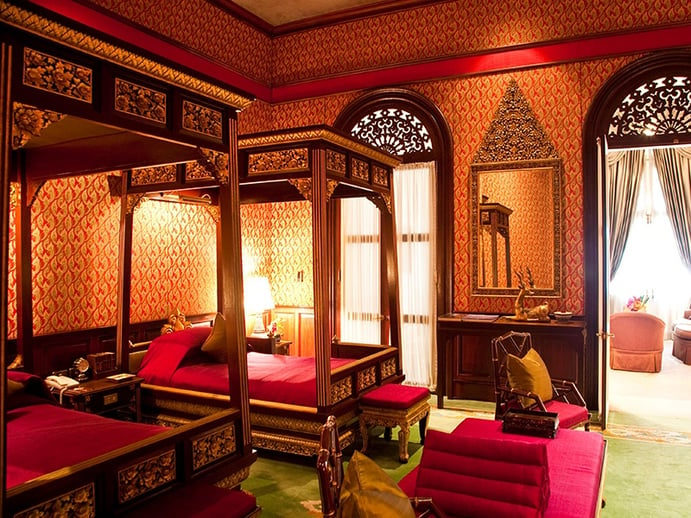 When the Suez Canal was opened in 1869, travel to Asia became an attractive prospect for writers, playwrights, actors, and royals, and hotels opened to cater to the sudden wave of globetrotters who came to stay. The Mandarin Oriental in Bangkok is the second of the group's flagships (the other is in Hong Kong) and has a long-standing connection with the literary world. Today it houses the Authors' Suites, each one unique and named after previous guests Noël Coward, Joseph Conrad, Somerset Maugham, and James Michener. Located on the banks of the Chao Phraya River, its elegantly appointed rooms and suites are decked out with traditional Thai craftsmanship and design, and its spa is one of the most luxurious in the city. James Bond creator Ian Fleming and Audrey Hepburn were fans, and today designer Christian Louboutin is a regular guest.
6. The Beverly Hills Hotel
Los Angeles, California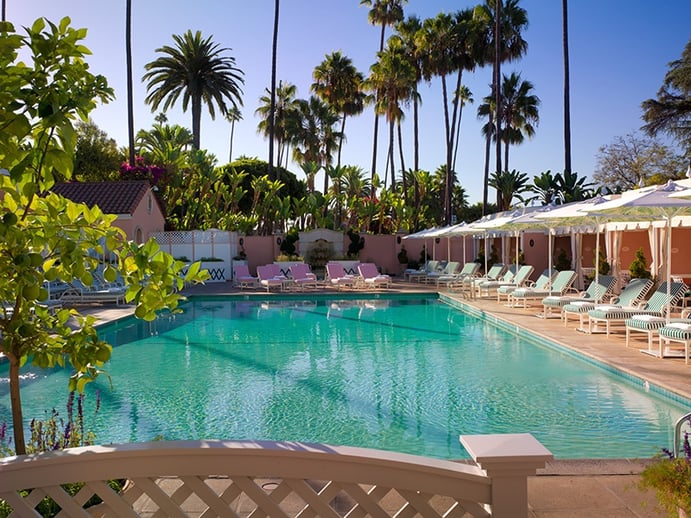 Set within 12 acres of lush grounds and located a convenient five minutes' drive from Rodeo Drive, this retreat, built in 1912, housed Marilyn Monroe and Yves Montand during the filming of Let's Make Love (1960). The eccentric billionaire Howard Hughes also hid out here during his reclusive years, using several of the bungalows throughout the 1940s, '50s, and '60s. The recognizable peachy-pink façade—said to have been chosen to mimic the color of a Los Angeles sunset—was used on the cover of the Eagles' 1976 Hotel California album.
7. Raffles
Singapore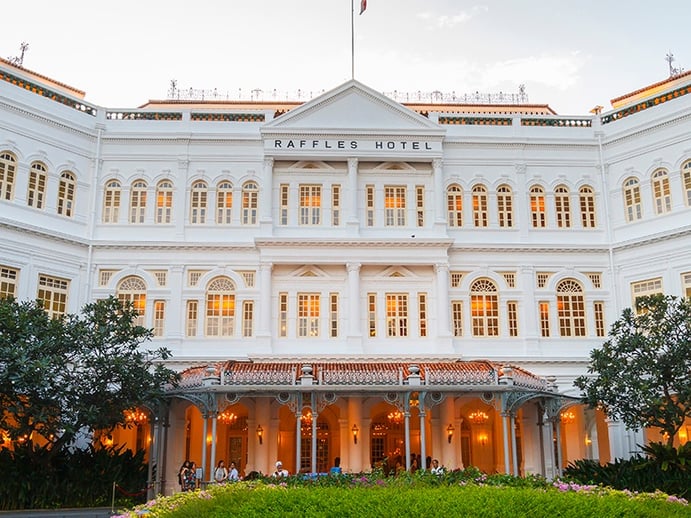 The opulent, colonial-style Raffles was originally built as a 10-room guesthouse, but today it's one of the largest and most famous in all of South East Asia. Having hosted literati including Hemingway and Rudyard Kipling, as well as director Alfred Hitchcock, this oasis in Singapore's business district is also the birthplace of the Singapore Sling, a cocktail created in 1915 by the hotel's then-bartender Ngiam Tong Boon. At the time, etiquette dictated that women should not be seen drinking alcohol in public, and so the enterprising bartender created a rose-pink concoction that included gin, pineapple juice, cherry brandy, and triple sec that looked like fruit juice, preserving the modesty of the ladies who sat at the hotel's Long Bar. With the hotel about to close for the final phase of a major restoration project, guests can look forward to its grand reopening in the second half of 2018.