Raise a glass: it's the season for celebrations. Make sure your home bar is stocked and you're ready for guests with this delightful collection of cocktail essentials—everything from the latest tech-savvy furniture and gorgeous glassware to cool cabinetry and luscious libations.
1. Graphic glassware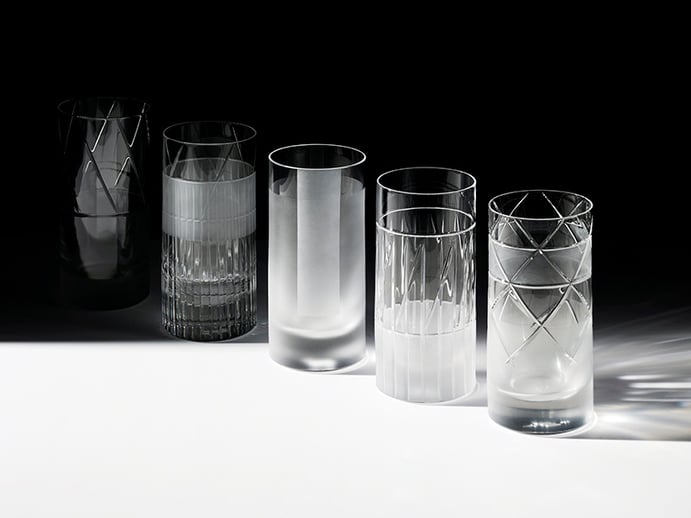 At J HILL's Standard, crystal glasses are hand-cut in Waterford—an area of Ireland synonymous with the material—by two master craftsmen who between them boast more than a century of experience in the fine art of hand-cutting crystal. The company was born from a desire to keep a fading industry alive through collaborations with new designers. The Elements series, shown here, was designed by Dutch duo Scholten & Baijings, who developed a range of cuts and textures that are used in different combinations across the glasses. An equally elegant carafe and jug are also available.
2. Tasting notes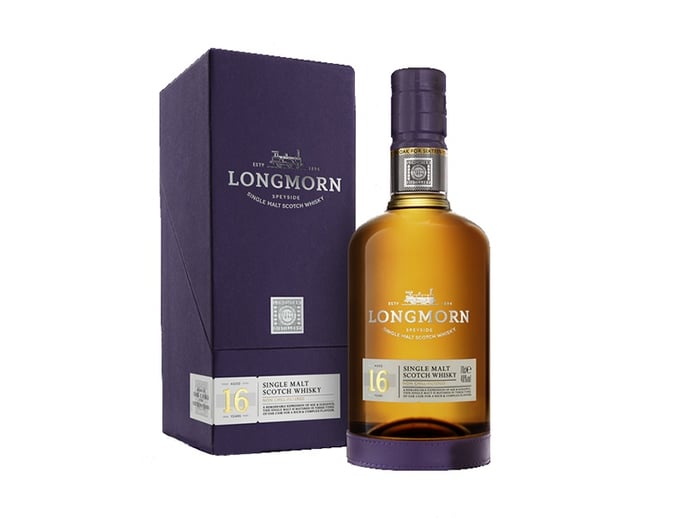 A new collection of whiskies pays homage to pioneer distiller John Duff, founder of Scotland's Longmorn distillery, who dreamed of making spirits that would be treasured for generations. Longmorn's The Distiller's Choice is sweet and spicy, while the 16 Year Old is sweet and silky, having spent its time in ex-sherry, American oak, and European oak casks. Star of the range is the 23 Year Old, also aged in oak and praised for its long, velvety finish, with notes of pear and red apples, mixed with honey, vanilla fudge, and ginger cake.
3. Stylish storage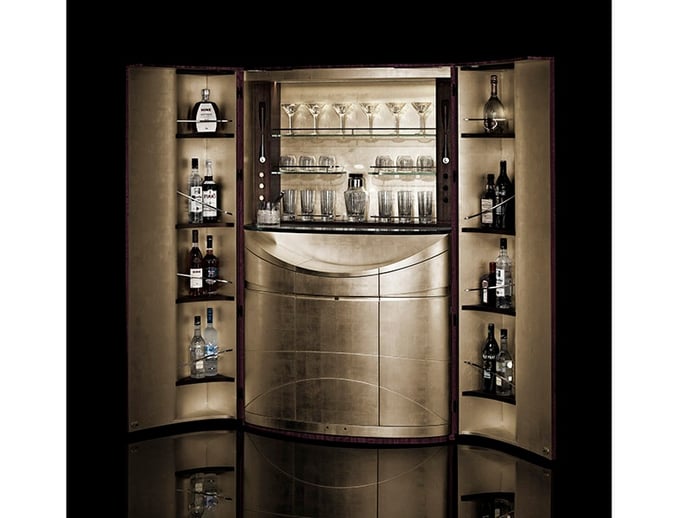 It's always happy hour somewhere, as the saying goes. Which is the perfect excuse for ensuring you always have a good selection of drinks and barware. And, of course, somewhere to store it. Linley's Tectonic Bar, crafted in ebonized walnut with white gold leaf and nickel accents, has plenty of room for your spirits of choice, along with everything you need to mix up your favorite drinks. Named after the earth's tectonic plates, the doors feature outlines of the world's continents, which at the push of a button reveal a glowing metallic core. Lined with gold leaf, the interior features shelves and recesses, a fridge, and, buried deep within, a hidden cigar humidor.
4. Become the host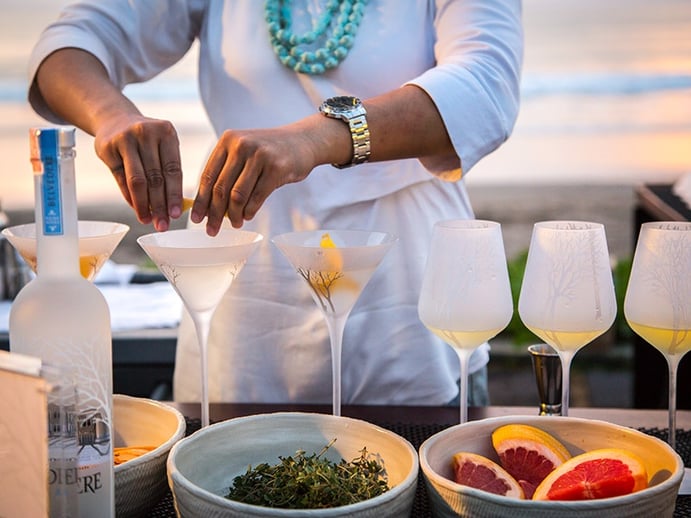 Next time someone invites you to "a little cocktail party" they're hosting, don't be surprised if you're welcomed by a mixologist from Clos19 on arrival. The company's bespoke Become the Host service in the US—also available in London and Germany—allows savvy entertainers to wow their guests with an evening of mixology and backgammon, or a sensorial champagne tasting. For the former, a Clos19 mixologist will bring all you need to help your party shake their way to the perfect cocktail, then organize a friendly backgammon tournament. An added bonus: they'll set up and clean up, and provide the glassware.
5. Play it cool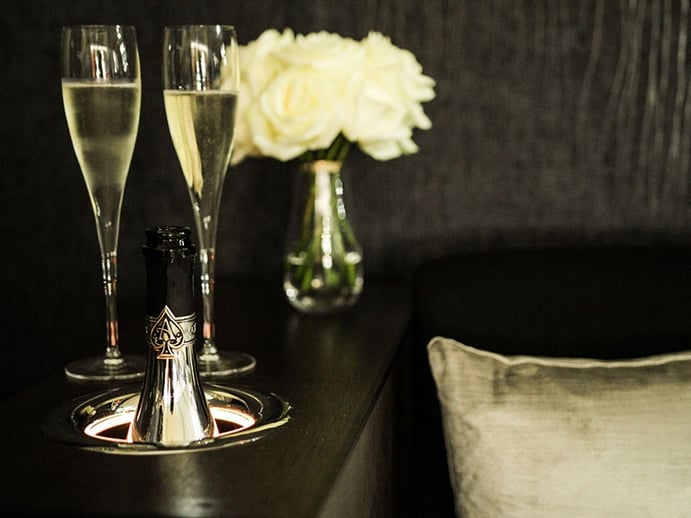 The ice bucket has evolved: it has lost the ice and merged with your furniture. Kaelo, pioneer of iceless serving vessels, has collaborated with a collective of British furniture makers to create a sofa, bar, and tables that incorporate its dry-cooling system into their minimalist design. Simply touch the unit's crown, and the patented Kryolux technology will cool your drink to the perfect temperature.
6. Lay it down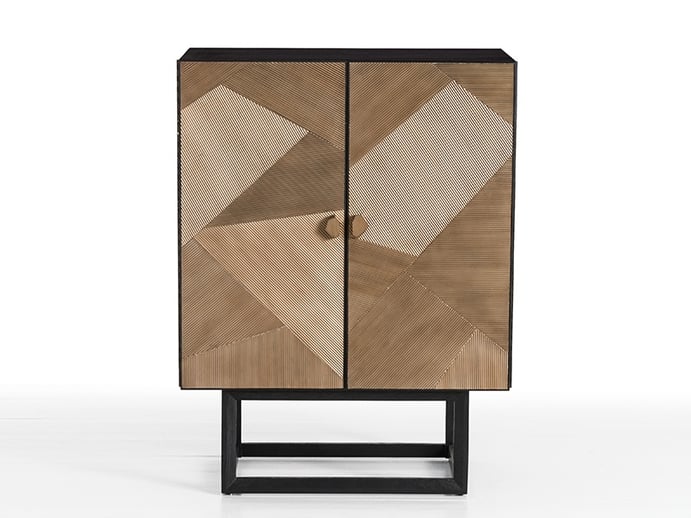 San Francisco-based Jay Jeffers's interiors have graced the pages of Elle Décor, House Beautiful, The Wall Street Journal, San Francisco Chronicle, The New York Times, and many more, so it was with great anticipation that his inaugural collaborative collection with Arteriors was released in 2015. The latest assemblage includes everything to style a chic cocktail den, and spans mirrors, lamps, bowls, ice buckets, cabinets, and tables, such as the modular Cyndi Cocktail Table and the ebony-stained Gatsby Cocktail Cabinet. "As I was designing the collection, I thought about hosting a party and everything that you might need in the room," says Jeffers.
7. On a silver trolley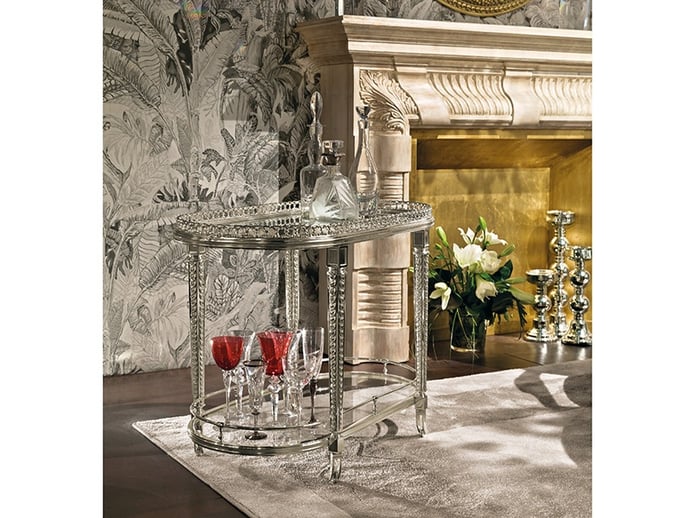 Italian design firm Provasi has been creating elegant, timeless décor and furniture since the 1970s, and was recognized for this longevity at the 56th edition of Salone del Mobile, taking home the top prize in the Classic Design category. This elaborately crafted drink trolley in silver brass, with a crystal top, was part of the collection presented at the 2016 design fair, which focused on giving new life to heritage objects. An exquisite example of detail and workmanship, it's perfect for presenting rarefied spirits to your guests.