From a hotly anticipated opening to a Michelin-starred picnic, a coastal experience in the city and a chef's menu for dogs in the country, England is this summer's hot destination for global gastronomes, whatever the weather. Luxury Defined presents five tasters, as recommended by our editors…
1. The Goring, London
"I just love Cornwall—it's so important to all my family, so to bring it to London is fab!" says Jeremy Goring, chief executive of the capital's renowned family-run five-star hotel in the heart of Belgravia and just steps from Buckingham Palace.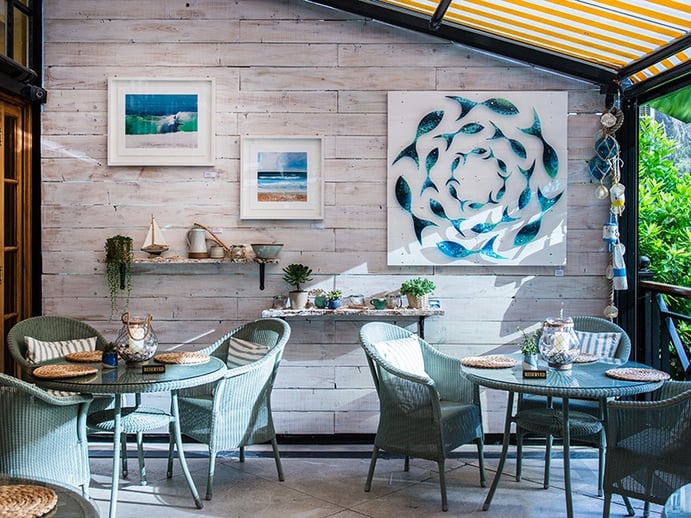 A Taste of Cornwall at The Goring (now through September 18, 2017) sees the hotel's gardens and veranda transformed into a Cornish seafood restaurant, complete with everything you'd expect from a trip to the seaside—even the beach. Using the freshest fish, The Goring's Michelin-starred Chef Shay Cooper developed a menu with Cornwall's most famous foodie son, Rick Stein, and Rick's own son, Jack Stein.

We may not have the sea, but we have the essence of Cornwall right here in our back garden
Highlights from the menu include an indulgent warm salad of the sweetest langoustines and meaty monkfish, dressed with fennel and chili, and the surprisingly light yet richly silky Cornish lobster bisque. Drinks follow the theme, too: the Camel Valley Sparkling Rosé Brut is an excellent regional example of the unstoppable English sparkling trend, and the Tarquin-tini is a refreshing summery cocktail featuring the fragrant Tarquin's Dry Gin, small-batch distilled in Cornwall.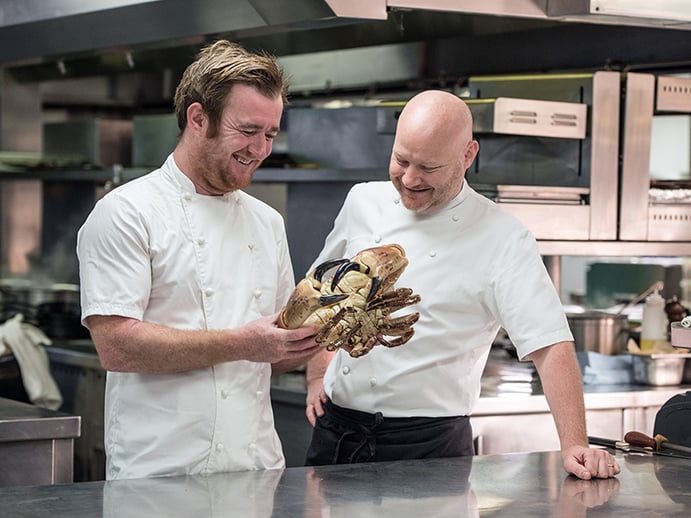 "We may not have the sea, but we have the essence of Cornwall right here in our back garden," Goring says. And with the aromas coming from the kitchen, we could almost smell the sea, too.
2. Foxhill Manor, Cotswolds
There is no formal check-in desk at Foxhill Manor. Your host simply opens the door and greets you as if you are old friends. Built in 1909—though its grandeur takes notes from an earlier period—this Cotswolds country house is now the centerpiece of the Farncombe Estate, home to two other award-winning boutique hotels, Dormy House and The Fish.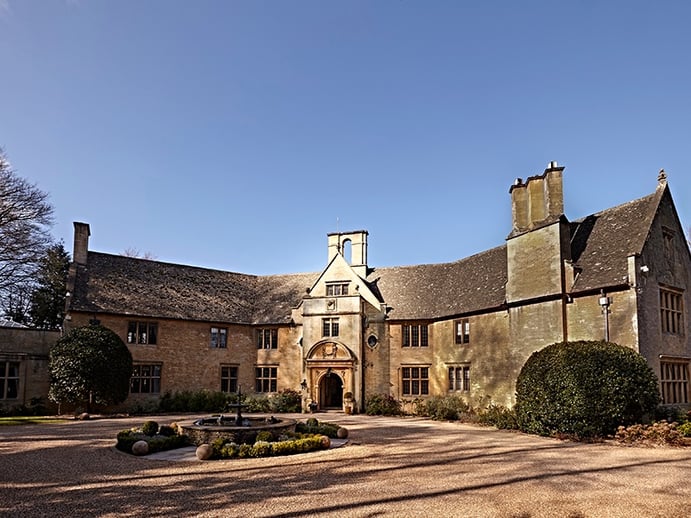 A quick tour takes us through the drawing room and its well-stocked bar, the dining room, and on to our room. We are told that nowhere is off limits and that we should make ourselves completely at home.
Visiting Foxhill Manor is a bit like going to stay at a friend's very well-stocked country home while they are away
"Nowhere off limits" means we also visit the kitchen, where we meet chef Matt Weedon, who talks us through dinner options. There are no formal menus here, either. Guests can co-create their dinner from a list of meat, fish, vegetables, and fruit chalked up on the kitchen blackboard—these daily-changing ingredients are what the kitchen team considers the best of local, seasonal produce. There is, of course, the option to let the chefs assemble a menu for you. Our meal included a heritage tomato salad with mozzarella, a classic prawn cocktail with a pinch of spice, excellent steak from a local herd, and panna cotta with raspberry sorbet.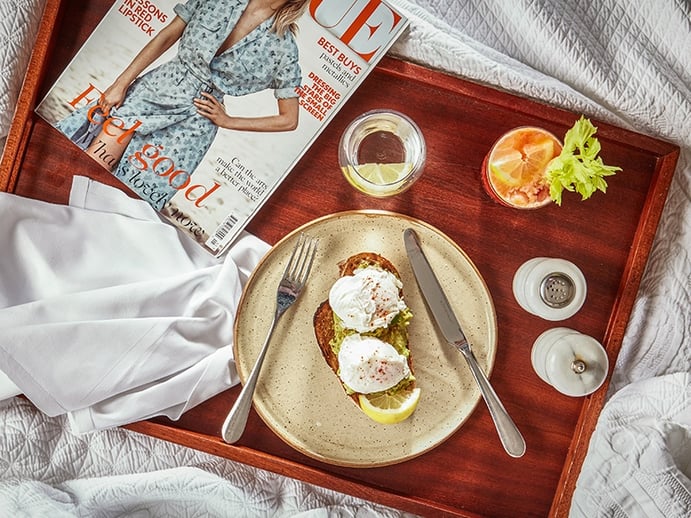 We were traveling with our dog (Foxhill Manor is child-free but welcomes four-legged visitors) who wolfed down the chicken and rice suggested by Matt and his team. The whole estate recently teamed up with outdoor company Orvis UK to celebrate the launch of the Orvis Dog Club, which offers canine-friendly breaks across the three accommodations.
Visiting Foxhill Manor is a bit like going to stay at a friend's very well-stocked country home while they are away—staff are attentive when you need them, and all but invisible when you don't. We can't wait to return.
3. St James's Hotel and Club, London
As a charming alternative to your typical pre-theater dinner, the venerable St James's Hotel and Club in Mayfair has partnered with The Wind in the Willows musical in London's West End and devised a family-friendly—and gourmet—British picnic experience (until September 2, 2017).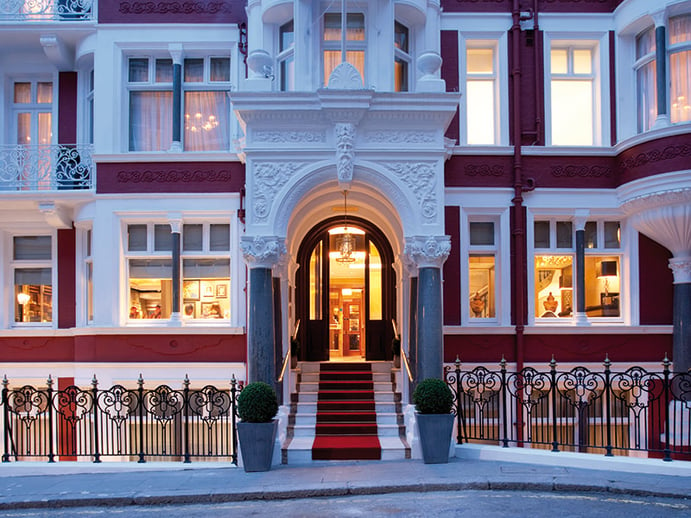 Executive Head Chef William Drabble, who governs the hotel's Michelin-starred Seven Park Place, dreamed up the feast as a celebration of the return of the beloved musical to London's vibrant theater scene. Theatergoers can pick up a biodegradable picnic basket packed with gourmet versions of traditional British fare: chicken or poached salmon salad with French beans, artichokes, and sweet and sour red onions; potted meat with bread croutes; brandy-soaked fruit cake; seasonal fresh fruit tart; and freshly squeezed lemonade.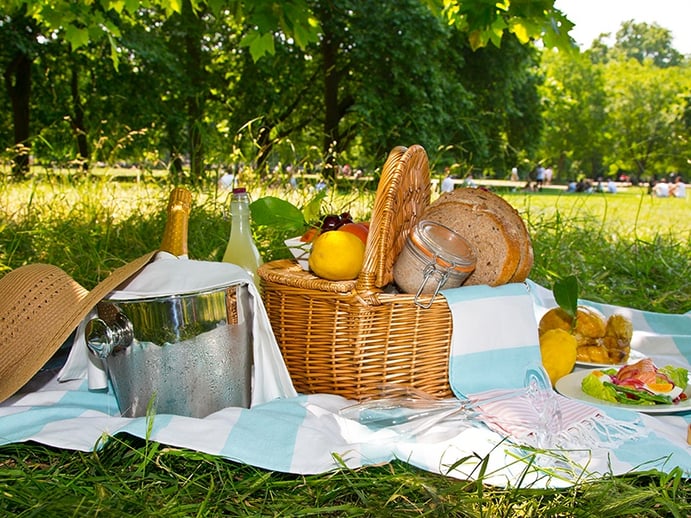 Nearby Green Park and St James's Park provide ample areas of green lawn for picnicking under the trees before the short walk to the Palladium to watch the cast perform their magic. We think Ratty, Mr. Toad, and Mole would approve.
4. Orestone Manor, Devon
The lush green hills and craggy coastline of south Devon—around four hours southwest of London by car, or a little over an hour by helicopter—provide the perfect pastoral setting for a luxuriously rustic getaway. With links to the Victorian-era civil engineer and industrialist Isambard Kingdom Brunel, Orestone Manor is a boutique country house hotel with serious gourmet credentials.
Presided over by husband-and-wife team Neil and Catherine D'Allen, both chefs, the Manor has won numerous awards, including two AA Rosettes for fine dining. With an emphasis on the very best locally sourced ingredients—some straight from the Manor's own gardens—the D'Allens and their brigade offer dishes that spotlight wild game alongside local breeds of beef and free-range lamb and pork, as well as fish, mussels, and hand-dived scallops from nearby Brixham, famed for its traditional fish and chips.
Devon's lush green hills and craggy coastline provide the perfect pastoral setting for a luxuriously rustic getaway
With just 14 rooms and suites, sea views, private hot tubs, and plenty of cozy fireplaces throughout, this is a place made for quiet relaxation. You can spot seals from nearby Maidencombe Beach or delve into the Manor's history: it was where Brunel sat for the portrait by his brother-in-law, John Callcott Horsley, which now hangs in the National Portrait Gallery. Horsley, the original owner of Orestone Manor, also lays claim to having designed the world's first Christmas card. Something to ponder as you enjoy an evening cocktail at the themed Brunel Bar & Lounge.
5. Core by Clare Smyth, London
Best known as the Michelin-starred and award-winning chef-patron at London's Restaurant Gordon Ramsay, Clare Smyth has added her name to the movement toward fine dining in more relaxed settings with Core by Clare Smyth, her first solo venture.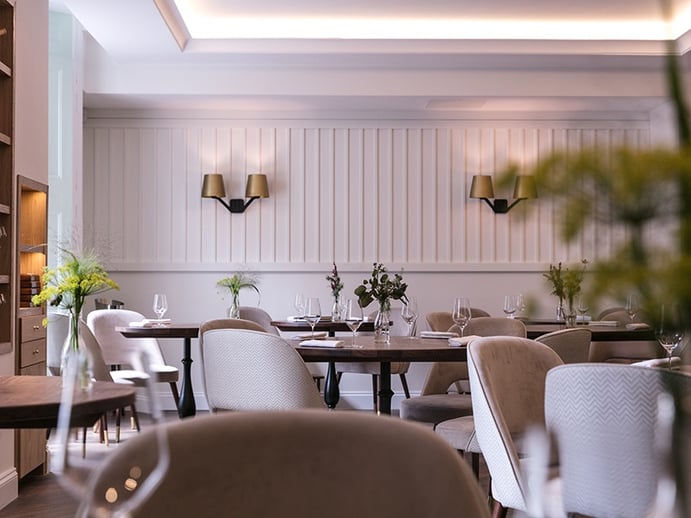 Taking up residence at a famously foodie Notting Hill address—the Victorian townhouse at 92 Kensington Park Road was where Prue Leith reigned at her Michelin-starred restaurant from 1969 to 1995—the 54-seat main dining room exudes laid-back sophistication, and the 18-seat cocktail bar provides a welcoming neighborhood vibe. Soft textures, round tables and curved lines, a natural palette, and a view to an outside living wall all play to Core's elegant yet understated approach to modern dining.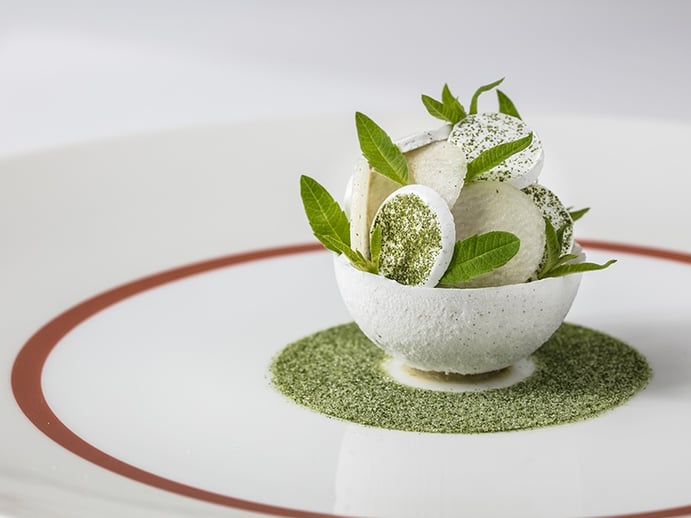 But it's the stars in the kitchen who really catch the eye here. Diners can observe a taste of culinary theater through a floor-to-ceiling "glass box" that reminds you why you're really here: the food. A trio of menus—three-course, five-course, and the more leisurely tasting menu—all heavily feature seasonal and natural British ingredients in exquisite platings that celebrate Smyth's immaculate attention to detail. From the surprising crispy smoked duck wing with burnt orange and spices to the perfectly Instagrammable pear and verbena poire Williams sorbet, this is cooking that invites repeat viewings—for those lucky enough to get a reservation.