Sidewalk cafés, blossom-filled parks, secret gardens, and tiny terraces where you can while away an afternoon over a glass of wine. The pull of springtime in Paris is magnetic. Luxury Defined spoke to some notable residents for their favorite places to eat, drink, and watch tout le monde go by…
1. Best for opera fans
"For opera and classical concert lovers, the Théâtre des Champs-Elysées is an Art Deco jewel," says longtime resident Simon Allatt, formerly Production Manager for Les Arts Florissants.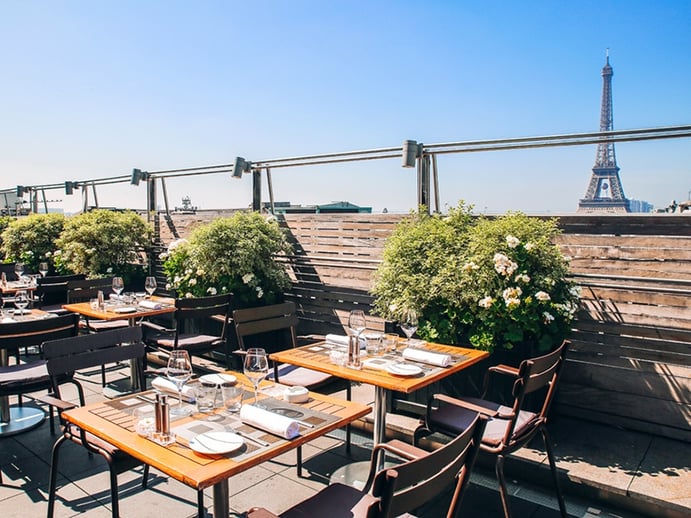 "The likes of Picasso created set designs for this theater, and Coco Chanel designed costumes. And then there was the scandalous 1913 premier of Stravinsky's Rite of Spring," says Allatt. "Whether you're taking in an opera or not, the building's rooftop Maison Blanche is the place to go for refined cuisine with perfectly matched fine wines."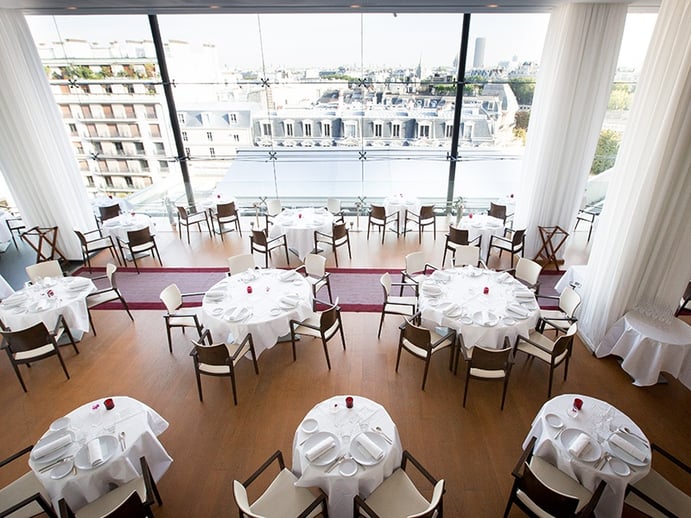 Situated in the city's Golden Triangle, there is a choice of terraces overlooking Avenue George V or Avenue Montaigne. Also in the vicinity is the splendid terrace of Mini Palais, located in the Grand Palais. "It's one of the loveliest heated outdoor seating areas in Paris," says Allatt. "After dinner there we have been known to congregate around the piano, with the pianist playing our requests."

Maison Blanche is the place to go for refined cuisine with perfectly matched fine wines
Simon Allatt recommends: "At this time of year, I like a lighter red wine like Château Louis, Saint-Émilion, which is subtle and balanced."
2. Best for cocktail lovers
Cole Porter spent hours here each day. F. Scott Fitzgerald had a favorite seat. And it was the heart of Ernest Hemingway's Parisian life: the Ritz's Bar Hemingway has a legacy like no other, and Head Barman Colin Peter Field's cocktails are world famous.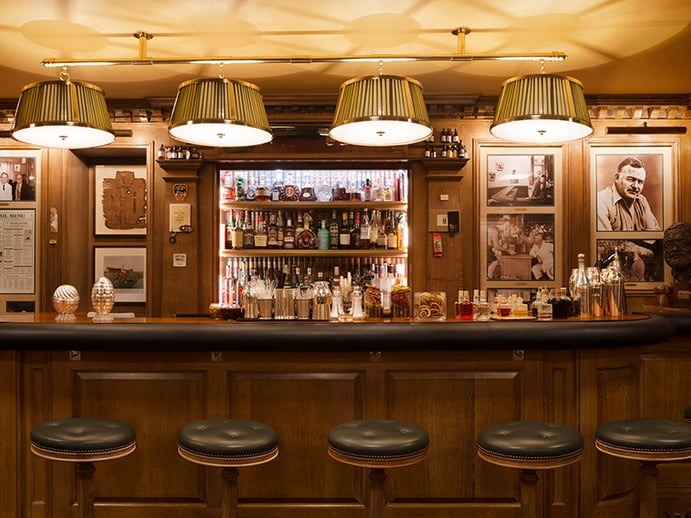 "Paris in the spring is fresh, the streets are calmer, the restaurants filled with more Parisians," says Field. "And Versailles and its gardens are filled with lovely flowers and lush green grass. In my youth, I would drive there in a red 1969 Triumph Spitfire Mark III with my fiancée, who worked at the Moulin Rouge. We'd make a picnic of strawberries and Champagne, and I would wind up my gramophone—which is now in Bar Hemingway—and listen to records of the 1920s."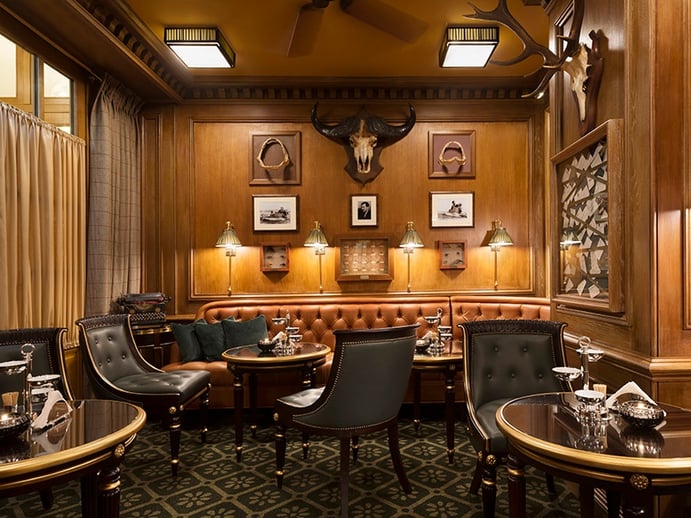 Colin Peter Field suggests: "A refreshing Poire Victoire [pear vodka, white apple juice, and a dash of lime juice, served over ice]. It's like biting into a pear that is not quite ripe."
3. Best for film buffs
Opened in 1901, Le Train Bleu, hidden away in the Gare de Lyon, is a symbol of everything that makes Paris one of the world's most beloved cities: luxury, style, and substance. Decorated with gilt moldings, opulent chandeliers, and original frescoes, this iconic Belle Epoque brasserie, presided over by general manager Guillaume Pastori, is a feast for the eyes as well as being renowned for serving the best steak tartare in Paris—prepared tableside by highly skilled waiters.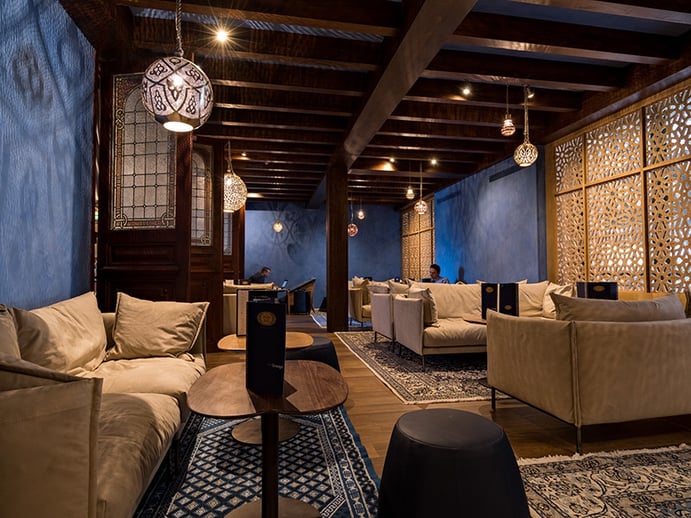 Now a listed National Heritage site, Le Train Bleu has served as a location in many films, including Place Vendôme (1998, Nicole Garcia) and Filles Uniques (2003, Pierre Jolivet). It's also where director Luc Besson filmed this memorable scene in La Femme Nikita (1990). Le Train Bleu has real star appeal, and has counted Coco Chanel, Brigitte Bardot, and Jean Cocteau among its regulars.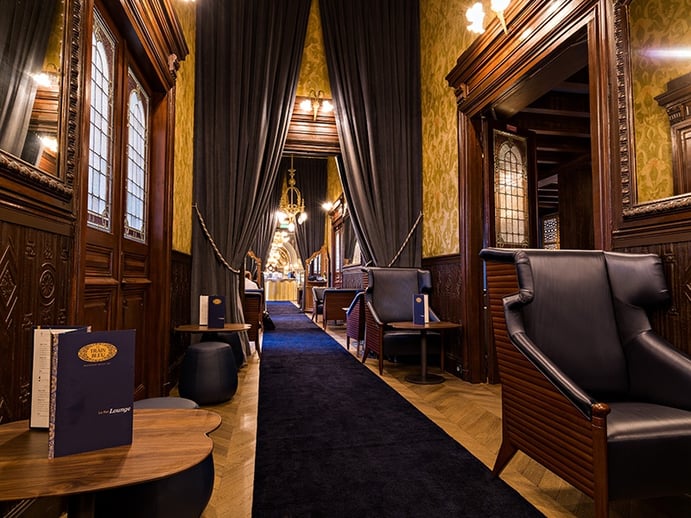 Guillaume Pastori's top cocktail: "The Jamaican [Ron Appleton Signature rum, ginger ale, fresh ginger, lime juice, simple syrup]. Why? Because it's a real invitation to travel—the combination of tastes and flavors is an art. And to awaken the senses is our daily challenge."
4. Best for those in the know
Hidden behind the unassuming wooden façade of a former shoe shop, the tiny Septime La Cave is the little sister of perennially popular Septime, located just across the road and opened by chef Bertrand Grébaut, together with sommelier Théo Pourriat.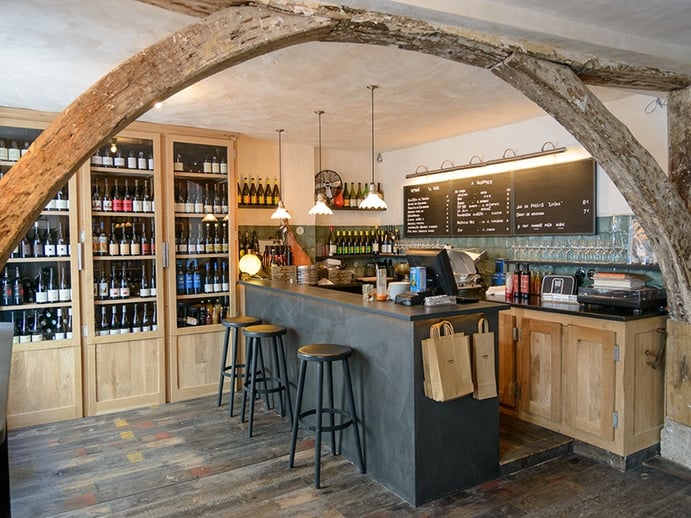 Minimally yet imaginatively decorated, Septime La Cave invites guests to pull up a bar stool or upcycled grocery crate, sit, sip, and sample its impressive selection of wine. Staff are extremely knowledgeable and happy to recommend a glass or bottle to complement a selection of inventive sharing plates. Try the ricotta with anchovies and superb bread, served with olive oil made on a small family-run estate that also produces some of the wine available here.
Pull up a bar stool or upcycled grocery crate, and sit, sip, and sample La Cave's impressive selection of wine
Chef Bertrand Grébaut loves: "My favorite thing to do in Paris in spring is ride my Vespa along the course of the Seine. Or spend a day browsing for vintage treasures at the Marché aux Puces de la Porte de Vanves."
5. Best for oenophiles
If it's a restaurant's wine list that first takes your attention, head to Michelin-starred Il Vino on Boulevard de La Tour-Maubourg to sample its excellent wine-pairing menu. Just a block from the Left Bank of the Seine, in the 7th arrondissement, this neighborhood—cobbled streets, chic boutiques, buzzy markets, and almost always in view of the Eiffel Tower—is quintessentially Parisian.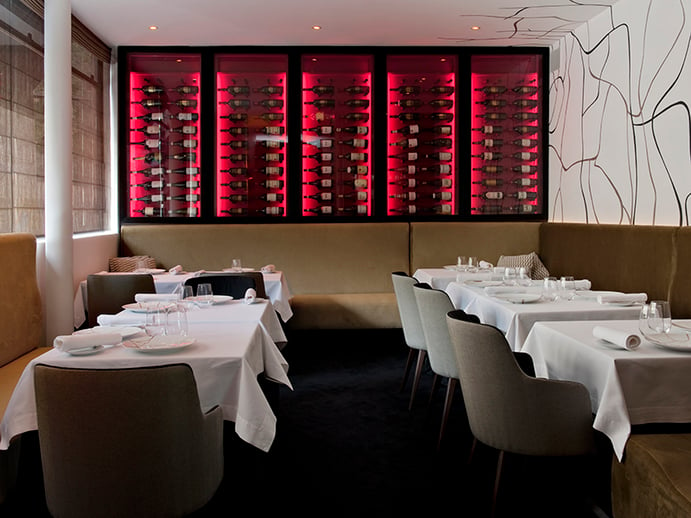 But at Il Vino things are done differently. Owned by sommelier Enrico Bernardo—the youngest winner [in 2004 at the age of 27] of the World's Best Sommelier award—Il Vino's menu is dependent on which wine you order. Below a vast cabinet of bottles, diners can choose from more than 2,000 wines on the list, from the finest vintages to the most modest.
Enrico Bernardo believes: "Tasting, whether it applies to the wine or to the dish, is above all a simple and sensual pleasure."
6. Best for beyond five-star luxury
There are only a handful of hotels in the world that achieve and consistently maintain true five-star status. The Hôtel Plaza Athénée goes one better: it is one of Paris's eight "Palace" hotels, an official designation that is a level up from five-star.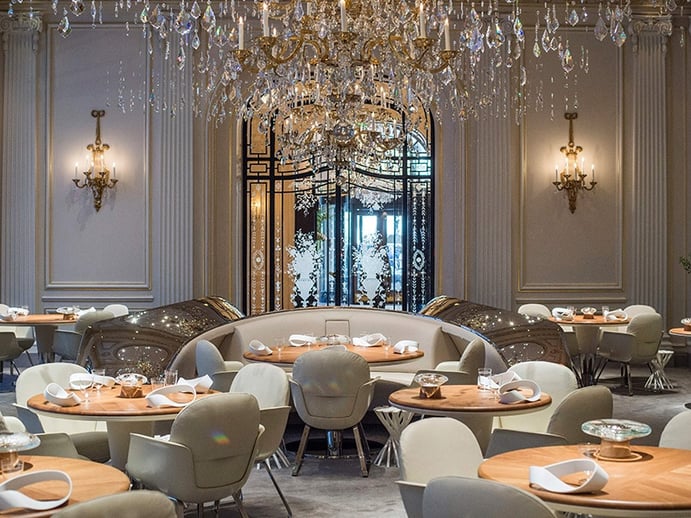 A favorite with designers and celebrities during Paris Fashion Week, there is more to this grand Avenue Montaigne address than luxurious accommodation and flawless service. Alain Ducasse au Plaza Athénée is a destination in itself—led by one of the world's top chefs, and with sustainability, seasonality, and what Ducasse describes as naturalité at its core. The vegetables and fruit used in Head Chef Romain Meder's dishes are cultivated by the head gardener at the Château of Versailles before being picked and delivered to the kitchen within hours.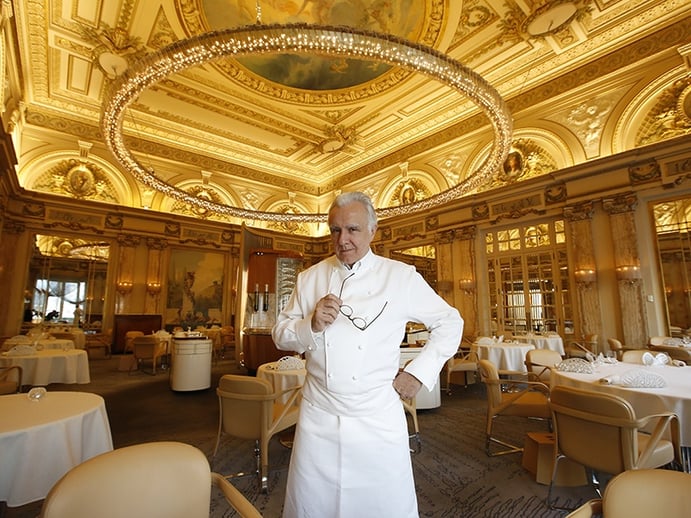 To complement the exquisitely inventive dishes (the May 2017 menu features "John Dory, spiny artichokes, green coffee"), head sommelier Laurent Roucayrol stewards an exceptional wine list classified by maturity and vintage and featuring some of France's most esteemed châteaux and Champagne maisons, such as Haut-Brion and Perrier-Jouët.
Laurent Roucayrol makes a match: "To pair with a dish such as San Remo gamberoni, avocado grilled on coffee beans, and sea urchins, I suggest the 2014 Patrimonio Grand Blanc by Guissani Paoli—a 100% Vermentino from Corsica's Campo Maggiore valley, where the Guissani family has been making natural, organic, and biodynamic wines since 1912."