In today's modern home, an outside space for entertaining—and living—has become almost essential, an antidote to a busy digital lifestyle. For a well-designed patio, terrace, or back yard, multiple elements come together to create a beautiful, functional space that complements your existing interiors. Luxury Defined has found a few products for outdoor living to help get you started.

The seating
Created by the much in-demand Spanish designer Patricia Urquiola for high-end outdoor furniture brand Kettal, the Mesh sofa combines a winged back and arms in texture-coated aluminum with a solid Accoya wooden base and cushions in a waterproof laminate fabric. The merging of industrial and natural, lightness and strength, and hard and soft creates pleasing contrasts. The Mesh collection of luxury patio furniture also includes modular seating options, a daybed, and dining and side tables.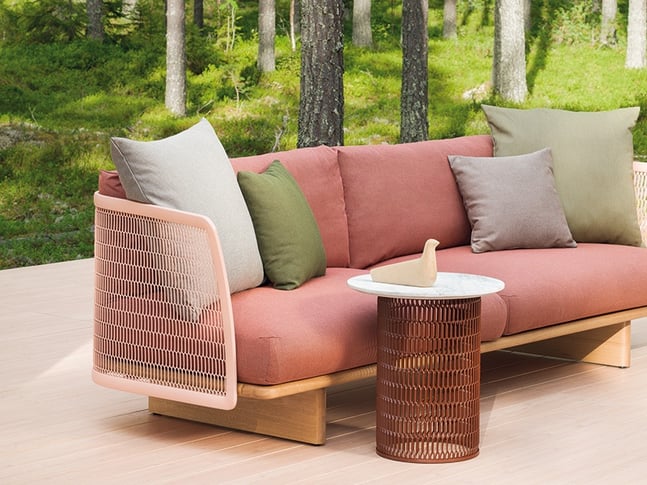 For a more portable seating option, the Champagne chairs by UK-based Sunbeam Jackie are inspired by "campaign furniture"—originally designed to be carried long distances during military campaigns. Much less utilitarian and much more stylish, these chairs feature heritage fabrics, a handcrafted ash frame made from sustainable timber, hand-cut leather straps, and stainless steel fittings. Each chair is a one-off design; styles include "Mazey Day," "Joni," and "The Secret Garden."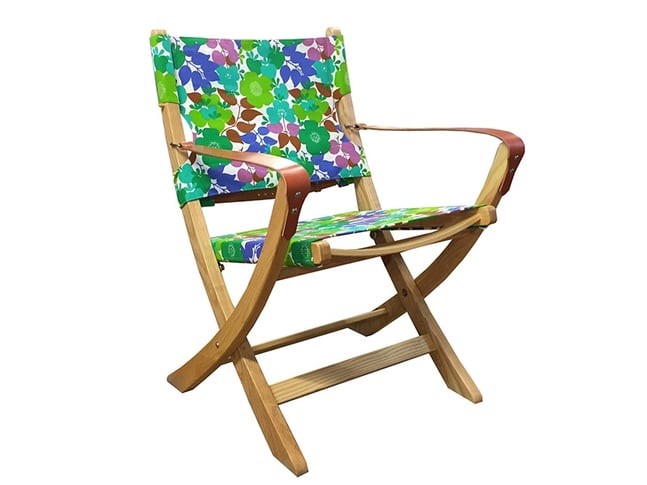 The heating
As we aim to spend more time outdoors, ensuring that an entertaining space is comfortable when the sun goes down is key. Beautifully sculptural, the Artu' wood-burning firepit from specialist Italian producer Ak47 is made from a steel framework with the visible sections finished in oxidized steel, treated to prevent corrosion. The round, flat surface is crafted from recovered chestnut wood, with the material's natural patterns part of its charm. Its placement on your patio or in your yard will determine whether it's a true statement piece, or an integrated element of the wider space.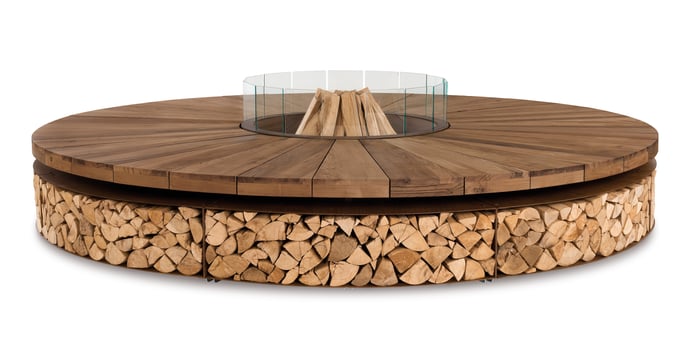 The lighting
An outdoor version of the design classic from Italian lighting brand Artemide, the Tolomeo Paralume Outdoor resembles an oversized interior floor lamp and features a mesh lampshade made of Thuia fabric, a durable and washable plastic material with the appearance of jute, in a range of colors. With its structure strengthened for outdoor conditions, the lamp is also available as a suspension or hooked version.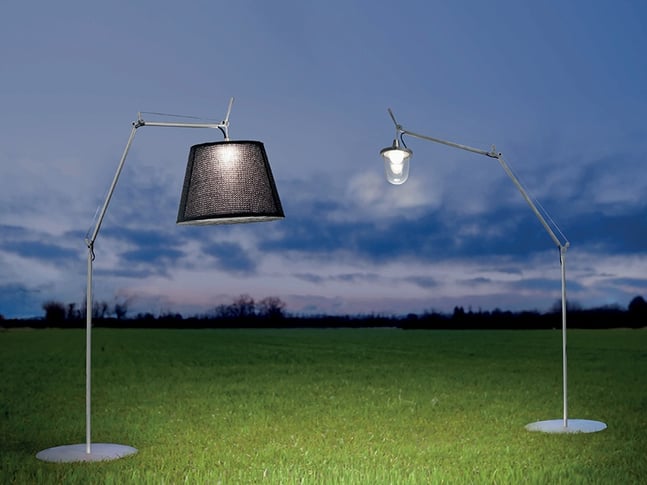 The decoration
Aesthetics are important, but the accents of your outside space need to be functional as well. Kettal's Objects collection, a range of decorative objets especially designed for sophisticated outside spaces, finds this balance. Created by Emiliana Design Studio for Kettal, the coordinated ZigZag rope "puffs" and flowerpots, made by braiding exterior chords around a metal framework, are versatile additions to any indoor/outdoor space. Especially now that a variety of colorways are available—the citrusy "Campsis" and calming "New Dawn" are among our favorites.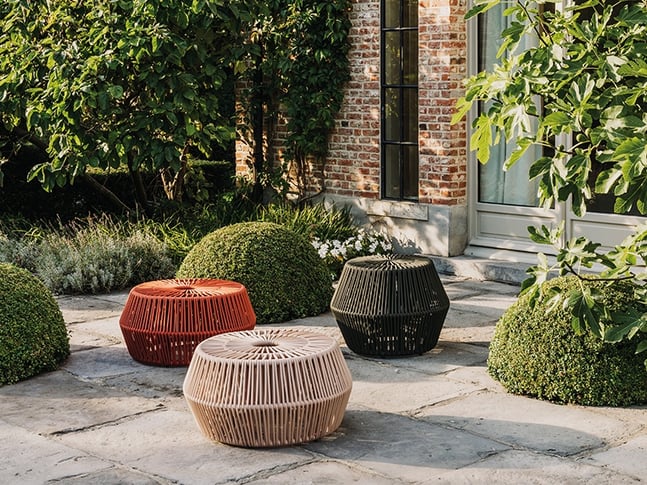 An equally chic addition to your outdoor space, the Ombrina gazebo, designed by Antonino Sciortino for Italian luxury outdoor furniture brand Roda, is a contemporary twist on the traditional permanent structure. With a Mediterranean feel, this sunshade features strips of fabric stretched across a stainless steel frame to fragment and soften sunlight. Loose, flowing "wall" curtains create a serene, sheltered space, while wheels allow it to be repositioned to your requirements.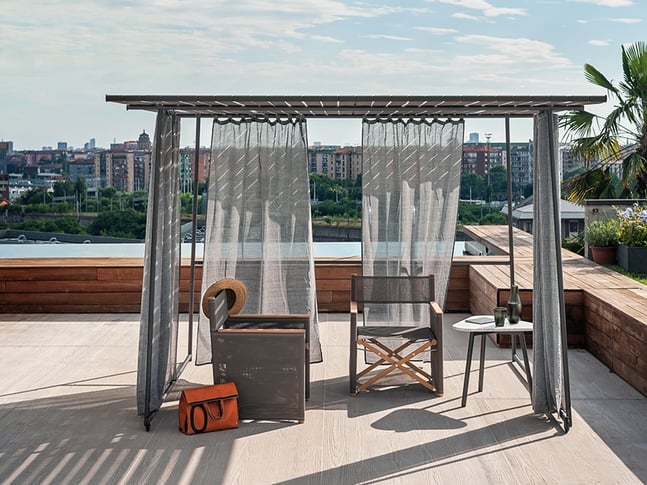 For poolside style, the rugs created by Shore Rugs for Future Perfect are just the thing. Waterproof and UV-resistant, the rugs have a unique silicone weave structure, making for an almost leather-like quality and massaging sensation on your feet. The Iris rug has a muted, symmetrical gradient that evokes lush, exotic flora, while the warm orange and cool dark blue of Laurel Canyon will remind you of Los Angeles at dusk.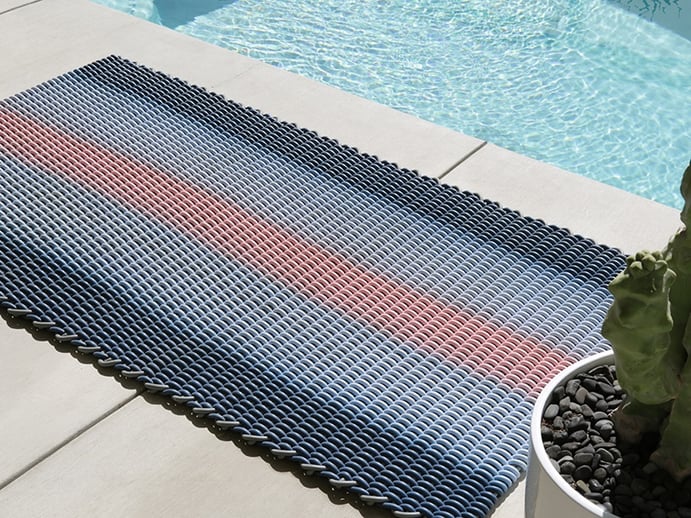 The entertainment
A backyard soiree can only get better when an outdoor music system is involved, ideally in a sheltered area, perhaps a loggia that offers protection from the elements. Bang & Olufsen has introduced a new, limited-edition variation on its wireless speaker systems, called Harmonies.
B&O's BeoSound 1, BeoSound 2, BeoSound 35, Beoplay A9, and Beoplay M5 are now available in a saturated, earthy green tone that will help them blend in with natural surroundings, or create a statement with subtle sophistication.