Stephanie Sommet is the force behind London's The Ceramicists, the bespoke design consultancy she established in 2014. The studio's work ranges from individually crafted tableware to large-scale art projects—even a huge ceramic bird head. Paris-born Sommet has found her calling as both an artist and creator in ceramics, and a philosophy of simplicity and quality has brought about her soaring reputation. Here she talks exclusively to Luxury Defined about her work and how "the perfect combination" led to her destiny.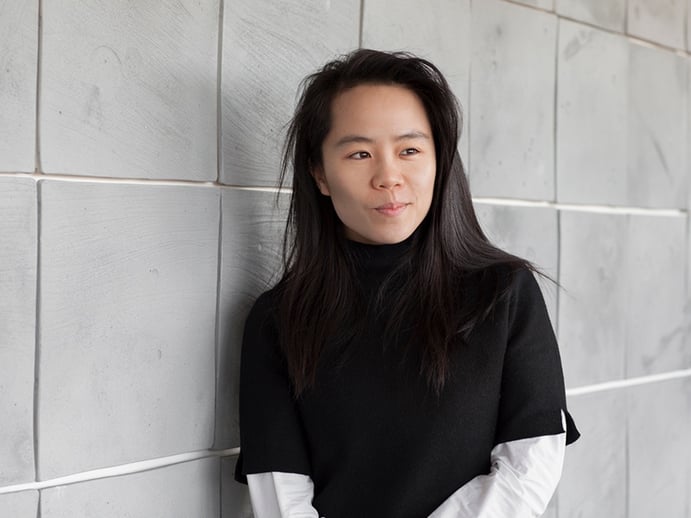 How did you come to settle in London?
I was studying architecture in Paris, and before that I was working as a graphic designer; I knew I needed something to fill the gap. I had no patience for architecture—you can wait 10 years for the finished article—and with graphic design you're behind a computer all day, which I didn't like either. I saw a course in Ceramic Design at Central Saint Martins at the University of the Arts London, and wanted to try it. I also wanted to leave Paris, so it was the perfect combination. That was in 2009.
Was it an easy transition for you?
No. I moved to southeast London and didn't speak much English. It was awful at first and I struggled. But once my studies had finished, things began to fall into place.
We trust human hands and celebrate the nature of our materials
What is the appeal of ceramics?

It's instant in that you know what the design will be, yet at the same time it takes ages—compared to other crafts, it can be an extra-long process. I still have the feeling I can manage 10 projects at a time. I like that you make everything yourself.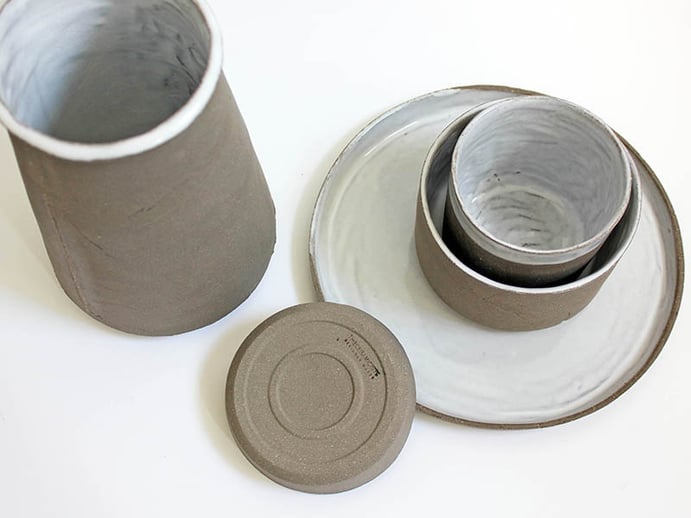 How did The Ceramicists come about?
After I graduated, I started working as a technician [in a ceramics studio]. My boss gave me a commission and I began to get more and more work until, eventually, I needed help. I moved to my own studio, called a friend and expanded. We specialize in bespoke services and work with a variety of creative clients—architects, interior and industrial designers, agencies, and independent artists. Our motto is "authenticity, simplicity, and true quality." We trust human hands and celebrate the nature of our materials.
What kind of commissions do you undertake?
With the exception of mass production, anything is possible! Ceramics are extremely versatile, both in the home and commercially. Projects can range from a dinner service to an art installation. I've even made a bespoke lavatory. One-off commissions can be daunting, too, depending on the work involved.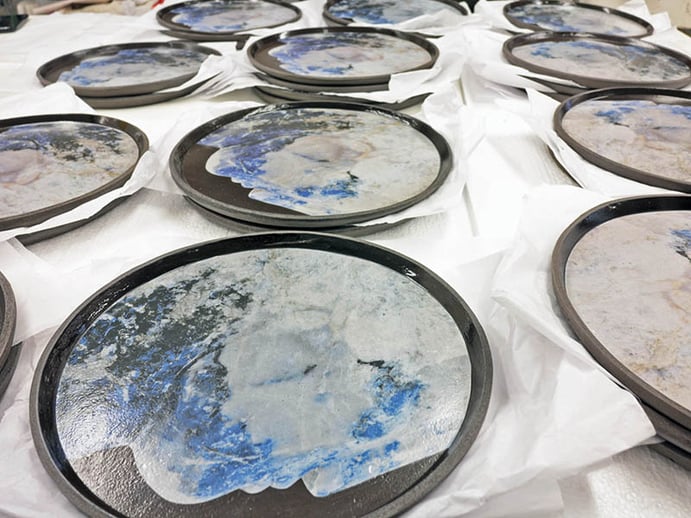 How does the process work?
If I'm making something for a private client, I'll talk about what inspires them, what they like, and look at photos to get a sense of them. From a client's brief, I can tell their style and what color tones to use. I then offer them a selection of materials. All one-offs are personalized, and every piece of work has a bit of myself in it—the type of clay, glaze, my touch. Generally, I meet a client only twice, and for smaller projects just once. A commission, on average, takes four weeks; larger designs up to three months. The cost depends on whether the piece is handmade or cast.
Being a ceramicist is like being a scientist
Tell us about some of your bigger collaborations.
I was approached by the The Cultivist arts club to make a set of 40 black stoneware plates, each with a print of the sculptor Emily Young, to be given to guests at a dinner during the Vienna Biennale. I've designed and made bespoke pots for bonsai trees to furnish the apartments at the Shangri-La Hotel at The Shard. I've recently made tableware for a restaurant in Dakar, and on a more personal note, I designed a ceramic and concrete pad to be used as an Islamic prayer mat.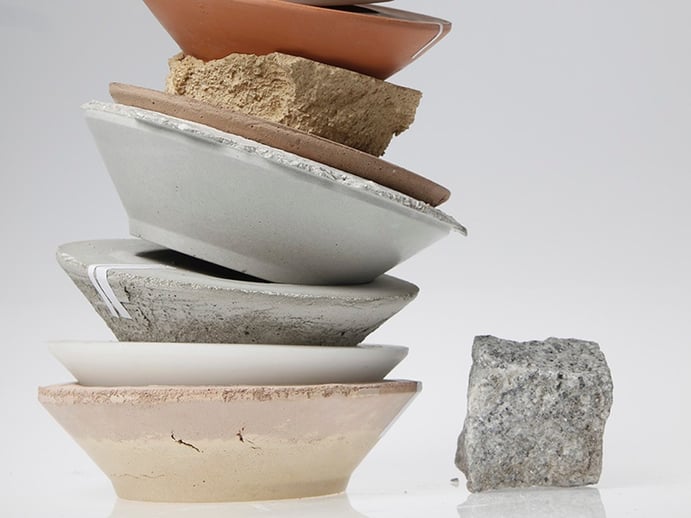 Which is your favorite kind of work?
I enjoy both private and commercial work, and like using different materials, such as concrete, that people can touch; concrete is powdery and wonderful for luxury giftware. I enjoy working with different methods, too. My business partner Kevin has a 3D printer so we design some models on the computer. And if we want organic shapes, we can print them to make molds.
You offer one-to-one tuition. What does that entail?
Clients come to us and we help them with whatever they need. It can be the whole process, from design to the finished article, or just certain aspects of it. We get everyone from absolute beginners to people who want to make gifts, to sculptors and artists who are looking for advice on materials. A glaze might need a test in firing—for example, white on terracotta doesn't appear white, it becomes transparent—so we use a combination of materials and experiment. In fact, being a ceramicist is like being a scientist.
More master ceramicists
Irving Place Studio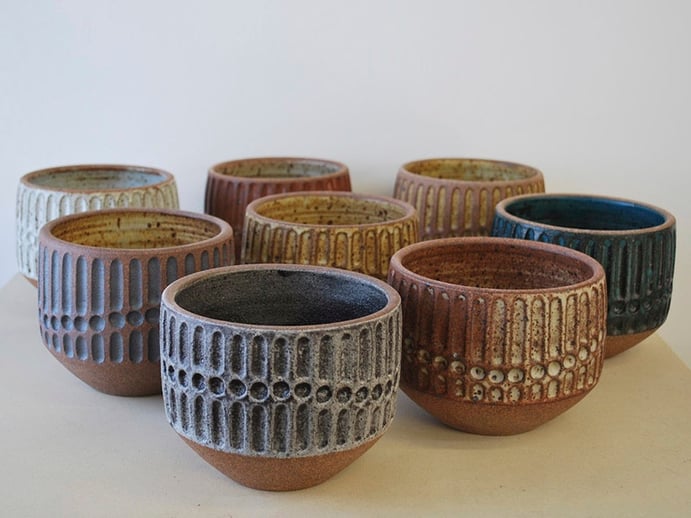 Irving Place Studio
is a small, family-run business operating from
Los Angeles
, producing hand-thrown ceramics—both practical and decorative. The studio was founded by acclaimed ceramicist
Dora De Larios
in 1968. In 2012, De Larios was joined by her daughter Sabrina Judge and Sabrina's husband Aaron Glascock, who now help run the studio. Each one of Irving Place Studio's bowls, plates, and platters is thrown on a potter's wheel by master ceramicists—Judge says each piece is worked on by hand 12 times.
Ben Medansky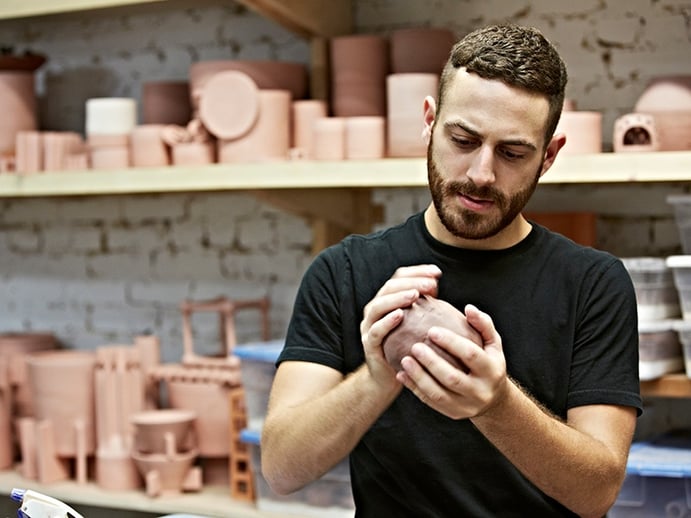 By his own admission, Ben Medansky is "an orchestra of controlled chaos, a sculptor of hard edges in naturalistic worlds." Arizona-born Medansky's pieces are almost brutalist in appearance and, he says, they're not inspired by other ceramicists, but architecture and industrial design: "I look toward the aesthetics of technology and try to elevate the mundane forms of industrial mechanics." The LA-based ceramicist is also drawn to motifs of space exploration. As well as his own sculptural one-off pieces, cups, and vases, Medansky has collaborated with Bergdorf Goodman, designer Kelly Wearstler, and Herman Miller.