Looking for more from your vacation than a stay in a generic hotel room? We've found seven hotels around the world that pair stunning style and impeccable design. From pastel-hued coastal glamour in Florida to regal city grandeur in London, rural beauty in Portugal to beachside bliss in Mexico, nautical chic in Hong Kong, and a forest paradise in Thailand, these hotels have gone above and beyond the norm. A stay in one of their suites is to immerse yourself in a luxurious work of art…
1. Hotel Esencia, Xpu Ha, Mexico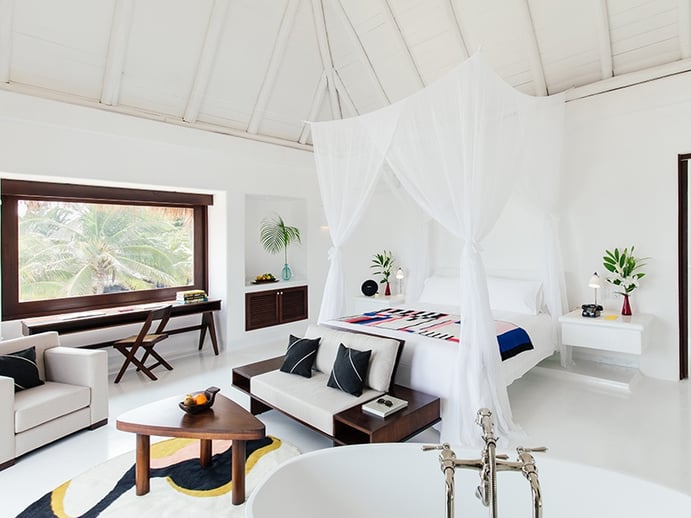 Set on the gorgeous Caribbean coast between Tulum and Playa del Carmen, Hotel Esencia recently unveiled 11 new suites that further enhance its reputation for offering the region's best boutique hotel experience. Six Beach Suites give direct access to Xpu Ha beach, while five Jungle Suites are sheltered by the hotel's sumptuous gardens. Another new addition is the spectacular Mistura restaurant, which occupies a stunning spot under a beachfront palapa. Acclaimed international chef Dimitris Katrivesis fuses Peruvian and Japanese flavors with the finest ingredients of Mexico's Yucatán peninsula.
2. Keemala, Phuket, Thailand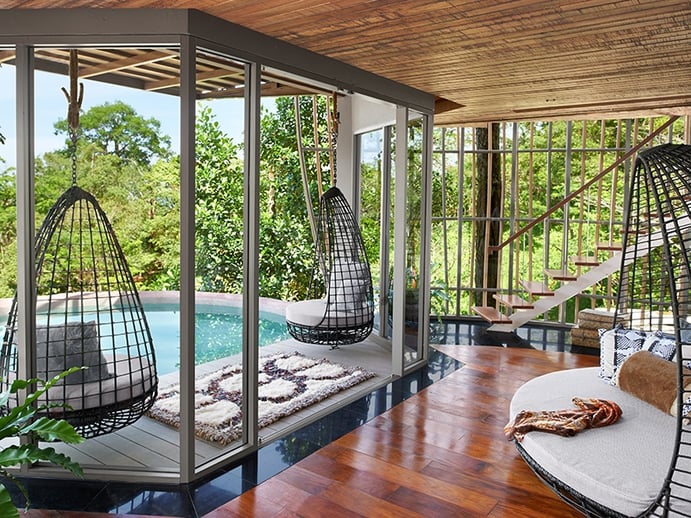 Perched high in the canopy above Kamala Beach, on Phuket's western coast, Keemala is the gateway to the quieter side of the island. Designed by Bangkok-based Space Architects, 38 villas peek out from the palm fronds, their cantilevered pools offering resplendent views from all angles. With a brief to design the resort based on the legend of the four (fictional) clans of this Thai island, quash deforestation, and minimize environmental impact, the team at Space Architects created four types of lodgings using ecologically sound building materials and techniques. The largest of these, the Clay Pool Cottages, each have their own lap pool suspended over the network of pathways that runs through the resort. Inside, interior designer Pisit Aongskultong has used local teak, stone, and plush fabrics, while deep stone baths are placed next to the floor-to-ceiling windows so you can soak up the sea views. Outside your villa, there are nature walks, yoga classes, and a spa to enjoy, while on-site restaurant Su Tha offers delicious dishes with ingredients sourced from the kitchen garden.
3. The Fleming Hotel, Wanchai, Hong Kong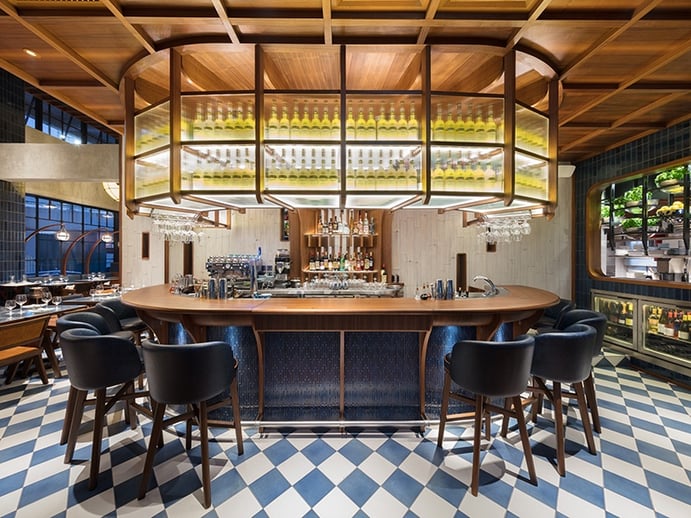 Anyone who has visited the Hong Kong waterfront will know the iconic Star Ferry vessels that take visitors on tours of the harbor. Those ferries were the inspiration for A Work of Substance, the design firm that overhauled the city's Fleming Hotel. With a new nautical/industrial design, the hotel features the deep reds and bottle greens of the ferries' walls, ship-like corridors, and brass nautical elements such as porthole-shaped mirrors. The adjoining Osteria Marzia serves tasty food inspired by the diverse flavors of Italy's coastal regions.
4. The Franklin, London, UK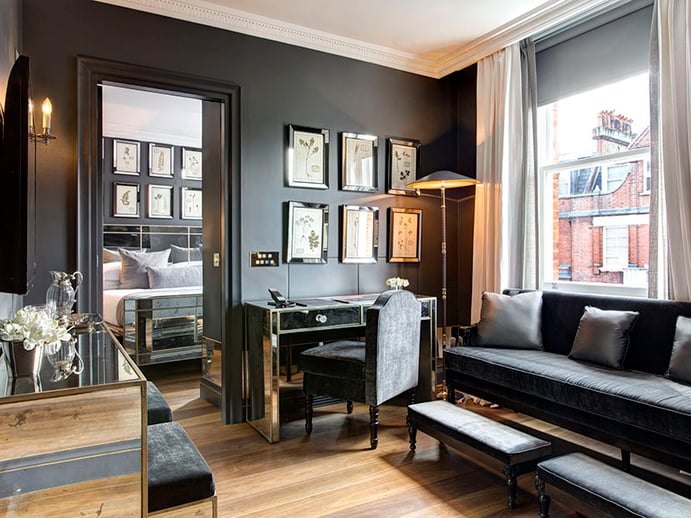 Billed as "London's sexiest hotel," The Franklin blends bold Italianate design with the gentility of a traditional London townhouse. Forming part of a Grade II-listed terrace designed in the 1840s by architect du jour George Basevi, the hotel makes the most of the building's heritage while updating it to offer five-star luxury. In 2016, renowned interior designer Anouska Hempel completely renovated the space, taking inspiration from her travels and Venetian architecture while accommodating the existing original Victorian features.
5. The Colony Hotel, Palm Beach, Florida, USA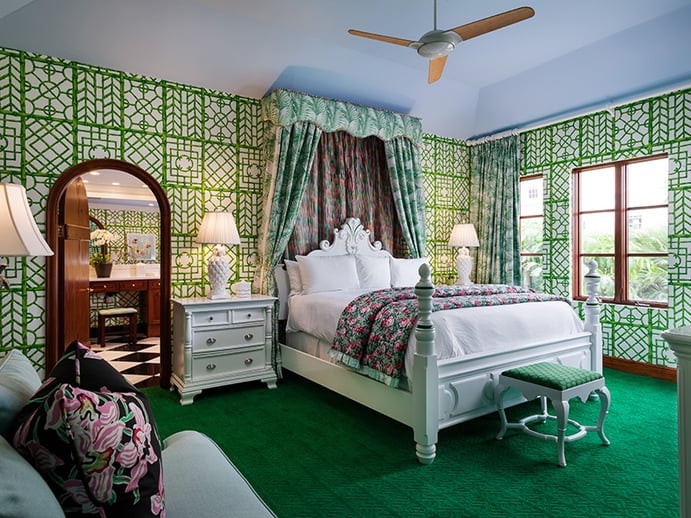 The playful glamour of Palm Beach's pink-hued Colony Hotel has long attracted European royalty, American presidents, and Hollywood legends. Recently undergoing a five-year revamp, The Colony has added bold and colorful new touches to its British colonial look. As the hotel celebrates its 70th anniversary, new owners Sarah and Andrew Wetenhall are aiming to appeal to Palm Beach's next generation of residents and visitors with a range of experiences that reflect modern Palm Beach life. Guests can take advantage of yoga by the pool, beach amenities, and tailored kids' activities, as well as bike hire.
6. São Lourenço do Barrocal, Alentejo, Portugal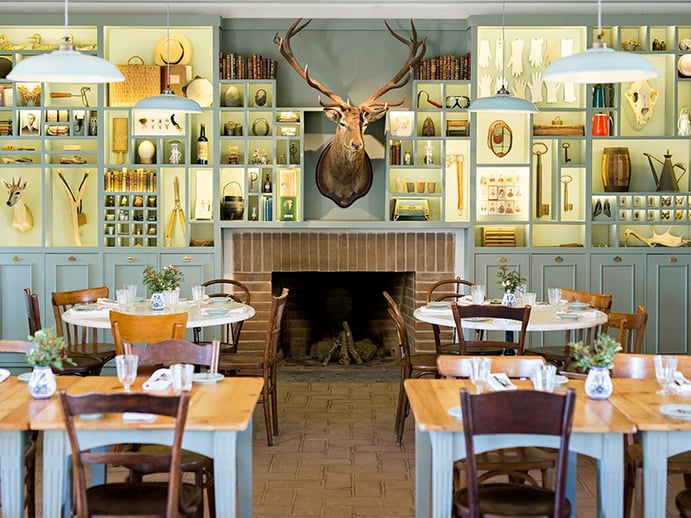 Hotel design comes in many shapes and sizes. In Alentejo, Portugal, it comes in the form of a beautifully restored 19th-century farmhouse. After falling to ruin in the 1970s, São Lourenço do Barrocal has been lovingly brought back to life by José António Uva, whose family has owned it for eight generations. The hotel now offers spacious guest rooms and suites housed within the original farm buildings along a central cobbled street. The interiors take inspiration from local farm villages: traditional terracotta floors, whitewashed walls, and soaring vaulted ceilings. A farm-to-table restaurant showcases local produce, while an on-site vineyard provides the perfect wines to accompany the seasonal menu.
7. Amanyangyun, Shanghai, China
If you like your vacation accommodation to have a backstory, Amanyangyun will take some beating. The resort, 17 miles from Shanghai, is the result of a 15-year conservation project entailing the relocation of a forest and the reconstruction of a historic village. Twenty-six rebuilt ancient dwellings, each transformed by Kerry Hill Architects into unique suites, villas, and common spaces, now make up Amanyangyun. The resort's Antique Villas come with a private pool and Jacuzzi, while its Ming Courtyard Suites offer expansive, light-filled sleeping and living quarters featuring Asian-inspired, minimalist wooden interiors. And this being an Aman property, guests will also find a spa, and five restaurants and bars, throughout the forest.