We have both the Middle Ages and the 18th century to thank for our enduring fascination with Gothic castles. These fortified structures, which were better protected than palaces and more elite than fortresses, were built by landed families from the 9th century onward. While they seem romantic from a present-day perspective, they were actually quite practical. Royalty and nobility built castles as secure places from which to launch raids to protect their land, should the need arise. But the power of such imposing edifices was also symbolic, as their scale was on par with that of cathedrals, which were considerably larger than any ordinary dwellings of the period. In the 12th and 13th centuries, castles began to include multiple towers and concentric stone walls that encircled the central "keep." These changes are believed to have developed as a result of European contact with the architecture of the Islamic world during the Crusades, as well as local inspiration from the ruins of ancient Roman forts.
The end of the castle's golden age came at the dawn of modern warfare. With advances in firepower in the 16th and 17th centuries, traditional stone fortifications no longer offered sufficient protection in battle. Governments moved from castles into secure civic administration buildings in urban centers, while royalty and nobility settled into grand country houses and palaces. Once castles were no longer practical, however, they began to appear in the popular imagination. In the 18th century, architectural follies designed to look like miniature castles were constructed on the grounds of great estates. Wallpaper and toile de jouy fabrics were printed with idyllic rural scenes in which ruined castles appeared to float in some backgrounds, evoking a sense of timelessness.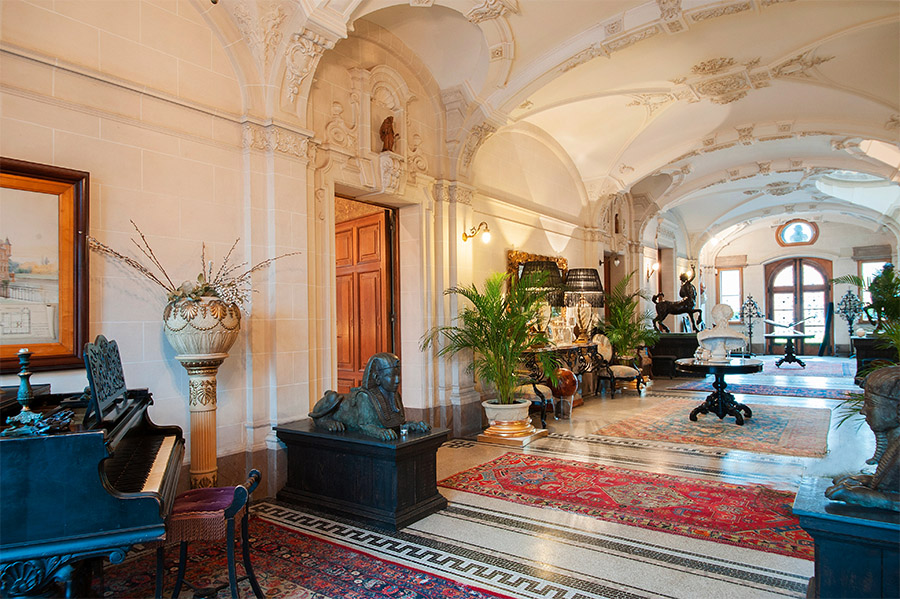 In the 18th and 19th centuries, the Gothic Revival inspired a love of all things medieval. The skilled craftsmanship of the Middle Ages was idealized, and Gothic arches began to appear in everything from the architecture of university buildings to dining chairs and coal stoves. The romantic notion of medieval chivalry also experienced a major resurgence as writers like Alfred Lord Tennyson, William Wordsworth, and Mark Twain explored the legend of King Arthur and the Knights of the Round Table in their popular works.
Today, preserved castles truly offer the best of both worlds: the rich atmosphere of the age of chivalry with none of the challenges that accompanied real life in the Middle Ages. Some of the finest luxury renovations in the world have transformed castles into state-of-the-art estates on the inside, while the original exteriors—some nearly 1,000 years old—conjure a wondrous sense of history and grandeur.
A Castle on a Hill
Castle Castelleone, Umbria, Italy

One exceptional example from the 12th century sits atop a hill in Umbria, about 30 minutes from Perugia: a medieval estate called Castle Castelleone. Castles were often built on hills because the panoramic views offered a strategic advantage. Today, the hill on which Castle Castelleone resides offers breathtaking vistas of the Tiber Valley. Castle Castelleone is actually composed of elements from three distinct time periods. Its thick defensive walls and communication tower were built in the 12th century, the larger tower and main living quarters were added during the Renaissance in the 15th or 16th centuries, and an additional living space was added during the Gothic Revival movement of the 19th century. The interior of Castle Castelleone is commodious and modern. Seven bedrooms, eighteen bathrooms, and a Turkish bath offer plenty of room for guests. The Grande Salone degli Armigeri, a unique and elegant space in which to entertain with Renaissance-style glamour, is conveniently connected to one of the estate's three kitchens.
The mix of time periods and styles that make this castle unique also make it perfect for an eclectic array of antiques from almost any century. Christie's November 18th Cheyne Walk sale, which features objects and furniture from the home of renowned collector Tom Craig, includes a lovely late-Victorian library bookcase fashioned from exotic padauk wood, with three doors and adjustable shelves. The doors are embellished with arched glazing so each piece of glass forms a Gothic arch—a 19th-century interpretation of one of medieval architecture's most beautiful innovations. For an atmospheric library or study, pair the bookcase with this set of French Gothic oak armchairs by the firm of Jeanselme Fils from Christie's November 24th Interiors sale in London. These chairs are intricately carved with a Gothic architecture-inspired tracery outline and upholstered in antique tapestry fabric. And keep track of the phases of the moon from Castelleone's hilltop perch with this Victorian table clock in Christie's The English Collector sale on November 19th. The clock features mechanisms for tracking the moonphase, calendar, and barometric pressure. Designed in the form of a Gothic tower (and somewhat reminiscent of Big Ben), the gilt-brass case boasts lapis lazuli panels and highly intricate engravings depicting medieval scenes and wooded landscapes. The silvered clock dial is signed "Hunt & Roskell," the original clockmakers whose work can be found in The British Museum.
A Renaissance Retreat
Gestelhof Castle, Gestel-Berlaar, Belgium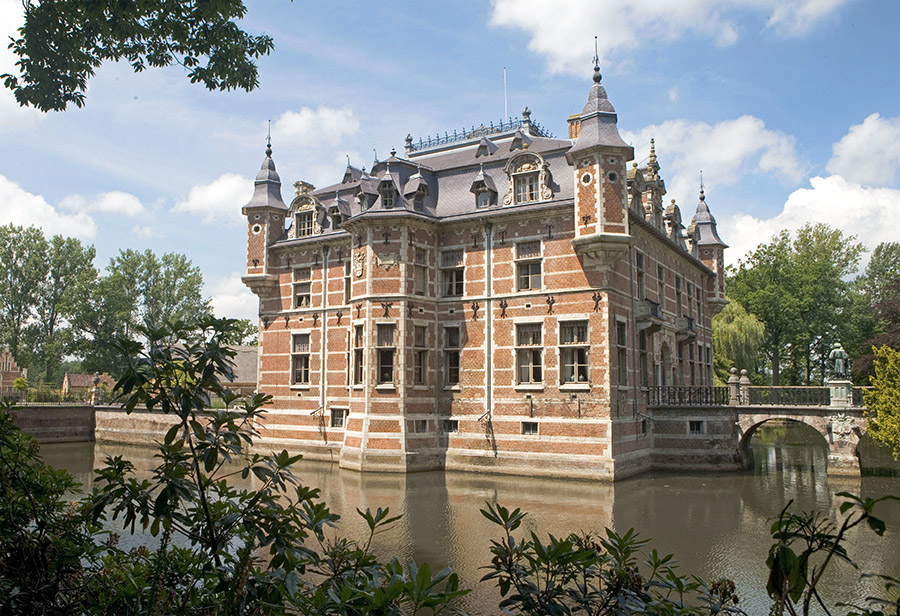 A later example of a historic and well-preserved castle can be found in Belgium's Gestel-Berlaar region. Dating from the 16th century, Gestelhof Castle is a spectacular example of the Flemish Renaissance style. Gestelhof Castle is located approximately 20 miles from Antwerp and 30 miles from Brussels on the picturesque river Nete. Fully restored and renovated in 2005, this castle dates from the very end of the "castle era," and is so ornate that it resembles a palace. Its lush grounds include an outdoor pool, stables, a farm complex, and a "little castle" that would make wonderful guest quarters. The original castle bakery is still intact, and the kitchen is spacious and updated, with original stone floors throughout. The interiors are filled with light and are not only pristine, but full of architectural details that recall multiple time periods. Medieval-style vaulted arches and mosaic floors blend harmoniously with more recent touches like the grand marble staircase, silk-upholstered walls in the dining room, and delicate plaster mouldings on the ceilings.
A lovely nod to Belgium's rich artistic heritage, this exceptional set of miniatures from an illuminated book of hours in Christie's December 1st Valuable Books and Manuscripts sale could be displayed permanently as works of art, or carefully pulled out to show guests every now and then. Books of hours were popular Christian devotional texts in the Middle Ages. Surviving examples contain some of the most spectacular illumination and calligraphy ever produced. This example dates from a century before Gestelhof Castle was built, circa 1460. Such tiny illustrations, which depict scenes from the Bible, were often bound into small books and carried around like amulets for good luck and protection. As an important artistic precursor to the golden age of Northern European painting in the 15th and 16th centuries, they represent a bridge from the devotional artforms of the Middle Ages to those of the Renaissance.
A perfect perch from which to read and study these miniatures would be this elegant William & Mary armchair with intricate floral crewelwork upholstery. Dating from about 1700 and featured in the November 18th Cheyne Walk sale, it has feet carved with elaborate scrollwork as well as embroidered fabric that depicts a colorful assortment of fruits and flowers. Before the advent of electricity, reading by candlelight could be enhanced with the aid of a few strategically placed mirrors. This George II gilt-gesso mirror from the mid-18th century, also offered in the Cheyne Walk sale in London, will perform the same trick in a modern interior, helping to amplify lamplight elegantly. The mirrors carvings, which include a scrolled design as well as an egg-and-dart frieze, would complement the William & Mary armchair beautifully.
An English Manor House
Newcastle Upon Tyne, United Kingdom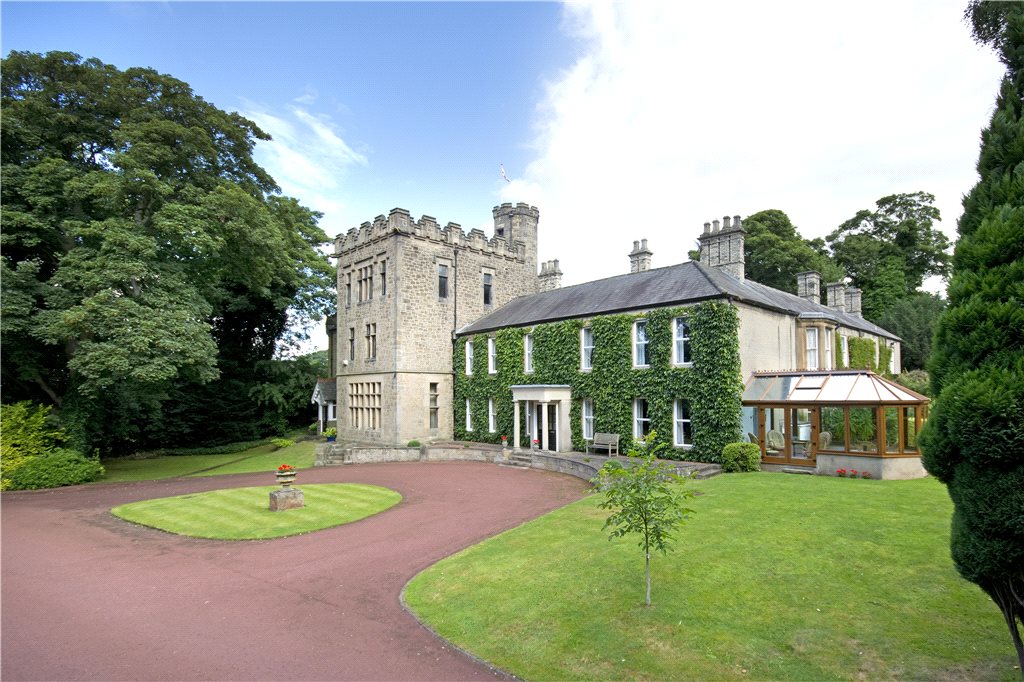 England is often the first place that comes to mind when one thinks of castles, and indeed it was here that Gothic Revival really took shape in the middle of the 18th century. Walbottle an impressive family residence once owned by the Duke of Northumberland, has an east wing that was built in the 1700s and a west wing that was added in 1897. The newer part of Walbottle, designed in the Scottish Baronial style, includes a "castellated" tower with characteristic crenellations at the top of the façade. This eight-bedroom manor house is full of original details that evoke the Middle Ages: stained glass, shuttered sash windows, stone fireplaces, ornate plaster work, and paneled wood doors. The estate also boasts all sorts of specialized living spaces one would expect of a Victorian great house: a conservatory, a drawing room, a cloakroom, a library, a garden room, and a formal dining room, among others. Walbottle is an ideal setting for English Gothic Revival furniture such as this pair of William IV Oak Hall chairs from the early 19th century, which are included in the Christie's Interiors sale on November 18th in London. Each chair back is designed with a triple Gothic arch, and the top rail resembles the crenellations on the Walbottle estate's stone facade.
For the library, this George III mahogany bookcase from the late 18th century would provide a lovely place to display a collection of antique books. The design of this bookcase is quite unusual: the doors are glazed with a typical Gothic arch design, but the wooden panels below them are embellished with quatrefoil, a design typical of French medieval architecture often used in stained glass windows. A rare, fully bound vellum Book of Hours from Paris, circa 1500, would be a dazzling specimen to keep inside this bookcase. Featuring 116 leaves painstakingly illustrated in brilliant color and depicting Biblical stories in French and Latin, this treasure was given to the Metropolitan Museum of Art by renowned collector and philanthropist Joseph William Drexel in 1889. Like Gothic furniture of the Victorian era, the manuscripts of the late Middle Ages and early Renaissance reflect the highly skilled, unhurried craftsmanship of these eras, revealing that such works were indeed designed to last forever. Castles are similar, and though the need to fend off an incursion of knights from a rival kingdom may no longer exist, the masterful construction of castles built long ago makes them a special kind of luxury property: historic, romantic, and a bit magical.