Since establishing his eponymous architectural practice in 1996, Texas-based architect Winn Wittman has set out to create homes that are as unique as their intended owners. He talks to Luxury Defined about combining a timeless approach to form with contemporary design, cutting-edge technology, and a rock 'n' roll attitude.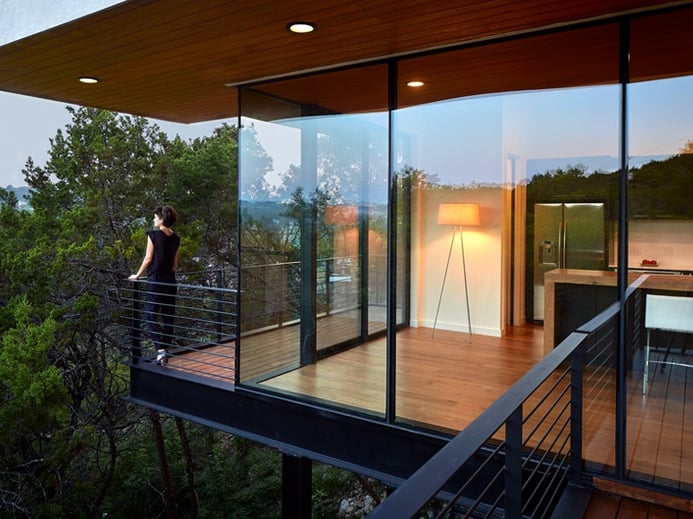 What are your earliest memories of architecture?
My father used to take me to the Isabella Stewart Gardner Museum in Boston, Massachusetts. It was [inspired by] an Italian palazzo and full of beautiful architecture and art by Rembrandt, Ingres, Sargent, and others. An interior courtyard garden with a glassed-in roof was the highlight. I wasn't really exposed to modern architecture until later, so it all started with a love of classical architecture.
What is your style and way of working?
First, I dream and free-associate. Then I start sketching the floor plans and make sure those work. Next, I have the sketches translated into a 3D-modeling program and the design develops from there. Most of the designing these days occurs in real-time client meetings lasting no more than an hour and a half; after that, I find the productivity goes down. I like to Skype frequently with out-of-town clients—I can tell more with non-verbal cues than on a phone call.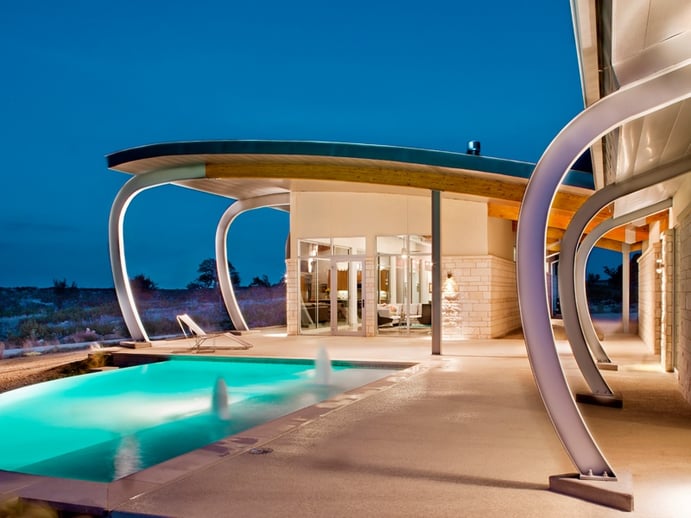 You've been described as a "rock 'n' roll" architect. Why do you think this is?
Rock 'n' roll embodies freedom—to me that's what my architecture is all about. My clients want the freedom to live exactly how they want, and it's taken them, in many cases, years to embrace their own individuality. That's what my homes seek to express. Each home is unique to its intended owner; each is a sculptural yet highly functional work of art. There is usually a "surprise" as the home unveils itself to the visitor bit by bit.
How do you begin working on a project?
I begin by considering the ideal location of the home and its orientation. From there, I let myself sketch abstract forms without thinking too much about the spaces or functions. Then I get more specific.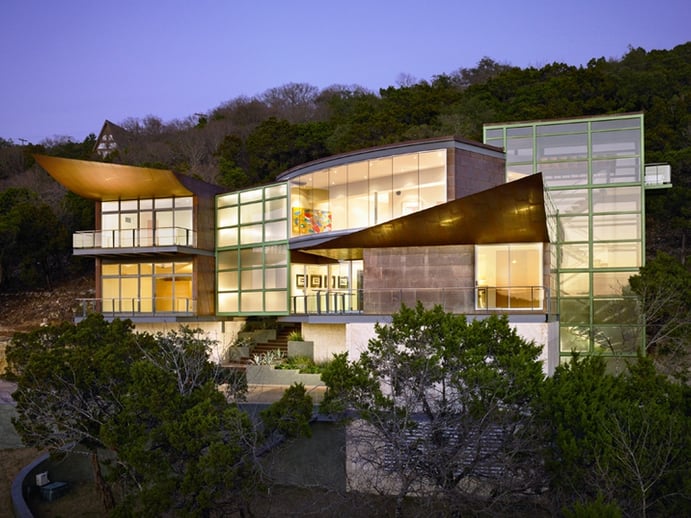 Which projects are you most proud of?
I developed an office building when I was 27, which was quite a stretch for me at the time. Soaring Wings [a home in Austin, Texas] was another highlight and got quite a bit of international attention. This year we finished the Manta House, a huge home [in Austin] based on the form of a Manta Ray, which was quite a challenge to design and build—hardly a straight line in the place. Honestly, the project I'm most excited about is always the next one.
What would be your dream commission?
I'd like to design a building with a religious or spiritual significance some day. I also want to design an iconic tower or skyscraper.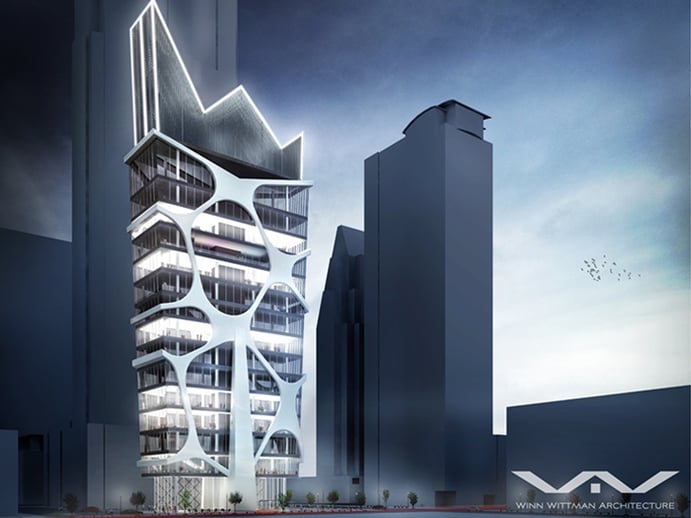 Tell us about some of your recent projects.
We've done four multi-generational homes for Indian clients this year. It's always a unique challenge to combine togetherness with privacy in such homes. We did a home for the CTO of a high-tech company that has a glass swimming pool on the roof, and we did our first off-grid ranch house that is completely net-zero and self-sufficient in terms of water and energy.
How is technology changing the way you work?
We are able to do things today in real time that used to take weeks to accomplish. We are also able to make changes to a completed design much more easily, and work with clients in far-flung places.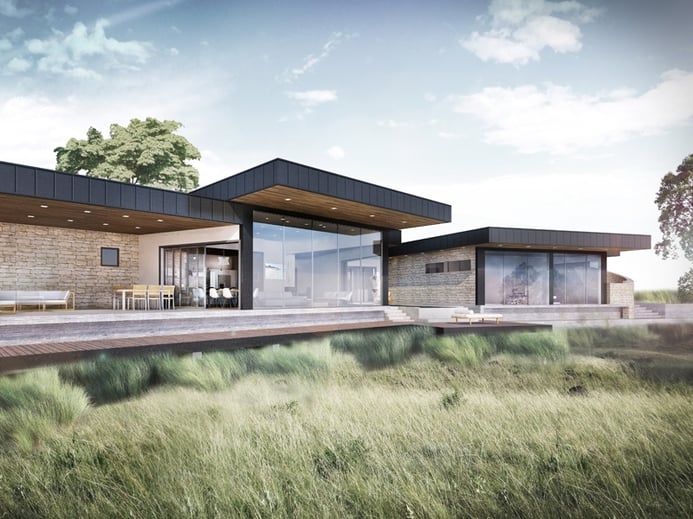 You offer an interior design service. Many architects don't. Tell us about this…
The finishes, fixtures, and furnishings in a home are very important and we like to have a hand in this as well. The homes I design don't typically require a lot of furnishings, but the ones selected have to be the correct ones.
What does "home" mean to you?
Home to me is the place that supports your life, improves your outlook, and fosters your personal growth.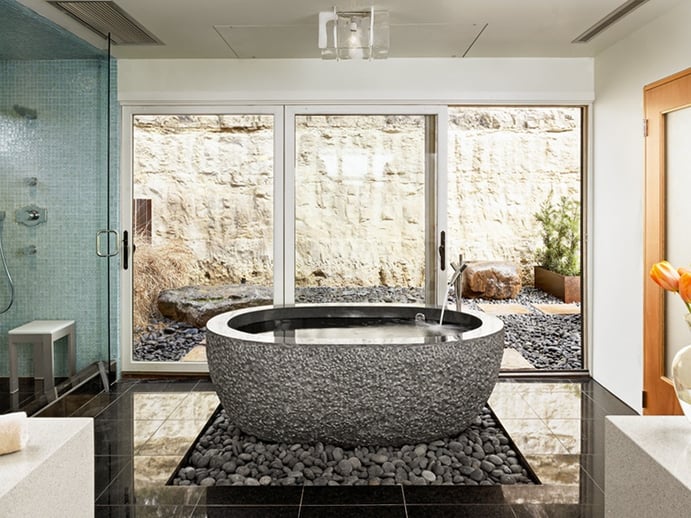 How would you describe your own home?
My family and I currently live in a high-rise in Austin, Texas. There is something about being up high and looking out on the ever-changing city that I find very energizing.
How would you describe your own personal style?
Modern yet comfortable. I prefer to have things in my home that I enjoy looking at regardless of what style they are, and that trigger memories. For example, our bedroom is quite modern, but I have an 18th-century glided clock on the dresser that we found on our honeymoon in Mexico. I'm also an art collector, and have works by Rauschenberg, Jeff Koons, Le Corbusier, Lichtenstein, Shepard Fairey, and Andy Warhol, among others.