The chance to design the Serpentine Pavilion in London's Kensington Gardens is one of the architecture world's greatest privileges. The annual competition, for architects whose work has not yet appeared in England, has previously been won by Zaha Hadid, Frank Gehry, Jean Nouvel, Ai Weiwei and Herzog & de Meuron, Oscar Niemeyer, Olafur Eliasson, and Sou Fujimoto, among others.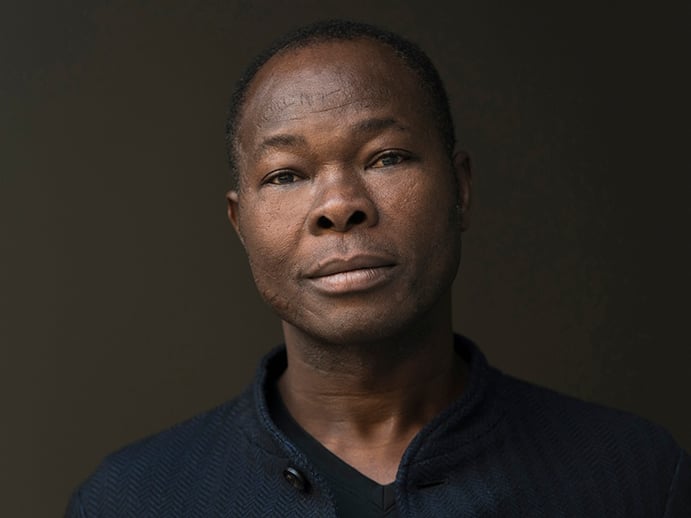 This year's designer, Francis Kéré, was inspired by nature—specifically, a tree in his native Burkina Faso—his passion for storytelling, and the value in gathering as a community, which the pavilion promises to facilitate over the coming months.
Kéré spoke to Luxury Defined about his projects—in London and around the world—and why the Serpentine Pavilion in particular is so special.
London is an exciting place.
It has energy, history, and openness. In terms of the architecture, of course I was inspired; it's traditional and modern design side by side. When you come to London, you visit London Bridge and the Tower of London, and you see the history of architecture and engineering in these buildings as well as the long list of great architects who have worked here. For me, being able to put my stamp on the city in that way was a very exciting prospect.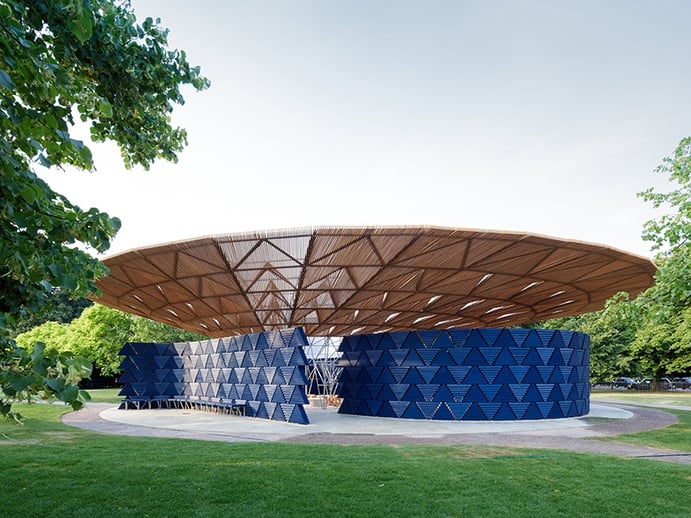 When I first heard that I had won the competition, I didn't sleep. I couldn't.
All of these important, respected artists have built structures before me. Zaha Hadid—one of my most beloved architects—has worked here. It was very stressful. I said to myself, "I'm not doing huge, well-known architecture. If they are going to choose me, then they will want me the way I am." I just thought, "I have to be true to myself and create something very simple, yet potentially surprising."
It is the first time I can think that someone has used wood, and certainly wood stained this shade of blue, within the Royal Parks. I wanted to find something that could potentially carry the weight of this legacy. It's about structure, and about using traditional and natural materials—in this case wood—in a very different way. Environmentally, it can also be a great material to use.
I have to be true to myself and create something very simple, yet potentially surprising
The design is inspired by a tree in my home village of Gando in Burkina Faso.
This tree in the center of the village is used as a meeting place, which is exactly what I wanted for this piece of architecture. The instruction was to create a structure within the Royal Park for visitors, and in that respect, it gave me a chance to think about how to facilitate people coming together in different ways.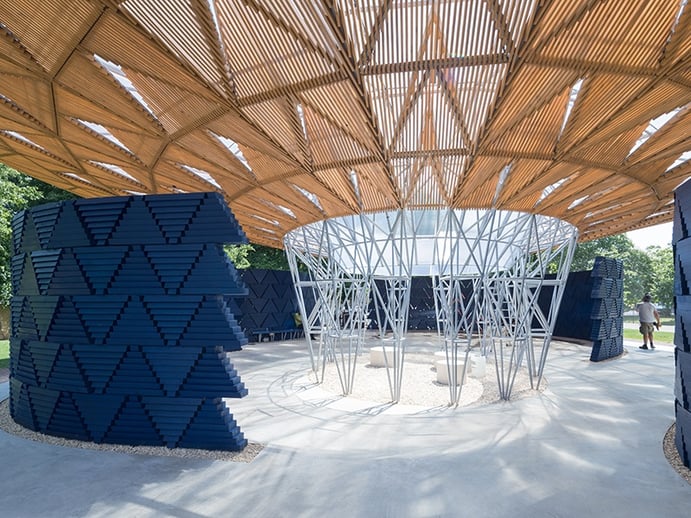 It has multiple openings, because we want people to still feel connected to nature when they enter the pavilion—you can still see the trees from inside it. There is an ellipse in the roof of the oval-shaped structure, so you are connected to the sky. When it rains, you will feel the effect of a waterfall as the water is directed down this funnel in the center of the pavilion.
There is a wide canopy of timber brise soleil that looks, and acts, like the branches of a tree, providing both shade from the sun and cover from the rain. At night it lights up, because in Burkina Faso you can tell when people are having a gathering from the lights coming from the main meeting place: the tree.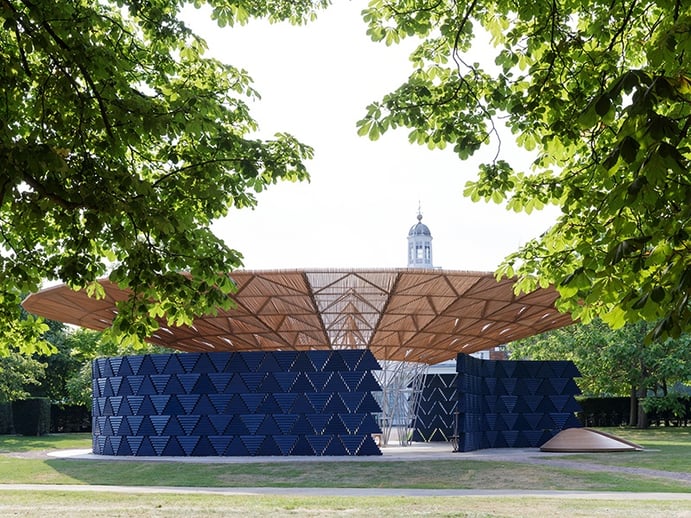 Blue is an important color in my home village.
It is the color you wear when you go to meet your dream; the color of the traditional clothing that we wear as young men going to the house of the woman we want to be our wife. Indigo blue shows your best side. The triangle is a symbol of luck and confidence in Burkina Faso. If you think of a structure such as this, a tree for example is very strong, as is a triangle.
In Burkina Faso you can tell when people are gathering from the lights coming from the main meeting place: the tree
I work most of the time with women.
Without the women in Gando I would never be able to do the work that I am doing now. If you were to come to my home and see how the women there helped me to make a floor by dancing on it—what energy they brought together to make it work—it is comparative to the women on my team and their energy for this project. Without my team, this would never have been possible.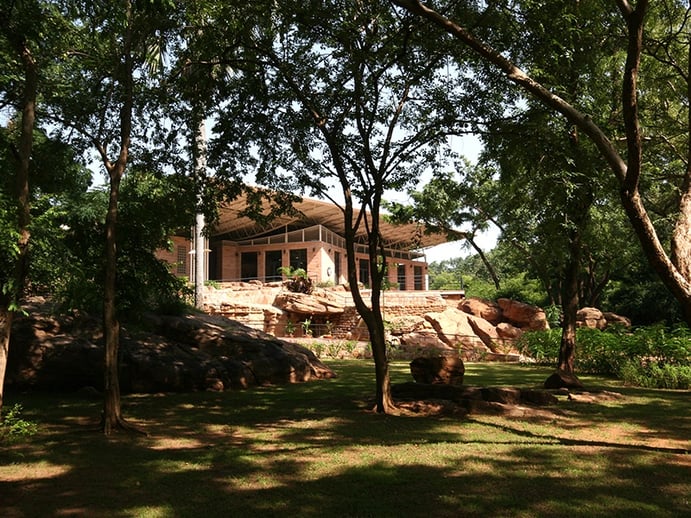 I would like to do more residential projects.
I have designed housing for teachers, and housing projects throughout Africa and Berlin. I am currently working on a competition now for a housing project in the heart of Geneva. I'd like to build homes in London. It's an amazing place and people are very excited. It's a place for exploration.
To see your own drawing and your own ideas come to life is still unbelievable to me
There I feel like I am a bridge between the Western world—where you have access to information, technology, and science—and Burkina Faso, where I first started to build. I hope that the Serpentine can further bridge those worlds.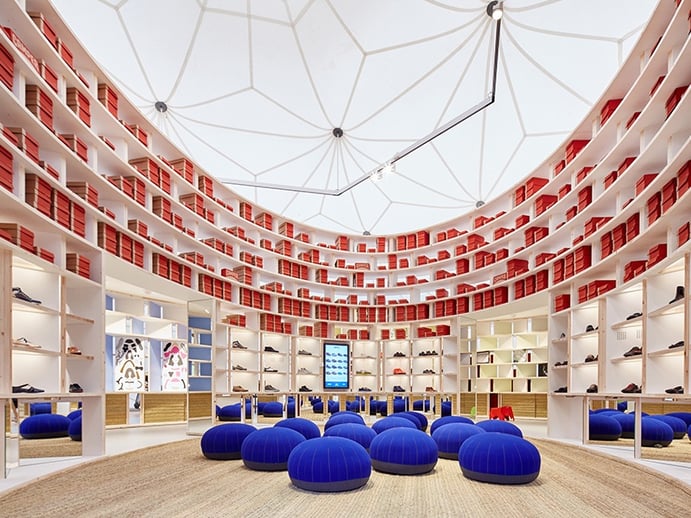 Berlin is a very inspiring place for an architect.
I studied Mies van der Rohe as a student, which was incredibly inspiring. Modernism and Germany go hand in hand, and at the time I was studying there was a new movement. Sir Norman Foster was doing the Reichstag, David Chipperfield did the Neues Museum, Rem Koolhaas designed the Dutch embassy, Renzo Piano designed the urban area of Potsdamer Platz and the Debis-Haus building, and so much more. It was a very rich moment in architectural history.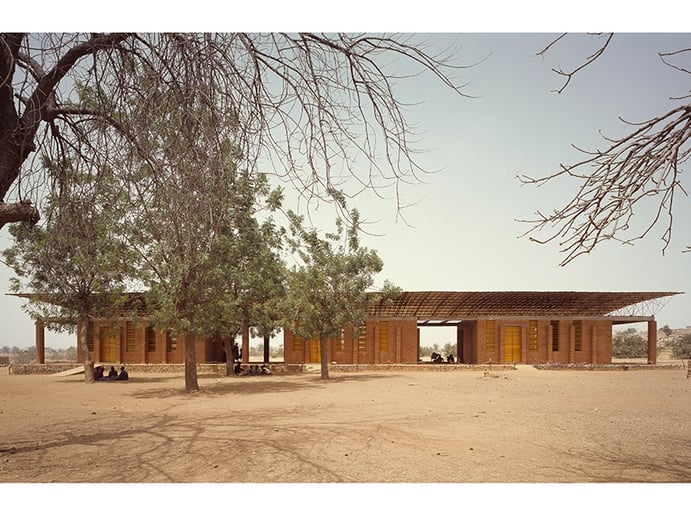 I am most proud of the primary school I designed in Burkina Faso.
I started to design it as a student. People encouraged me, but many others never believed in it, so when it was realized I just found it amazing. To see your own drawing and your own ideas come to life is still unbelievable to me, so this one is at the top, but the Serpentine is pretty close to it.
The Serpentine Pavilion will be located next to the Serpentine Gallery in Kensington Gardens, Hyde Park, London, until October 8, 2017. This year the pavilion will welcome a new weekly program of community cooking projects, called Radical Kitchen, in July and August. The Serpentine Pavilion is supported by Goldman Sachs with the support of engineers AECOM and fabricators Stage One.