Bety Avila's passion as a little girl was drawing and painting, but her family suggested she should look for something more practical for a career. Choosing to study architecture – because it involved lots of drawing – she graduated from university in Mexico City with an award-winning thesis. Ever since then, however, she has been building a reputation as a versatile visual artist, most recently breaking into the male-dominated world of street art.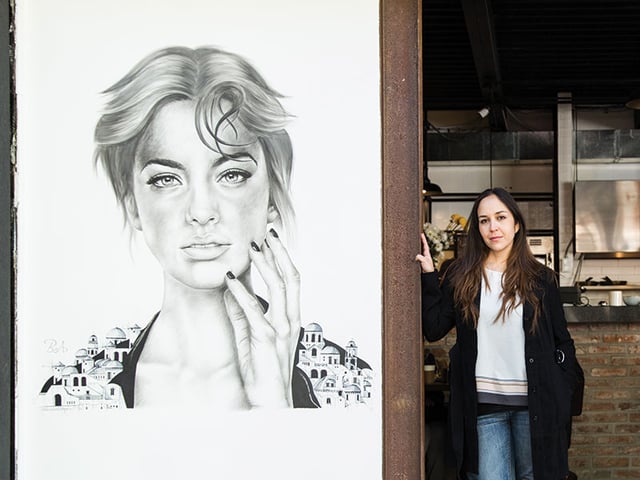 When and where were you born?
I was born on June 2, 1986 in Victoria de Durango, Mexico. We moved to Mexico City when I was a child because my father, who studied and developed an academic and professional career there, realized that the capital offered better options for education than those available in Durango, a smaller province.
You studied architecture. Was it your ambition to be an architect?
To be honest, no. I've always drawn and painted – at home and at school. Ever since I was little, it wasn't just a hobby, as people used to think; painting was my passion and my dream. The moment I had to choose to study for a career, I knew I wanted to do something related to the fine arts.
It's important to emphasize that I come from a family with careers related to science, mathematics and engineering. Because of my background, I was advised to find something else that could "put food on the table." After considering all the other possibilities that might interest me, it became clear to me that I had to study architecture, when my father told me, "Architecture is about drawing." So I decided to enroll at the National Autonomous University of Mexico.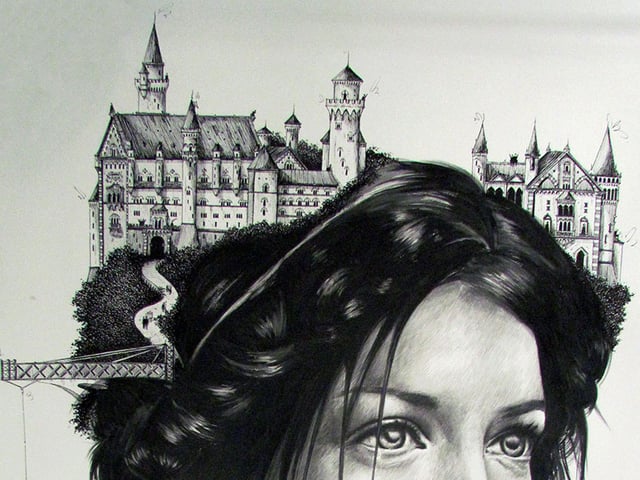 I was very fortunate that working with computers wasn't a common practice when I began studying. And even though their use has become more widespread and significant over the following years, I've always remained faithful to my drawings. For me, hand-drawing has always involved a higher reasoning, allowing me to understand what I was doing, as if I was "living" the spaces I designed.
Your thesis won an award. What did you write about?
"Music for everyone; building a space where differences coexist." In my thesis, I decided to address a more sensitive and human "architectural" issue. At the end of my studies, I realized that the architecture I always proposed was focused on a non-existent perfect user, while the reality that surrounded me was very different. I chose to write about accessibility in architecture, and its importance in a diverse society with different needs and capacities. My proposal was the creation of a music school without any "architectonic" barriers – a space in which the different senses were a guide to exploration. This sensorial experience would enrich the perception of the spaces, allowing full autonomy to all users, without any barriers.
When did you become interested in art?
When I was a child, I took a class with a painter who was also my neighbor at the time. I had no idea what a painting class was about, and I simply fell in love with it. It was a moment that filled me with such peace and quiet, a feeling that I had never experienced, and something that I would never give up.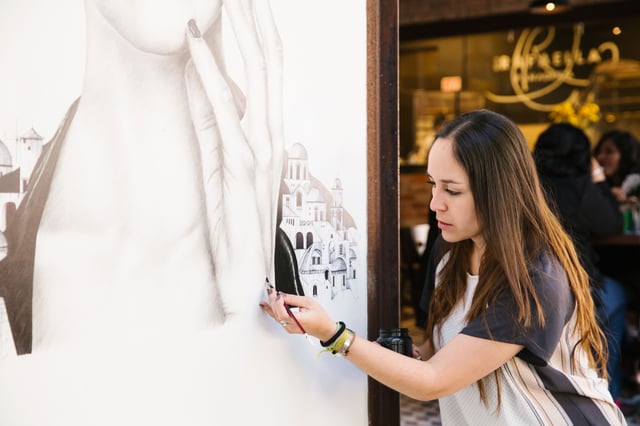 What did you do after you graduated?
Several students asked me to teach a series of workshops showcasing different drawing techniques, some of which I'd learned during my studies, some I'd developed myself. After teaching for a year, I decided to do a master's degree in restoration, concentrating on art and sculpture. (I consider restoration to be a branch of architecture). The master's program lasted three years and, with the support and help of my parents, I was able to go and study in the very cradle of restoration: Florence, Italy – a city full of art, where I would finally have the chance to make my dreams come true.
During these lessons, I made two great friends. Seeing them paint every single day was a huge motivation for me to continue painting in my free time. During my last year in Florence I decided to develop my own style, and I started looking for places to exhibit my work. I took part in several exhibitions, but my style at that time was very different to what it is now.
How did your style evolve? How did you start making street art?
My work "suffered" radical changes at the end of my stay, thanks to the guidance of one of the best teachers and painters I've ever known. It was a period of struggle, during which I felt disoriented and disappointed at not seeing the results I'd hoped for. Then a close friend persuaded me to return to Mexico, where she'd been given lots of creative opportunities. Back home, she introduced me to a collective dedicated to the street art movement in Mexico City, and they soon offered me street art commissions – something I'd never imagined I could do. I did some murals with the group in order to become independent, and to pursue new projects with galleries and exhibitions, which was always my dream.
My style finally had a deeper "argument." I think my work now fuses my academic background – the realistic and faithful restoration and reconstruction of faces and emotion using ink or pen – with fantasy and dreams in order to capture a moment of the world around me.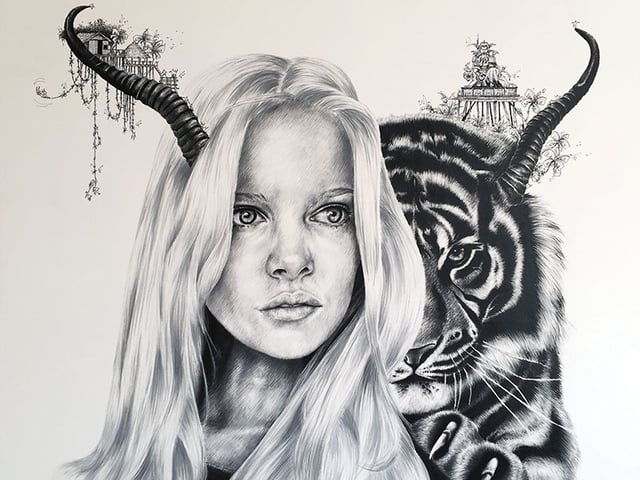 Who and what are your influences?
I can't say I've had one single influence. After spending time in Italy, it's impossible to marvel at only one artist. I profoundly admire the Renaissance artists, who changed the rules of art in every way. They were true artists in every sense of the word. They weren't formed or specialized in just one thing; rather, they were always seeking to excel and be exceptional in everything – architecture, sculpture, painting.
Thanks to their quest for the unknown, they managed to create wonderful things that can't be replicated, even today with the most advanced technology available. In addition to the Renaissance masters Michelangelo and da Vinci, another of my favorite artists is Caravaggio. His rebellion and desire not to be like others allowed him to make a radical change in art – a change that would help to build an important art movement. For me, his work captures pure emotion. Without using false poses or optical illusions, he captures a reality and puts it in an extraordinary play of light and darkness.
You create intricate paintings on exterior walls – tell us about your style.
My wall painting doesn't differ much from my normal painting. I try to visualize it as the same practice, but with different dimensions on a hard surface. I always try to work on a smooth surface because my style is characterized by a lot of detail – I use Indian ink applied with thin brushes. Having the right surface allows me to draw more precise, clean strokes. I'm very methodical – I always start with the eyes, which are the hardest and most detailed part of the painting. From there, I start to build the rest of the face, finishing with simpler elements that I normally place on top of the portrait.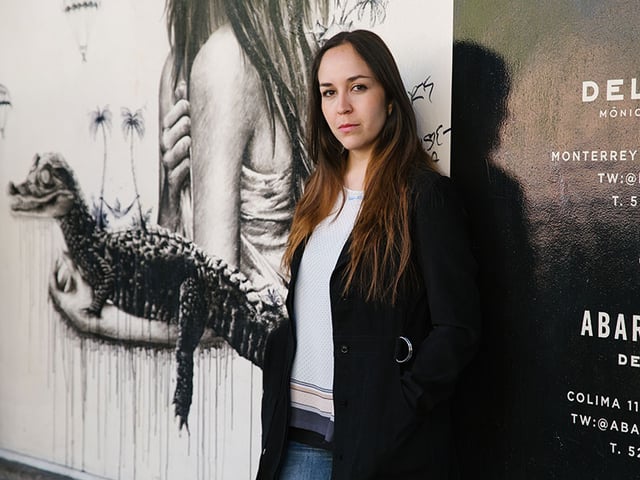 The theme of the current issue of Christie's International Real Estate magazine is "The Outdoors." How does working outside on paintings differ from working in the studio?
Working outdoors is a different and satisfying experience for me. Unlike working in a studio, working outside puts you in contact with people passing by as you paint. It's a very enriching experience because of the interaction between artist and public. People will always talk to you, saying things like, "Nice work!" or "I like what you're doing". A few words like that can really boost your energy. But it's important to remember that in order to grow as an artist and move forward, you have to be open to criticism and comments.
It's unusual to see a woman painting on walls. Why do you think this is?
There are lots of reasons – a preference for other types of painting, and ways of getting your work seen. For example. I have to admit that before discovering the world of wall painting, all I wanted was to paint pictures and get them shown in galleries. I also think women shy away from street art because it's been associated with acts of vandalism or seen as a way to create controversy, but I think that's changing. Plus, there's the insecurity of being exposed while you paint. And finally, there's a lack of knowledge about the immense possibilities and fulfilling experiences that you can get from such a different type of work.
How does it feel to be a woman in such a man's world?
It's a constant challenge because it's always hard to pave the way in a world dominated by men. Nevertheless, I'm confident that my commitment, discipline, and hard work have earned me respect and recognition, regardless of my gender.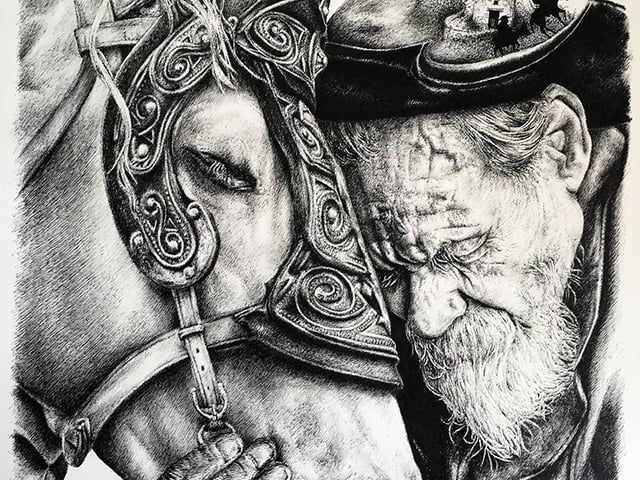 What's your favorite piece of art? And why?
My favorite painting is Caravaggio's Martirio di San Pietro [painted for the Cerasi Chapel of the 5th-century church Santa Maria del Popolo in Rome, Italy]. It left me speechless when I first saw the original work – I couldn't believe you could create the expression on San Pietro's face in a painting. I was stunned to see how Caravaggio could represent so many emotions in a single frame. It touched my soul – something I'd never felt from a painting before.
What music do you listen to?
I always listen to music when I work. It helps me to think as it takes me to a place where I can imagine my next project and future plans. That's key for me; the perfect time to think is the next step to what I want to create. Generally, I like classical music while I'm working – sometimes with a slightly modern twist – because I prefer a relaxed atmosphere. Lately, I've been listening to a playlist I created of songs from movie soundtracks that I've enjoyed since childhood.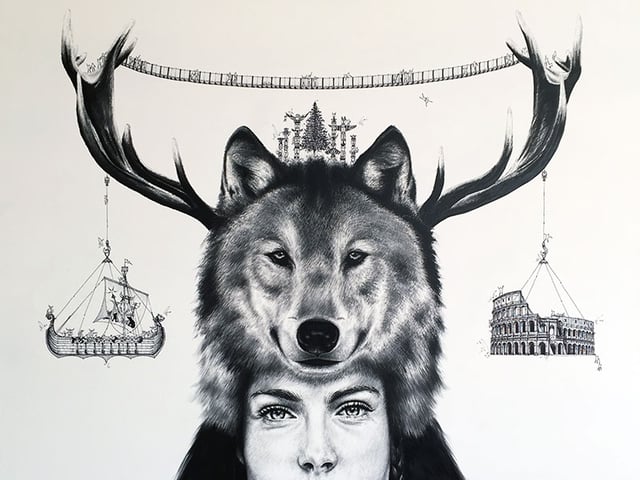 What's your studio like?
I work either in my flat in Mexico City or my house in Cuernavaca. As long as I'm organized I can work anywhere, although as my workload increases so does the need to get a proper studio. For me, the best way to work, and be productive and efficient, is to keep my working space clean and in order, with all my material to hand.
And your home?
I live in a flat in central Mexico City. It's nice and cozy, and full of light – the perfect place for living and painting.
What are your upcoming projects?
I'm preparing a series of paintings for a new exhibition in Mexico City. I have a couple of wall-painting projects in Europe later this year, an exhibition in Barcelona, and I'll be launching products for my brand BeA.