Born in Nigeria in 1982, ruby onyinyechi amanze spent the first 13 years of her life in the UK before relocating to the United States. She has, she says, "always known I was an artist—it's not something I did or became, it's just always been who I am." Today she splits her time between Philadelphia and Brooklyn, working in both. Here she reveals her inspirations, describes her artistic style, and explains why, for her, paper is a serious matter…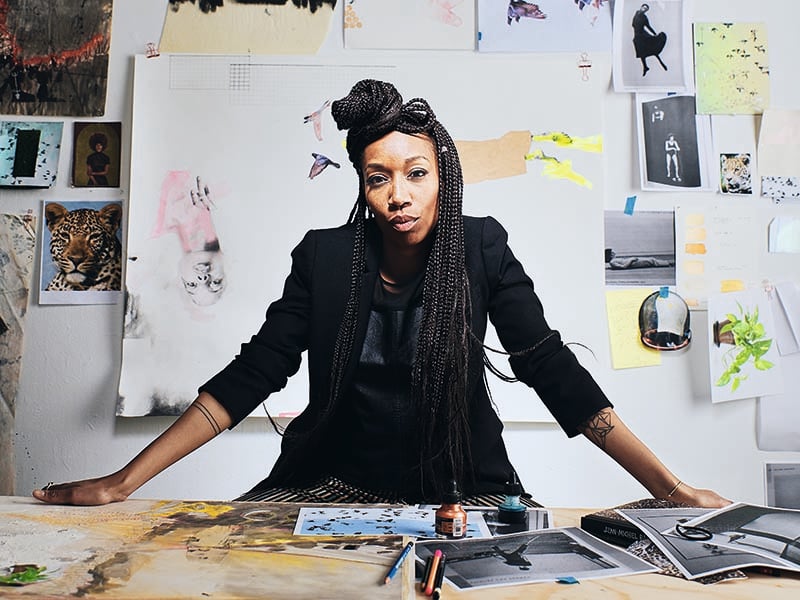 I work in multimedia, but for the past few years, I've been pretty committed to working on paper. Like many, my entry into the visual arts was through drawing; it was my first love. I've moved away from it at different points—I studied photography and textiles—but now, in hindsight, all other explorations were just building my drawing vocabulary. Paper is a material that absorbs information; it remembers every mark, and its chemistry changes by the things you do to it. So it's more than a surface, it's an active participant in the process.
Even though I make the work, I'm constantly learning the work
I was never technically very good at photography. I was the one with the scratched film from touching it way too much. I don't like there to be any barriers between myself and the materials. I want as little "equipment" as possible, and I want it to be okay that I'm a human and not a machine. Needless to say, the materials I work with are all somewhat analogue and imperfect. I love graphite and building countless layers with the tiniest scratches until an image appears. Also, ink with its unpredictable temperament.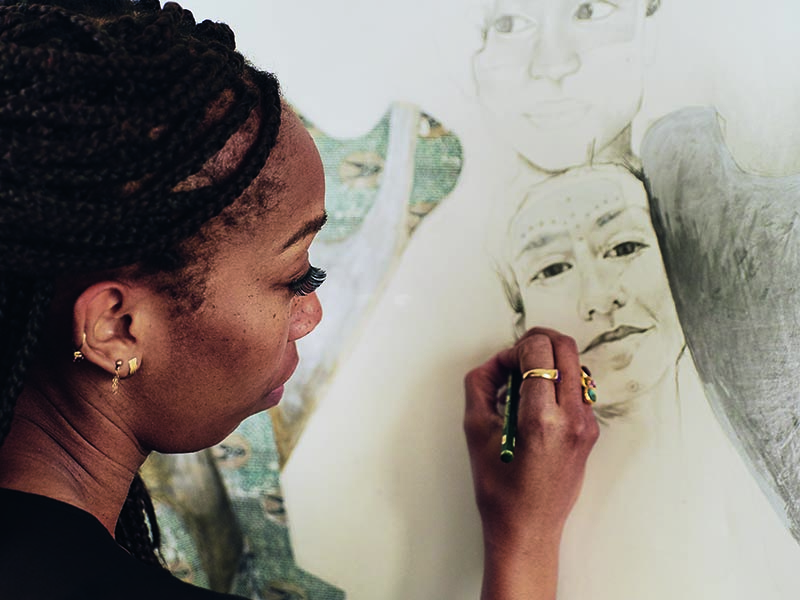 Related: Visit 7 Hotels for Art Lovers
My works are hard to classify. They depict "non-linear narratives" and have been described as "alien beings inhabiting foreign landscapes." This is one of the more accurate observations I've heard! It's funny when your work is talked about in ways that seem so antithetical to everything the work is doing, so I'm happy to hear this interpretation. I've been conscious this past year or two to say something different about the work each time I'm introducing it to a stranger. I don't want to have an elevator pitch. I don't want to be a broken record. Even though I make the work, I'm constantly learning the work. I don't have all the answers about what it is or where it's going.
I think being inspired is just having your eyes open and being curious
As an artist, so much that enters the work is subconscious and unquantifiable, so I find it hard to categiorise my inspirations. I mean, where do I start…? For example, to think back to some of the obscure places I might draw from, I've remembered shades of a particular color I observed in some architecture when traveling in Mexico. I've screen-grabbed stills from a TED Talk on free diving. I've also been inspired by Beyoncé music videos. I go to the art house cinema at least once a month to see a matinee. I practise gaga (a movement language) and think about choreography all the time. I think being inspired is just having your eyes open and being curious.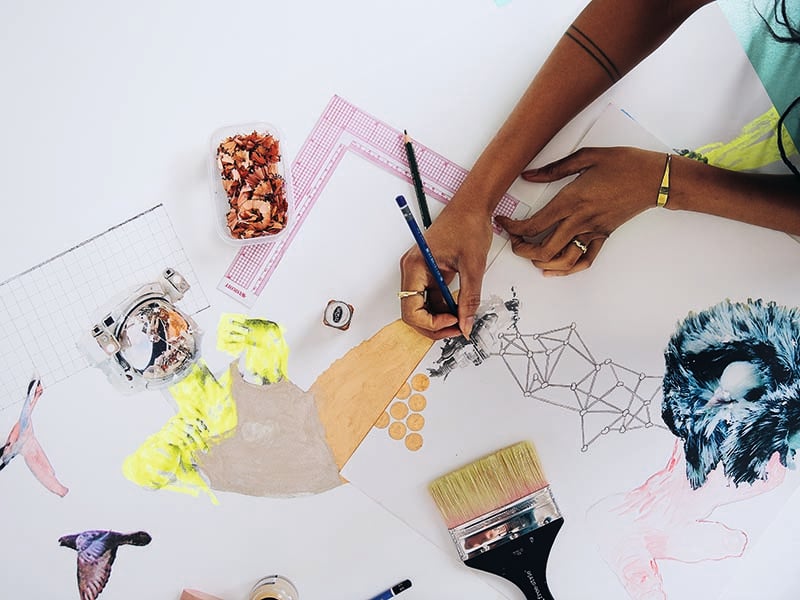 My partner and I are compatible design-wise. I don't know how it would work if we weren't! Our spaces are always a mix of vintage, second-hand, and contemporary handmade. When possible, we work with small artist-run businesses. We just bought a house in Philadelphia so we're enjoying brainstorming where to incorporate high-gloss paint and tin-tile ceilings. My studio will be on the third floor and we'll gut and renovate the bathrooms and kitchen. Everything else is a decision about color and texture. I'm looking forward to refinishing the hardwood floors and customizing the entire house from top to bottom.