For many winter sports enthusiasts, skiing is more than a pastime, it is a true passion. The mountains present a freedom found nowhere else. And what if a master craftsman had imbued the skis themselves with a passion to match? Peter Steltzner is that man. Along with his partner, Anati Graetz, they are Rabbit on the Roof, a workshop making exquisite bespoke skis – wooden works of art. Yet, had the Californian passed his French exams as a teen, the world may never have enjoyed these wonderful, handmade creations…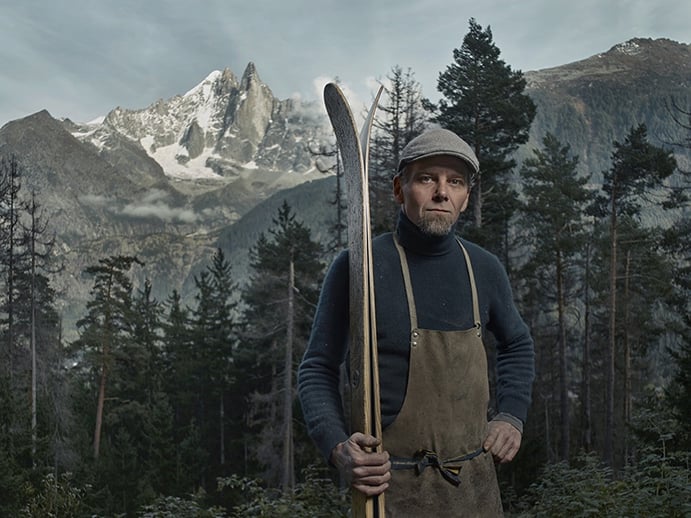 Rabbit on the Roof: the name came, apparently, from a gift, received long ago. Steltzner's work, though – from a love of nature, and wood, that began back in the US – was honed in the suburbs of Paris. Today, it continues hundreds of miles south, in the idyllic setting of an old saw mill, high in the French Alps – in Le Praz, not far from Chamonix-Mont-Blanc.
Steltzner's journey began in Sausalito, California, where he was thrown out of his French class no fewer than three times. "I kept going back, as you needed a French credit to get into a good university," he says. In the end he studied ceramics, interspersed with trans-Atlantic sojourns in Paris and Aix-en-Provence. It was while he was back in San Francisco, though, that he met the mother of his children – and followed her back to France. That was in 1989; Steltzner has made his home in the mountains ever since.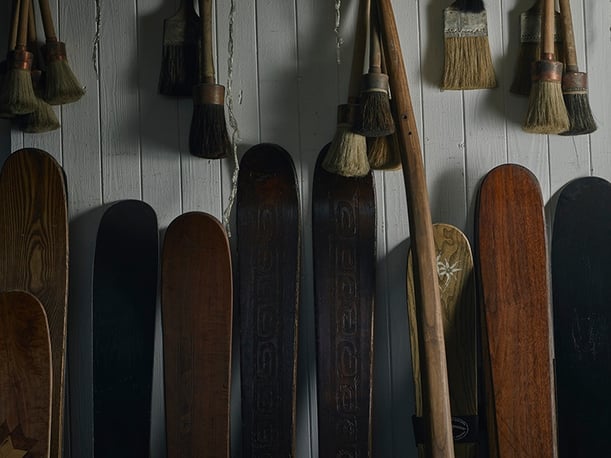 "I started making one-off pieces, working in abandoned factories in Montreuil [a commune in the eastern suburbs] – the Bronx of Paris," Steltzner says. "I learned techniques from old craftsmen, and lived off the money that we made from design shows, which we used to put on together. When I acquired a wood-bending shop, it inspired me to make skis." Created originally as a project for his own pleasure, the skis were, however, an instant hit – and so he began taking commissions.
Today, the start of the process for Steltzner is meeting his client, face to face. "I enjoy that initial communication immensely," he says. "Finding out the type of skiing and terrain they prefer." Steltzner crafts skis for all – from beginners to professionals, instructors, mountain guides, and competition winners, too. "Many races have been won on my skis," he says with pride, "including Derby de la Meije and European Cups."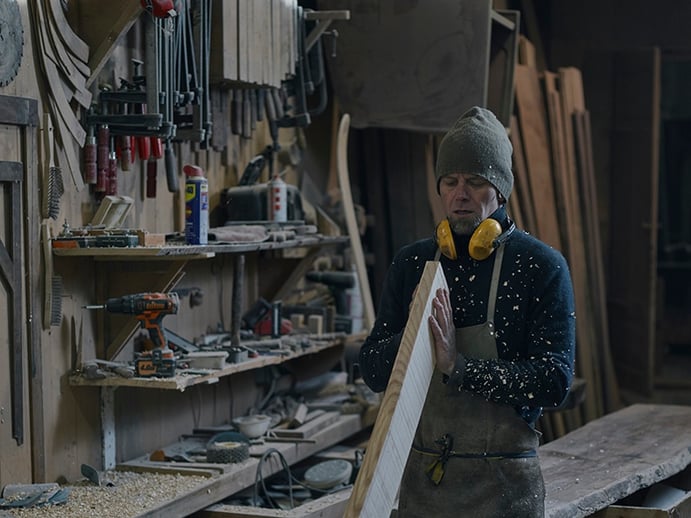 A commission is about materials and finish – choosing the appropriate wood, working and assembling it, and various optional design extras. Every pair is, by nature, absolutely bespoke. Prices begin at €1,200 – €1,500 although, in luxurious microcosms such as Courchevel, Steltzner says prices can be higher: "You can pay €5,000. It is justified by the matchless nature and rarity of every pair."
Individual finishes can include carving, marquetry and veneers. "I make intricate inscriptions, like those seen on old mountain chalets and Franciscan buildings. It's time-consuming, but loaded with emotion, sentiment and spirit." Steltzner also makes some furniture in the summertime, and snowboards on request. He has even turned his hand to longboards – in tribute to the Californian surf scene of the 1960s and 70s – but the skis remain his focus.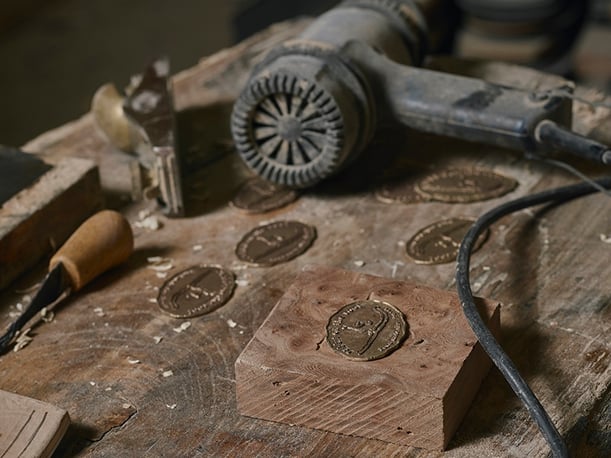 "I use marquetry, cutting out the wood, in homage to 18th-century furniture techniques and designs. I also take inspiration from modern art," the craftsman continues, warming to his subject. He chooses to work in widely varied woods, too: "Like lemon wood, which is rare and beautiful, with a depth to it. Using the finest 'trad' materials with modern composition is a recipe for success – and the skis become more beautiful over time."
They can also become faster, which appeals to any skillful lover of the sport. This is one reason why skiing on a pair of Rabbit on the Roof skis is something truly special. Oiling and waxing regularly, to preserve the wood, makes them smoother. This, naturally, translates into speedier descents, requiring greater control – making for a better experience over all.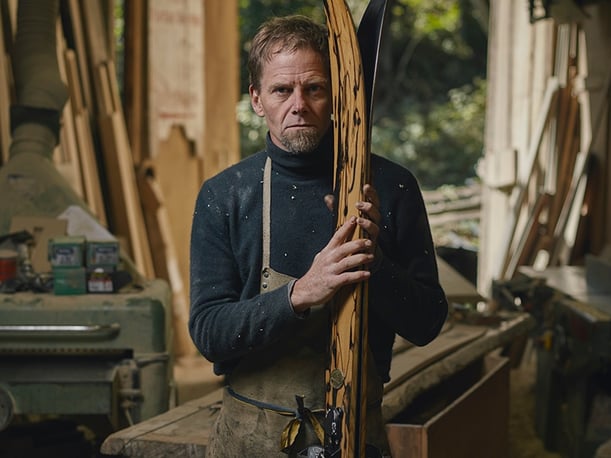 No need to ask if he skis himself. No one could create something so beautiful without knowing the experience, the full joy, that it brings. But how many pairs of his own skis does Steltzner own and use? "Several," he laughs. "I have white ebony, eaten pearwood." Sorry? Eaten? "Where the wood has been nibbled by animals over years – and recalibrated," he explains. "And I have fat ones, thin ones, long and short."
So, the name? He smiles. "Back in Paris, a friend turned up with a gift – a rabbit, with a shoelace tied like a bow-tie around its neck, in a perfume bag." He is talking about a live animal? Yes, a pet. "I put it out on the roof, made him a little chalet to live in. Then my neighbor gave me a female rabbit, and soon there was a colony up there. Before long, they were falling through the roof, running around my workshop. It was like a zoo!"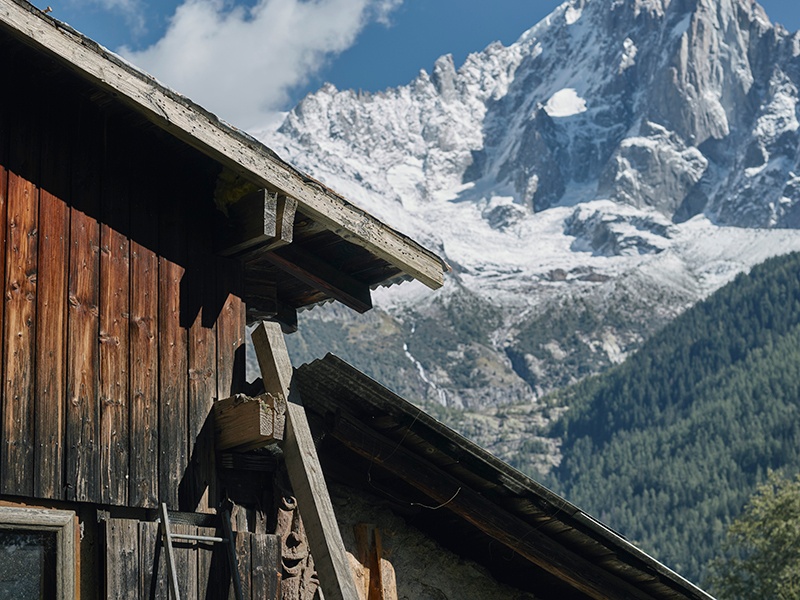 Steltzner moved the business to the Alps, not because of any leporine infestation, he laughs, but because the Chamonix area is "the ideal location." He enthuses about his adopted home: "You put on your skis as you walk out the door. It's a mecca for free-riding, with people coming from all over the world."
So, is skiing an escape for the crafter of skis? "Absolutely! It's been a passion since childhood, when I'd go to Lake Tahoe. I love the peace. It allows me to empty my mind. It's like a pressure-release valve: in French we say soupape." How his teenage self might laugh; he would walk those French exams now.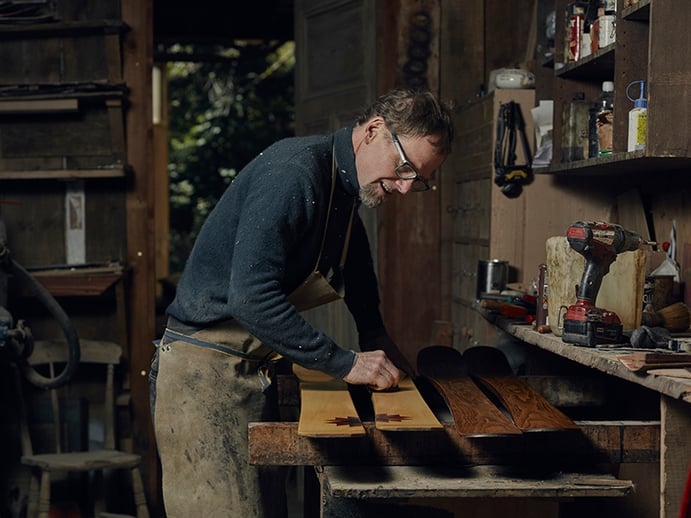 "The Alps, the downhill runs, are right outside the workshop door; he just has to look over his shoulder. "I love being out there," Steltzner grins, wolfishly, "sharing special moments, where the common denominator is mountains and snow." It is clear that there is nowhere he would rather be – and nothing he would rather be doing with his life: "I feel very lucky."