If you've always dreamed of spinning a globe, placing a finger upon it to stop it, and declaring: "That's where we're going on vacation," you need to meet Peter Bellerby. A lifelong fan of maps, Bellerby handcrafted his first globe as a present for his father on his 80th birthday. Today, his company Bellerby & Co. creates limited-edition globes, as well as bespoke versions, and will happily make whatever kind of globe you desire.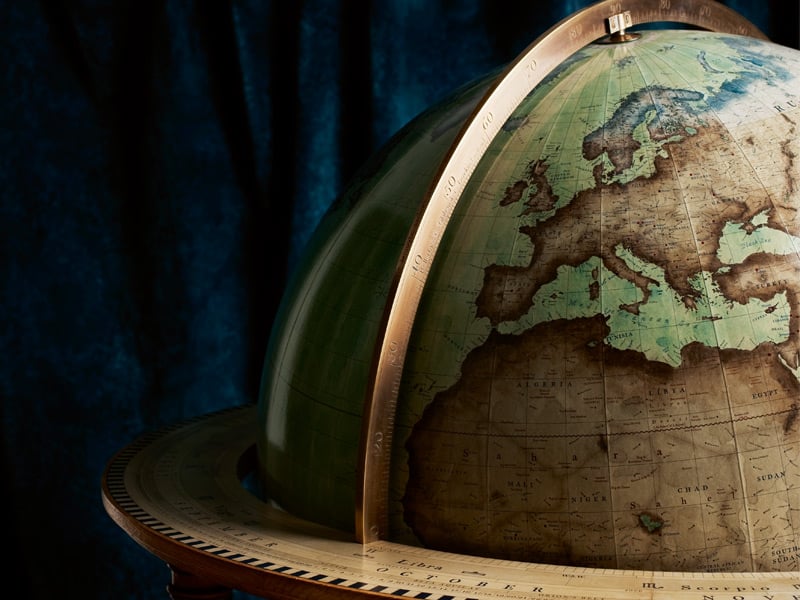 Bellerby's entrance into the world of globes was, in his own words, "Hatched in a pub in [London's] King's Cross," when he decided to make his father's gift, and to make one for himself at the same time. "It would probably take three, maybe four, months and cost a few thousand pounds," he remembers thinking at the time.
Reviving something that was becoming a lost art, Bellerby eventually spent 18 months painstakingly researching and rediscovering the techniques of globe-making for himself. During that time, he designed his own world map in Adobe Illustrator, commissioned a Formula One fabricator to make a perfectly spherical mold, and "bribed" a friend [with a globe] to write the program to morph his rectangular map into "gores" – the triangular shapes that fit on to a sphere – before spending over a year applying and aligning the maps by hand.
It is this final element that ignites a particular passion in Bellerby: "There are map-makers who overlap gores to the extent that they wipe out entire countries. Some makers even have latitude lines that look like they have been drawn with a ruler after the map has been pasted on they are so straight. There just seemed little point in spending ages researching a project only to produce a poor-quality finish."
What had initially started as a labor of love soon became Bellerby's next business venture. In 2012 the company staged the first ever globe exhibition at London's Royal Geographical Society.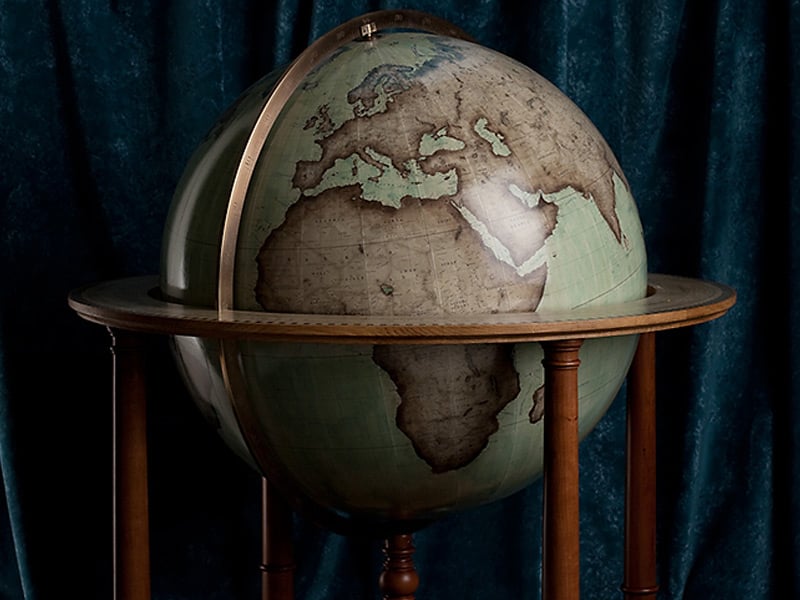 Among the one-off globes Bellerby & Co. has created are a "globe head" for a sculpture of a ballerina by acclaimed artist Yinka Shonibare, which adorns London's Royal Opera House, and a globe that appeared in Martin Scorsese's 2011 film Hugo. While such unique creations are a specialty of Bellerby & Co., other models, made bespoke and personalized for each customer, include The Galileo (pictured, which is based on the famous Blaeu globe but with a modern map), and the imposing five-foot-high Churchill. Or for something a little more subtle, mini desk globes start at £999 ($1,535).