The gowns have been collected, the theater seats assigned, and the red carpet is preparing to be unfurled: the 89th Academy Awards® are here, with Oscars® for the best films produced over the past year set to be handed out at Hollywood's Dolby Theatre. Prizes are apportioned to directors, actors, cinematographers, animators, and costume designers. But one star is overlooked year after year: the location.
Luxury Defined wishes to shine the spotlight on this lesser-celebrated protagonist, saluting the breathtaking destinations where five films nominated for 2017's Best Picture Oscar® were either set or shot. Because no matter how remarkable the artist nor how colorful the oils, a painting is not a painting without a canvas. Raise your glasses to five cinematic canvases exquisite enough to call home…
1. New South Wales, Australia: Hacksaw Ridge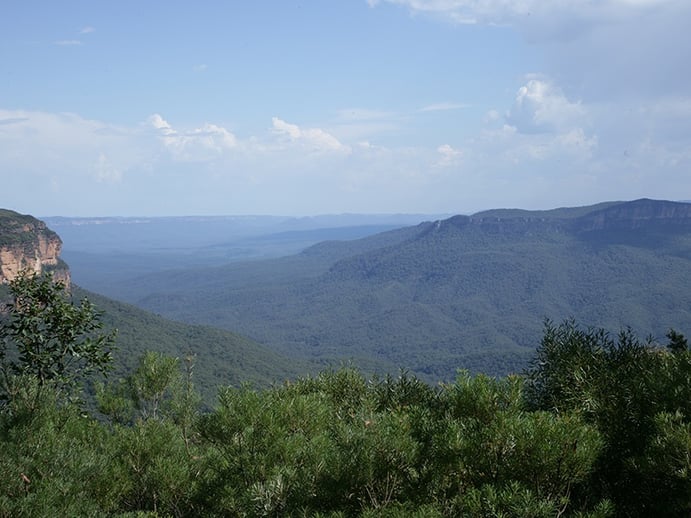 Director Mel Gibson's World War II epic tells the true story of Desmond Doss (Andrew Garfield), a staunch pacifist, army medic, and the only American soldier to fight on the front line without a weapon. Doss saved 75 people at the battle for Okinawa, becoming one of only three conscientious objectors awarded the Medal of Honor.
Set in Virginia's Blue Ridge Mountains and Japan's Okinawa Island, Hacksaw Ridge was shot predominantly in New South Wales—a breathtakingly expansive Australian state whose open skies and infinite plains lend themselves to such fevered drama. Bursting with endless coastline, lush rainforest, dusty outback farmland, and its own Blue Mountain range, New South Wales is a filmmaker's dream. With Sydney as its vibrant capital, it is also an exciting place to call home.
It's the nature of the people, diverse cultural options, and laidback lifestyle that makes New South Wales so special
– Ken Jacobs
"New South Wales is known as Australia's premier state, enjoying natural beauty and an ideal climate," says Ken Jacobs, an affiliate of Christie's International Real Estate. "Sydney, the state capital, enjoys international recognition because of its iconic harbour, the Opera House, and Sydney Harbour Bridge. However, it's the easy-going nature of the people, diverse cultural options, and laidback lifestyle, combined with dramatic variation in landscape from the coast to outback, that makes it so special."
2. Los Angeles, California, USA: La La Land
Ryan Gosling and Emma Stone dance their way into our hearts in La La Land, director Damien Chazelle's modern musical jewel in which down-and-out jazz pianist Sebastian falls for aspiring Hollywood actress Mia. But as their love blossoms so do their careers, leading them to ask themselves the inevitable question: would you sacrifice one for the other?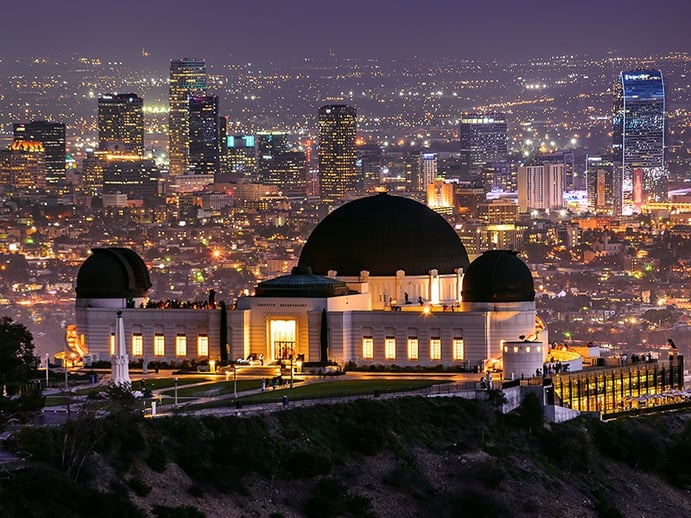 As much a love story between two people as a love song to the city of Los Angeles, La La Land's heart-wrenching storyline, celebratory style, and colorful art direction have secured it 14 Oscar nominations, a record shared with Titanic (1997) and All About Eve (1950). Chazelle's camera inhales LA deeply and lovingly in the dusky moonlight, the twinkling dawn, and the sparkling sunshine. The city is illuminated like the love between the film's two stars and the opportunities that lie before them.
From its mid-century jewels to its stately mansions, no city symbolizes dream-worthy real estate like LA
– Zackary Wright
"As a city known for fulfilling dreams, Los Angeles is the perfect setting for a movie that celebrates imagination," says Zackary Wright, Christie's International Real Estate Executive Director for Asia Pacific and Western North America. "From its mid-century jewels to its stately mansions, no city symbolizes dream-worthy real estate like LA."
3. Miami, Florida, USA: Moonlight
Barry Jenkins is only the fourth black filmmaker in history to be nominated for a Best Director Oscar®, and if he wins for Moonlight he will be the first black filmmaker ever to take home the award. A win would be all the more poignant since Jenkins's own life bears a strong resemblance to that of Chiron, the movie's protagonist, a young black man who returns to his hometown of Miami to make peace with his past.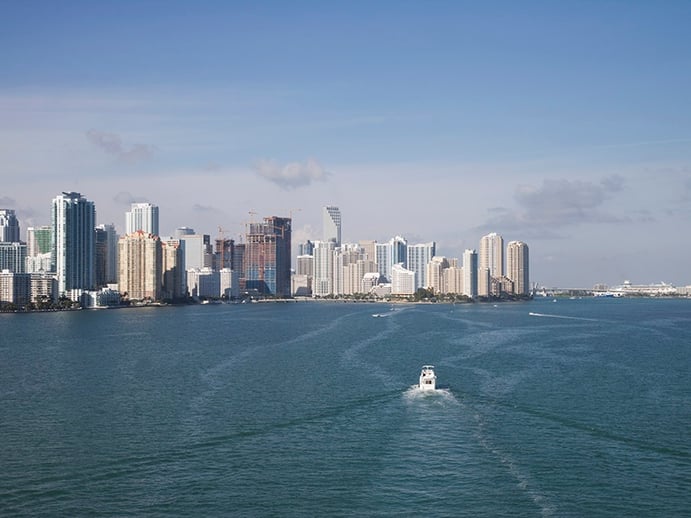 Jenkins, who grew up in Miami, turns the city into a fully fledged character in Moonlight. The camera soars above its streets and out towards the Atlantic—the busy metropolis's calming, life-giving soul—which in the film represents hope, life, freedom, and renewal in a young man's seemingly dark existence.
"I fell back in love with Miami during the making of this film," Jenkins told the Miami Herald. "The reason there's a hint of light left in Chiron by the end of the movie is because Miami puts this light in you at your foundation. You're constantly surrounded by this one amazingly bright sun, but there's all this naturally self-replenishing natural beauty around you all the time, too. You can never really snuff that completely out."
To fall in love with Miami all over again, visit 2318 N Bay Road, a spectacular modern Mediterranean mansion in Miami Beach, sitting on a lush landscaped lot with 124 feet of waterfront. This eight-bedroom home features two courtyards, a summer kitchen, gym, library, stunning mahogany and oak interiors throughout the lofty, open-plan living space, and an infinity-edge pool whose astonishing views are best appreciated by moonlight.
4. Virginia, USA: Hidden Figures
Dream big, and don't stop until you get there. That's the sentiment underpinning the plot of Hidden Figures, Theodore Melfi's inspirational masterstroke, which tells the true story of three African-American women—the "human computers" and hidden figures—who, from the shadows, masterminded NASA's race against Russia to put a man in space. Set on NASA's facilities in Virginia, the state's bright and sunny climate, rolling green hills, and lush plains instill within the film a glorious sense of determination, hope, wonder, ambition, promise, and joy.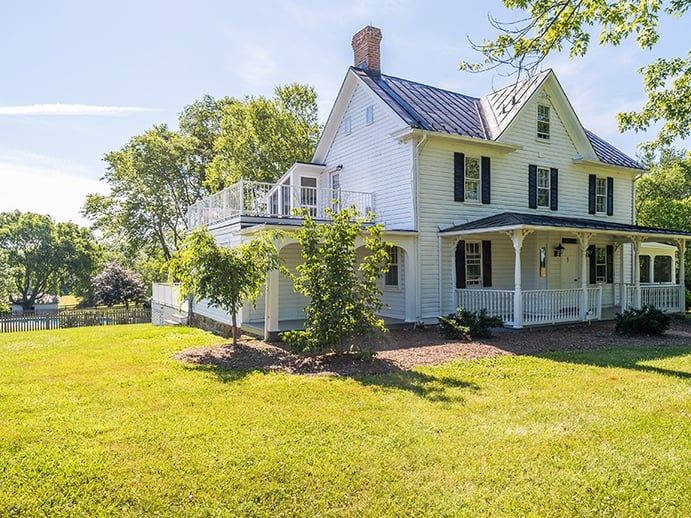 This same lush greenery surrounds Tamworth Farm in Aldie, Virginia, a majestic ranch through which Little River meanders, with as rich a history as NASA's hidden figures. Comprising 512 magnificent acres, the property includes a main house with pool, tennis court, barns, paddocks, riding ring, outbuildings, and two guest houses, with an adjacent property featuring a fully renovated farm house with pool, barns, and additional guest house.
Virginia is a mix of color, mountainous terrain, lush farms and countryside, ocean, bay, valleys, history, charm, beauty, and diversity
– Kathleen Coumou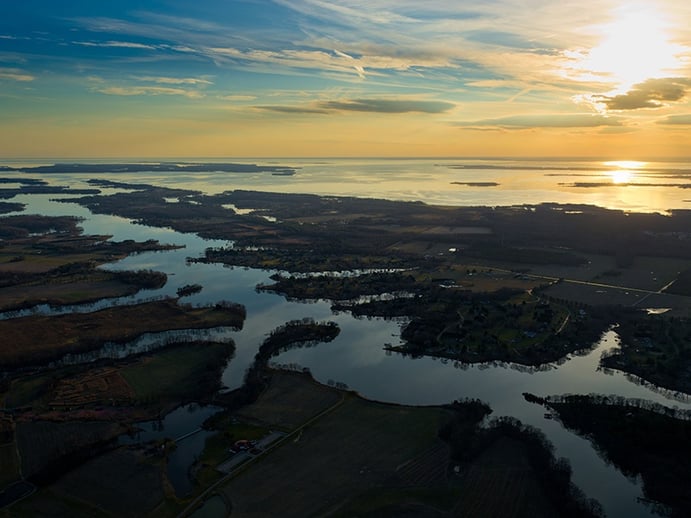 "As you look towards the west, the backdrop is of the Blue Ridge Mountains and Shenandoah Valley," says Christie's International Real Estate Executive Director Kathleen Coumou. "And when you turn to the east, you will find the beautiful shoreline of Chesapeake Bay and the white, sandy beaches of the Atlantic coast. This beautiful palette is a mix of color, mountainous terrain, lush farms and countryside, ocean, bay, valleys, history, charm, beauty, and diversity—all of which describes Virginia, the gateway state to the South."
5. Montana, USA: Arrival
When enormous, egg-shaped spaceships land in various locations all over the world, an American linguist is recruited to translate the demands of two aliens aboard the ship parked near a Montana military camp. Louise Banks (Amy Adams) must quickly learn the illustrated idiom of these creatures if she is to prevent a global disaster.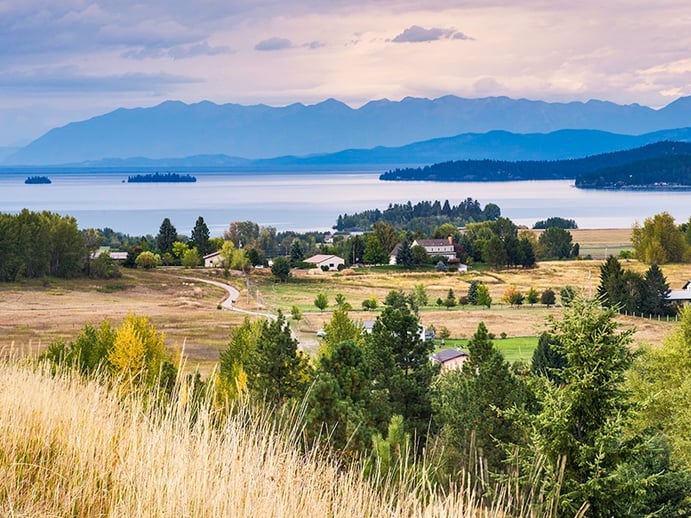 The dramatic Montana landscape—all soaring mountains, breathtaking valleys, imposing evergreens, and seemingly endless blue skies—provide precisely the open, naturally verdant canvas Arrival needs to tell its ambitious story; it's no wonder screenwriter Eric Heisserer chose here for his aliens' landing point.
In Montana your weekends are filled with farmers' markets, charming downtowns, and a wonderland of all things outdoor
– Sean Averill
"Known as 'Big Sky Country' for its wide open spaces, pristine shorelines of crystal-clear waters, and magnificent mountains, Montana is home to those looking for a simpler life," says Sean Averill of PureWest Real Estate, an affiliate of Christie's International Real Estate. "Also dubbed 'The Last Best Place' [a phrase widely adopted by the state's residents after a 1988 anthology of the same name edited by William Kittredge], in Montana your weekends are filled with friendly farmers' markets, charming downtowns, and a recreational wonderland of all things outdoor. Hiking, biking, snow skiing, water skiing, kayaking, rafting, hunting, fishing, and so much more to do. It's a state you must experience for yourself."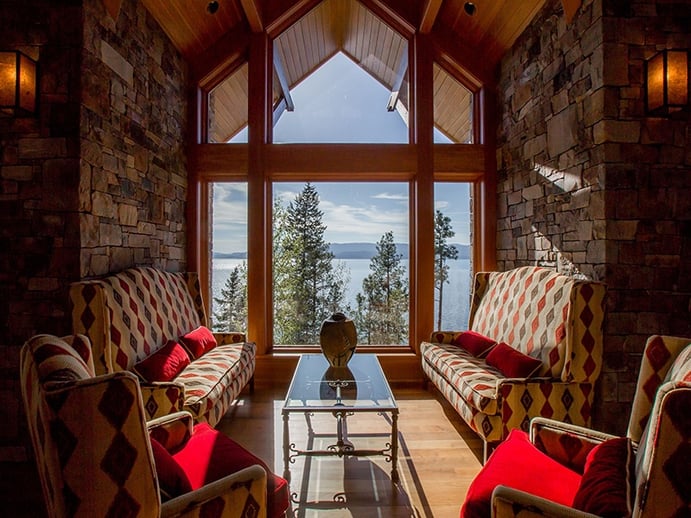 One of the most prestigious homes in the state, Eagles Rest estate on Flathead Lake itself, is an eight-bedroom mahogany marvel in which cozy cabin life meets majestic, mountainside opulence. Weaving and winding through this hilltop haven you'll find suites, cinema rooms, wine cellars, swimming pools, banqueting halls, and in each room a new lakeside view to take your breath away. If aliens do ever land in Montana, the ones with the finest taste will surely set up camp right here.