The conservation of Old Master paintings should always be guided by the principle of "reversibility." Whether your painting is an oil on canvas, tempera on panel, oil on copper, or a work painted on an unusual support such as lapis lazuli or marble, any conservation work that is done should ideally be able to be undone. Essentially, this concerns the materials and techniques that your conservator will employ while cleaning and restoring your painting—retouches need to be applied in a way that they could be removed should a new owner wish to see a painting free from any cosmetic repainting.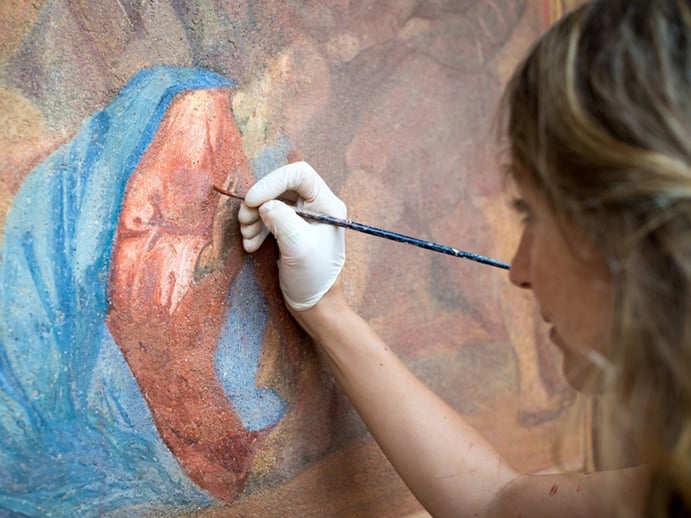 To conserve or not to conserve?
We generally advise against any conservation work before the sale—assuming the painting is stable on its support—as many collectors prefer to manage the conservation process themselves. Collectors are often searching for works of art that are not well-known and have not been on the market recently. A painting that has the type of dark, soiled appearance that results from the build-up of years of dirt (the French refer to this kind of painting as being dans son jus), is often especially attractive, since this may indicate that it has not been over-cleaned in the past, and that with conservation it could become much more beautiful (thus adding value). At Christie's, we love to see dirty paintings for this reason.
If you have a painting that you think might benefit from conservation, the first step would be to contact a specialist in Christie's Old Master & Early British Paintings department. Working from a photograph, we would be able to make an initial evaluation and together decide on the next steps.
The conservation of Old Master paintings should always be guided by the principle of "reversibility"
Old artworks, new techniques
It is essential that any conservation work is carefully and sensitively carried out by a professional who has experience with Old Master paintings. In addition to needing the scientific knowledge required to work with the pigments, varnishes, and other materials used by artists in the 14th to early 18th centuries, your conservator will be required to make decisions throughout the conservation process to ensure that the result is true to the style and vision of the original artist.
To complicate matters, since Old Master paintings are by definition hundreds of years old, they have often been subject to one or more earlier restoration campaigns. Your conservator must be able to distinguish between painted areas that are original to the work and those that have been altered by previous conservators. Modern technology can assist: microscopy analysis, x-radiography, infrared reflectography, and pigment analysis are powerful tools now available to conservators to help them get a clear picture of a painting's condition.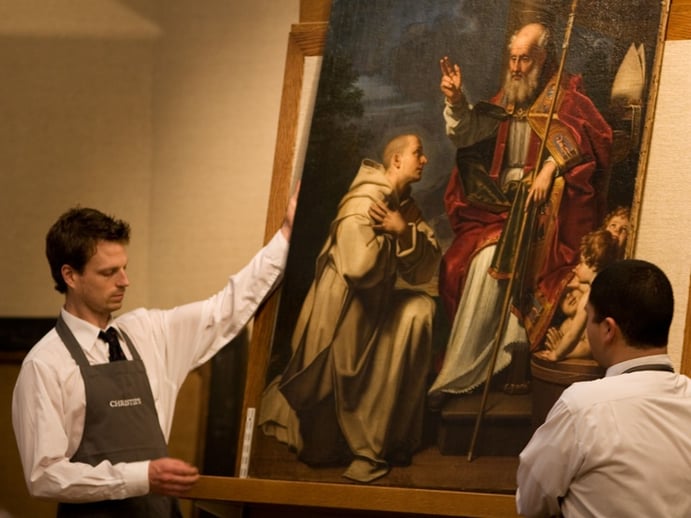 Identifying the issues
Although Old Master paintings are often hardy objects, their age and the environment in which they are stored can lead to certain issues that may require treatment by a conservator:
Surface cracks: The works often develop a craquelure (a fine network of cracks), which can be caused by factors such as the embrittlement of the paint film over time and contact with the surface of the painting by external objects. A craquelure is not cause for concern providing the paint has not begun to lift away from the support. In cases where the craquelure prevents the viewer from fully enjoying a painting's composition, a conservator may be able to help by meticulously painting in the cracks to create a cohesive, unbroken paint surface. If the craquelure is so intense that the paint is beginning to flake away from the support, a conservator should consolidate the problem areas by treating them with an adhesive.
We generally advise against any conservation work before selling, as many collectors prefer to manage it themselves
Organic materials: The oldest works in our category, dating to the 14th-16th centuries, are typically painted on wood panels, although wooden supports were also used in the 17th-19th centuries. These panels varied in thickness according to the period and geographic location in which they were made, as well as the size and purpose of the painting. Wood deteriorates over time, and this process can be exacerbated by exposure to water or woodworm infestation. In these cases, conservators may have to thin down the panel, removing the damaged areas.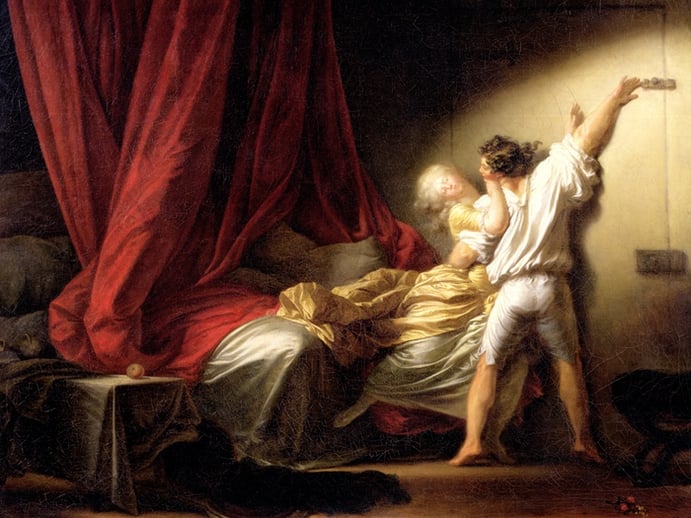 Torn canvases: Oil paintings on canvas present a different set of conservation issues. Over time, canvas can become brittle and develop tears. In these cases, a conservator will reinforce the canvas with what is known as a lining—essentially, a second canvas that is glued to the back of the original. It is very rare to see an unlined Old Master painting, but these works are especially sought after as they often retain their original impasto (a term used to describe the thick application of paint that stands out against the surface). In order to secure a lining to the original canvas, a conservator is required to apply heat and pressure, both of which can result in a flattened surface. Tears and punctures to canvases can often be repaired with isolated patches on the reverse, a less traumatic process than lining the entire painting.
The most common issue that affects Old Masters is the build-up of dirt on the painting's surface
Flaking paint: Copper panels were very popular, particularly in the 17th century, because the smooth, metallic support enhances the luminosity of the pigments, resulting in a jewel-like surface. Paintings on copper in some instances may be subject to flaking, when the paint loses its cohesion with the panel, and a good conservator will be able to advise on steps to remedy this. A painting on wood may also be affected by detached or flaking paint, caused by the wood bowing along its grain if it is not stored in a stable temperature- and humidity-controlled environment.
Dirt and discoloration: Whether your painting is on wood, canvas, metal, or any other support, the most common and visible conservation issue that affects Old Masters is the build-up of dirt on the painting's surface. When you see a painting that looks particularly dark, it's often due to years of exposure to pollution and smoke. In addition, over time the varnishes that artists applied to their finished paintings can become cloudy or yellowed. A conservator will be able to clean away the dirt and, if necessary, remove the old varnish and apply a new one to allow the true colors of the painting to be appreciated.