Around the world, historical architectural features are being reimagined into stunning spaces and luxury home conversions. Taking advantage of their unique shapes, incorporating their history, and blending past with present, architects are bringing new life to these one-of-a-kind spaces.
Turret transformation
Housed inside Manhattan's landmark Temple Court building, The Beekman hotel has recently been restored to its former glory. Dating to 1881, the Queen Anne-style building in granite, red brick, and tan Dorchester stone boasts a nine-story Victorian atrium with a skylight and two turrets, which have been transformed into two signature penthouse suites.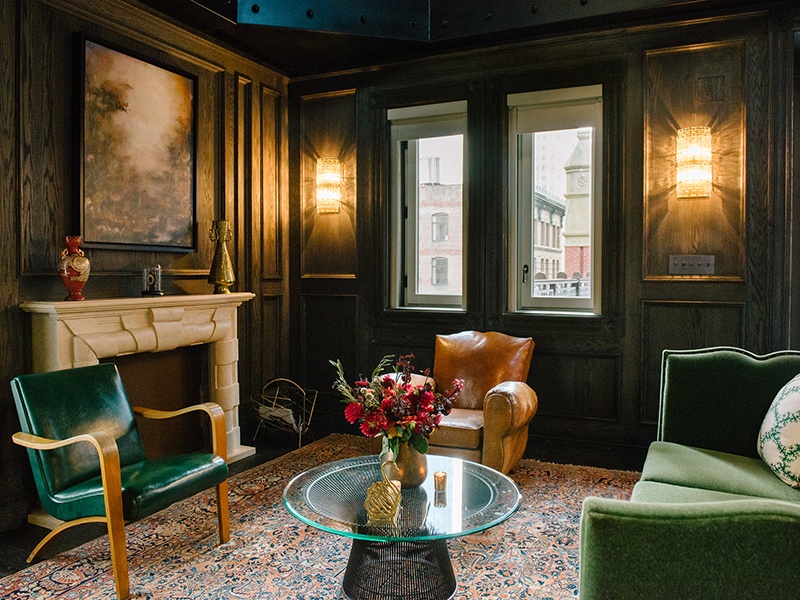 "The Beekman has been a very special project, and the newly completed turret suites really are the icing on the cake," says interior architect Martin Brudnizki of Martin Brudnizki Design Studio, who restored the property in partnership with Gerner Kronick + Valcarcel Architects. "When you're in the space, you feel hidden in the middle of the city, like no one knows you're in the turrets of this beautiful 19th-century landmark building.
The Beekman has been a very special project, and the newly completed turret suites really are the icing on the cake
"The inspiration came from the idea of a writer's attic apartment: we wanted it to be somewhere you can relax, dream, and be creative." Spread over two floors and reached via private rooftop terrace entrances, both penthouses have been furnished with Persian rugs, mid-century dining tables, vintage objects, and bespoke items—including 7-foot (2 m), Beaux Arts-inspired chandeliers that hang from the turrets' dramatic 40-foot (12 m) ceilings.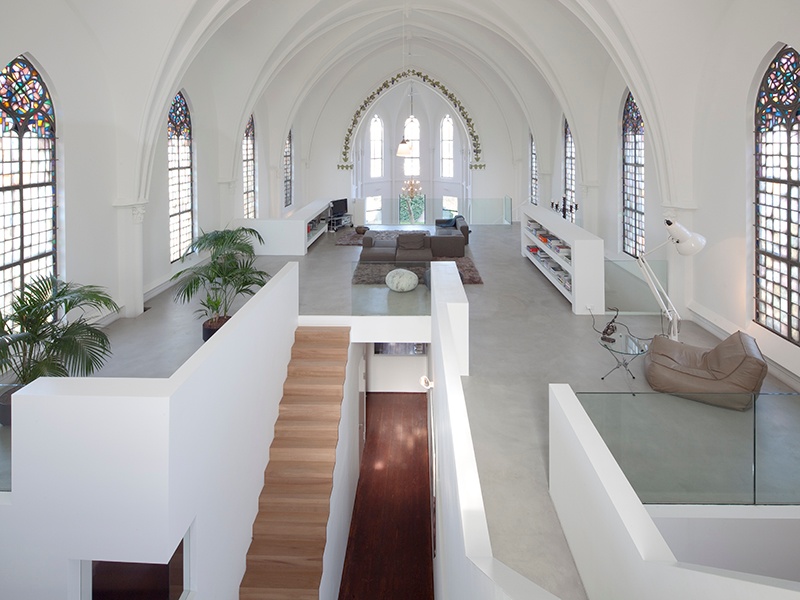 Church conversion
Led by Bart Kellerhuis and Marnix van der Meer, Netherland's Zecc Architects has set the precedent with its striking church conversions. In Utrecht, Zecc transformed St Jakobus Church into a striking residence. With little intervention to the spacious existing structure, the firm created a new white volume within it, "merging two periods into one new design," Kellerhuis says.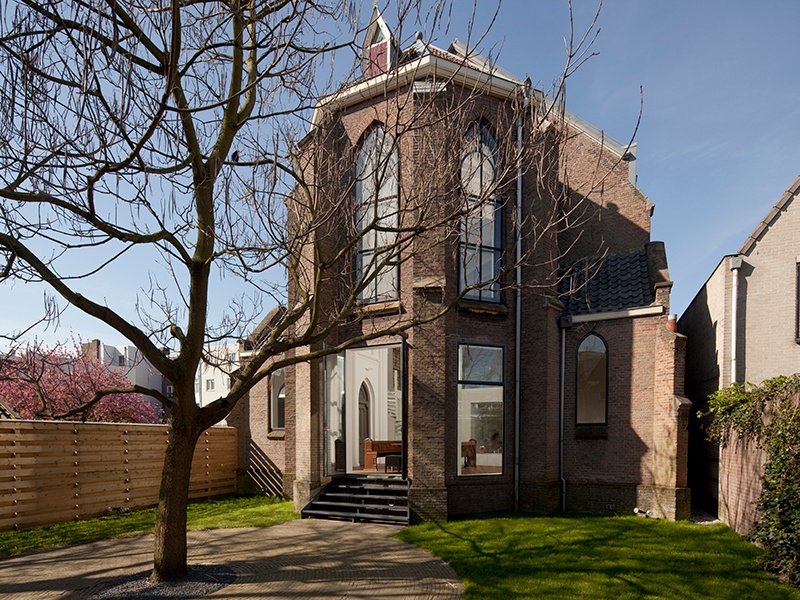 Stained-glass windows, wooden floors, arches, columns, and doors were all kept intact. At the rear of the church where the altar once stood, three new glass fronts were added to bring in more daylight, while a unique dining room table has been made from the church's pews.
In a second, smaller Utrecht church conversion by Zecc, the residence uses the church organ as a sculptural element. In addition to the original stained-glass windows, one inspired by Dutch artist Piet Mondrian has been incorporated behind the altar.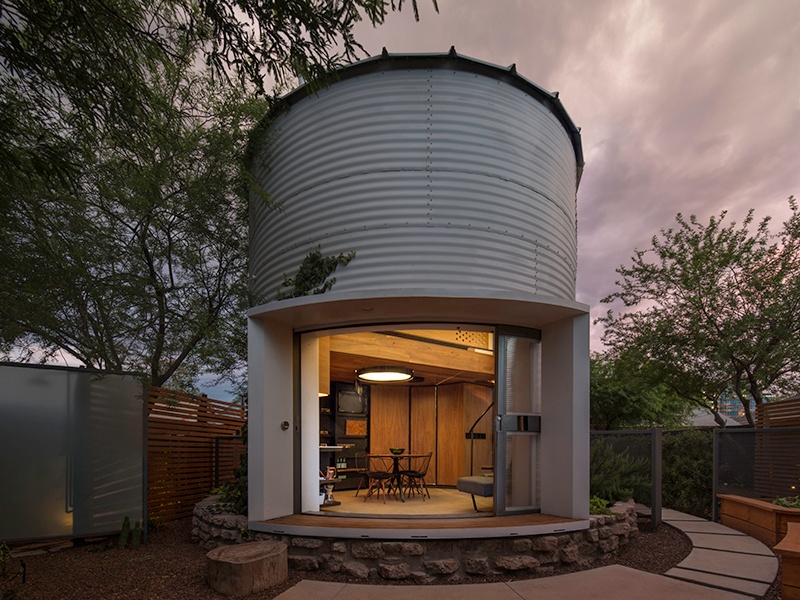 Sleek silos
In downtown Phoenix, Arizona's Garfield Historic District, architect Christoph Kaiser has carved out a surprisingly spacious, light-filled residence inside a 1950s grain silo. "For me, the most satisfying aspect of Silo House was in the challenge of designing something that feels like home within a form, and at a scale that defies convention," Kaiser says. "I determined early on that the main spaces of this home needed to feel spatially generous. This quickly became a defining design mechanism."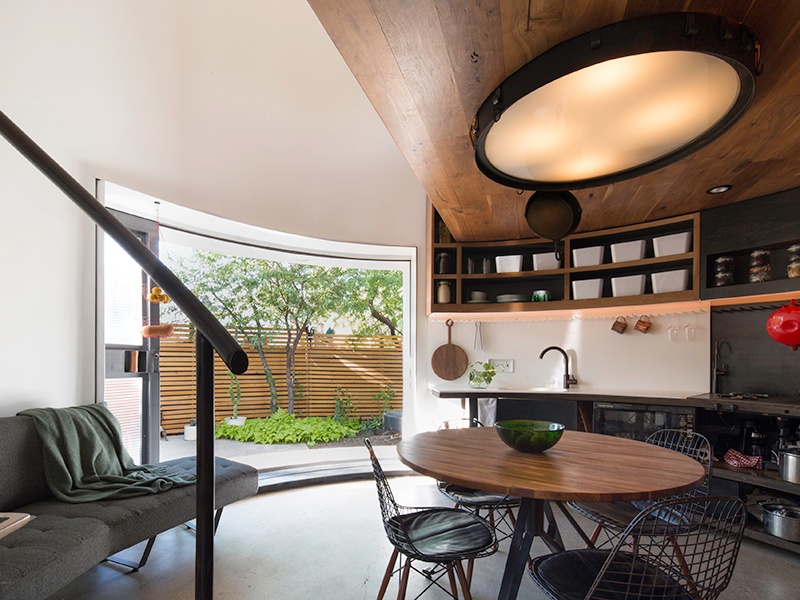 Storage, counter surfaces, the bathroom, and the mechanical core were pushed to the edges of the space, "leaving a central living and dining volume that was 26 feet [8 m] in height," Kaiser says. A sleeping mezzanine is perched above. In walnut and black steel, the cylindrical home brings in light through a circular light well above the dining table, an operable skylight at the top, and large openings, including a sliding glass door that creates a strong indoor-outdoor connection and matches the curve of the home.
Monastery makeover
Set in the hills above Florence among olive groves and woodland, an ancient monastery, inhabited by Dominican Friars from 1609, was converted into an exquisite residence when the new owners sensitively restored the complex, leaving its character intact.
Spread over 25,296 square feet (2,350 sq m), the elegant 40-room estate includes an internal tiered cloister, frescoed ceilings, the ancient refectory, and a dovecote. On the raised ground floor of the main three-story building, the original monks' cells have been converted into living spaces: a large study, a living room, a bedroom, and two bathrooms.
Landmark restorations
In Gloucestershire, England, London-based architecture firm De Matos Ryan has sculpted a stunning subterranean residence, called The Round Tower, around a Grade II-listed folly. "The intention of this project was to restore, conserve, and provide a sustainable viable use for the ongoing maintenance of this previously derelict and burnt-out tower," says director Jose Esteves De Matos.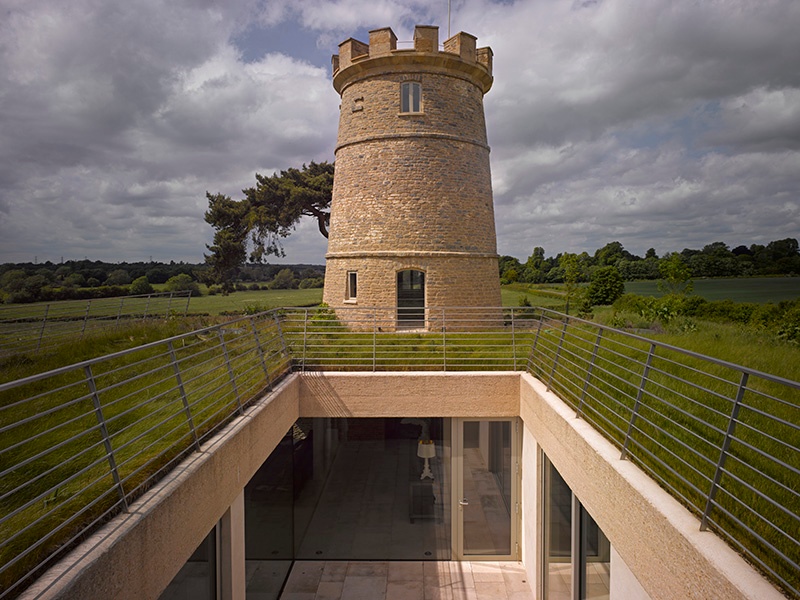 Related: Read About the Future of Architecture

Bringing light into the open-plan underground extension through a sunken courtyard and a "landscape scoop" where a swimming pool is cleverly concealed, the home, which is connected to the surrounding landscape as much as the dominant tower, was shortlisted for a RIBA Regional Award in 2012.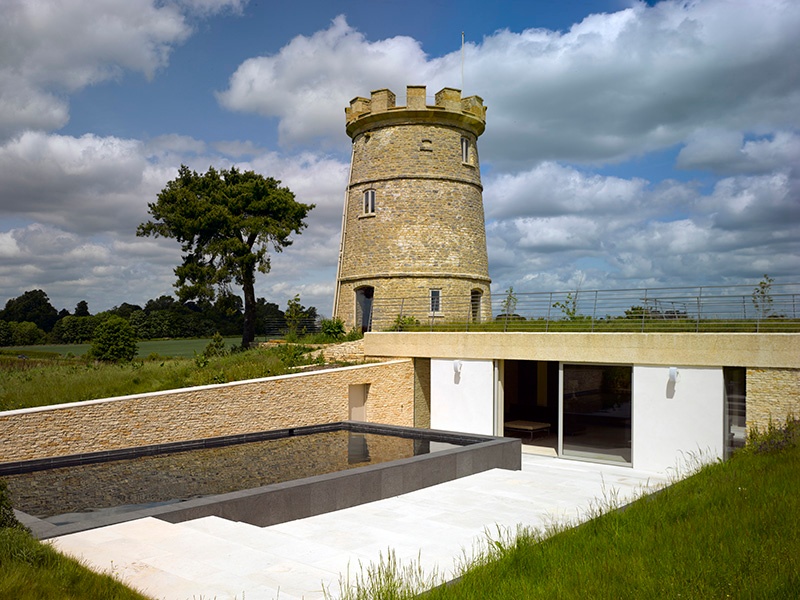 Functioning as the front door to the four-bedroom home, the tower houses two guest bedrooms with a bathroom, a snug at basement level, and a rooftop terrace, offering panoramic views of the surrounding landscape.