Today's jewelers and watchmakers are reimagining the traditional, experimenting with new materials, and offering a contemporary spin on timeless designs. We've found the most enticing for the festive season—from heavyweight heritage brands to more niche newcomers. The focus is on strong design and perfect execution, and gifts that will last a lifetime.
Set to dazzle
The inspiration for James Ganh's one-off designs and bespoke creations often comes from "small details in life" or "my clients' love stories."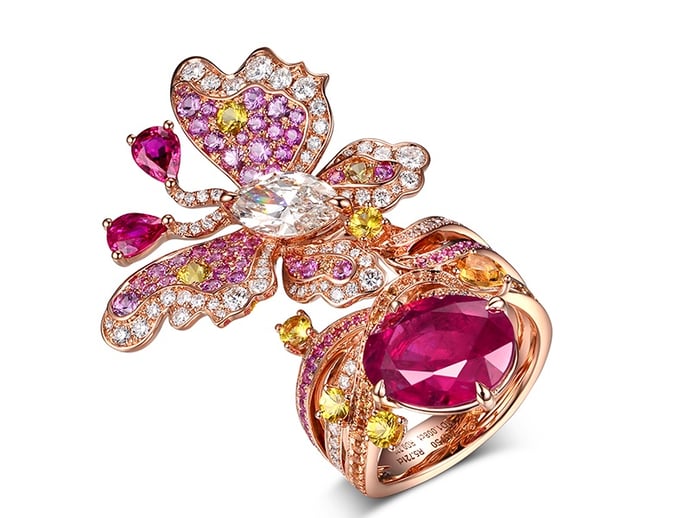 Ganh grew up surrounded by gemstones—his father owns a diamond-cutting and polishing factory in his native China—and he studied jewelry design at London's Central Saint Martins. In 2013 he joined Fabergé, though not as a designer, but as a retail clerk. An impressive sales technique earned him an audience with the then creative director, to whom he presented 
a working prototype of a design he had dreamed up. The rest, as they say, is history. Today, Ganh operates from an appointment-only atelier in London, where clients can browse his collections or discuss bespoke commissions.
Driven by design
Some timepieces are discreet and understated. The new watches from Roger Dubuis are anything but. A collaboration with tire giant Pirelli, the collection's first designs to be released (all limited edition) are the Excalibur Spider Pirelli—Double Flying Tourbillon and Excalibur Spider Pirelli—Automatic Skeleton.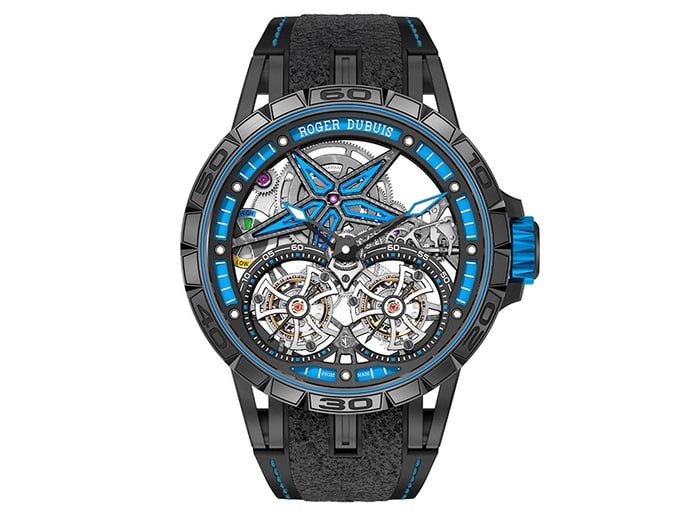 The former features a 365-part skeleton upper that incorporates Roger Dubuis's signature star-shaped bridges, and a rubber strap with inlays from certified Pirelli tires that have competed in real races. Continuing the bold theme, the power-reserve indicator is in the style of a dashboard fuel gauge.
Fresh and unexpected
French jeweler Cartier created the style now known as Tutti Frutti in the 1920s amid the Art Deco movement. Characterized by brightly colored gems carved to mimic leaves and fruit, Cartier's Tutti Frutti pieces remain some of their most covetable. Résonances de Cartier, the maison's 2017 high jewelry collection, features contemporary reimaginings of some of its classic creations—all set with exquisite stones.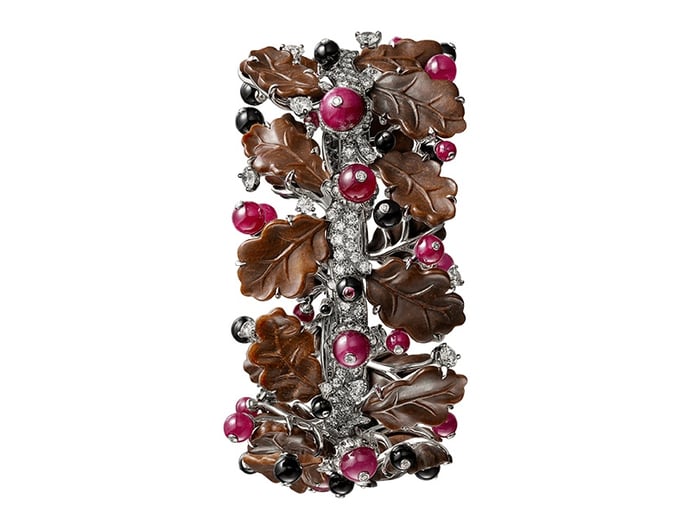 This bracelet displays all the Tutti Frutti markers: ruby beads like berries, the use of onyx (a classic Art Deco trait), and an organic swirl of leaves that envelops the wrist around a central "branch" of diamonds. But instead of carved emeralds, the oak leaves are rendered in petrified wood—the perfect foil to the sparkle of the surrounding gemstones. Layers of history are imbued in this piece. Yet, like all good design, it's new, fresh, and wholly unexpected.
Tropical accents
American jeweler Susan Foster loves palm trees. "My bathroom in New York is covered in palm-leaf wallpaper," she says. "I'm drawn to the shapes. Both organic and spiky, they're the perfect motif."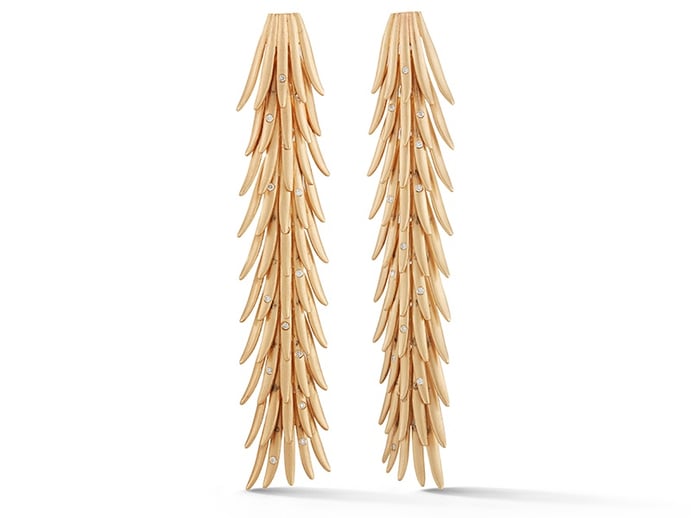 So perfect that she has translated their form into a new capsule jewelry collection soon to be available at Harrods. In a statement pendant necklace, yellow gold, diamond-trimmed leaves radiate toward a cabochon-cut, rose-star quartz ringed with diamonds—the prettiest of combinations. But it's these earrings, just gold and diamonds, that are the perfect tropical shoulder-grazers, with 10 layers of gently articulated leaves displaying a deft combination of movement, craftsmanship, and swinging playfulness.
A sparkling timekeeper
These days fashion houses, such as Chanel and Dior, and jewelers, such as Cartier and Bulgari, are making some of the most covetable ladies' timepieces. Tiffany & Co, which of course falls into the latter group, has introduced its new Metro collection—watches with subtle nods to the brand's heritage as a jeweler.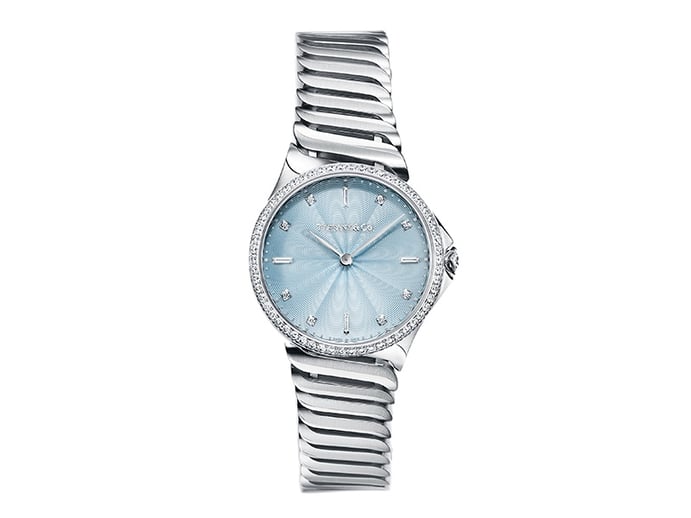 The intriguing bracelet shape and construction pays homage to a cuff from a 1990s high jewelry Blue Book collection, while the lacquered dial comes in colors such as white, ice blue, and pink, with flinqué finishing. The crown is a serialized diamond, lest we forget that Tiffany is one of the world's most significant purveyors of the gemstone. Not to mention the hour markers in baguette- and brilliant-cut diamonds.
Movement on display
It used to be that including a minute repeater or a flying tourbillon in a watch was the pinnacle of haute horology, but savvy watchmakers are looking at every aspect of timepiece design in order to stand out in a crowded market. With the BR-X1 Skeleton Tourbillon Sapphire, Bell & Ross has created an alternative, albeit jaw-dropping, complication of sorts.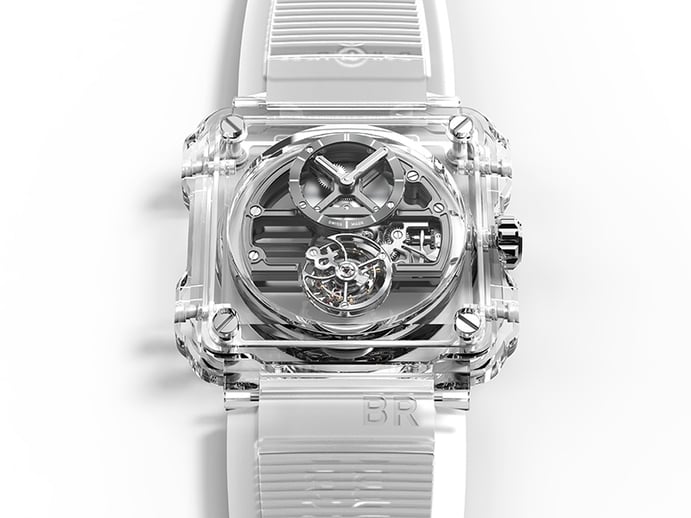 Constructed from five blocks of sapphire crystal, the watch's case is transparent, meaning all of the movement is on display, with the tourbillon mechanism in particular seeming to float above the wearer's wrist. Bell & Ross's signature touches are still visible—for example the exposed screws on the bezel and square case shape—but with this new imagining the aesthetic is part space-age, part block of ice.