Had you walked into the Barbican Centre, London, during the winter of 2012-13, you'd have found it highly congested. The Curve, the Barbican's installations gallery, was hosting an artwork by collaborative studio Random International. Called Rain Room, it was a darkened room in which rain fell constantly from the ceiling. When you walked into the deluge, however, motion sensors would halt the downpour just above your head, so wherever you were, you stayed dry, while the water continued to thunder down around you. The congestion was due to the installation's popularity – people queued for up to three hours to get in.
"We're exploring the consequences of living in a machine-led world," Random International's Hannes Koch told the LA Times when the installation later premiered in Los Angeles, in 2015. "In the Rain Room, we amplify one aspect of that, which is a space that permanently sees you and observes you. It's a surveillance machine in a way." Rain Room (which has also toured to New York and Shanghai), attracted 77,000 visitors in London alone, and is an arresting example of how artists today are using technology in their work.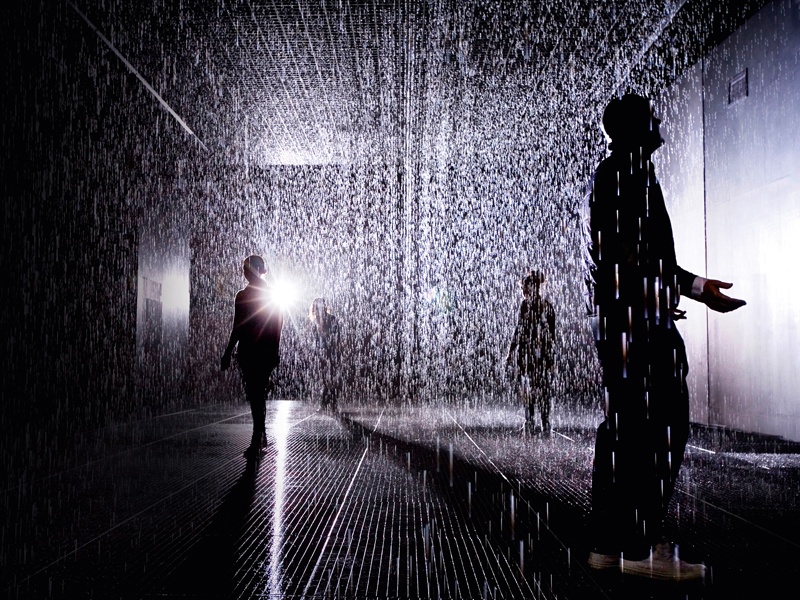 And as the geeks create ever more sophisticated systems and programs, established artists are embracing them in ever more interesting ways. One of those ways is exemplified by the 2003 Turner Prize-winner Grayson Perry, whose Triumph of Innocence (2000) glazed urn – which featured in his award-winning entry – sold at Christie's in London for £85,250/$133,075 in 2012. As someone who works in traditional media such as ceramics and tapestry, he has "embraced technology massively," to create highly intricate pieces that would have previously been unachievable.
With a flick of the wrist I can draw a 15-meter-long line, or pick out individual pixels – Grayson Perry
As well as using digitally produced ceramic transfers on his pots, he says that without his drawing tablet, on which he works in Photoshop to create digital drawings that are then converted into usable files for his manufacturer in Belgium, "there's no way I could do a 15-meter [49 ft] tapestry. Ten years after [I'd designed] the first one I'd still be weaving it." For Perry, Photoshop was, he says, "revelatory, because the things you can do in terms of drawing are amazing. With a flick of the wrist I can draw a 15-meter-long line, or I can pick out individual pixels."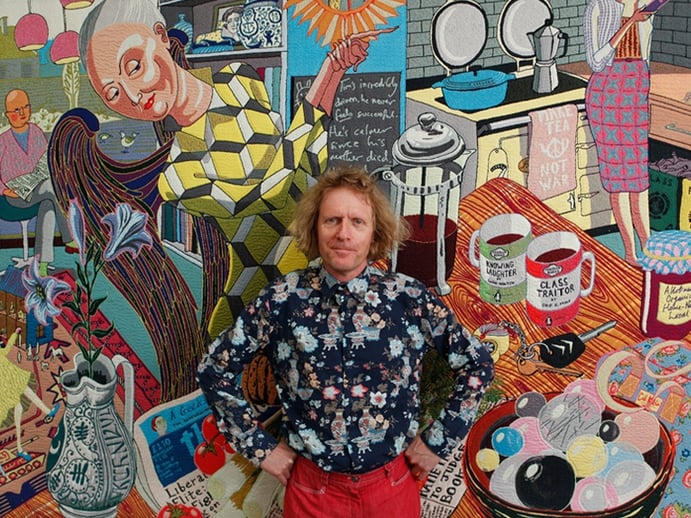 Though he still uses a pencil and paper, the program has changed his approach to drawing: "One of the main reasons is choice. You're sitting there with the same set of tools but you can do anything. You can call in images from anywhere, you can do them any size, potentially you can have them translated into any medium – the infinite possibilities are staggering, and also frightening. If you've got a box with 10 colored crayons in it, you work with that. When you've got Photoshop, you've got every color crayon ever invented and practically every photograph ever taken. You've really got to have a much bigger hold on what you want."
From easel to iPad
Someone who has always had a very strong hold on what he wants is David Hockney, now 79, whose painting Beach Umbrella (1971) sold at Christie's in London earlier this year for just over £3 million/$4.5 million. As an artist who has consistently challenged himself to innovate, he is one of very few painters who has found a way to convincingly practice a new version of his medium by using digital technology. Several of his iPad drawings appeared in his 2012 blockbuster exhibition A Bigger Picture, and he has continued to make and exhibit them since. Hockney has said he finds the immediacy of this kind of work exciting and informative, and enjoys the speed of their creation and the ability to share them. "You can make a drawing of the sunrise at 6am and send it out to people by 7am."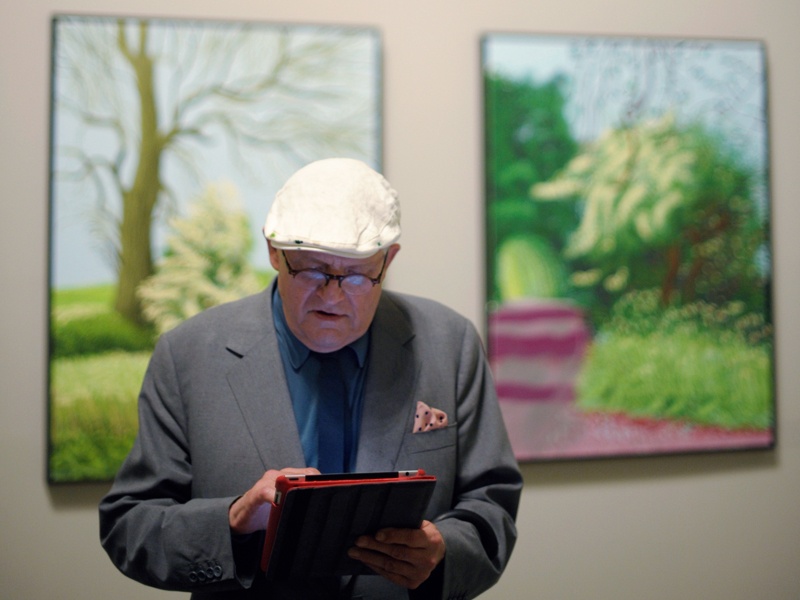 Another artist who has embraced technology even further to create a new form of his work is Professor Keith Brown, 69, director of art and digital technologies at Manchester Metropolitan University, for whom the term "early adopter" might have been created. Brown has been using digital technology in his work since the early 1980s, when he was given access to a Quantel Paintbox – a computer graphics workstation – and "became intrigued by the possibilities." A sculptor whose referee for his art foundation was Henry Moore, Brown first used the computer as a kind of 3D drawing aid for work he was doing chopping up and rearranging trees. "As the software got more powerful you got lights and shadows and reflections, etc, and the hardware became more capable. But it wasn't really until the turn of the millennium that we got spontaneously interactive 3D on the desktop," he says.
The infinite possibilities [of Photoshop] are staggering, and also frightening – Grayson Perry
For Brown now, in the age of 3D printing, the technology isn't just a design tool (he creates his unusual forms in a 3D-modeling program and then chooses which to print), but a medium in its own right. He has "reversed the order between the virtual and the real. Virtual reality was a way of simulating reality in a virtual world; my practice is very much to explore the possibilities of topological controllers of geometry that allow me to do things that you cannot even conceive of using traditional materials." His thrill comes from creating things that are, essentially, impossible in reality. It's no surprise to find that he's "an avid follower of quantum physics."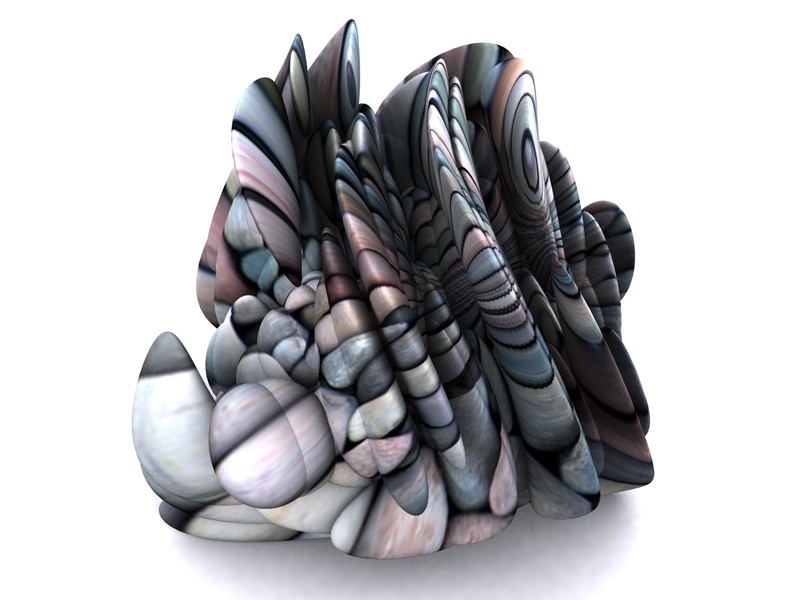 He may not be using an axe to create his work any more, but you couldn't call his method a cheat – quantum physics has its own set of rules, and they keep Brown up late at night. "Every element within those sculptures is related to every other element within it. It's as if you took a balloon and tied it into a very complex knot like a party magician. If you squeeze it, not only does the form change where you squeeze it, but on the surface, the whole form of the balloon is changing shape. It's frustrating sometimes; I'll apply energy to one point of the sculpture and something will happen at another point. You're like, 'Oh, dammit!'"
The artists mentioned thus far are men, but there are, of course, many women artists who have been harnessing the power of technology, and often, as in the case of Jenny Holzer, 66, and Pipilotti Rist, 54, the medium at the very least enhances the message.
For Jenny Holzer and Pipilotti Rist, the medium enhances the message
In Holzer's 1984 piece Truisms, held by Tate Modern, texts such as "Religion causes as many problems as it solves" and "Monomania is a prerequisite of success" scroll across, move up/down, or flash on an electronic display sign (rather like those on train platforms around the globe). She has said before that she loves this movement, "because it's so much like the spoken word: you can emphasize things; you can roll and pause, which is the kinetic equivalent to inflection in the voice. I think it's a real plus to have that capacity. I write my things by saying them or I write and then say them, to test them. Having them move is an extension of that." (A similar work, Laments: I Am a Man (1987), sold at Christie's in London in 2015 for £80,500 / $123,407.)
Pioneering spirit
Rist, for her part, has been using the medium of video and multimedia installation since the mid-1980s, exploring the interplay of fantasy and the everyday in female sexuality, gender, and the body within media culture. Before her art career took off, however, from 1986 to 1994 she worked in video studios making 2D animated computer graphics – it makes sense that with this background, and witnessing as an engaged adult the explosion in the music video precipitated by the foundation of MTV in 1981, she went on to work in this format. As is often the case with video art, her work doesn't often appear at auction, but one of her intricate "video objects," The Room (1994) – a miniature room with one of her films showing on a tiny TV screen – achieved £46,100 / $93,952 at Christie's London in 2007.
In a world saturated with images, and where that saturation is often blamed for all kinds of ills – such as the early sexualization of girls and the explosion in pornography – digital technology allows Rist, who has a major exhibition running at the New Museum in New York (October 26, 2016-January 15, 2017), to create work that subverts that negativity with beauty and (sometimes wicked) humor.
One of the wishes I have with my work is to create things that wash out our old pains – Pipilotti Rist
It's like a digital love-bomb. In Ever Is Over All (1997), a woman saunters down a street, observed by a smirking policewoman, and blithely smashes the windscreens of a line of parked cars with a long-stemmed flower. Homo Sapiens Sapiens (2005), created to be projected onto the ceiling of a deconsecrated church in Venice for the 51st Biennale, used joyful running and writhing nudes, botanical forms, and something that looks a lot like raspberry jam to depict her idea of paradise without the fall of man, without the birth of the idea that the body is inherently sinful.
"All these prejudices that we have about sin are so much linked with pictures," she said at a talk at Tate in 2009. "One of the wishes I have with my work is to create things that wash out our old pains." So if you're angsting about the kids getting too much screen time, maybe relax a bit. Or take them to New York to immerse themselves in Rist's show. That'll make them see things differently.