They wouldn't describe their style as Scandinavian, or at least "not in the usual way," says Emma Marga Blanche of Färg & Blanche, which creates beautiful furniture via a trademarked technique called Wood Tailoring. "But there's something about our culture that draws Swedish people to wood," she adds. "The tailoring was born from this – the simple aesthetic of furniture with a soft touch. It's a mix of tradition and innovation."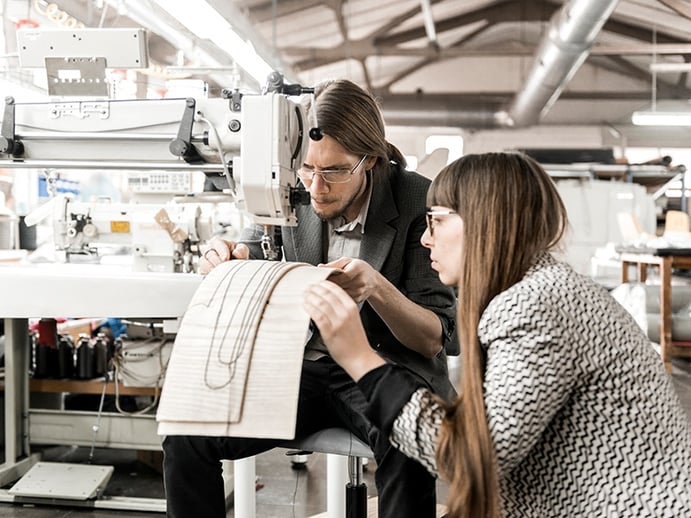 Based in a large studio in the buzzy neighborhood of Södermalm in Stockholm, Blanche and Fredrik Färg collaborate with furniture brands like BD Barcelona Design, Gärsnäs, and Design House Stockholm, as well as produce limited art pieces for galleries in Milan, New York, and Tokyo.
Here, the pair reveal some of the best places in the city for food, drink, and shopping.
Trendy Södermalm
Södermalm is full of designers, artists, and actors. It's recently become a very popular place to live, with a lot of restaurants. One of the best is Wood Stockholm, close to Mosebacke. It's a furniture company and small shop that branched out into a restaurant last year. It changes the theme of its menu frequently and is extremely special.
Recently, the theme was Aphrodite, so the dishes were made with ingredients associated with passion – there were scallops and oysters as well as seared duck with artichoke, fig, and rose petals. Whatever the theme, it always creates something beautiful that you wouldn't expect to eat. Meanwhile, Mosebacketerrassen is the best place for a drink, with perhaps one of the best views all over Stockholm. Go to the seventh floor for the champagne bar and best views; it's perfect for the sunset.
Whatever the theme, Wood Stockholm always creates something beautiful that you wouldn't expect to eat
Upmarket Östermalm
Of course, there are plenty more restaurants in the city. Swedish cuisine focuses on fresh ingredients, and it's hard to find a bad meal. Seafood is one of the absolute highlights – there's langoustine, crab, herring, shrimp, cured salmon, and roe, all fresh from the Baltic. A good place to find this is Östermalm, the more upmarket area of the city. Here, you'll find good restaurants and luxury brands such as Louis Vuitton. Definitely visit the Östermalms Saluhall, a food hall dating from the 1880s filled with bars, restaurants, and stalls selling gourmet food. Take a seat at Lisa Elmqvist for beautifully simple fish dishes, such as a traditional clear fish soup with shrimp and dill aioli.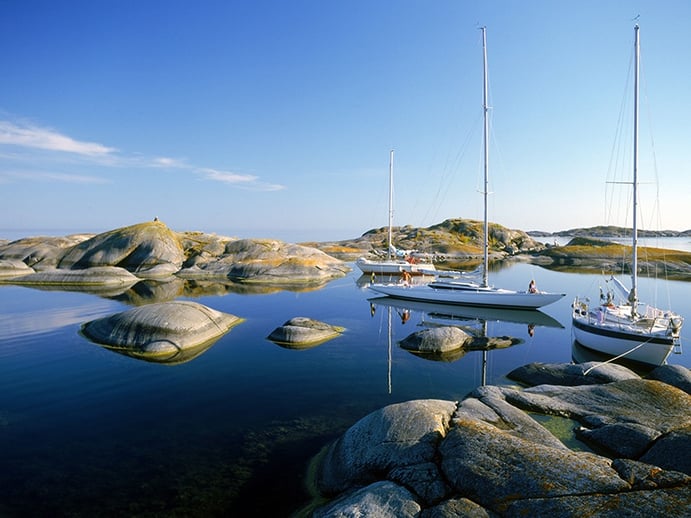 Mathias Dahlgren's restaurants at the Grand Hôtel serve wonderful contemporary Swedish food. Our favorite is Matbaren, where you can eat venison sausage with chanterelles or truffle and juniper at the cozy bar.
On the garden island of Djurgården, there are a couple of beautiful restaurants right on the water in an old boathouse, Oaxen Krog and Oaxen Slip. The artful small plates and tasting menus are classed as "new Nordic fine-dining," and focus on food found on the island of Oaxen in the archipelago.
Beautiful cityscapes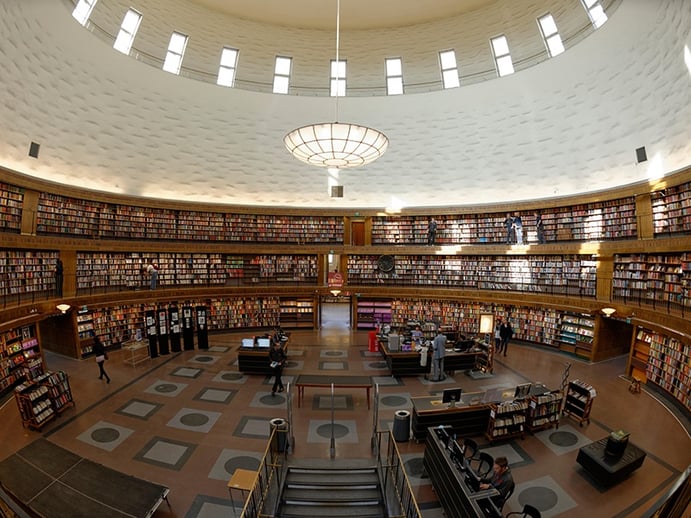 In Stockholm, you have to often remind yourself that you're in a city. There are no skyscrapers, with the city's parks and traditional buildings, dating from the late 19th and early 20th centuries, deliberately being retained. That's when Stockholm was blooming as a seafaring port and trading post, and a lot of big, grand buildings were built. Look at the public library in Vasastaden: it's an impressive example of the architecture of this period. If you feel like a walk, try the route along the beach from Skanstull to Hornstull – you can have a coffee in a boat club or small caravan on the way. It's truly beautiful, with lots of options for swimming if you're feeling brave ­­­– we go every evening after work in the summer.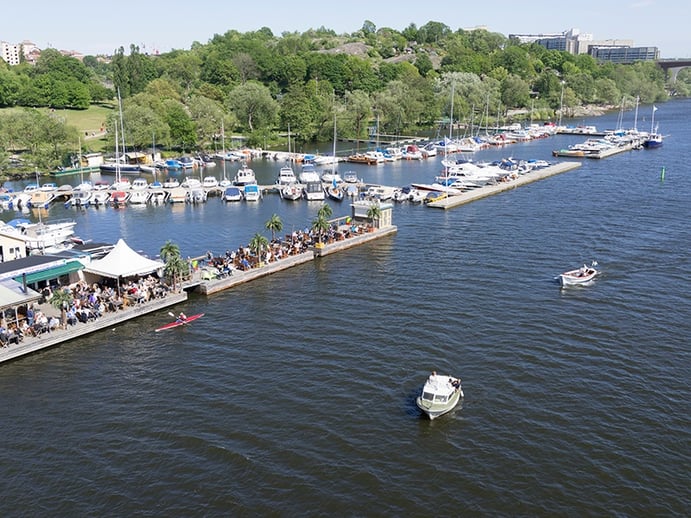 When you get to Hornstull, there are fabulous options for dinner including Tjoget, which is a wine bar, restaurant, and barber's shop all in one, with an interior inspired by Grand Central Terminal in New York. It does a fabulous deep-fried feta with wild oregano and chili. Cinephiles will love the nearby Bio Rio, a restored 1940s independent cinema with a stylish bar and upscale screens with sofas and table service. Hornstull is a lovely area with a lot of boutiques – Aplace on Långholmsgatan showcases lots of Swedish fashion designers such as Dagmar, a clothing label founded by three sisters, and Myr, with its cool handbags made from organic Swedish leather. This shop prints its own fashion magazine, too.
Scandinavian design
The fashion label Acne Studios has its home in Stockholm, and its fresh, clean designs are very typical of that understated Swedish style. Everyone should have a pair of jeans from its flagship store in Norrmalmstorg Square.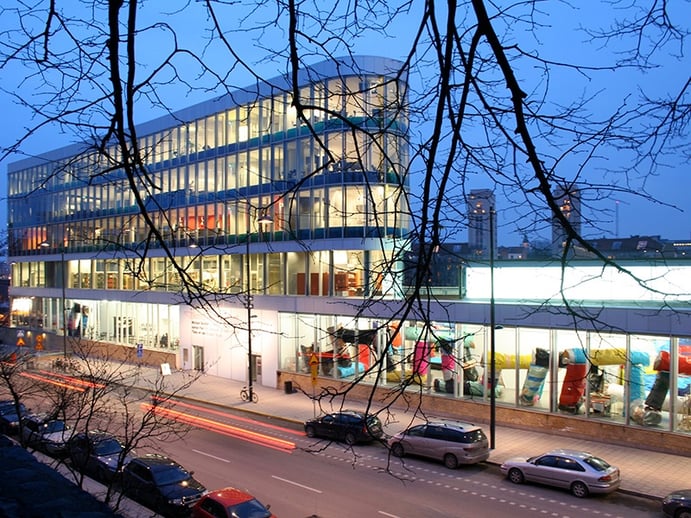 For a taste of Swedish interior design, a visit to Svenskt Tenn is a must. It's a lovely, colorful place and one of Stockholm's most exclusive design shops, filled with traditional Swedish textiles and homewares made using the techniques of Austrian designer and architect Josef Frank. It's also on a beautiful street called Strandvägen that stretches along the harbor. If you're in Södermalm, Sthlm Design District is a whole area dedicated to local design – there are 30-plus studios and shops to explore there, such as Mitab, a furniture company that collaborates with lots of great up-and-coming young designers.
Great art and design can be seen everywhere you look
Great art and design can be seen everywhere you look: the glass building that houses museum Bonniers Konsthall is quite famous and features lots of contemporary artists from Sweden and abroad. Fotografiska also hosts great contemporary photography exhibitions and its restaurant has fabulous views. It's good because it's not only about the exhibitions; it's also a great place. Even when it's raining, you can enjoy the pastries and look over the city, which is framed through the beautiful windows, like a photograph itself.