Gone are the days when the paintings, sculptures, or other objets d'art in hotel lobbies, hallways, and rooms hardly deserve a second look. For travelers whose dream destination is one where they can enjoy the aesthetics of a place, Luxury Defined has found seven hotels that incorporate art and culture into the overall experience. Meaning they're not just a place to lay your head.
1. The Silo Hotel
Cape Town, South Africa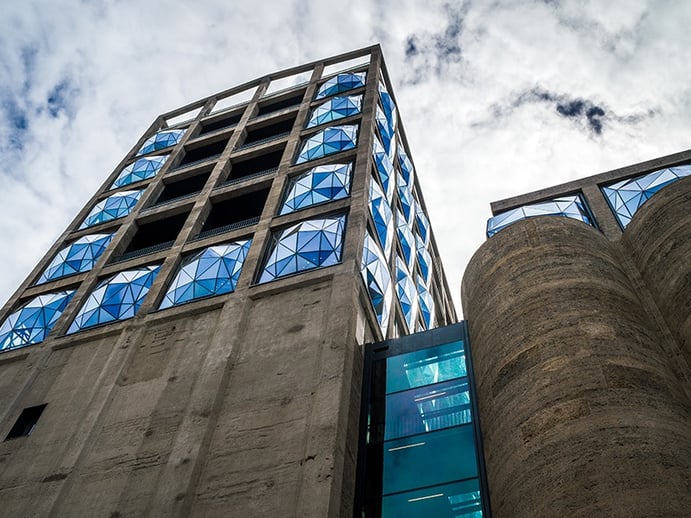 A newcomer to the scene, The Silo in Cape Town opened on the bustling V&A Waterfront in March this year, and is as much a work of art as the newly opened Zeitz Museum of Contemporary Art Africa that it sits atop. Housed in the elevator section of a 1920s grain silo, the towering building has been sheathed in geometric, multifaceted window panels by London-based design team Heatherwick Studio. Inside, bold works by local artist Sibley McAdam are paired with prints from the gallery downstairs, while pieces by Cyrus Kabiru and Frances Goodman also feature. Owner and art enthusiast Liz Biden has carefully chosen what to display, including works from her own collection.
2. artHotel Blaue Gans
Salzburg, Austria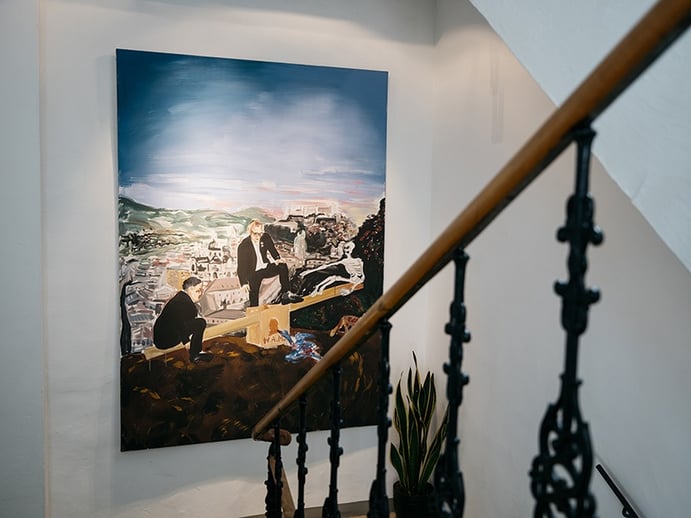 Tucked away amid the Baroque buildings of Salzburg's old town and under the shadow of the Museum der Moderne lies the artHotel Blaue Gans—or "blue goose." The boutique hotel is housed within a 14th-century building with a long history as an inn, and each of the 40 rooms is by necessity unique in its own way. Guests will find antique stone and oak flooring, vaulted antechambers, elaborately wrought doors, stucco or timber ceilings—and more than 120 works of art. Original pieces by, among others, Timm Ulrichs, Eva & Adele, Jonathan Meese, and Lori Hersberger create a beautiful contrast with the historical setting, and complement the minimalist yet warm design of the rooms. Steps away from the city's museums and galleries, Blaue Gans is also a starting point for Salzburg's Walk of Modern Art, which features outdoor sculpture projects by renowned international artists such as Marina Abramović, Anselm Kiefer, and James Turrell.
3. Art Series Hotel Group
Australia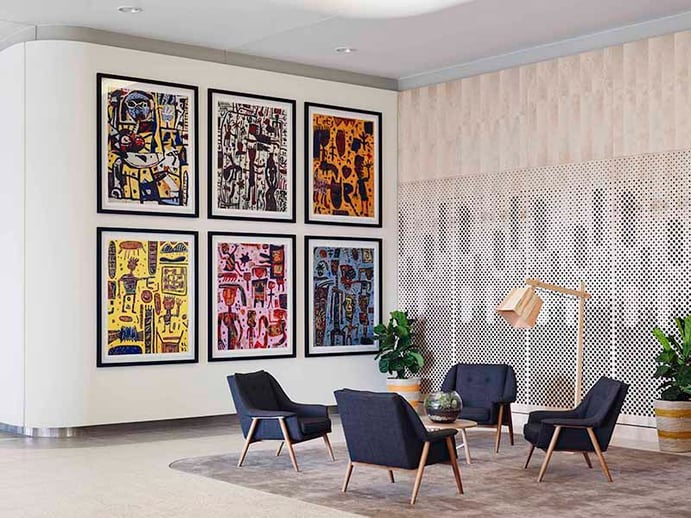 Champions of local talent, the Australian Art Series Hotel Group celebrates a different artist in each of its seven boutique hotels and residences—which span Melbourne, Brisbane, Adelaide, and Bendigo—with original artwork adorning walls and public spaces. The hotels include The Cullen in Melbourne, filled with the work of Adam Cullen, and Adelaide's The Watson, named after indigenous artist Yannima Pikarli Tommy Watson.
4. The Connaught
London, UK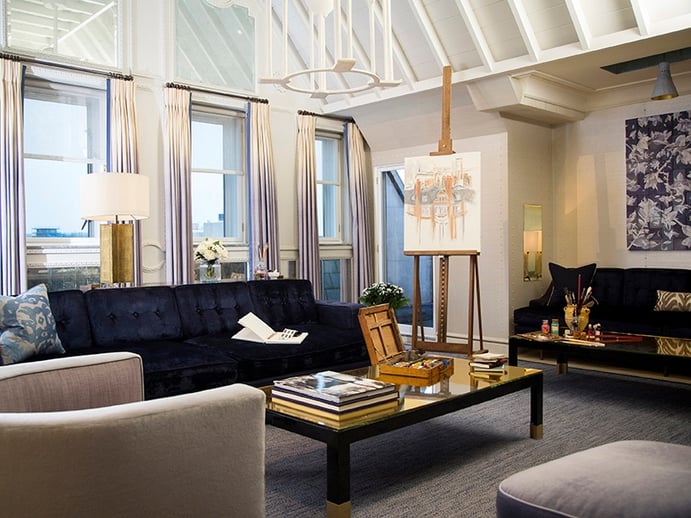 London's The Connaught hotel has long had an artistic air: British artist Graham Sutherland lived and painted there, Damien Hirst created works for the restaurant, and Antony Gormley designed last year's Christmas tree. Now, the hotel is giving guests the chance to express their own creativity with its Artist in The Apartment offering. Designed by David Collins Studio, the hotel's light-filled penthouse apartment will be turned into a paint-ready studio complete with easel, canvas, and a selection of materials. Professional guidance can be arranged, too. For those who feel more inspired beyond the studio walls, the hotel has launched a series of outdoor painting masterclasses. The En Plein Air in Mayfair sessions are set amid the area's gardens and historical architecture, with expert tuition and all materials provided.
5. Jackalope
Melbourne, Australia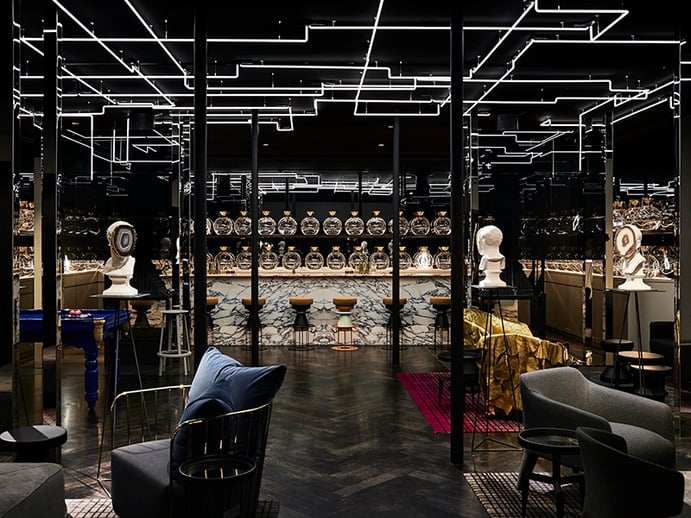 Louis Li moved to Melbourne, Australia, in 2006 to study filmmaking but decided that "rather than tell stories through film," hotel design was to be his "creative platform." His first hotel, Jackalope, has just opened an hour's drive from the city, and features 46 rooms, a 98-foot infinity pool, and a cocktail bar that looks like something from a Stanley Kubrick film. Art features strongly at Jackalope, named after a mythical jackrabbit with horns: guests are greeted by a huge sculpture of the beast by Emily Floyd, while a conceptual light-cum-sculpture by Rolf Sachs and faceless busts in agate by Andrew Hazewinkel await within. Rooms feature dark furniture, as well as views of the grounds and vineyard.
6. The Dolder Grand
Zürich, Switzerland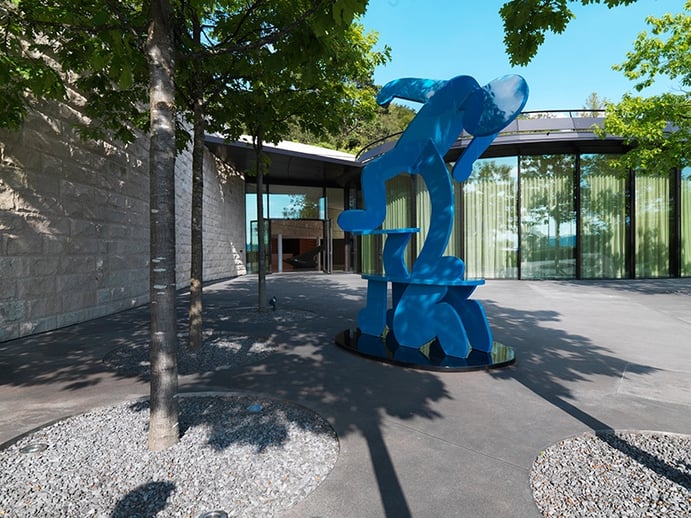 The palatial Dolder Grand has been perched atop central Zürich since 1899, and since a major redesign in 2008 by Foster + Partners it has amassed an art collection of over 100 works. A sculpture by Henry Moore can be found in the garden, while Andy Warhol's Big Retrospective Painting hangs over the reception area. An iPad art tour is available to guide guests through works by Joan Miró, Zaha Hadid, Damien Hirst, Jean Tinguely, Takashi Murakami, and many more, while a partnership with Zürich's Galerie Gmurzynska ensures that a rotation of exhibitions inside the hotel keeps guests coming back again and again.
7. Benesse House Museum
Naoshima, Japan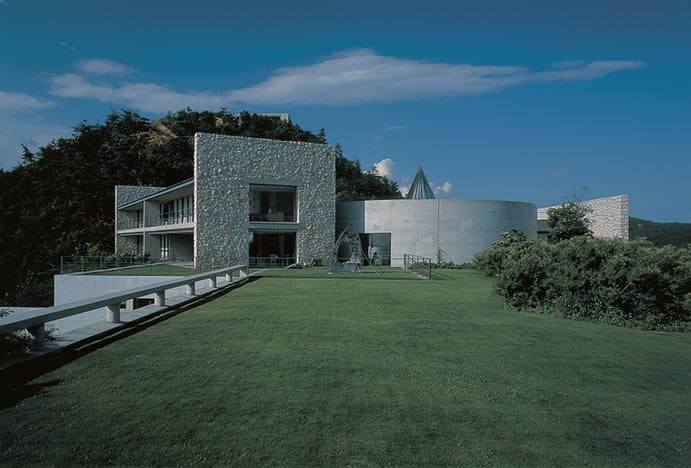 Benesse Art Site Naoshima is a collection of museums, galleries, and site-specific works across three islands (Naoshima, Teshima, and Inujima) in Japan's Seto Inland Sea. Housed in buildings designed by architects Tadao Ando, Ryue Nishizawa, and Hiroshi Sambuichi, the sites are home to several large-scale works of art and sculpture by the likes of James Turrell, Walter De Maria, and Claude Monet. There's plenty to see among the islands, and as they are several hours from Tokyo, it certainly makes sense to stay overnight. This is where Benesse House on Naoshima comes in. Made up of four buildings filled with contemporary works and linked by shuttle and/or ferry to each of the islands, it may not be the easiest hotel to reach, but if an art vacation is what you're looking for, it certainly fits the bill.