The advent of the photograph gave us the sudden ability to see ourselves for the first time. But we have always wanted more than just reality. As photography developed into an artistic practice, it became a potent method of telling stories, both beautiful and grotesque. From Maurice Tabard's early 20th-century spectral, surrealist landscapes, achieved through rudimentary double exposures and solarizations, to Gregory Crewdson's contemporary, elaborately staged depictions of a ghostly version of Americana, photography has been a portal to both familiar and fantastic worlds.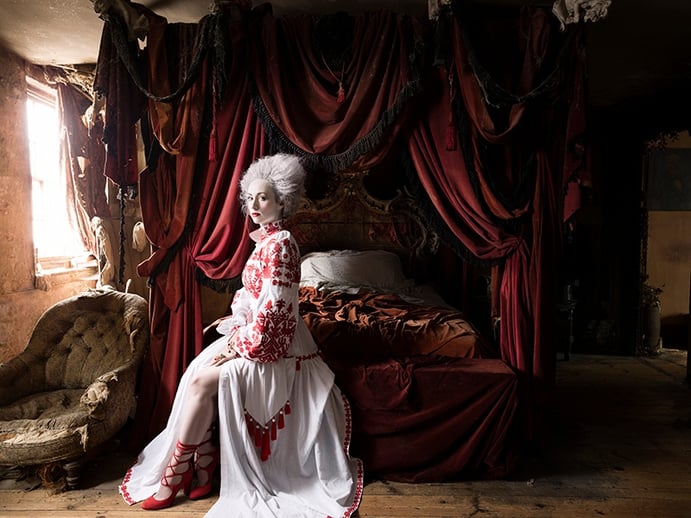 Crewdson was a major inspiration for the young Australian commercial and fine-art photographer Alexia Sinclair, who cites the intent and symbolism inherent in his creations as a virtue to which to aspire. "Crewdson conveys such emotion through his work, much like a film director," she says. "When I saw his prints in a museum, in the early 90s, it was the first time I remember looking at photography and relating to it as art."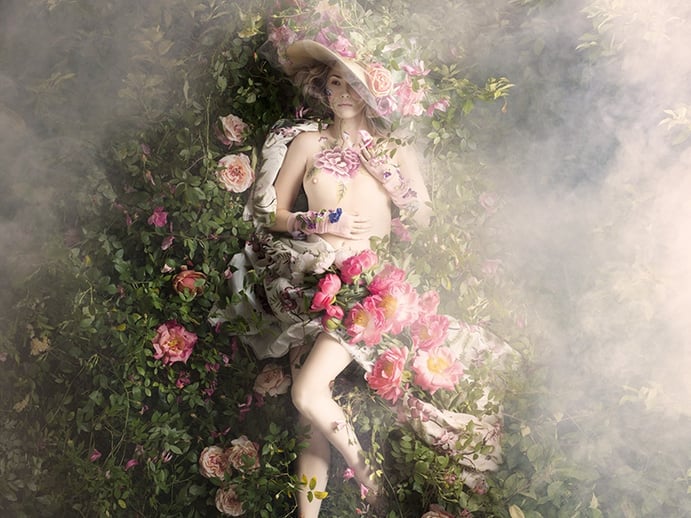 And like Crewdson's, Sinclair's own body of work consists of implied narratives told through elaborately styled backdrops. But rather than depicting modern-day Americana, she looks to Europe's past for inspiration; historical figures are reincarnated with vivid slickness and posed against opulent backdrops embedded with subtle, symbolic details.
In her 2016 series The Golden Age, a luminous Elizabeth I of England is seated on an ornate purple throne, embellished with roses and golden beetles—both references to fleeting beauty. A new series, The Lover's Eye (2016)—an image from which recently debuted at London's National Portrait Gallery—was inspired, she reveals, by Georgian love tokens.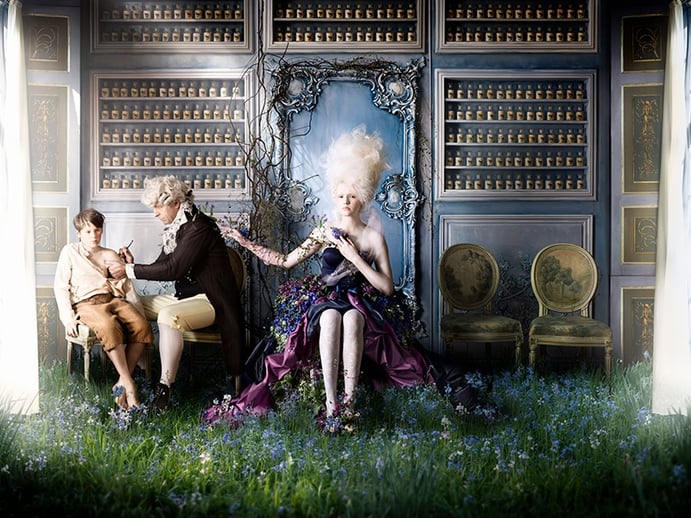 The Georgians were big fans of portrait miniatures, which often appeared mounted as brooches, pendants, and lockets. Towards the end of the 18th century, in England, an interesting variation of the popular portrait miniature began to appear. The "lover's eye" brooch contained, as the name suggests, the painted eye of a loved one. It is believed that the original such love token was given by the Prince of Wales (later King George IV) to his mistress, Mrs Maria Fitzherbert.
It was this story that inspired Sinclair to create the work for which she was nominated for the Taylor Wessing Photographic Prize 2016, and also to create—and pose for—two images included here. "It's believed the Prince sent his mistress a miniature painting of his eye, to wear in secret, as a token of his love. An aristocratic fad was born, and close to 1,000 lover's-eye jewelry pieces are recorded from the Georgian period—and virtually all remain anonymous, as intended," she explains.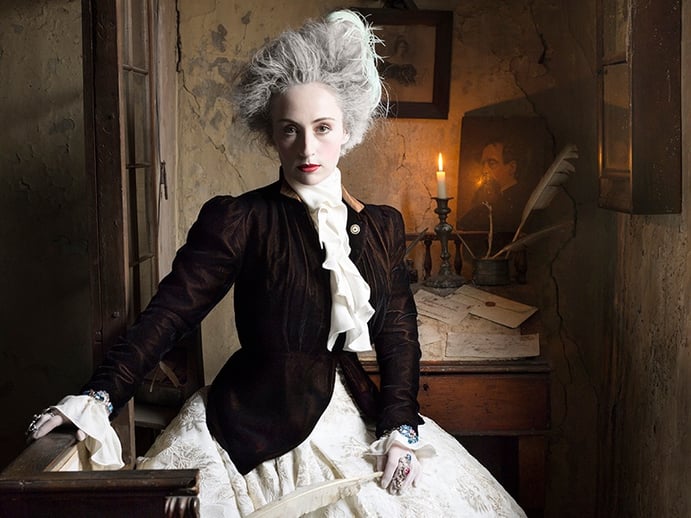 Because nearly every element in these complex tableaux—exclusively created for Christie's International Real Estate magazine—is real, each scene involves a painstaking process. It can take "weeks or months to produce," says Sinclair. She begins with mood boards, sketches, and mock-ups, followed by research and development, bespoke costuming, and set building.
Manipulating our concept of reality, and taking the viewer on a journey into another world, has always been a driving force in my work
Following the photography itself, crucially, comes post-production. Since her first exhibition in 1990, the now London-based artist has changed her technique, switching from film and darkrooms "to completely embrace the digital world of tethered cameras and Photoshop," says Sinclair. "But the idea of manipulating our concept of reality, and taking the viewer on a journey into another world, or time, has always been a driving force in my work."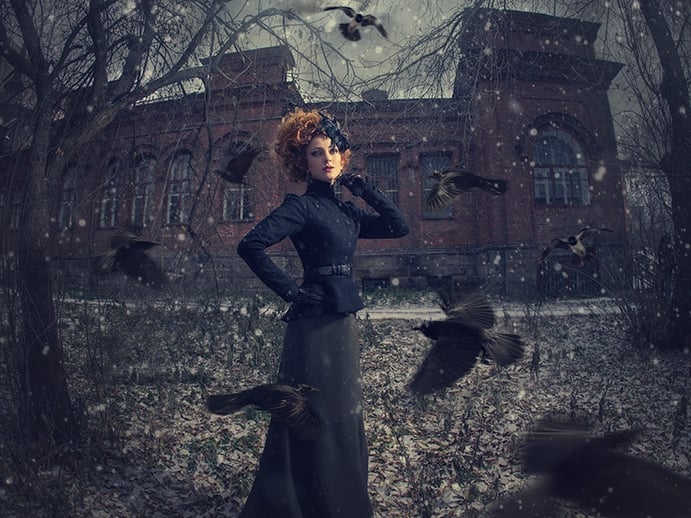 Photoshop has done wonders for bringing opulent fantasies to life, as in the works of Russian artist Margarita Kareva, whose fairy-tale scenes blend real props with digitally manipulated counterparts. As fine art verging on fashion editorial, these photographs focus on ethereal, regally dressed women in the midst of the wilderness, often surrounded by exotic animals or softly falling snow. Her work is so seamless it's difficult to discern what is real and what is not.
In London, German-born photographer Julia Fullerton-Batten also builds narratives through highly stylized scenery, but rather than history and fantasy, her subject matter is rooted in the reality of the present. While her early works had autobiographical themes with straightforward, self-explanatory titles—such as Teenage Stories (2005), Awkward (2011), and Mothers and Daughters (2012)—her more recent series carry an underlying political subtext.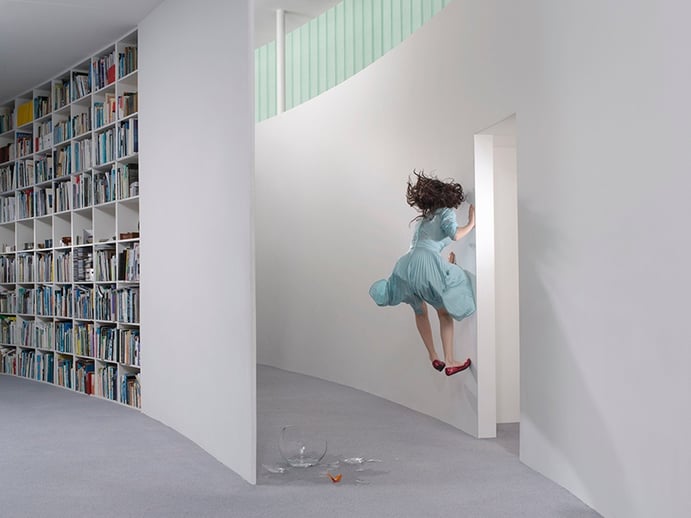 The vibrant, near-monochrome tableaux of her 2015 project, Feral Children, for example, feature young, destitute subjects surrounded by wildlife; Fullerton-Batten was both shocked and inspired to learn that there were children all over the world who, abandoned and isolated from all human contact, were raised by animals.
"I enjoy telling stories with my images. In fact, recently, I've taken to attaching text 'stories' to my images—not to explain them, but to enhance the viewer's knowledge of the background of each image," she says. "Anybody who reads the background 'stories' of the children who make up Feral Children can't help but feel even more engaged with the image."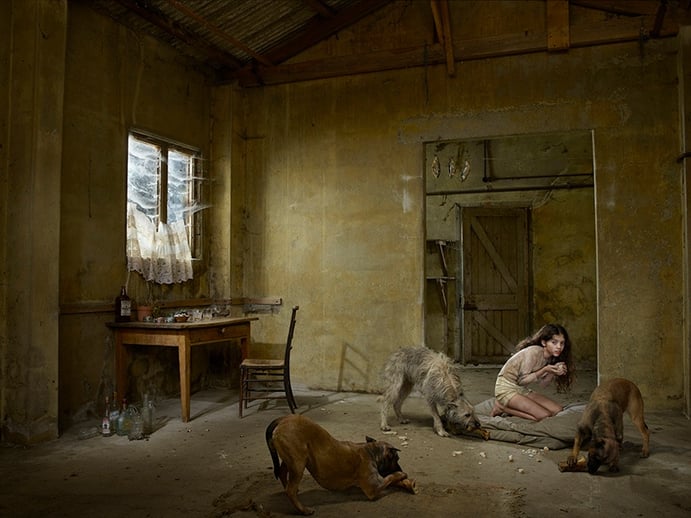 More recently, Fullerton-Batten took on the complex topic of prostitution, with The ACT (2016) photographing actual sex workers in what appear to be movie sets, propped up inside a sound stage. Featuring a full spectrum of races and body types, the images imply uncomfortable and sometimes sinister experiences. "Their stories excel in their honesty and brashness, and give us a profound insight into the minds and mentalities of women who voluntarily participate in the sex industry," says Fullerton-Batten. "They show how intelligent and articulate each and every one of them is."
Meanwhile, another London-based photographer, Suzanne Moxhay, tells a different story entirely—with fantastic landscapes rather than people as her protagonists. The scenes in her recent Interiors series are perfect examples of magical realism—decaying, abandoned rooms in which the wind blows, lamp posts glow, and forests bloom.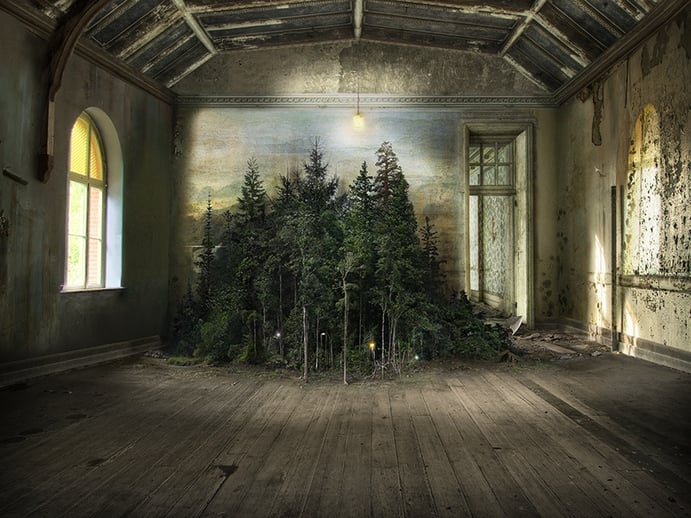 Moxhay's pursuit of atmospheric settings often takes her on an adventure into the unknown—such as a visit to an abandoned island in Venice and its unsettling deserted church and asylum. She shoots her "vistas" in real life, then adds fantastic elements through photomontage, which in her case includes physical cutting and pasting, alongside digital manipulation.
"The spaces are never quite believable as real," says Moxhay, with "many anomalies of scale and perspective, with shadows falling in the wrong direction, and contradictory light sources." The artist seems to strive less for accuracy than for whimsical ambience.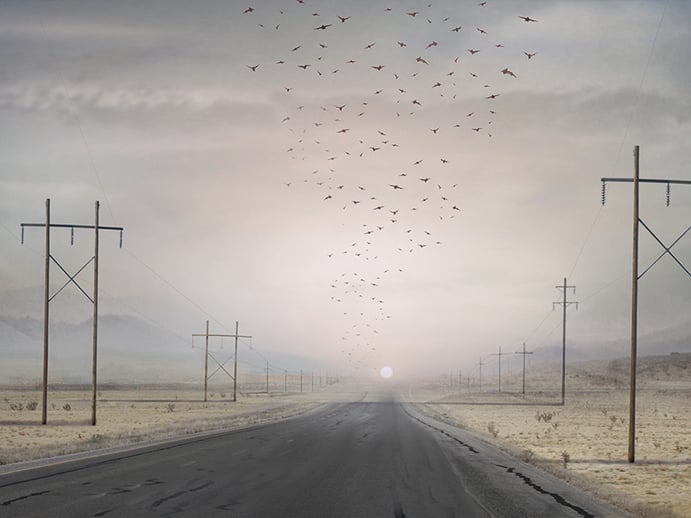 Her desaturated palette of grays and faded blues, which adds to the sense of other-worldliness, was inspired by mid-century magazines. "I was struck by the quality of the images, which were from the 1950s to the 1970s," she says. "The printed texture of the images made them seem, in a way, closer to painting or illustration. My works fall somewhere in between photography and painting, and they suggest a sense of narrative potential."
Alexia Sinclair's self-portraits were shot on location at Dennis Severs' House in London, with styling by Graham Cruz, and hair and makeup by Ami Penfold.