Biodynamics is one of the fastest-growing trends in the world of viticulture today, but it's not a new concept: it was first developed by Austrian philosopher and social theorist Rudolf Steiner in the 1920s with the goal of enhancing the nutrition, quality, and flavor of produce. In recent decades, the world's leading wine producers and eco-vineyards have embraced the movement's environmentally friendly practices. But what exactly is biodynamics? In essence, it's a way of thinking about food production holistically in order to achieve harmony between people and the flora and fauna they steward. Farmers maintain a balanced ecosystem by caring for the groundwater, soil, and native wildlife in their fields, all interconnected elements crucial to ensuring high yields and healthy crops.
Planting ground cover between the rows of vines, for example, replenishes the soil with nutrients, creates a habitat for smaller species, and promotes biodiversity within a vineyard. Strict adherents embrace the almost mystical rituals prescribed by Steiner, like irrigating crops using water treated with the extracts of a cow horn buried in manure over the winter. But such eccentricities aside, one of the reasons biodynamically produced wines have seen such a surge in popularity is that many wine experts feel they exhibit a truer expression of a vineyard's terroir, the particular character of the soil and climate conditions in which the grapes were cultivated. Biodynamic vintners' minimal manipulation of their vines and commitment to maintaining the biological integrity of their vineyards allow more of the authentic "flavor" of the soil, water, climate, and winemaking technique to be captured in a bottle—and ultimately yield a richer and more nuanced wine-drinking experience.
Because of their novel viticulture practices, biodynamic and eco-wineries from the world's wine-growing regions are popular destinations for wine lovers as well as eco-tourists who not only appreciate the natural settings, but enjoy tasting wines in the landscapes that imparted them with their unique flavor profiles. Many such outfits provide accommodations for guests and groups as well as facilities for events, and some luxury eco-wineries also feature restaurants offering custom pairings with foods produced at the vineyard for the ultimate gourmet experience. For the outdoors lover, trails for hiking, biking, and horseback riding can often be found on site or nearby so the natural landscape can be fully experienced and enjoyed.
Basking in the Tuscan Sun
Volterra, Italy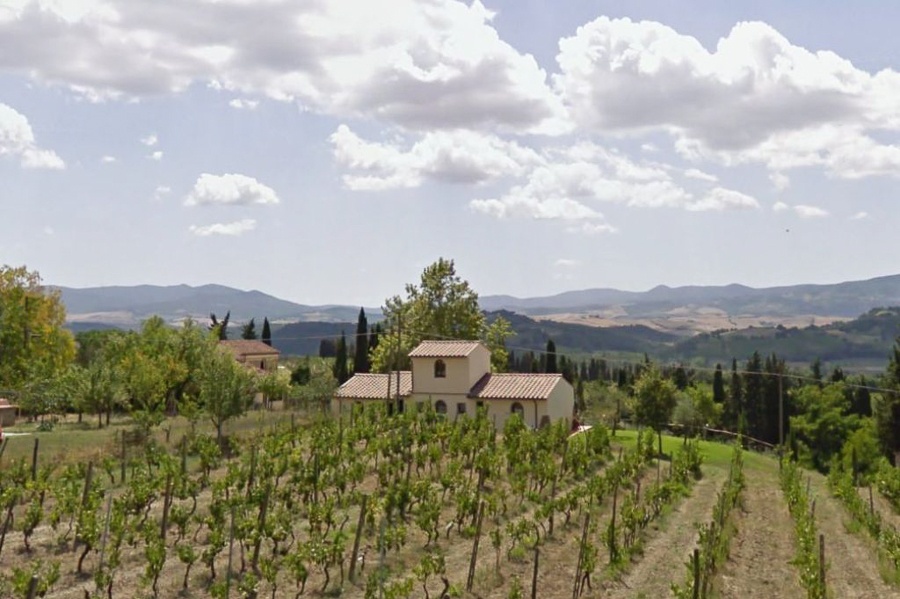 Paradise is found in this Tuscan treasure just an hour's drive from the cities of Pisa and Florence. The complex includes a three-floor main farmhouse, a country house for guests, and a wine cellar and vinification facility. A working vineyard of organic and biodynamic Chianti vines and a 300-tree olive grove make this the perfect property for a vintner and boutique olive oil producer. The three-story master residence features four bedrooms and living quarters including a reception room for hosting special events and entertaining private guests, as well as a 50-seat restaurant and professional kitchen. The commodious guesthouse is equipped with four bedrooms and a two-story apartment. Recently renovated interiors are outfitted in a rustic Italian style with terracotta tiling, exposed brick walls, and ceilings with wooden beams. A shaded patio area and inground pool offer respite from the plentiful Tuscan sun.
Sustainable Splendor
Sonoma County, California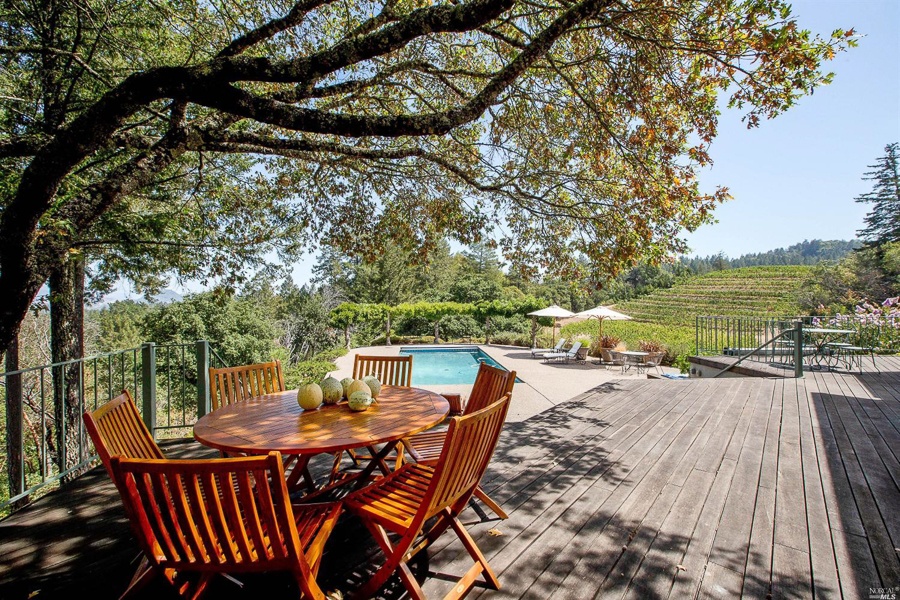 High in the golden hills of Sonoma County, this luxury estate boasts breathtaking views of Northern California's scenic natural landscape, which includes impressive sights such as Mount St. Helena, Geyser Peak, and Fitch Mountain. The expansive property is perfect for oenophiles with its private vineyard of premium organic and biodynamic vines as well as its on-site winemaking and tasting facility, which is solar powered by the abundant Northern California sunshine. The estate also looks out upon an 800-tree olive grove filled with native grasses and wildflowers. This Mediterranean-inspired residence's many amenities include four spacious bedrooms, a stately library with coffered ceilings, a skylit kitchen, and multiple fireplaces to curl up next to on chilly evenings. Outside, landscaped grounds and elegant stonework harmonize the property with its natural surroundings. Entertain outdoors on the huge patio and tiled terrace, perfect for sunset grilling. A pool, jacuzzi, and bocce court also provide numerous options for recreation and relaxation.
Mountain Valley Magic
Selma, Oregon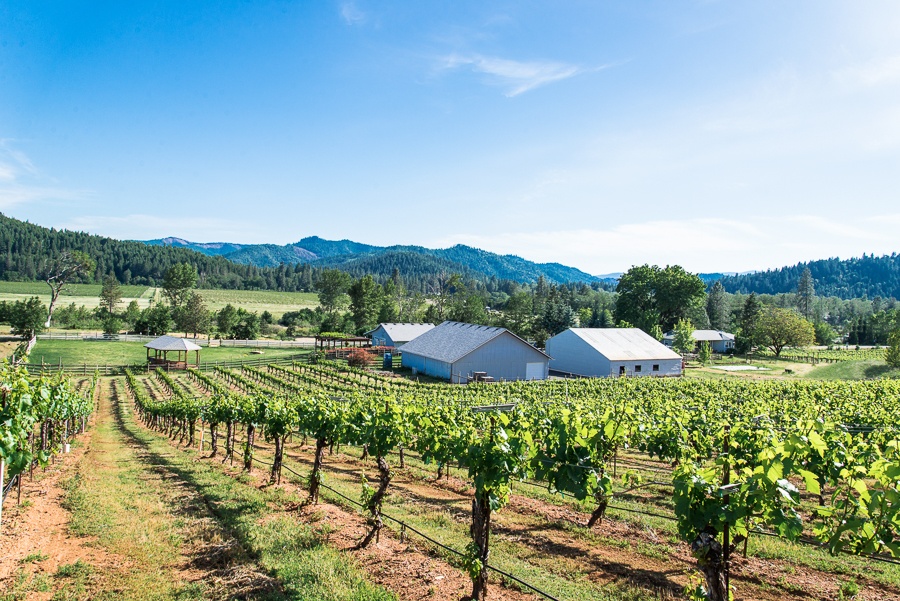 Mountain views in every direction, seven on-site springs featuring pure artesian water, and 40 acres of award-winning vineyards—what more could one ask for in this Southern Oregon estate? This luxury eco-winery has Deer Creek Vineyard's proven vines and a dedicated water source. The state-of-the art vinification and storage facilities, tasting room, and retail space are sure to impress and delight both serious vintners and wine lovers alike. Amenities include central air, biking and hiking trails, a crop-ready pasture, multiple garages, two residences, and sweeping views of the unspoiled Oregon countryside. Wines from Deer Creek are exceptional for their use of wild yeasts and minimal manipulation in keeping with venerable Old World winemaking traditions, and the numerous gold medals they have earned offer testament to their high quality.
Port of Call
Douro Valley, Portugal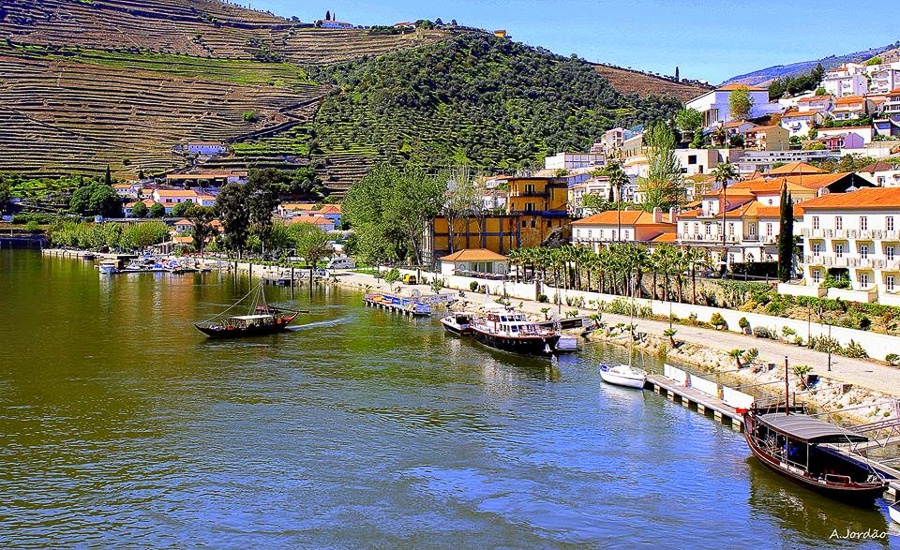 Portugal's Douro Valley region is as well known as the birthplace of Port as it is for its natural beauty. Here, terraced vineyards slope down the steep hillsides toward the Douro River, where wine was once ferried downstream by boat. Quality red and white wines have been produced here since the third century, and the region has earned UNESCO's distinction as a World Heritage Site. Winemaking remains an active part of the local culture and economy to this day. This six-plus-acre vineyard on the river's right bank is filled with A-graded vines (Douro's highest rating) and utilizes organic cultivation and vinification practices. Incredible views of the ancient hillsides expand as far as the eye can see.
Applegate Estate
Grant's Pass, Oregon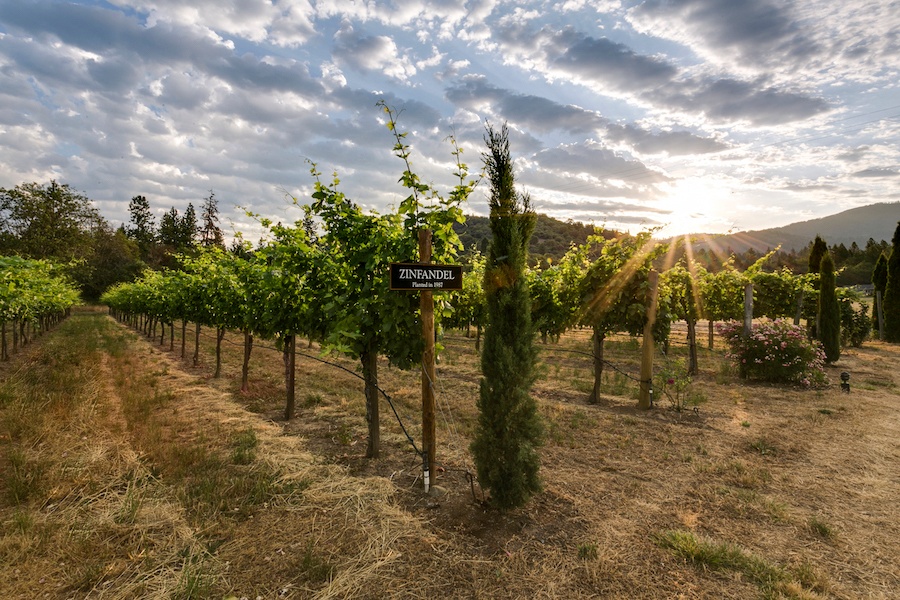 Located in southern Oregon's Applegate Valley AVA (American Viticultural Area) and one of just 10 wineries in the region, Troon Vineyard produces award-winning wines amid warmer and drier climate conditions than those experienced elsewhere in the state. Troon's 32 acres produce 10,000 to 12,000 cases annually, with sales increasing along with the reputation of Oregon's stellar wines. The hilltop tasting room offers sweeping views of the surrounding valley, and the traditional French chateau boasts numerous modern amenities such as a fully equipped kitchen for events and tastings, central air conditioning, and a four-car garage. The winemaking facilities are specialized for the production of small-batch, sustainable and organic wines with a deep connection to the land.