These superbly crafted items all deserve pride of place. A fish tank becomes a freshwater landscape. A beautifully crafted piano plays hundreds of tunes – all by itself. And 3D-printed "shells" turn water bottles into elegant vases. Read on to discover the pieces that promise to make every room in your home even more beautiful.
On a roll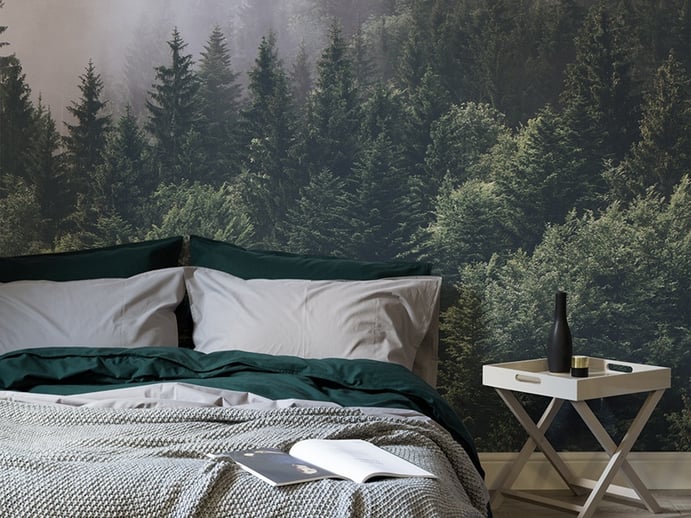 Traditionally, wallpaper has been block- or screen-printed, allowing for the beautiful repeat patterns our homes have loved. Modern digital technology, however, means we can now cover our walls in any image we choose – from portraits of our children to a favorite garden bloom. Murals Wallpaper allows you to upload your chosen photo, which it resizes to fit your wall (price on application). Or choose from its own range of images, all of which can be customized to your tastes – themes include Forest, Beach, and Graffiti, with most murals starting from $34 per square meter (approx. 10 sq ft).
Underwater love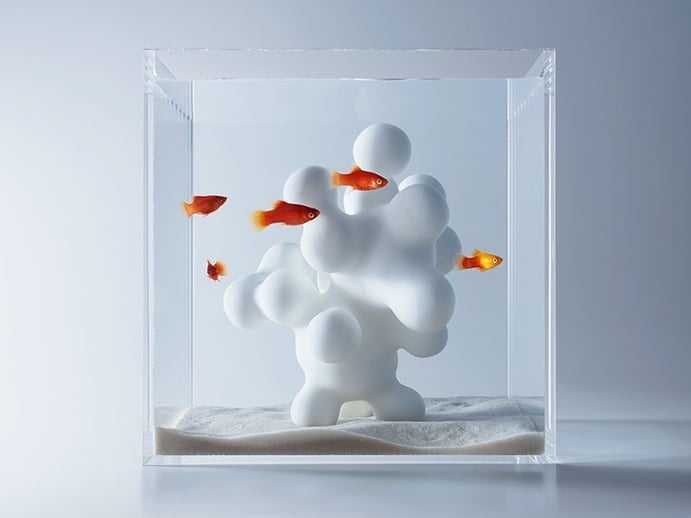 Long-term aficionado of aquascapes, or fresh-water landscapes, Japanese designer Haruka Misawa has created a series of artful homes for fish. "I placed aquatic plants in lab beakers and flasks before, and then placed them into a tank to create a dwelling place for the fish," Misawa says of the inspiration for the minimalist Waterscape prototypes, which feature 3D-printed sculptural elements, created in partnership with 3D designers Kennichi Hashimoto and Kosho Yamasaki.
In perfect harmony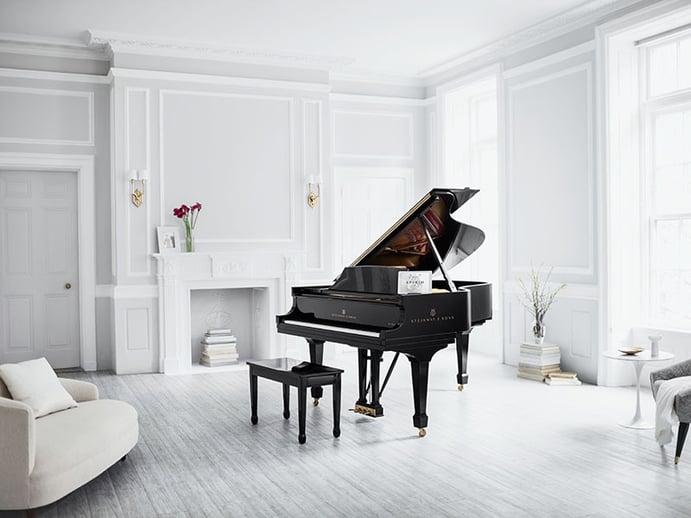 It takes 300 artisans around three years to create a Steinway & Sons grand piano. For most of us it would take considerably longer to master playing the instrument, so happily there is now a self-playing version. Described by Steinway as its "most significant product innovation in over 70 years," the Steinway Spirio piano system is operated via an iPad and comes with a repertoire of 1,700 works by artists as varied as Bach and Billy Joel, meaning you can just sit back and marvel as the keys of your piano move with perfect timing.
Price on application
The butterfly effect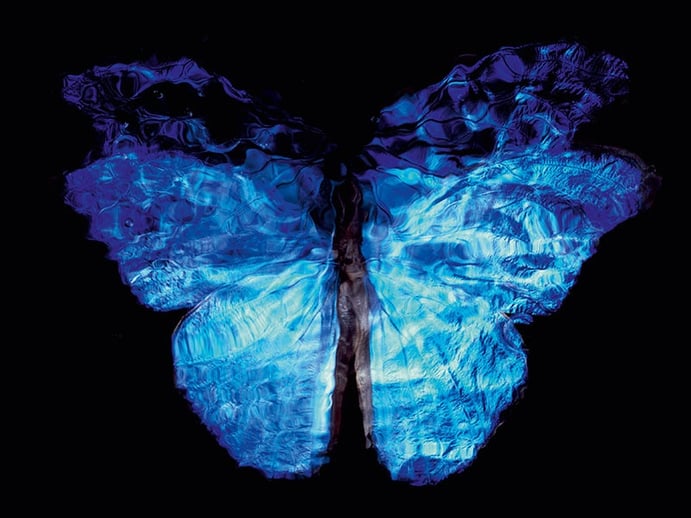 In 2010 Alexander James unveiled Swarm – artworks created using rare butterflies (which he bred and which lived to tell the tale). Transparency of a Dream continues the London-based artist's work with Lepidoptera, this time layering images of different generations of butterfly on top of each other to produce, in James's words, "a dream-like sensation of descendants dancing with one another; something in nature that never occurs." The inspiration for the series of 21 works came when James learned that his estranged father had died and been buried – for him the different generations of butterflies dancing together was an obvious choice for his next output. Each artwork is a unique print produced on large-format analog camera plates, with no post production.
Price on application
Time to reflect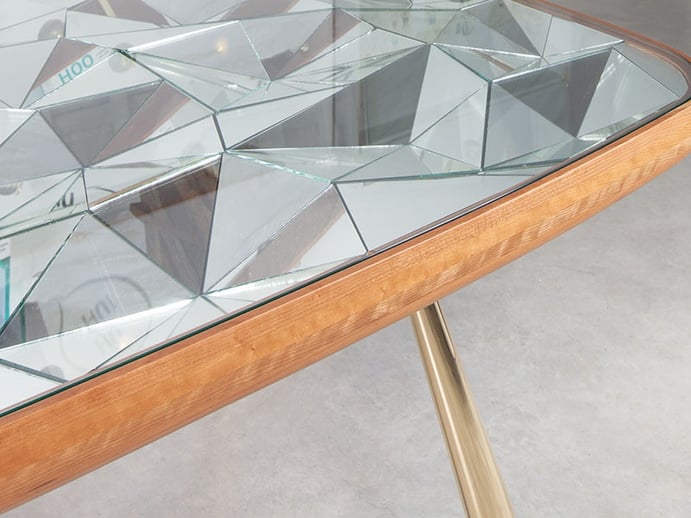 "I wanted to design a conference table that would spice up meetings," says André Teoman of his Kaleidoscope table. The Portuguese designer cites magicians as his inspiration for the eye-catching piece. "I love how magicians distort reality with mirror games, and always wanted to incorporate them into one of my pieces, so instead of taking bunnies out of a hat I decided to distort reality for everyone sitting at the table." In cherry wood, glass, and mirror, the table – a limited edition of eight – sits atop brass legs and is as much at home in a modern residential dining room as it is in a boardroom.
Kaleidoscope table, €19,000 ($21,280)
Life in 3D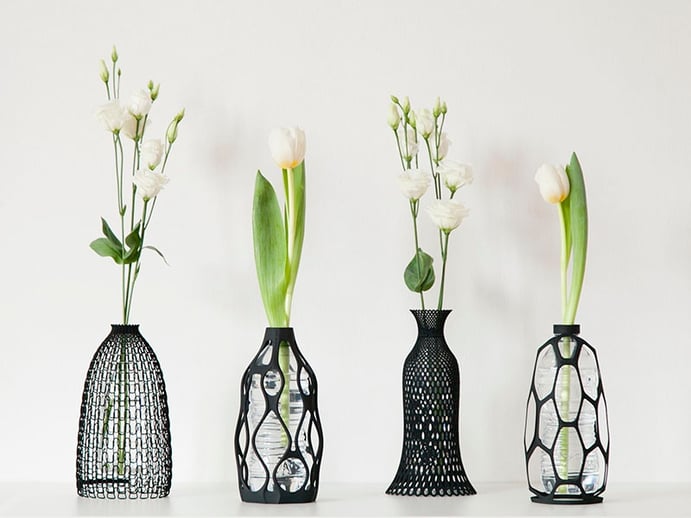 Libero Rutilo, designer at DesignLibero, has come up with a neat way of breathing new life into plastic bottles. His series of 3D-printed "shells" encase 0.5-liter PET water or soft-drink bottles, turning them into a vase (the mesh structure is screwed on to the bottle like a cap). There are four designs available, the crochet-inspired Knitted, the fluid Sinuous, classical Lace, and biomorphic-patterned Spider. The vases are available ready printed, or as an LEO digital file for you to print from home.
Stars in their eyes

Hot on the heels of their critically acclaimed Cangaço collection of furniture, inspired by nomadic outlaws, Brazilian design duo Humberto and Fernando Campana, of Estúdio Campana, have unveiled Estrela, a range of eye-catching outdoor tables and chairs. Produced for Brazilian company Artefacto, the collection, which features a recurring star motif, is inspired by nature. "When designing the pieces of furniture, we imagined a colony of sea stars all together," says Humberto – referring to the bolacha do mar, a relative of the starfish. The pieces are crafted from laser-cut metal that has been welded together to produce either a chair or a table.
Prices on application
Be golden

No matter how technology streamlines our lives and the way we furnish and decorate our homes, we will always need storage (in the real world as well as in the cloud). Design house Koket recently unveiled the Camilia Armoire to provide stylish storage for the modern bedroom, living space, or dining room. The mother-of-pearl-adorned cabinet, with two adjustable shelves and four drawers within, is inspired by the aristocratic palaces of the Alexandrian pashas of Egypt, and is crowned with a hand-carved peacock, finished in gold leaf. €17,370 ($19,454)