Revolutionary art is not new. From those who use their craft to call for political or social change to the artists who literally illustrate wars and battles, art has always had the power to challenge institutions and provoke opinion. To celebrate the anniversaries of the American and French revolutions, we present a mini "exhibition" of eight of the most influential contemporary artists and Old Masters.
Modern Leaders
1. Marina Abramović (b. 1946)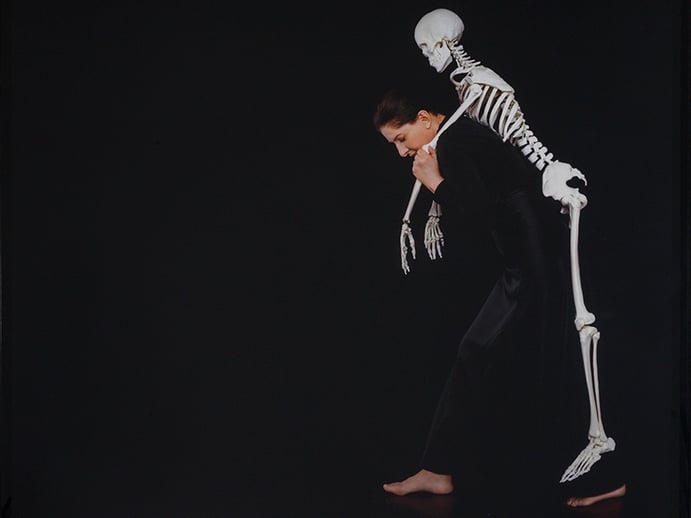 Serbian-born, New York-based multimedia artist Marina Abramović is known mostly for her provocative performance art, employing her body to show complex relationships between mental and physical states of being. Abramović famously revolutionized the distinction between viewer and artist with her 2010 MoMA performance retrospective The Artist Is Present, in which she invited thousands of museum visitors to engage with her personally in an individual silent exchange.
Shirin Neshat returned to Iran in the 1990s to find a shockingly different place bound by restrictions
2. Shirin Neshat (b. 1957)
Brought up by her father to accept Western values, Iranian-born Shirin Neshat left her birth country for Los Angeles just before the Iranian Revolution of 1978-79 and returned in the 1990s to find a shockingly different place bound by restrictions. Now living in New York, in what she calls "self-imposed exile," she produces works that are clearly influenced by her cross-cultural experiences. Her black and white photo series Women of Allah (,1993-97), annotated with lines of poetry, aims to tackle issues surrounding gender, politics, and the social issues faced by those living in contemporary Islamic society.
3. Kara Walker (b. 1969)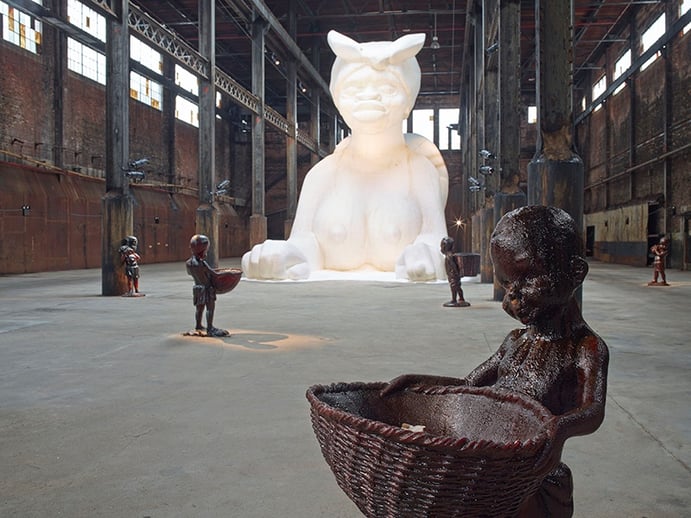 Kara Walker turned heads in New York when she installed a 75-foot-high sculpture inside the derelict Domino Sugar factory in Brooklyn. Made from polystyrene foam blocks coated in white sugar, the ghostly sphinx-like figure named A Subtlety represented a female slave and attracted over 130,000 visitors (including Jay Z and Beyoncé) to its two-month showing in 2014. Walker is also known for her cut-paper silhouettes depicting slave-trade storyboards, and her more recent work reflects research into both the white supremacist movement and gun culture in the US.
Fountain was banned from the Society of Independent Artists' inaugural exhibition after being deemed "indecent"
4. Marcel Duchamp (1887-1968)
Known as one of the most important works of the 20th century, Marcel Duchamp's Fountain (1917), a porcelain urinal, inscribed with the fabricated name "R.Mutt," was the subject of a disagreement between Duchamp and the Society of Independent Artists, an institution he had helped to form. Its board of directors banned the work from the society's inaugural exhibition, saying that it could not be considered a work of art, and furthermore was "indecent." Fountain represents the common struggle between artists and institutions that seek to censor their work, and is still relevant to audiences and artists today.
Old Masters
5. John Trumbull (1756-1843)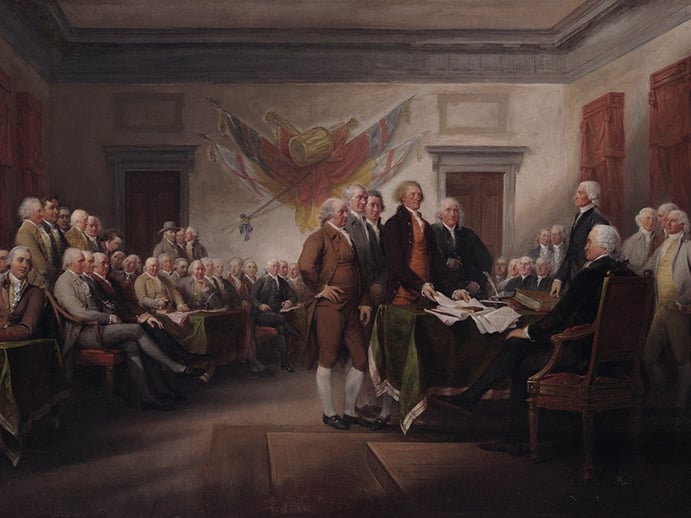 American painter John Trumbull is known for creating some of the most recognized works depicting the American Revolution. Declaration of Independence, part of a collection of four works commissioned by the US Congress in 1817, was famously used on the reverse of the two-dollar bill, and all four pieces were installed inside the US Capitol Rotunda. A former soldier in the American Revolutionary War, Trumbull went on to lead a somewhat chequered life, resigning from the army amid claims of an illicit relationship, imprisoned in England as a result of associations with a spy, and later clashing with students in his role as president of the American Academy of the Fine Arts in New York City.
6. Jacques-Louis David (1748-1825)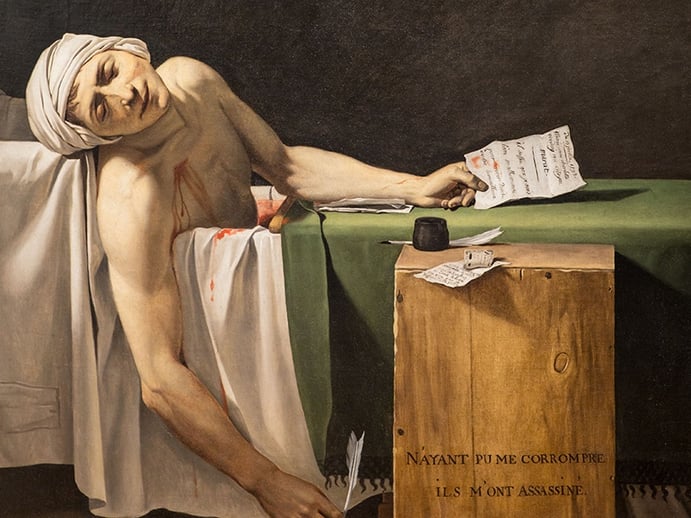 Prior to the storming of the Bastille, French painter Jacques-Louis David was known for his whimsical depictions of revolt in Roman Italy. After the revolution he became a part of the new parliament that voted for the execution of the French king, and was commissioned to paint his now-famous portrait of his friend Jean-Paul Marat, who was killed in his bathtub. Post revolution David became Napoleon Bonaparte's official painter.
7. Édouard Manet (1832-1883)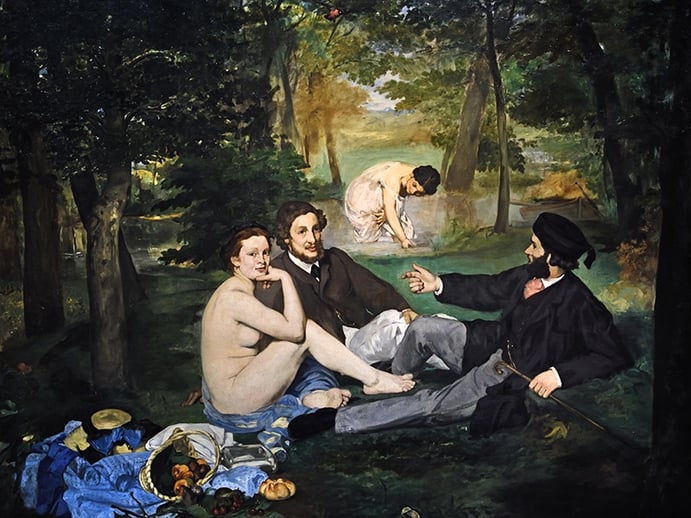 Considered one of the original Impressionists, although arguably he had his roots in Realism and Naturalism too, Édouard Manet was brought up in a bourgeois family but famously embraced a more bohemian lifestyle. His paintings depicted life in 19th-century Paris as he saw it, in stark contrast to his contemporaries. One of his most referenced works, Déjeuner sur l'Herbe (1863), caused great drama – not because of the nude figure fixing her gaze at the viewer, as nudity was seen as a classical reference at the time – but because it portrayed what some believed were models or prostitutes having lunch with bourgeois men. The painting was rejected by the official French academy.
8. Jean-Pierre Houël (1735-1813)
The Bastille was much more than a medieval fortress and prison; it represented royal authority in Paris, and the storming of it on the morning of July 14, 1789, marked the commencement of the French Revolution. Perhaps the most famous of all the works depicting this period – and indeed created contemporaneously – is The Storming of the Bastille, 1789, a murky but delicately rendered watercolor by French artist Jean-Pierre Houël. Not only was Houël taking a risk when he unveiled his work later that same year in Paris, but the piece was tonally out of character for the painter, who had previously concentrated on landscapes and animals, in the style of the early Dutch and Flemish artists. His use of color in the work, particularly the subtly patriotic red, white, and blue, inspired similar output from Eugène Delacroix in his Liberty Leading the People, which depicts France's July Revolution of 1830.