From Tudor manor to vintage diner to Scandi villa, the modern-day Wendy house, or playhouse, displays all manner of architectural ingenuity and stacks of replica detail. The origin of the word, in fact of the very name Wendy – the character of Peter Pan's companion in JM Barrie's children's classic – said: "I wish I had a darling house, The littlest ever seen. With funny little red walls, And roof of mossy green." It's a sentiment still shared by many – and the choice of Wendy houses available today is staggering.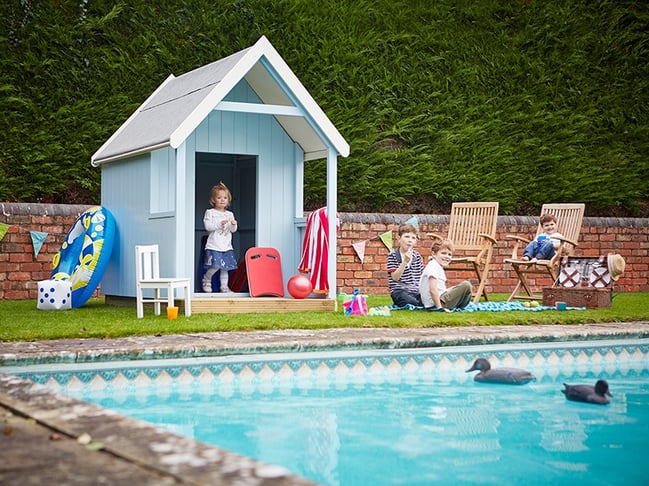 While tastes may change, the role of the playhouse endures – despite today's manifold digital distractions. In the early 20th century, when Wendy houses became more common, children had very little freedom. Nanny ruled the roost and little ones seldom left the nursery. Escape to the playhouse meant a chance for children to establish their own youthful rules, to create a space to express themselves and let their imaginations soar.
Today's children have endless freedom in so many ways, but they still need a den from which to explore the world in their own terms
The playhouse was a place of safety, and for shared storytelling and adventure. And while today's children have endless freedom in so many other ways, they still need a den from which to explore the world on their own terms, and to take their first tentative steps towards a more grown-up reality. In the UK, 80 years ago, young Princess Elizabeth and her little sister Margaret knew that feeling better than most…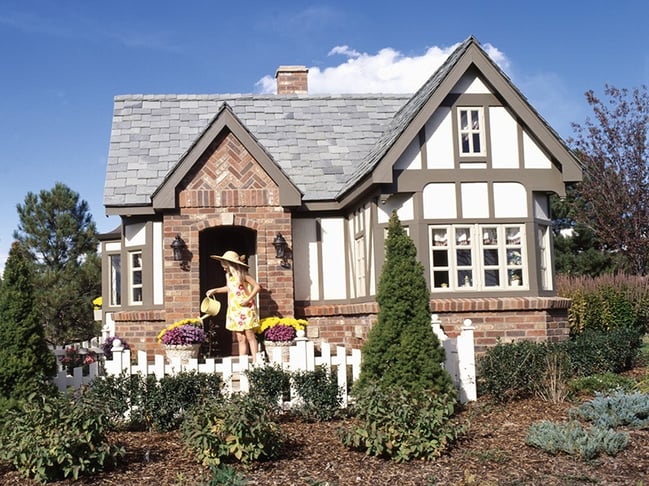 Britain's current monarch had one of the most famous playhouses of all: Y Bwthyn Bach, or The Little House, which was presented to the royal children by the people of Wales in 1932. It was installed at Windsor Castle and remains there to this day. Little princess "Lilibet" was, by all accounts, an excellent housekeeper, and kept the tiny thatched cottage as neat as a pin. All these years later, the playhouse has been refurbished and continues to charm subsequent generations of royal children. Perhaps her great-grandchildren, Prince George and Princess Charlotte, will soon play house there, too?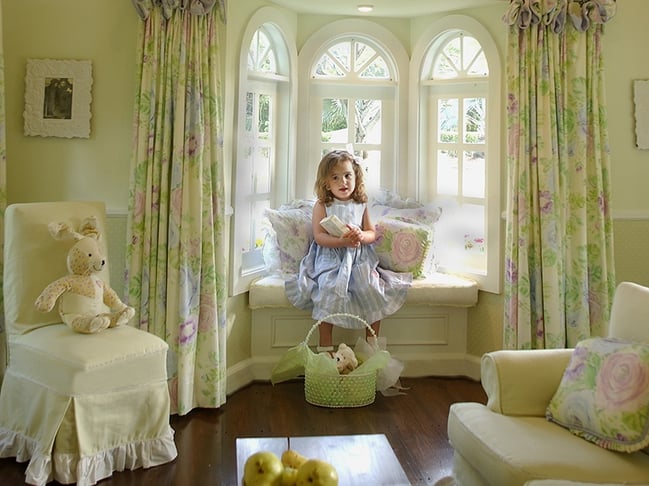 Whether by royal appointment or otherwise, the very best playhouses are now steeped in luxury and imaginative detail. South Carolina-based La Petite Maison, for example, crafts 21st-century playhouses that typically boast fully furnished interiors with specially made drapes and carpets, and even electricity and running water. Prices range from around US$9,000 to upwards of US$75,000, and every design is hand-finished.
"Our custom-made playhouses can be fitted with almost anything, as long as it's safe," says company founder and interior designer Michelle Pollak. "We include replica kitchens, libraries and media rooms, faux fireplaces, and climate control; we can even add a fridge, and wire the house with Wi-Fi and security cameras."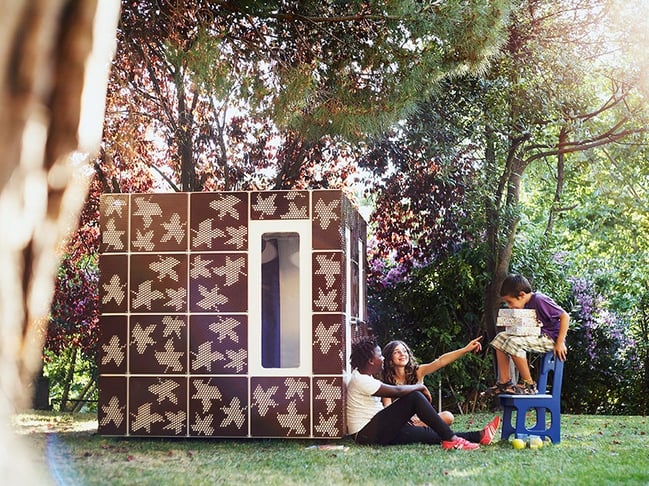 Pollak and her colleague, Alan Mowrer, can and do accommodate virtually any request – they have even built an earthquake-proof playhouse on a clifftop, with a view overlooking the Hollywood Hills, a commission for a certain hotshot film producer. Another client held a playhouse "opening ceremony" and then spent most of the party inside the structure themselves. "When it was unveiled, the kids were all lined up waiting to go inside – but the adult guests wouldn't leave!" laughs Pollak.
Of course, she understands the impulse in play, literally, there; it lies at the heart of what she and Mowrer, and all the others do. "Childhood is such a simple time; there are no adult decisions to be made," she says. "When you're back in the playhouse, it's a total escape from the stresses of adult life – even if it's only for an hour."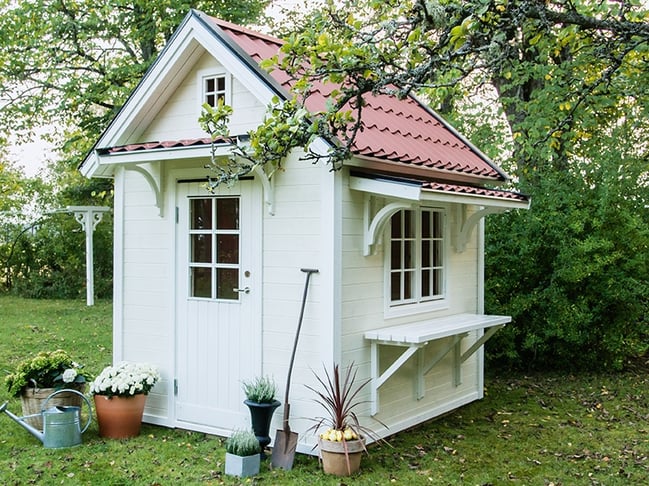 In Sweden, manufacturer Lektema makes very deliberate efforts to ensure that its playhouses are just as beautiful as a real-life family home. Company founder Tobias Francis became a playhouse-maker by accident, when he searched in vain for an architecturally authentic model for his own daughters. One glorious Scandi-style design and an Instagram post later, and he was open for business.
While playhouses are the perfect places for children to leave behind the thrills of the iPad or Xbox, it's the adults who conceive them…
"It's important to get the proportions right, and to make sure the design and the architecture are balanced," says Francis. "I don't treat it as a playhouse – I design it as a scaled-down version of a full-size Swedish house. They're built just like a real house, so they can potentially last forever." Next, Lektema plans to extend its range by adding designs based on mid-century modern architecture, from the 1960s.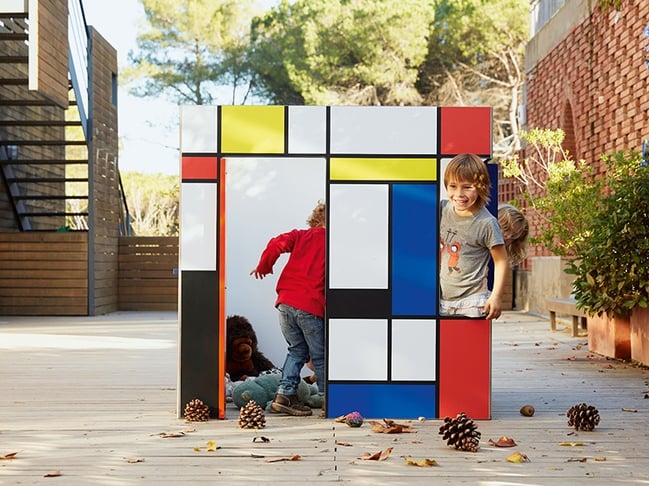 Modernist design has been the dominant aesthetic at SmartPlayhouse since it was founded, in 2010, by Barcelona-based architect David Lamolla Kristiansen. Popular designs include the Nordic-style two-room Hobbiken Twin, and the light-filled Illinois Maxi, notable for its walls of windows and private terrace. Anything a 'real' house can have, a Wendy house can, too.
At The Playhouse Company in the UK, an outdoor swing seat is a favorite addition, as are multilevel platforms for kids to scramble around on, jumping as high as their imagination will take them. However, marketing executive Jessica Pritchard is adamant that the playhouse should remain a tech-free zone. "We think this is a really important part of why children and parents love them so much," she explains.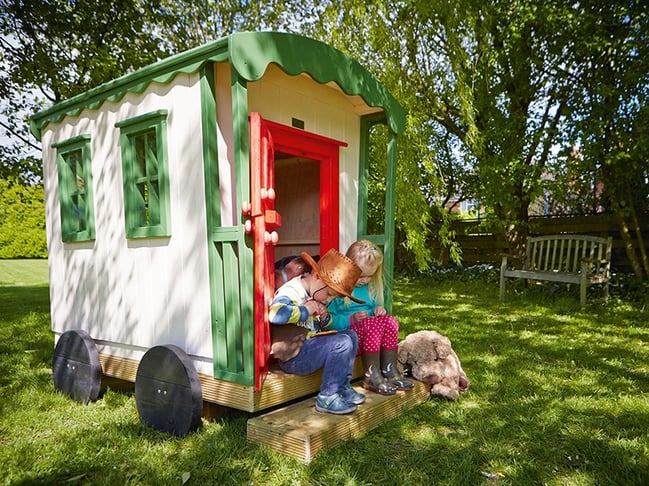 And that's it in a nutshell. While playhouses are the perfect places for children to leave behind the neon thrills of the iPad or Xbox, it's the adults who conceive them; it is they who send the photographs, the wish lists, and the dreamy, hand-drawn doodles to designers such as Pollak and Francis. By carefully commissioning a unique playhouse for their little ones, these parents are recapturing their own childhood – and creating the perfect happy ending.