Visualization is the interior designer's ultimate talent. The ability to imagine color, line, form, and proportion for living spaces, and harmonize these themes with a client's tastes, lifestyle, and objets d'art is a uniquely creative achievement.
Luxury Defined chose Chicago-based Bruce Fox to begin its Perfect Pairings series on contemporary interior designers' visualizations of Christie's art and furniture in fine homes. We selected a luxurious contemporary residence in one of Chicago's premier residential buildings as a canvas for Fox to present his virtual interior design consultation.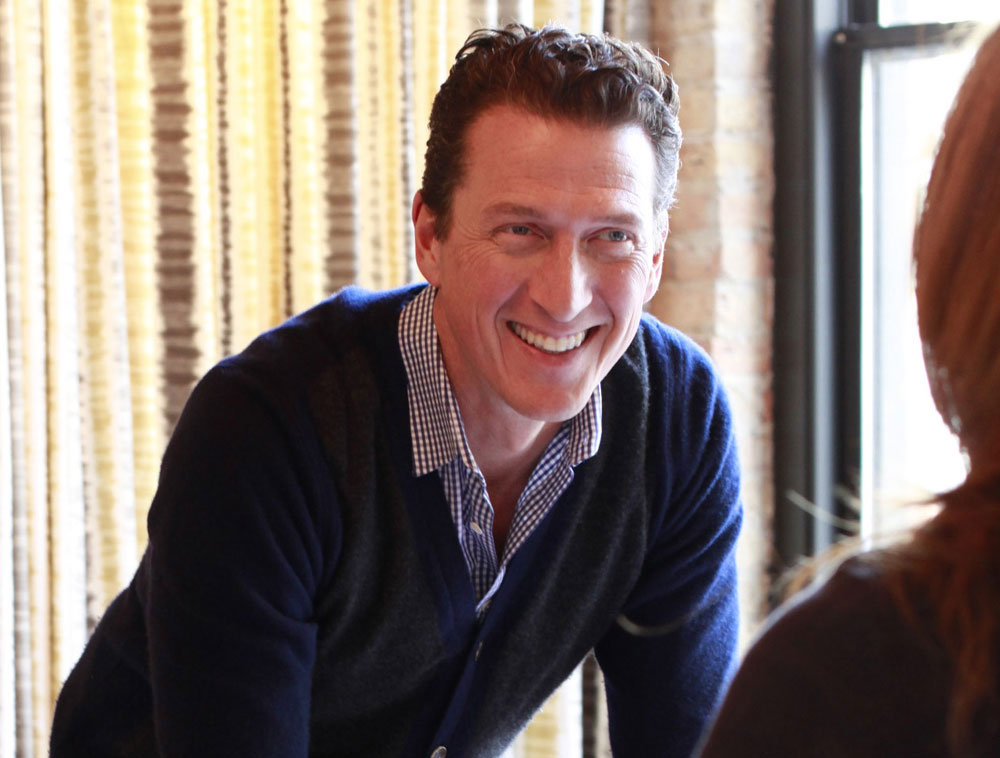 The 'Perfect Pairings' Digital Design Project
---
Designer: Bruce Fox of Bruce Fox Design
Showroom Residence: Two-level, 5,000 square-foot, renovated maisonette
Location: Lake Shore Drive, Chicago
Design Challenge: Create living room design additions that complement both the apartment's original pre-war building shell and the more recent Japanese-inspired interior
Available Design Tools: Sculpture, artworks, and furnishings from Christie's sales
To create his interior design compositions, Fox selected art, sculpture and furniture that would enliven the room with texture, color and forms and create a sophisticated dialog with the apartment's contrasting architectural elements. He created two vignettes for the living room, selecting items from two Christie's sales: Interiors: Including the Ski sale and the upcoming sale of Courageous Spirits: Outsider and Vernacular Art.
Vignette 1: The Living Room West Wall
"This wall of Japanese-inspired architectural elements presents an excellent opportunity to display art and sculpture," says Fox of his first interior design composition for the recently renovated apartment. "For example, Bill Traylor's simple, graphic images and the Ottoman carved turban sculpture feel both modern and ancient at the same time in the simplicity of their abstract forms; the linear carved textures in the Diving Woman and Lion sculptures resonate with the repetition of vertical elements in The White House."
The patina, imperfections, and unschooled individuality of the selected outsider and vernacular art and sculpture resonate with aspects of the Japanese aesthetic of wabi-sabi, an aesthetic that inspires much of Fox's work. For this elegantly composed vignette, Fox recommends:
PAIRING #1:
Jimmy Lee Sudduth's The White House hung above the upholstered bench
Fox's Tip: "Add teal blue throw pillows to the bench for added color"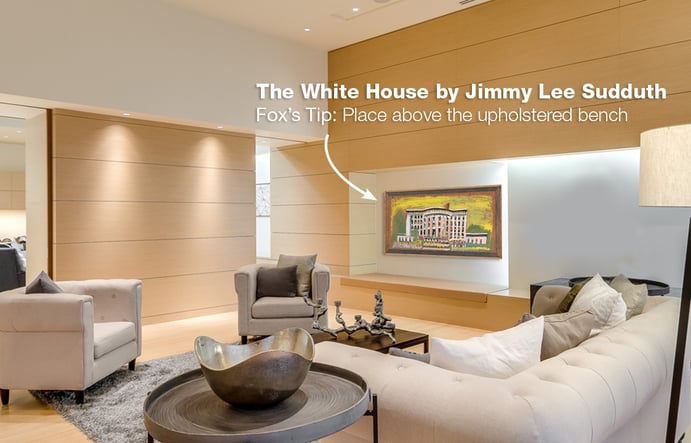 PAIRING #2:
Three Bill Traylor paintings (Brown Dog Charging, Man with Red Shirt, Brown Horse) hung in a horizontal row above the stone
Fox's Tip: "Hang all paintings in 18" x 24" black frames"

PAIRING #3:
Composition of four sculptures to be set on the stone featuring Lion, Diving Woman, An Ottoman Carved Marble Turban, and Spirit Man
Fox's Tip: "Place this partially under the Traylor arrangement, with the lion facing left. The composition of the three smaller pieces will sit beside 'Lion' and the 'Spirit Man' will serve as a strong vertical to anchor the corner."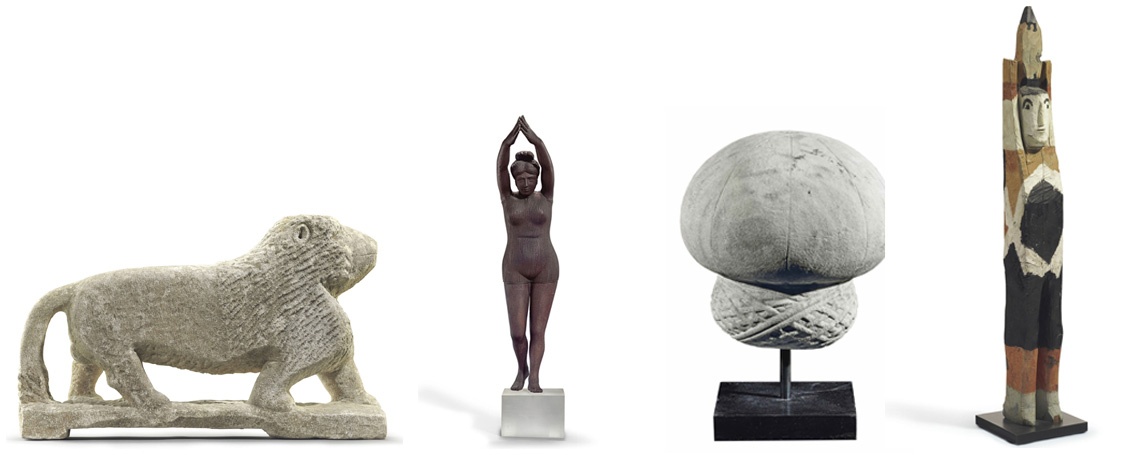 Vignette 2: The Living Room South Wall
Here, Fox paired an Italian Lacca Povera Polychrome Bureau Cabinet with a pair of Louis XVI fauteuils, creating a vignette of great sculptural and figurative interest.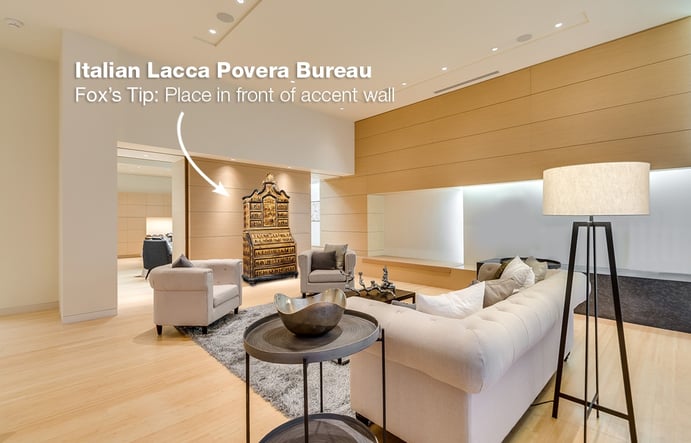 "The warm wood and strong black moldings complement the apartment's Japanese-inspired wall elements while the curvilinear shapes, gilding and decorative elements reference the apartment building's original European-inspired pre-war architecture as evidenced in the opposing wall's tall arched windows," he notes about this second interior design composition.
"In yet another subtle interplay of references, the découpage technique of Arte Povera ("poor man's lacquer") was created to mimic expensive Chinese lacquer work, thus relating to the wonderful ingenuity shown by outsider artists in their use of inexpensive, re-purposed materials such as discarded cards, boards and scraps of wood."
Design Insights with Bruce Fox
How do you help clients select art?
"Every client's approach to collecting is specific to them and their home. In a project recently published in Architectural Digest, the client's trusted art consultant was heavily involved with the selection process, so we were most helpful in the very important process of placing the art. We accomplish this by photo shopping artwork into interior elevations and later into photos so that the important collection could be seen as it would look in situ. This process of placement is especially important while designing and building a home that will house a growing collection."
Placing art is an art unto itself, and I always enjoy the curatorial process.
"While working with a Midwestern client's multi-building family compound, we initially collaborated with a trusted gallerist who helped us put together the initial concept of what the collection would be. Once established, my clients felt confident knowing what would be logical and beautiful for the property, freeing them to purchase at auction and expand their collection."
Why is art important to the overall design of a room?
"From a purely decorative perspective, art can enliven a space by adding great color, pattern, or textural contrast. Placing art is an art unto itself, and I always enjoy the curatorial process. Whether clients are serious collectors or first-time buyers, I encourage my clients to buy art that speaks to them, art they are drawn to even if they can't express why. By doing this clients' individual personalities shine through, giving their homes a very personal touch. I love that."
Bruce Fox, founder of Bruce Fox Design, is the lead designer on the firm's residential design projects, ranging from multi-dwelling country estates and second homes to primary city and suburban residences. His work has been featured in Architectural Digest and Luxe, was included in the 2016 and 2017 Luxe Gold List, and received the Acanthus Award for Excellence in Classical and Vernacular Design from the Institute of Classical Architecture & Art (ICAA), Chicago-Midwest Chapter.