Choosing to include period furniture and objets in a modern home opens the door to endless possibilities for creating a unique interior design scheme. Christie's decorative arts and furniture specialist Shari Kashani shares her expert view on successfully mixing old and new. "We hold an eclectic mix of sales throughout the year, which include our Interiors offering in London and Living with Art sales in New York, all of which have been specifically conceived for clients who want to mix period pieces with a more contemporary look," she says. "One of the many pleasures in putting together a sale is discussing with clients the astonishing range of ways a particular piece can fit into their home."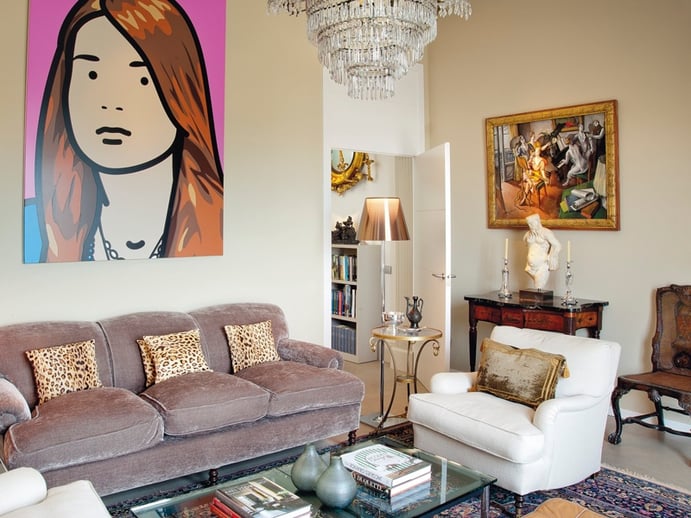 What should buyers consider when purchasing period furniture at auction?
There are a few principal considerations I would suggest for buying wisely. Condition is very important and a buyer should inquire if and how a piece has been restored, or if it will require repair. An insensitive restoration could detract from the beauty of a piece, and period furniture should show signs of its age and life. For example, original leather will often acquire a lovely worn patina, which only enhances its aura.
Other practical considerations include how the piece will be used, and how it might respond to other items sharing the same space. Vibrant materials and timbers can lend a rich color to a simpler interior and provide an ideal frame for seats reupholstered in fabric with bold, contemporary designs.

If the room you're decorating is in a contemporary apartment rather than an 18th-century residence, look out for pieces that will provide flexibility and serve multiple functions. When selecting dining furniture, for instance, consider an extending dining table with removal leaves and minimal pedestals, or a side chair without arms, which can slip neatly beneath a tabletop.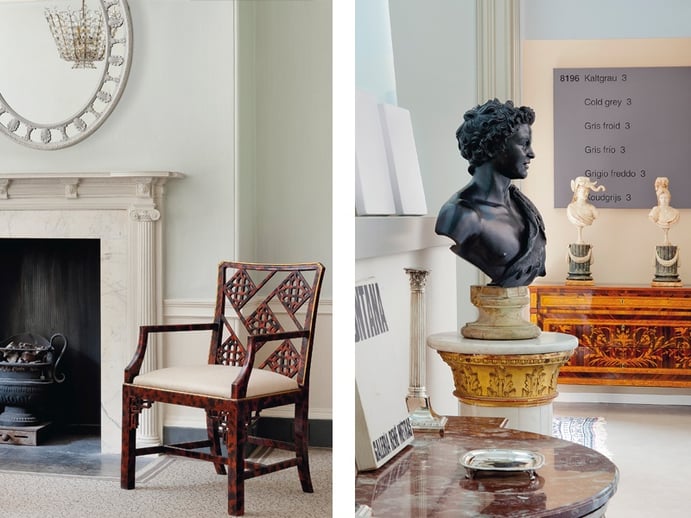 How can accessories be used to best effect?
Mirrors are perfect for opening up an interior and creating the illusion of space, reflecting light and giving an impression of depth. When hanging a mirror, consider what will be directly opposite – it can be interesting to use the reflection to highlight a facing artwork, architectural details, or even the landscape outside a window.
Mobile and practical, clocks are an ideal way of incorporating traditional decorative arts into a contemporary interior. With their strong architectural details, clocks can serve as works of art in their own right. Auction houses cannot always guarantee their working order, so it is always advisable to have the movement checked and serviced by a professional restorer.

And lighting?
If you're keen to make a dramatic statement while taking up minimal space, consider chandeliers, candelabra, lanterns, and other statement lights. Pieces incorporating crystal and cut glass refract and disperse light to atmospheric effect, while a pair of porcelain vases, repurposed and mounted as lamps, can make a sculptural statement. Placed in an entrance hall, a grand chandelier can set the tone for the rest of a home. For lighting, we also recommend that although a work may be described as fitted for electricity, a qualified electrician should install and test any wiring prior to use.
What's your advice for adding instant character to a room?
Incredibly versatile in their use, textiles can provide an excellent means of injecting luxury into an interior, and are often the ideal complement to a minimalist setting. A silk damask tablecloth, a tapestry panel, or a carpet can bring pattern and texture to any area. Screens are another excellent way of transforming and reviving an interior. Pleasingly portable, those incorporating silk or leather can serve as a creative alternative to wallpaper or conventional paintings. Screens become a lively accent when displayed flat against a wall, and can also be used to define and break up spaces within larger rooms or open-plan spaces.
Is there anything else buyers should consider?
Storage furniture is often overlooked because of its utilitarian nature, but provides a great opportunity to add character and an accent of color to any space. Cupboards, commodes, bureau cabinets, and secretaires are multipurpose objects that can serve as statement furniture while providing convenient storage for anything from linen to barware and china. Pairs of cabinets are particularly useful to anchor other pieces within a room, and small models are ideal as bedside tables. Or consider a single larger item, which can create a focal point, and draw attention to a specific section of a room.