It is no longer enough merely to see the world. Today's discerning travelers want to improve the places they visit, and ensure that local communities are helped, not harmed, by their presence. Fortunately a new generation of luxury hoteliers is offering them the chance to do just that. Welcome to the era of the "tread lightly" vacation.
Tri, Sri Lanka
Tri was a long time coming. Visionary British owner Robert Drummond found the site on which the resort sits 10 years ago, enlisting award-winning architect Raefer Wallis of A00 Architecture to create a retreat that would nestle into its surroundings on the shores of Lake Koggala on Sri Lanka's south coast.
The resort, which Drummond runs with his yoga teacher wife Lara, encompasses 11 suites, three with private pools – all with furniture crafted from recycled local jak wood and a 69-foot cantilevered pool – and a "Wellness Well" featuring tree-top yogashala, treatment rooms, steam rooms, and more. "The combination of yoga, nurturing treatments, a library full of books, and all sorts of novel ways of engaging with Sri Lankan culture and environment through local and visiting experts means Tri not only calms the mind and nourishes the body, but also stimulates the intellect and lifts the spirit," says Lara, who also teaches Quantum yoga at Tri.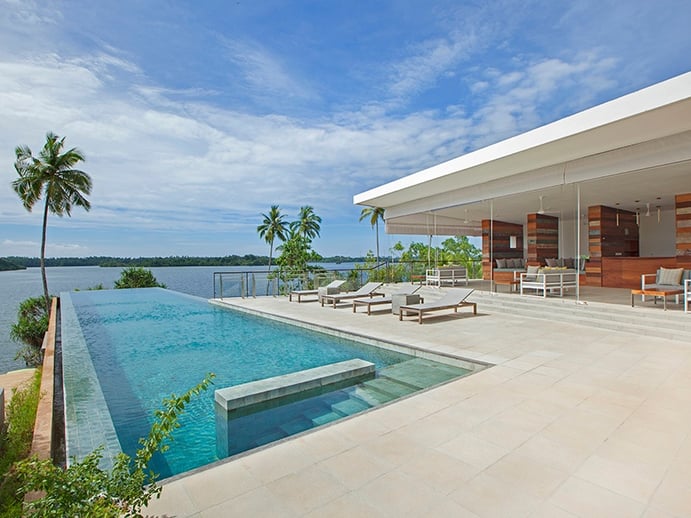 Tri's green credentials are manifold: its buildings – which are configured in a spiral in natural folds between trees – have natural, living roofs; grounds and "edible" gardens are watered by harvested rainwater and nourished by natural fertilizer; Robert and Lara are working closely with a local green consultancy to reduce the resort's carbon footprint year on year, opting for solar PVs and arrays to harvest power; and Tri's electric boat ensures silent, sensitive trips across the lake. Tri is also committed to reversing habitat degradation and increasing flora and fauna diversity by planting indigenous trees and bushes.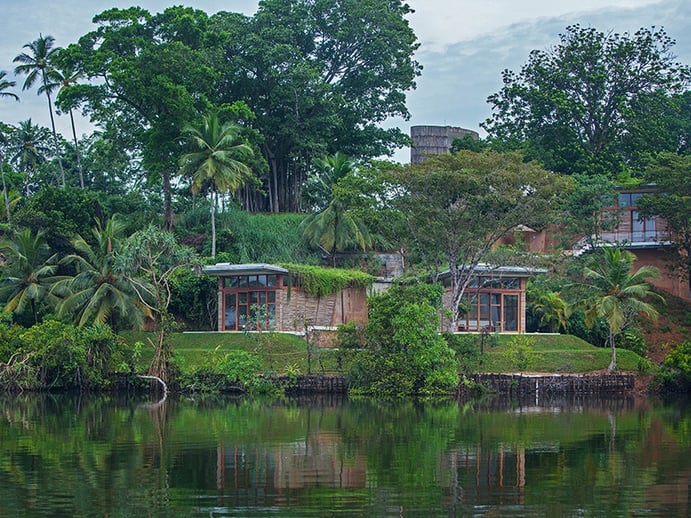 Hotel Icon, Hong Kong
Can good intentions be matched by good looks? Indeed they can, if Hong Kong's Hotel Icon is anything to go by, with its whip-smart mix of chic, streamlined rooms and show-stopping public spaces – star of which is its vertical garden, complete with 8,600 plants. There is the profusion of Hong Kong art and books on display, too, notably in the Terence Conran-designed 28/F Club. (Conran also did the hotel's Market restaurant, a witty take on traditional Hong Kong food markets.)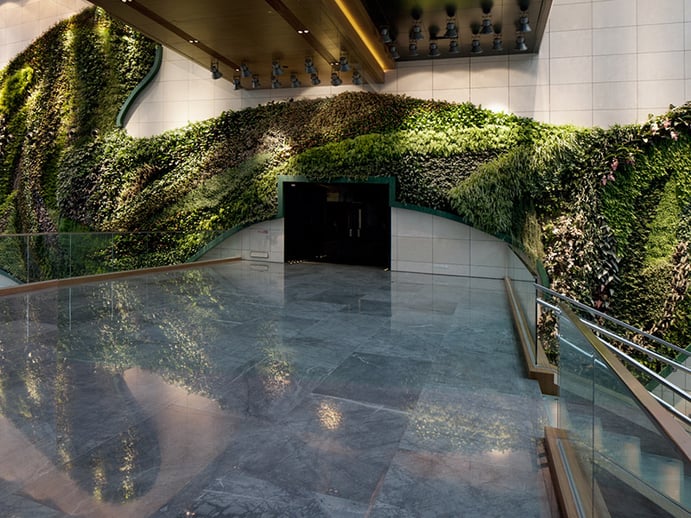 The Icon is a remarkable, multifaceted project – a collaboration between local and foreign architect-designers, owned and run by the Hong Kong Polytechnic University, and staffed by students from the university's School of Hotel and Tourism Management. Icon calls itself "the world's first teaching and research hotel."
The hotel's commitment to the green cause is visible in many ways, from its fleet of electric cars to paperless check-in and the eco-friendly tote bags that guests are given on arrival, obviating any need to accumulate endless plastic bags while taking advantage of the city's famously good shopping.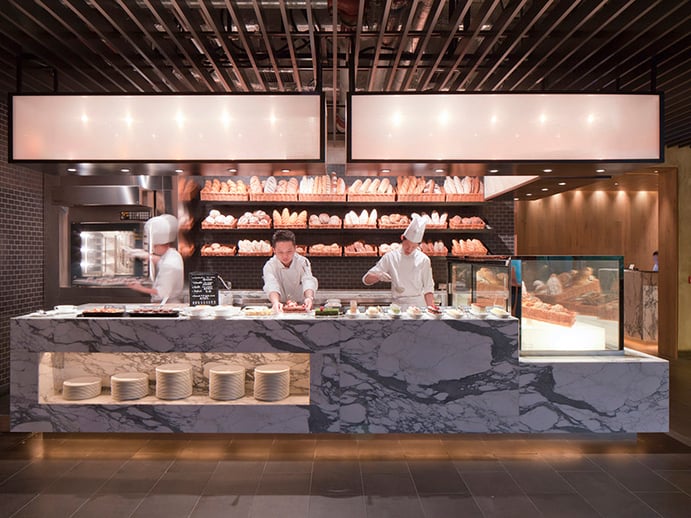 The Saxon Collection, South Africa
The three properties that make up this collection promise visitors a unique journey of discovery and exploration of Africa. The award-winning Saxon Hotel, Villas and Spa, in the leafy suburb of Sandhurst, Johannesburg, is the ideal place in which to decompress before making for Zulu Camp, at the Shambala Private Game Reserve.
The camp's thatched chalets are built in traditional Zulu style and are the perfect base from which to explore and experience nature at its best: sundowner cruises, guided bush walks, game drives, and bush picnics are all on offer. But there's more to the reserve than R&R. An elephant volunteer program offers guests a chance to get up close to these beautiful beasts and learn about their complex family life. The reserve is also involved in wildlife conservation and runs an anti-rhino-poaching program: "Our main objective is to maintain the most favorable natural conditions for the wildlife to thrive," says Shambala's Adam Beadon.
Star of the show, however, is The Nelson Mandela Centre for Reconciliation – a retreat in the middle of a vast private wilderness a couple of hours north of Johannesburg. Here guests can stay in the house built for Mandela by his friend, businessman Douw Steyn. In 2015, the house was opened to the public for the first time for single-group bookings (it sleeps 12).
At Mandela's request, the house is understated but showcases traditional South African motifs throughout, such as the iguana – a symbol of good fortune – on the thatched roof, alongside wood carvings by master craftsman Matsemela Ike Nkoana.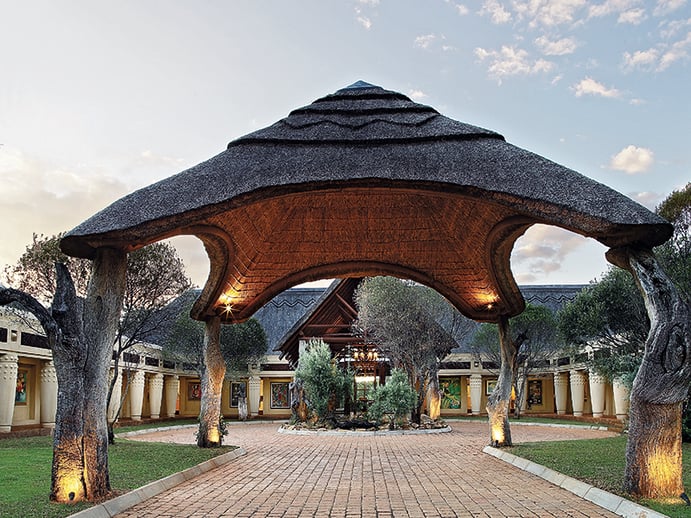 Song Saa, Cambodia
If you like the idea of monitoring the health of coral reefs and turtle populations, you will love the resort Rory and Melita Hunter have created in Cambodia – which they discovered en route from Australia to the US, where Rory was about to start a new job at an ad agency. "We completely fell in love with the country, and quickly realized that there were some amazing development opportunities. So Rory resigned and we started our mission to find something special to create," says Melita.
That something special would become Song Saa (the name means The Sweethearts), which is spread across two private islands in the Gulf of Thailand, and features luxe accommodation, a spa, and yoga center.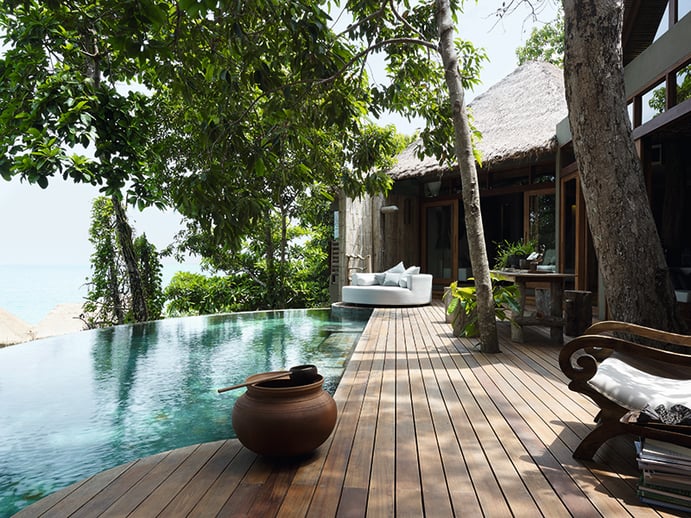 The design, for which Melita is responsible, is based on the colors, textures, and materials of Cambodian fishing villages. Driftwood, scrap metal, and disused fishing boats have been incorporated – around 80 percent of the materials are recycled. "We made a huge effort to use local and sustainable materials," says Melita, who with Rory created The Song Saa Foundation in order to help protect the people, land, and water of the archipelago.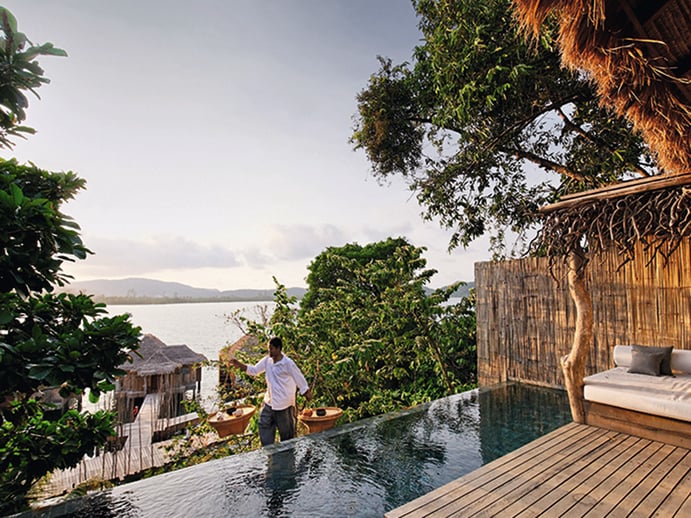 Saffire Freycinet, Australia
Seen from a distance, Tasmania's Saffire Freycinet looks like a cross between a stingray and a spaceship. Inside, it's all sleek curved cathedral lines framing a view across Coles Bay to The Hazards, a cluster of pink-granite mountains opposite the bay.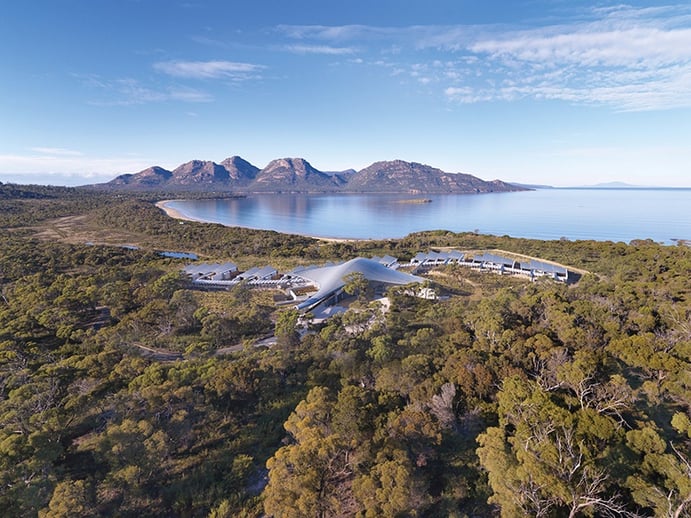 The original intention was to build something bigger, but on reflection Saffire's owners, the family-run Federal Group, plumped for a smaller, more intimate resort of just 20 suites. The location was scarred from previous use as a caravan park, so the project became as much about restoring an existing site as creating a new one.
Hiking, wine tasting, and whale and dolphin spotting are on offer here, along with foraging in the National Park with chef Hugh Whitehouse. Also popular is a trip across the bay to Schouten Island on Saffire's purpose-built 39-foot RIB, equipped with an underwater camera that reveals kelp forests, seals, lobsters, and sharks.
Lapa Rios, Costa Rica
In December 1990, John Lewis, a lawyer from Minnesota, called his wife Karen, a classical musician, to announce that he had just spent their life savings on 1,000 acres of rainforest on Costa Rica's remote Osa Peninsula. Those acres are now Lapa Rios, a pioneering eco lodge, comprising 17 unfussy but elegant treehouse-like cabins laced across a ridge about 328 feet above sea level. Guests here can swim with bottlenose dolphins, collect data on jungle cats, or assist with a sea turtle breeding program.
And thanks to John and Karen's community links, the rainforest and its inhabitants continue to thrive: "People who were once hunters became nature guides, and students of the primary school that Lapa Rios built became staff members," says Karen proudly.