Dreaming of summer weather? Missing green grass and flowers in full bloom? Winter's not quite over for many of us, but there is an escape. We've rounded up seven of the most gorgeous greenhouses around the world, all architecturally significant and horticulturally impressive. Let the exotic plants and tropical temperatures within whisk you away.
1. New York Botanical Garden
New York City, New York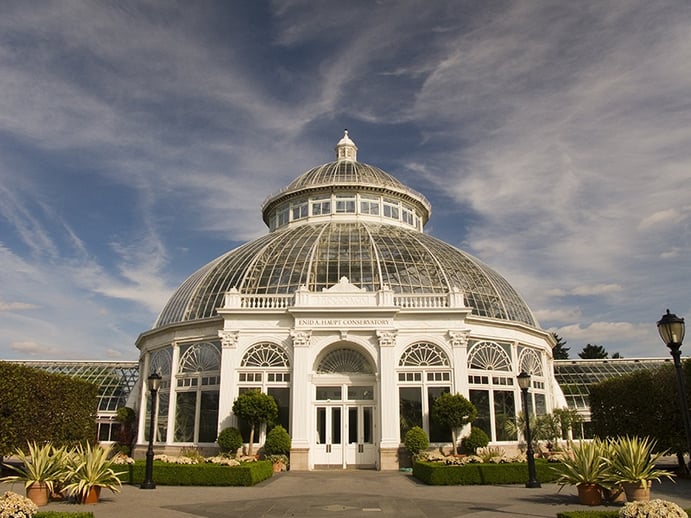 Boasting a 90-foot-high central palm court and 11 interconnecting galleries, the Victorian-style Enid A Haupt Conservatory at the New York Botanical Garden is a feat of engineering by architect William R Cobb and design experts Lord & Burnham. Containing tropical and desert plants—and 17,000 panes of glass—it was declared a New York City Landmark in the 1970s. Situated in the Bronx, the conservatory is surrounded by 250 acres of gardens that include the Peggy Rockefeller Rose Garden, and has comprehensive research facilities to study plant science and conservation.
2. Adelaide Botanic Garden
South Australia, Australia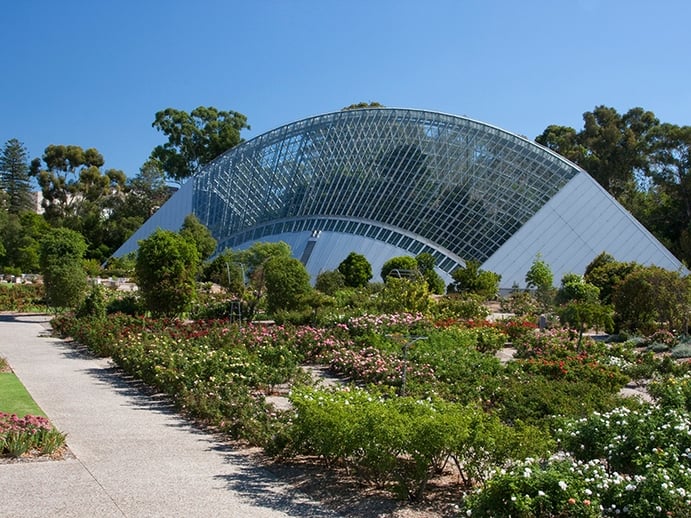 The magnificent curvilinear Bicentennial Conservatory in the Adelaide Botanic Garden was designed by Guy Maron to celebrate Australia's bicentenary in 1988. More than 26,000 square feet of glass and a soaring 88-foot ceiling height make it the largest single-span conservatory in the Southern Hemisphere, and it's the "youngest" building in South Australia to hold a state heritage listing. Housing plants from northern Australia, Papua New Guinea, Indonesia, and the nearby Pacific Islands, this is the place to see many plants that are at risk or endangered in their natural habitats.
3. Botanical Garden of Curitiba
Paraná, Brazil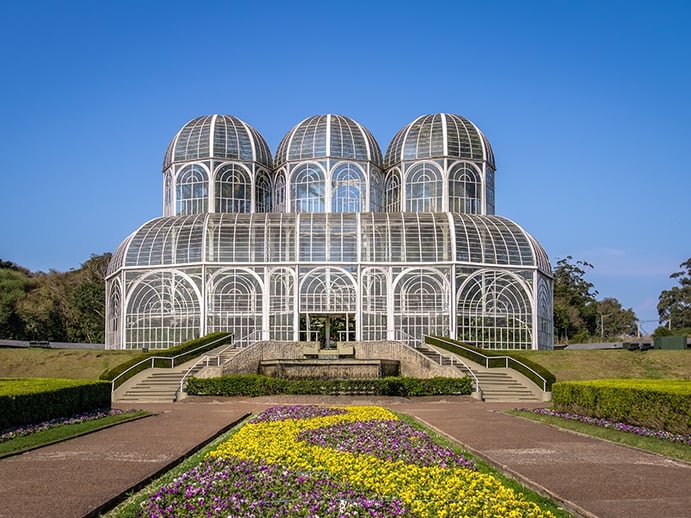 This youthful garden was only opened in 1991, but the grand tiered glasshouse by Abraão Assad harks back to a more elegant age. Taking inspiration from the French Art Nouveau movement, it models itself on the 19th-century Crystal Palace in South London, England, and provides contemporary shelter for rare plants and a colorful flower carpet. Rather than containing exotic plants as so many greenhouses often do, the Botanical Garden of Curitiba is home to flora and fauna native to Brazil.
4. Laverstoke Mill
Hampshire, England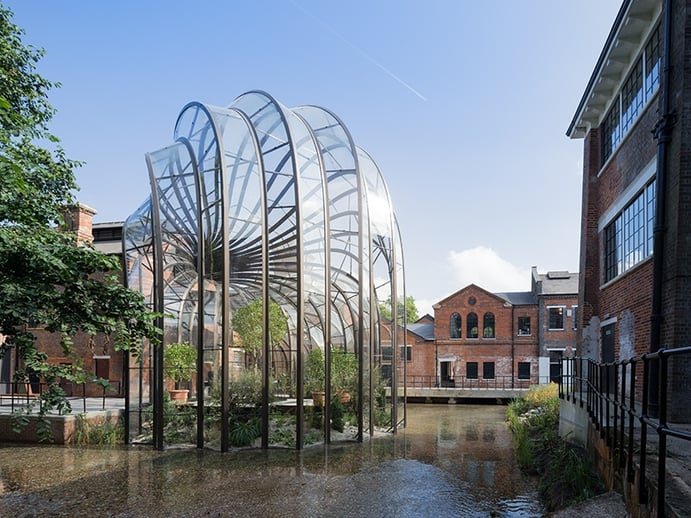 Contrasting beautifully with the red brick of gin-maker Bombay Sapphire's distillery, the amorphous glasshouses at Laverstoke Mill were created by celebrated designer Thomas Heatherwick, and are used to grow the herbs and spices that infuse the gin distilled on site. The two intertwined greenhouses are warmed with excess heat from the distillation process—creating a humid environment for tropical plants and dry, temperate conditions for Mediterranean varieties. Combining a gin tasting with a visit to the greenhouse sounds like the perfect day trip from London.
5. Yumenoshima Tropical Greenhouse Dome
Tokyo, Japan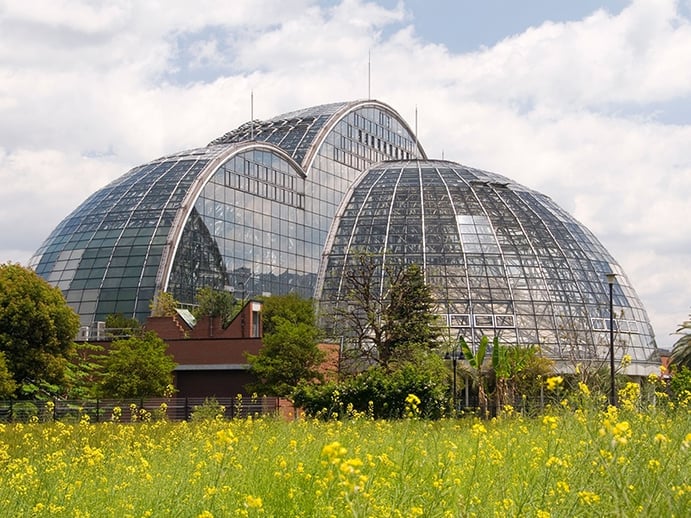 The three interconnected domes that make up the Yumenoshima Tropical Greenhouse Dome feature around 1,000 species of plants, mainly tropical and subtropical, as well as endemic species from the Ogasawara Islands. The flora on these islands, now a UNESCO World Heritage Site, are ecologically distinct—you're bound to see an entirely unique plant species. A separate area houses a collection of carnivorous plants from around the world. A reclaimed former landfill, the island is now a model of sensitive waste management, home to a busy marina and a park filled with cherry trees in addition to the impressive greenhouse domes.
6. Gardens by the Bay
Singapore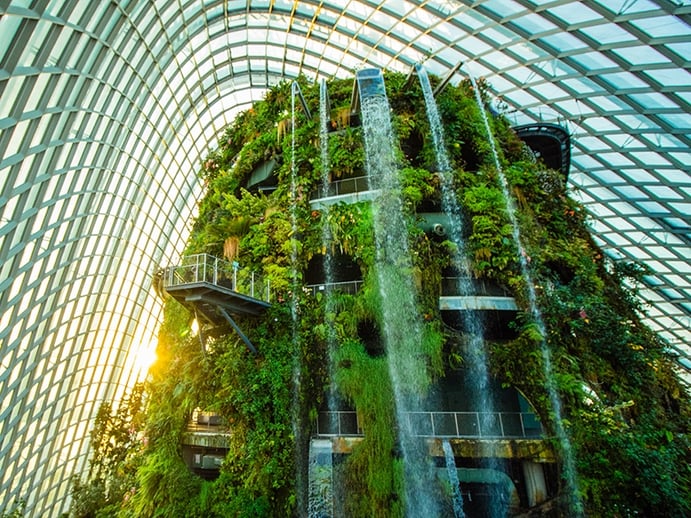 You could spend an entire day at the multi-award-winning Gardens by the Bay and still have more to experience at this vast waterfront complex. The Flower Dome, named the largest greenhouse in the world by The Guinness Book of Records in 2015, is a staggering arboretum with nine different gardens featuring exotic plants from Africa, Australia, South America, and more. The Cloud Forest conservatory reimagines a mountainous world where high-altitude greenery climbs up an impressive tower. Encircled by a walkway, the tower affords incredible views of the world below and the city beyond the glass.
7. Kew Gardens
London, England

There's no better time of year to visit Kew Gardens, with the 23rd annual Orchids Festival—which has a Thai theme this year—now underway in the Princess of Wales Conservatory until March 11, 2018. The stunningly colorful hanging orchids in the vanda tunnel are a highlight, and on weekends during the festival visitors can combine a visit to the heated glasshouse with a Thai afternoon tea at The Botanical restaurant. A UNESCO World Heritage Site, Kew is also home to the Palm House glasshouse, considered the world's most important surviving Victorian glass and iron structure, and a model for myriad greenhouses around the world.