Texas-born Timothy Hollingsworth moved, with his parents, to California in 1988. In 2001 he began working as a commis chef at renowned Thomas Keller restaurant, The French Laundry – he eschewed culinary school, preferring instead to learn from the masters. In 2012, Hollingsworth left the three-Michelin-starred Yountville establishment, relocating from Napa Valley to Los Angeles – traveling to, and working in, Lebanon and South Korea, in between.
In 2014, Hollingsworth opened his own restaurant, Barrel & Ashes, in Studio City, and this was followed in 2015 by Otium. His pride and joy, the Downtown LA eaterie stands next door to a new gallery, The Broad Museum.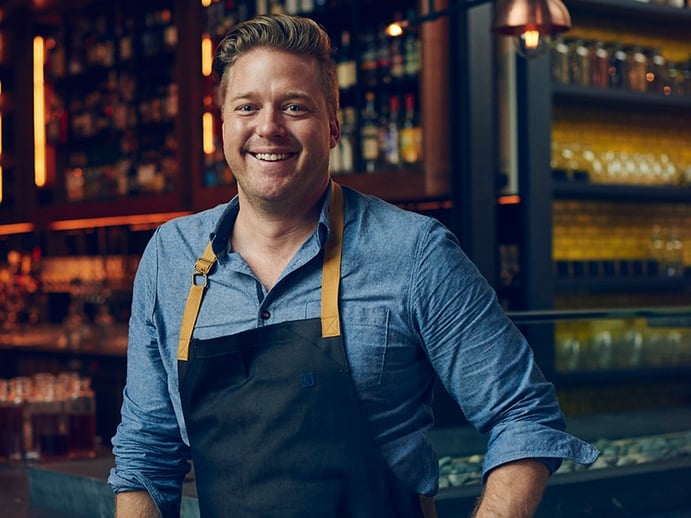 His stated aim at Otium, says Hollingsworth, is to "do away with the rigid formalities of dining out." Instead, he and his team prefer to focus on a relaxed experience for their guests, and the quality of the food, of course; many key ingredients are grown on-site. He spoke to Luxury Defined about his vision for Otium.
Sustainability is key for you, isn't it?
Yes, sustainability definitely plays a role. At Otium, we want to be able to provide the best experience – and ingredients – in a responsible way. The vertical gardens on our mezzanine are how we are able to make this happen; we grow everything, from bok choy to fresh herbs for za'atar, as well as classics such as basil. Coming from The French Laundry – where we had this amazing garden – sustainability, along with a knowledge of how our food is grown, has always been important to me.
Was it tough leaving such a high-profile job as that, to go it alone?
Yes, it was daunting, but it was very exciting. It was a new and necessary challenge – and it's helped me to grow, as a chef, and as a person.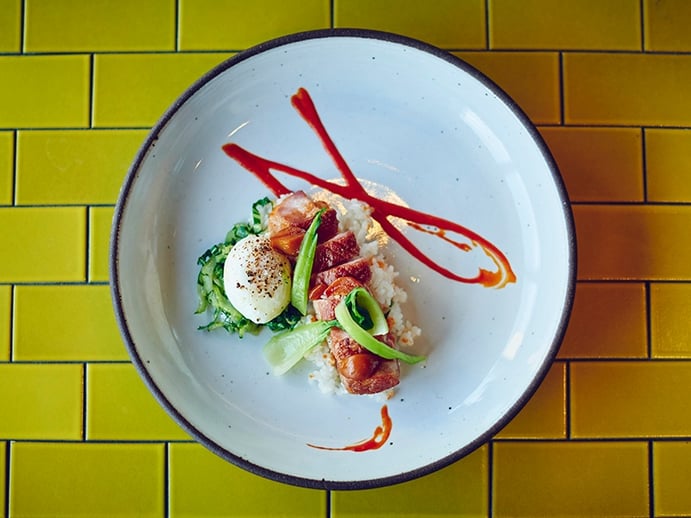 What were your next moves?
At the time, I wasn't completely sure, but I knew I wanted to be in Los Angeles – not only to be closer to Caroline, my wife, but also because LA is an exciting and dynamic food city.
You worked in Lebanon and Korea before opening Barrel & Ashes, and then Otium – how did this influence your cooking?
Working abroad affected my cooking immensely. I was really influenced by the different cultures, and how people eat. Both countries revolve around a family-style way of eating, which definitely translates into the menu at Otium. And, of course, the flavors in Korean and Lebanese cuisine really stuck with me.
You never studied cooking – in what ways has this been an advantage or disadvantage?
Though I didn't formally study cooking, I chose to surround myself with amazing chefs, who I could learn from. I bought cookbooks written by the greats, and would read them every night. I was dedicated to studying cooking in my own way.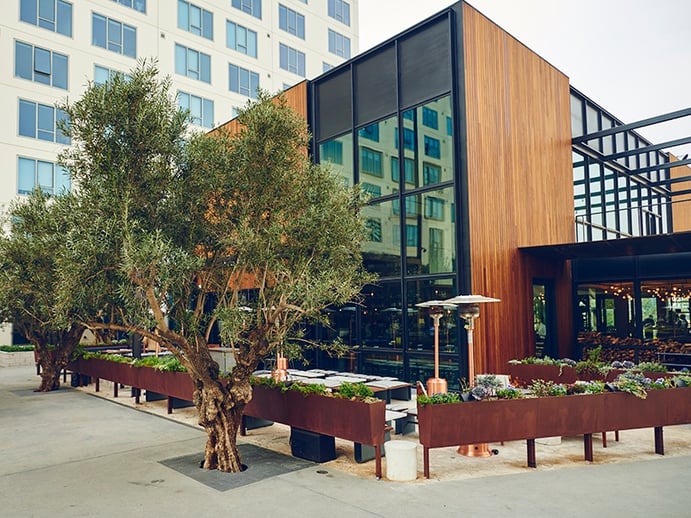 Tell us about Otium – why that name? And what was your inspiration, and the appeal of the location?
Otium is a Latin word meaning "time spent on leisurely pursuits," whether that's eating, drinking, learning, or relaxing. Of course, the location has been a great inspiration – being so close to not only the [Broad] Museum, but also, being in the heart of this cultural center of Downtown LA definitely brings in a unique and diverse crowd.
What can diners expect at Otium?
The menu differs between brunch, lunch, and dinner. Though all the menus focus on globally influenced dishes, lunch provides more classic options, like salads and pastas. You can expect dishes such as Beef Short Rib with Everything Bagel Topping, or Tai Snapper with Tamarind, Tomato, and Fennel for dinner.
For lunch, we offer dishes such as Falafel with Eggplant, Cucumber, and Meyer Lemon, as well as Pork Belly with Caramelized Garlic, Egg, Rice, and Bok Choy.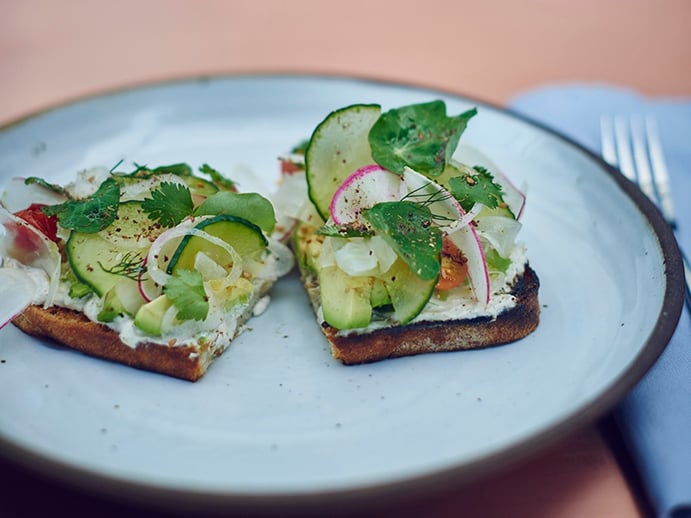 What would you like diners to say after a visit to Otium?
I'd like diners to feel that they've had a great experience after leaving Otium, not only from the food and drinks, but from the service and ambiance as well. I'd like guests to get what they want out of the restaurant, whether that's a simple work lunch, or an elaborate dinner.
How would you describe your cooking style?
Besides appealing to the senses, and making something that is both visually pleasing and delicious, I like to "play up" to memories in cooking. When a diner can take a bite of a completely new dish but still have a reference point to relate it back to, I believe it really makes the experience. For example, Otium serves a Grand Banana Macaron that incorporates the banana bread of my childhood. I think that bringing that homey and familiar element of banana bread into the elevated and complex macaron creates a dish that guests can relate to, as well as remember.
What is your own go-to comfort food?
Roast chicken is definitely my go-to. With some fresh herbs, potatoes, and burnt lemon. It's one of my favorite things to cook – and to share with my family at dinner.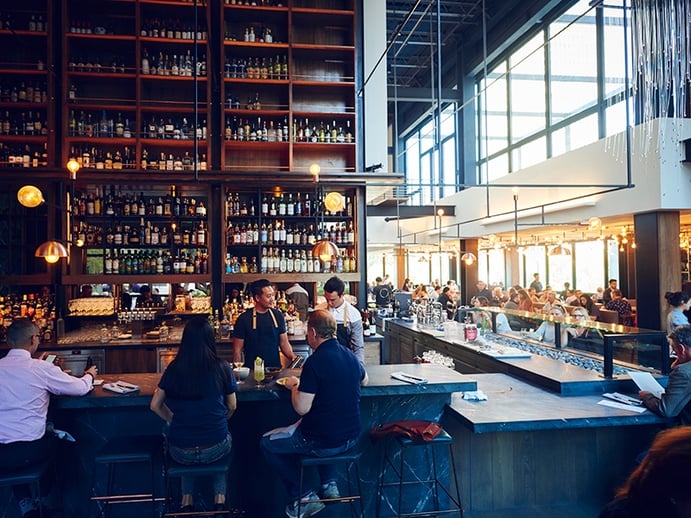 What's your favorite dinner-party dish?
I really enjoy cooking out of donabes [Japanese clay cooking pots], especially for a dinner party. Just the nature of the donabe itself makes cooking with, and eating out of it, fun and exciting. I'll make some interesting rice donabes, or maybe some mussels in the donabe steamer. The smoker donabe is great for just a touch of smokiness, and for an interesting presentation, too.
What are your favorite drinks?
Chablis or Supplication Sour Beer, aged in Pinot barrels, from the Russian River Brewing Company, here in California.
Who cooks at home?
While I do most of the cooking, my wife, Caroline, does make a great Cacio e Pepe [a simple cheese and black pepper pasta dish], and some pretty awesome soft scrambled eggs.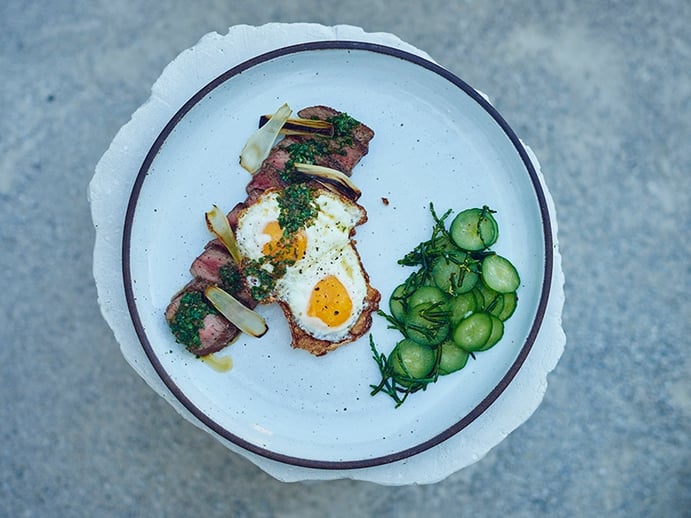 What's the best thing about being a restaurateur?
Working with creative minds. From the local artisans and designers who helped to build such a beautiful restaurant, to all the chefs who work in the kitchen beside me. And having the opportunity to partner with The Eli & Edythe Broad Foundation makes me feel very humbled, and honored to be part of such an incredible project.
What are your plans for 2017?
I'd really like to focus on developing Otium's place in the community. November/December of 2016 marked our one-year anniversary, so 2017 will be about how we can tackle another successful year, while making sure to provide for the community. I'd like to work with some of our surrounding schools, and implement some cooking demos in our garden, to teach the kids about the importance of healthy eating.