We sent two wine-loving writers out among the vines: one went to the old world, one to the new. Here they report on the châteaux and vineyards they discovered, and the pearls of wine wisdom unearthed.
BRAVE OLD WORLD
Bordeaux and beyond, France
by Tom Harrow
The aspirations of today's wine lovers have grown to the extent that, along with the bottles, many oeno-tourists are looking to come back with their very own château.
Bordeaux, for many connoisseurs the first and last destination for top reds, remains the lens through which the rest of the world's fine wines are viewed and evaluated.
Drive north from the city, through the Haut-Médoc, and you arrive in the commune of Margaux, home to the region's most aromatically complex reds – including Château Palmer, which Per Holmberg, Vice President, Head of Christie's Wine Department in New York, describes as "a legendary third growth that continues to 'punch above its weight', often stacking up to its first-growth neighbor [Château Margaux]." Purchased originally by the British Peninsular War Lieutenant Colonel who gave the estate its name in 1814, Château Palmer is now under the direction of the Mähler-Besse family and the Sichel family – also of British origin.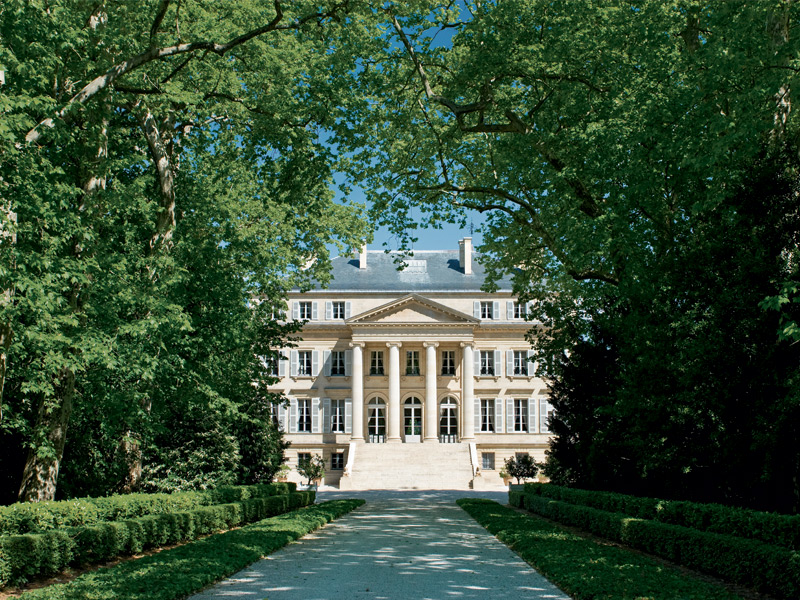 There are few châteaux more impressive than Margaux itself, owned by the Mentzelopoulos family. The imposing edifice is distinct even at a distance from your helicopter – the best way to appreciate the region's panoramic patchwork of vineyards.
Leaving Margaux with a magnum or two, stop for lunch at Le Lion D'Or to enjoy a glass, sans corkage, alongside tables of vignerons with equally impressive bottles.
Later, looking north from the village of Saint-Julien, you will see the vineyards of the commune's most prestigious château – Léoville-Las Cases – as well as the Pauillac vineyards of Latour and those of Pichon Baron (Château Pichon-Longueville). It is a view, observes Pichon Baron's managing director Christian Seely, that "can claim to show the greatest terroir in the world for Cabernet Sauvignon." Pichon Baron, whose 2010 was one of this great vintage's highlights, operates a more open-door policy than is common in Bordeaux, the desire to welcome interested visitors evident from the absence of a traditional wrought-iron gate.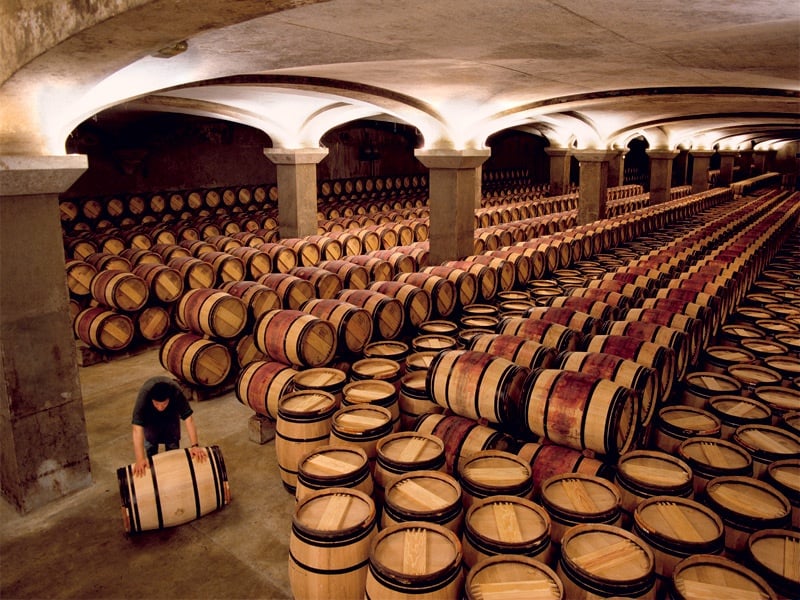 Equally open in his views on buying vineyards, Seely (who also controls AXA Millésimes' other properties, including Suduiraut in Sauternes) advises: "The most important thing you can bring to any vineyard acquisition is humility. The pitfall is in thinking business acumen alone can guarantee a successful wine operation, but without the right terroir a wine can only be so good."
The gulf between making a respectable claret and a world-class wine is exemplified by land prices: in Pauillac even modest vineyards are €2 million ($2,599,272) per hectare (2.47 acres). In Entre-deux-Mers to the south you can pick up good sites for €40,000-€50,000 ($51,988-$64,984).Nobody has more experience of buying châteaux in Bordeaux than Bernard Magrez, who owns 20, as well as some 20 wine estates around the world. "Becoming well known is a long process," he observes, "and takes a lot of investment – but quality and renown are the most important factors to consider."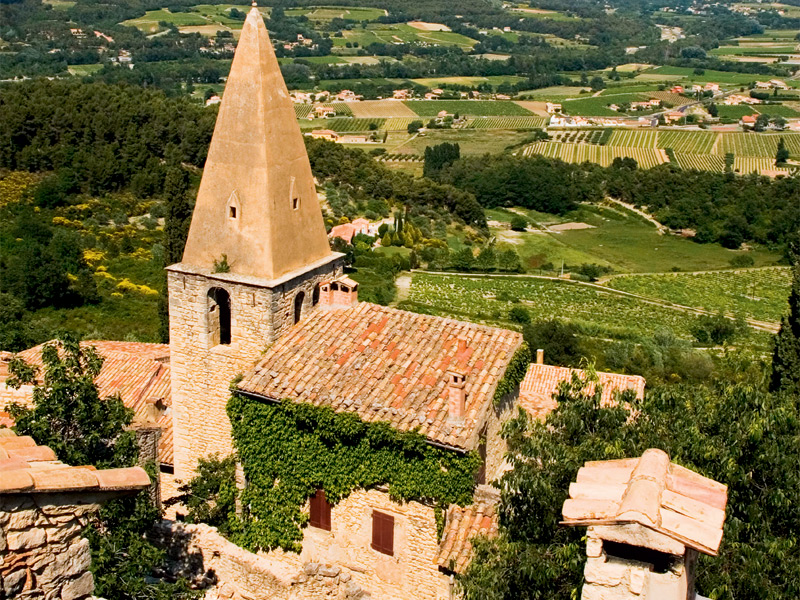 SOUTHERN BELLES
An area that has long held interest for its stunning countryside and opportunities for property restoration, Provence and its surrounding appellations have more latterly become known for the potential of their wines. Nicole Rolet and her husband Xavier, chief executive of the London Stock Exchange, spent nearly a decade renovating Chêne Bleu, a ninth-century priory and its medieval vineyards set at the crossroads of four southern Rhône appellations. "In 1994, there was no water or electricity, there was sheep dung to head height in what is now our vaulted dining hall, and our 50-year-old Grenache vines were extremely battered. But both house and vines responded very well to all the TLC," says Rolet. As well as offering an exceptional, luxury base from which to explore the region, Chêne Bleu is now one of the area's most highly regarded wineries, running its own equally acclaimed Extreme Wine course, and exemplifies how the combination of the right terroir, resources, and hard work can pay dividends.
Heading down to the Côte d'Azur, stop for Jérôme Masson's renowned langoustines at Michelin-starred La Rastègue in Bormes- les-Mimosas before arriving at Château Léoube. This beautiful estate with its modernized château and winery nestles in a protected coastal setting and boasts 50 hectares (123.55 acres) of vines. Its 2011 Rosé de Léoube and Secret de Léoube won Silver at the prestigious Concours Mondial in 2012; and its 2013 Secret de Léoube was awareded the Chairman's Trophy at the 2014 Ultimate Wine Challenge.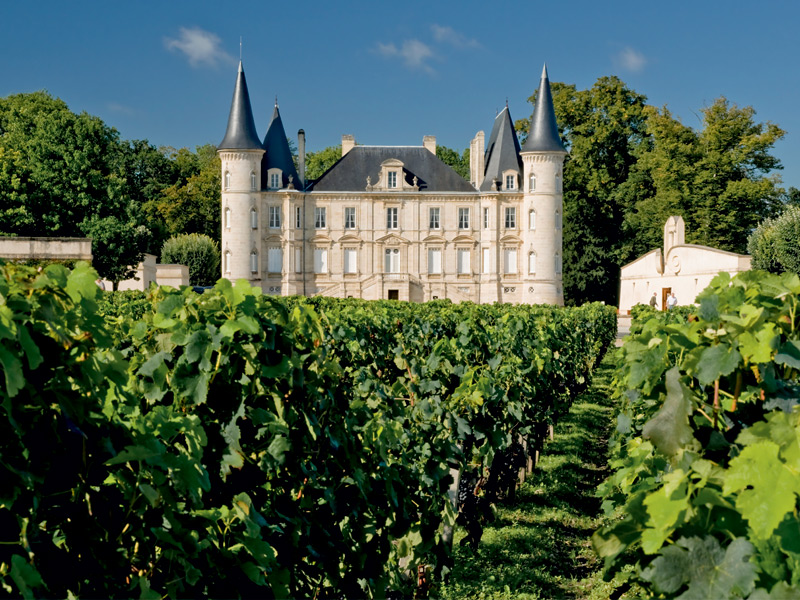 As one might expect from its British owners, founders of Daylesford Organic, the wines are made organically. It seems like the perfect set-up, and as Michael Baynes of Maxwell-Storrie-Baynes, an exclusive affiliate of Christie's International Real Estate in Bordeaux, comments: "There is something immensely satisfying about drinking a wine that you made in partnership with nature. I can see why business leaders and wine lovers alike regard vineyard ownership with such desire." He continues sagely, however: "Working with a vineyard [market] expert is the best way to navigate to a well-informed decision regarding a purchase."
Seated on your verandah at dusk with a glass of your own critically acclaimed wine from the surrounding vineyards would, for many, represent a well-informed decision.
Tom Harrow is director of WineChap and writes for The FT's How To Spend It and The Economist's Intelligent Life.
WEST SIDE STORY
The West Coast, USA
by Jane Parkinson
From the lush pine forests in Washington State to the golden hills in Santa Barbara, traveling through the USA's West Coast wine country is more akin to crossing continents than crossing states. An edifying feast for the eyes, soul, and palate, this area's unique interplay between sun, soil, and site – the terroir – explains why wine styles can be so deliciously varied here.
The journey begins in Washington, where vineyards and Seattle are separated by the Cascade Mountains. This range shelters the vine-covered valleys from rain, providing a continental climate that is warm enough for luscious Cabernet Sauvignon and Merlot to ripen with ease. Begin your quest in Woodinville, whose commercially beneficial proximity to Seattle has made it the home for many wine producers.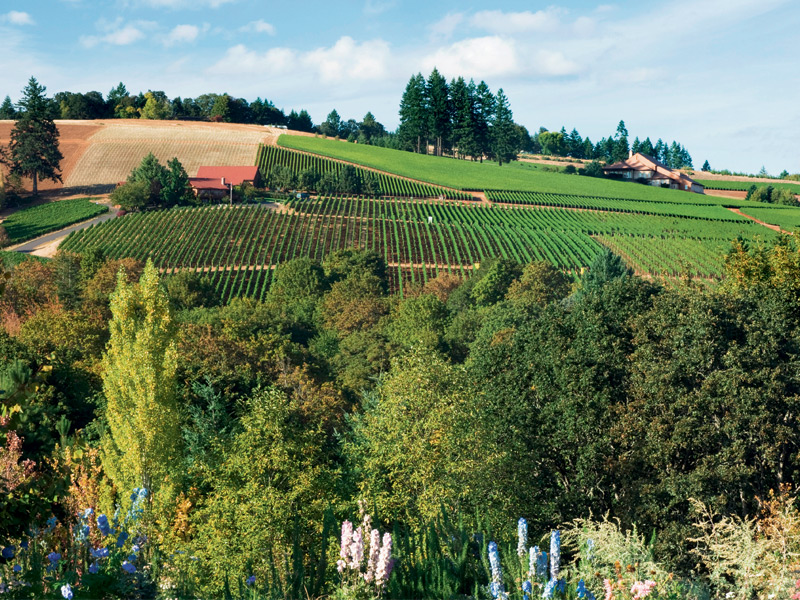 Washington's very first winery – Riesling specialist Chateau Ste. Michelle – resides here, its stately building sitting at the end of a lawn-flanked drive. If you are after somewhere more modern, visit Novelty Hill Januik, a producer of award-winning Cabernet Sauvignon, Merlot, Chardonnay, and Sauvignon Blanc. For genteel and countrified accommodation swing by Willows Lodge in Woodinville, which offers cavernous bedrooms in a cabin-lodge style.
Walla Walla, on the vineyard side of the mountain range, has enough wineries to keep the most fervent of tasters interested. L'Ecole No.41 is the place for Semillon, while K Vintners/Charles Smith Wines, run by Harley-Davidson-riding, heavy-metal-loving Charles Smith himself, produces wines that are visionary and serious despite names such as Kung Fu Girl Riesling.
In Oregon, wine regions near the Pacific provide a cool climate that is perfect for the illustrious Pinot Noir and Chardonnay. "Oregon has become a destination for people looking for the next interesting wines," says David Millman of Domaine Drouhin Oregon.
Oregon wine is just now starting to receive widespread recognition
David Millman
The Willamette Valley is the jewel in Oregon's winemaking crown. Per Holmberg, Vice President, Head of Christie's New York Wine Department, agrees: "I personally think the Willamette Valley is exciting. There are a lot of young winemakers who are going out there trying to make a name for themselves, plus the wines are well structured and very pleasant."

The towns of Newberg, Dundee, and McMinnville are renowned for their excellent quality wine and food to equal it. For breathtaking scenery, the hills around Carlton and Yamhill are in a league of their own – they're bountiful, too, supplying much of the produce for the exciting young chefs in the region.

There are plenty of vinous highlights in the Willamette Valley, including Domaine Drouhin Oregon's effortlessly elegant take on Pinot Noir; Sokol Blosser, a sustainable winery producing excellent Pinot Noir; and the limited-supply wines of The Carlton Winemakers Studio. "Oregon wine is just now starting to receive widespread recognition," says Millman. "That sense of discovery here is part of the charm."

In California, Sonoma County's Russian River Valley is home to yet more serious Pinot Noir. Picture-perfect landscapes are dotted with wine producers, of which Chateau St Jean's winery is one of the most beautiful. Italian wit and charm can be found at Papapietro Perry Winery, which produces Zinfandel, Pinot Noir, and Chardonnay, while Twomey Cellars is the epitome of modern elegance, nestled in charismatic Healdsburg.

A TASTE OF THE GOOD LIFE
Napa, California's most affluent wine region, remains hot property, and cult wines such as Harlan Estate and Scarecrow guard its reputation for ultra-serious Cabernet Sauvignon. Wineries that can accommodate visitors include historic Trefethen, which rocketed to fame after its 1976 Chardonnay was named the Best in the World in 1979. Loren Trefethen, grandson of the vineyard's founders, sums up the region's appeal: "It offers intimate experiences with world-class wines, food, spas, art, and great times – all surrounded by the beauty of Napa Valley."
Fine dining is woven into Napa's DNA, with Yountville at its culinary heart – whether it's for the nine-course tasting menus at chef Thomas Keller's The French Laundry or melt-in-the-mouth pastries at the Bouchon Bakery. Meadowood is the Napa hotel in which to be seen and can be found tucked into the Napa Valley hills, where rooms are surrounded by dense pine and maple trees.
Santa Barbara County's wine fortunes changed overnight thanks to the 2004 hit film Sideways, which championed Pinot Noir and (unfairly) derided Merlot. Now a thriving tourist hotspot, it has lavish accommodation in rich supply, from Beanie Babies magnate Ty Warner's San Ysidro Ranch (where Jackie and John F Kennedy honeymooned) to the boutique allure of Simpson House Inn.
Among the golden hills of Santa Maria Valley, Foxen is a sustainable producer with upmarket Syrah. The area is also home to Jonata, a decadent and inspiring winery and sibling of Napa's cult estate Screaming Eagle. Jonata shuns the local grape preference for Syrah in favor of dense and refined Cabernet Sauvignon, and offers a suitably distinguished end to the wealth of flavors to be savored in West Coast wine country.
Jane Parkinson writes about wine for Restaurant magazine and at www.janeparkinson.com.