Glassblower Emsie Sharp reels off the appeal of her trade: "Intense, hot, playful, exciting… It's so immediate. Of course, things can end up on the floor." Sharp, who has run her hand-blown glass-art studio in a village in Dorset, southwest England, for four years, has been practicing her craft for the best part of 25.
Visit Sharp's studio—affectionately called the Cowshed—below:
Initially specializing in hand-blown wine glasses and tableware, the artist has expanded her repertoire. Making more standalone art pieces to be displayed—and sold—in galleries, Sharp's works appeared at the The Geedon Gallery in Essex, UK, this spring as part of its spring exhibition celebrating 20th- and 21st-century modern British artists and sculptors.
Honing a delicate skill
Interested in stained glass since her teenage years, it wasn't until she enrolled at art college as a mature student that she started blowing the material. On the first day in the hot studio, she was, she says, "hooked."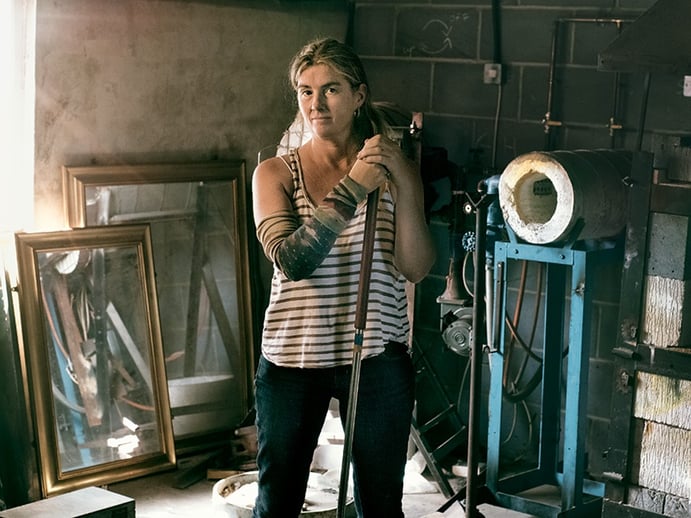 Sharp knew she needed to hone her glassblowing art as an apprentice, and, after three years working in London, set off for Venice, not speaking a word of Italian. "I watched everything methodically and learned. I had three weeks' unpaid work in Murano and was then taken on full-time at another studio. Glassblowers work in teams of two or three. The maestro ('gaffer' in Britain) sits at the bench and makes the glass; the others fetch the materials and instruments. I was initially in a team of three, making intricate, elaborate wine glasses, before moving on to chandeliers."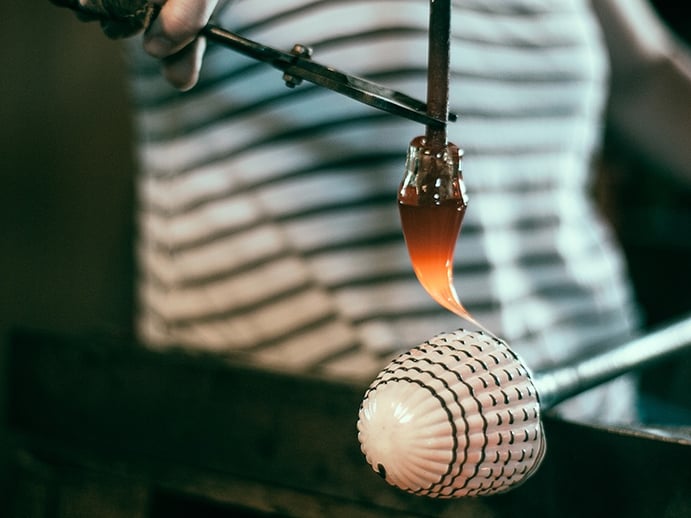 The techniques garnered from her Murano experiences paved the way for the glassblowing art business Sharp has today, and she still chooses to work with lead crystal. "It's old-fashioned, but it gives a lovely weight and ring, and it reflects the light beautifully."
From one-off hand-blown wine glasses to uniquely shaped tumblers (scrunched up or beaker style), bowls with silver leaf, and decorative eggs in vibrant jewel tones, Sharp sells her wares via her website, as well as in boutique interior design shops.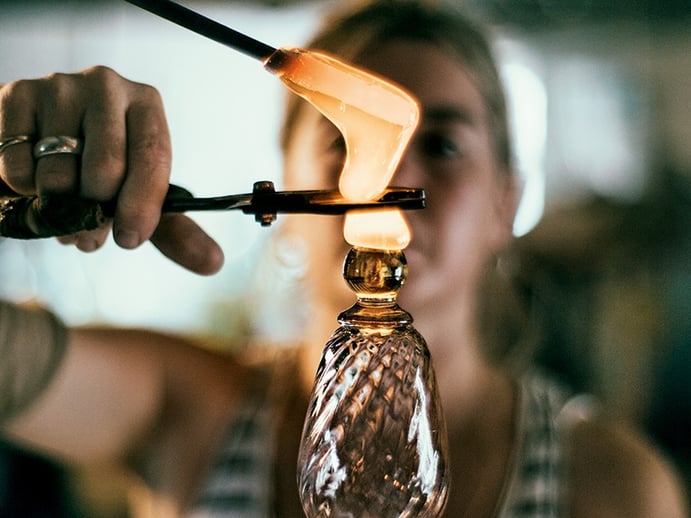 Unique techniques
Glassblowing is a physical process. Working against the clock in a hot studio, turning the liquid glass on a blowing iron before it cools, Sharp produces lavish hand-blown vases, wine glasses, tableware, and decorative objets. Her style is distinctive, her glasses heavy, their baluster stems trapping a bubble in the glass—commissions come thick and fast. She loves the personal, one-off nature of her work.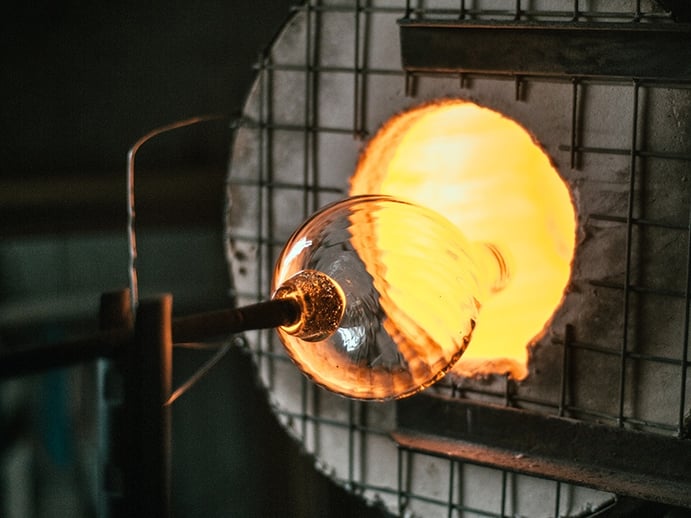 "In Murano, it was perfection that mattered. I now want my pieces to be more real... I prefer a little variation. I love bright, bold colors—the ruby gold, cobalt blue, and copper green that all come from metal oxides. If you look at glasses from the past, such as the Georgian era, they have imperfections."
Sharp is often asked to create objects she's not made before, stretching her creativity and skill. "That takes practice, so I have to learn. But I also know my limitations—I know when to say no."
And what's the strangest thing she's ever been asked to make? "That, you don't want to know!"