The vintage wristwatch offers collectors a uniquely satisfying blend of art and technology: a wearable object of beauty, luxury, and supreme design, an investment almost certain to appreciate—and it tells the time. On June 21, Christie's New York offers yet another collectible element: celebrity provenance. Timepieces owned by the men and women who helped shape the American Century—from Babe Ruth to Bob Hope, former President Lyndon B. Johnson to Jackie O—will go on the block.
Headlining the sale is The Jacqueline Kennedy Onassis Cartier Tank. This historically important watch, being sold with an accompanying painting by the former first lady herself, was previously unknown to the public and offers two of the most important artifacts to surface in recent years from the golden era of the Kennedy Administration. Luxury Defined asked watch specialist Rebecca Ross to discuss the coming sale, and received expert advice for would-be collectors.
The Jacqueline Kennedy Onassis Cartier Tank watch will be one of the highlights of Christie's New York Rare Watches and American Icons sale on June 21. Aside from the provenance, what makes this timepiece so special?
This Cartier Tank was worn by the former first lady and style icon for decades, and for good reason! It was not only Jackie who fell for its charm; other famous icons have also worn the model, including actor Clark Gable, also known as The King of Hollywood, and the artist Andy Warhol was a big fan. Firstly, the model itself is a piece of art, much like historically important art itself, which pushed the boundaries at the time of its inception. One has to remember that in the early 20th Century when the initial Tank was produced, manufacturers were still designing their first wristwatches, following the pocket watch which was favored up until this era. Secondly, as with all vintage watches, condition is key! Jackie's model is dated to 1962 and has remained in remarkable condition, despite being worn by her as a statement piece every day. It is no wonder Cartier produced so many versions of the Tank. In fact, it has been in production for approximately 100 years and we expect 100 more. It is truly an icon that lasts forever.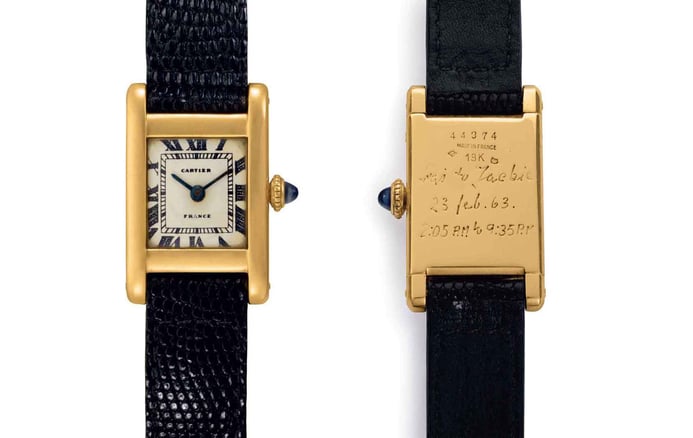 How difficult would it be to acquire the earliest Cartier Tank timepiece?
At Christie's, we are privileged to have the opportunity to source timepieces from all over the world. With specialists located in Geneva, Hong Kong, New York, and Dubai, our worldwide team is available round the clock to acquire the rarest timepieces in existence. The earliest Tank, to the best of our knowledge, is from 1919 and it resides in a private collection. I will be sure to let you know if we have the pleasure to offer it in one our auctions in the future. I didn't think we would be fortunate enough to offer Jackie's watch, but as we've learned in the auction world so many times, anything is possible!
What are the other highlights of the Rare Watches and American Icons sale?
This sale has to be one of New York's most exciting to date. Other watches which have belonged to famous American icons include an asymmetrical Hamilton from President Lyndon B. Johnson, and a very rare Cartier coin watch which was given to New York gangster Bumpy Johnson from his friend and legendary baseball star Babe Ruth for Christmas in 1937! Furthermore, this sale has one of the most important Cartier clock collections of the 20th Century, as well as an admirable collection of Rolex "Paul Newman" Daytonas and an inspiring Richard Mille prototype. Definitely not a sale to be missed! The preview opens to the public on June 16th.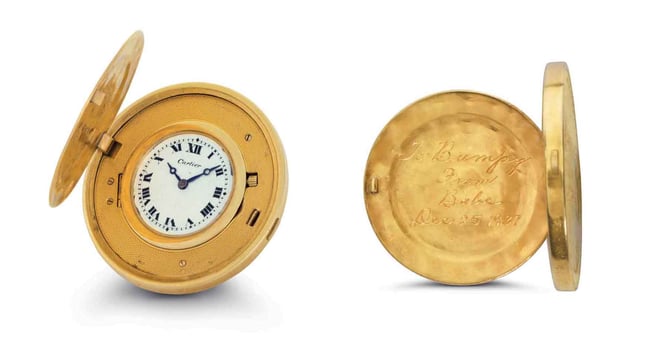 Did Jacqueline Kennedy Onassis have any other favorite watch brands?
From photographs of the time, this Cartier Tank certainly stands out as her favorite. Probably because of its shape, it is so easy to wear and looks timeless for any occasion. The Tank's square shape was invented as a response to the tanks of World War I and offered to General John "Black Jack" Pershing [commander of the American Expeditionary Force] upon his return—which firmly established Cartier on U.S. soil. Unusually, it was favored by women and, clearly, by those with impeccable taste. This watch was likely Jackie's favorite because of its wearability but also its sentimental value and strong family connection. As a Brit with not too much of a feeling for the Kennedy era in America, learning the story of this watch and its roots in history has been enlightening and extremely powerful to me.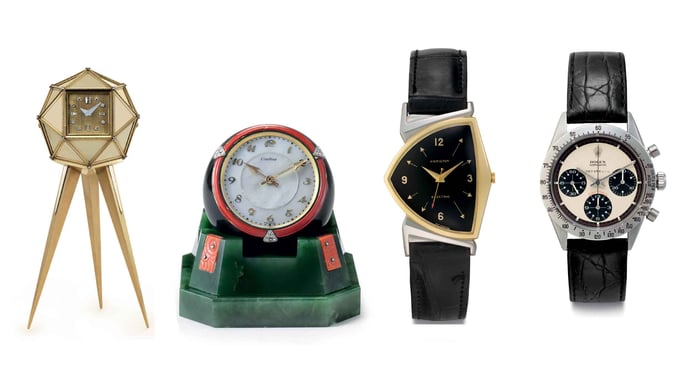 What are the trends shaping the luxury ladies' watch market in 2017?
What do ladies really want? Everything! And the watch market is in their favor more than ever. We can wear our classic cocktail watch on Friday night, we can sport an Omega Speedmaster on Saturday, or we can choose an elegant Tiffany & Co. pendant watch for Sunday brunch. I would go as far as to say that there are really no limitations. I see three key trends this year: First, vintage watches. There is a deeper appreciation in markets that up until now did not value them over modern watches, in the Asian and Middle Eastern markets especially. Second, unisex watches. No matter if you are a man or a woman, you can wear your watch the way you want to wear it. Smaller vintage watches are a good example, such as a Longines chronograph at 34mm. They were designed initially for a gentleman in the 1940s, but with today's fashions the size is perfect for either gender. Third, function: Aesthetics are no longer the only drawing point. It is the inside that counts and function is of primary concern for the woman who needs to be in two places at once.
Which luxury ladies' watch brands and models should the aspiring collector look for as investment pieces?
Buy what you love. A new collector should be able to enjoy her purchase as well as thinking of the investment. There are so many watch brands and varying models that one should consider what is most valuable to them in order to narrow down what to invest in.

At Christie's Watches, we have three sale platforms that can help with identifying this. The live auctions offer timepieces at a higher price point, sometimes with very important provenance such as Jackie O's watch. Perhaps it is a strong historical provenance like this which appeals most to you. Second, we host online auctions throughout the year. This is a perfect place for first-time buyers and new collectors, as the price point can be a lot lower but without compromising quality and value. Third, we offer private sales. Typically, these are of the highest value but the sale is instant and can be an effective way to invest without waiting for the auction and without a large public following.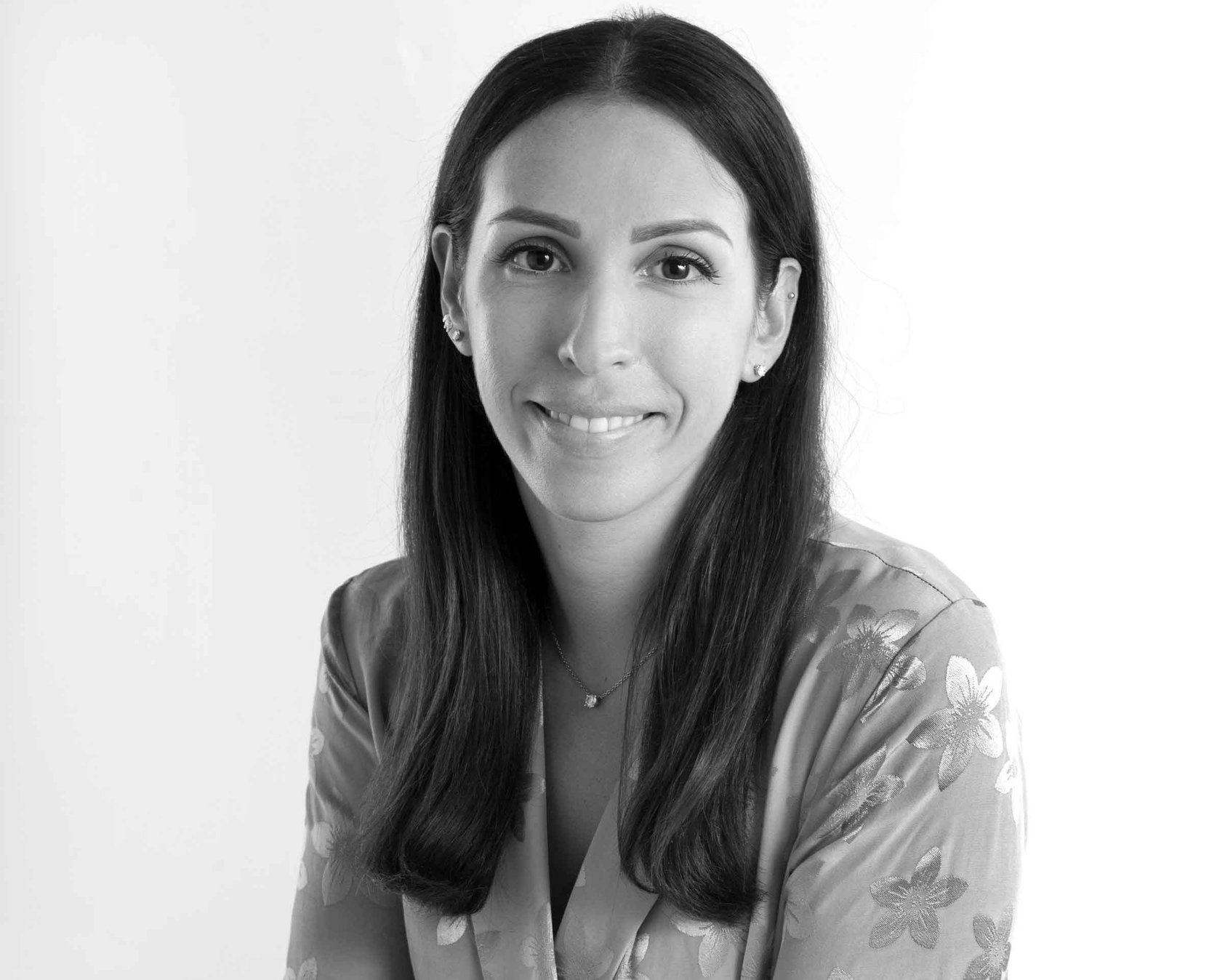 After achieving a Master's degree in the History of Art and the Art Market with a concentration in Modern and Contemporary Art from Christie's Education, Rebecca Ross worked in numerous art galleries and museums in London and New York. Her love of art expanded to include timepieces, having been exposed to the artistry of clocks and watches from an early age through her father's collection. She particularly appreciates the charm, character, and history of vintage watches and enjoys discovering the stories behind them. Rebecca also holds a degree in Classical Civilization from the University of Leeds, UK, and was awarded a Certification from the Fondation de la Haute Horlogerie in April 2015.