On a sun-streaked evening in June 1997, Duca Simone Vincenzo Velluti Zati di San Clemente invited local residents to Il Palagio, his unlived-in ancestral palace in Tuscany. A verdant 865-acre (350 ha) estate some 25 miles (40 km) south of Florence, Il Palagio dates back to the early 1500s, growing from an agricultural holding through successive ownerships until becoming home to the dukedom of San Clemente in 1819, whose family seat it remained.
However, by the late 1990s, like many other Tuscan castelli, its fortunes were dwindling. So it was, the duke announced, to be sold. And the bigger surprise? The buyers were a famous rock star and a film producer. The end of a long familial tradition seemed in sight.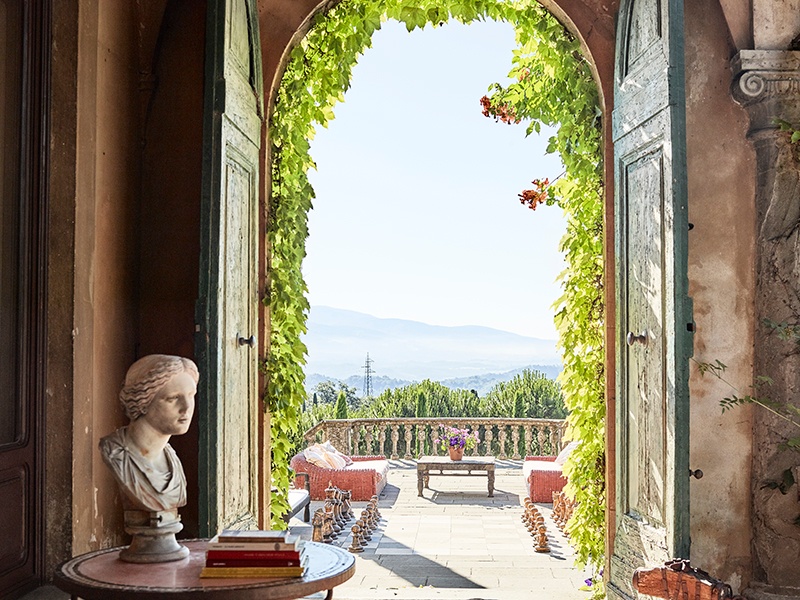 But happily that scenario never materialized. During the summer of '97, the new owners,
Sting and his wife Trudie Styler, immediately set about bringing Il Palagio back to life, investing massively in the restoration of the dilapidated property and the reinvigoration of the vineyards. Vitally, all the plans and decisions they made in those early months were built around a singular desire: to make Il Palagio a family home again.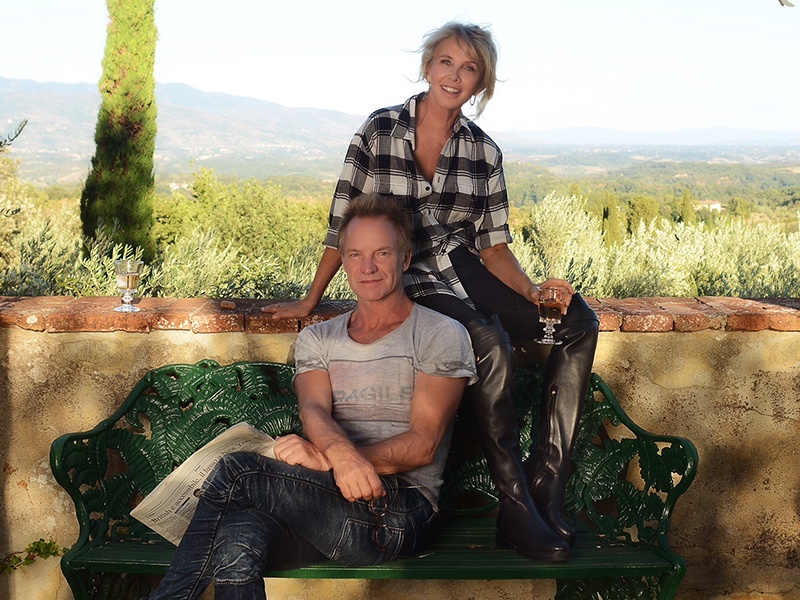 Time, trust, terroir
It was the vineyard that sealed the deal. Not exactly an early aficionado, Sting came late to the enjoyment of wine—it's rumored he used to give bottles provided in tour dressing rooms to roadies. But the existing vineyards at Il Palagio held allure for a man developing his palate. The story goes that, surveying the houses and the land from an upstairs window, Sting was handed a glass of red wine by the duke. A wine so wondrously unctuous that it clinched the decision to buy. So when the first few years failed to yield bottles of similar refinement, Sting made his disappointment clear. "Ah yes," he was told, "perhaps the wine that night wasn't from our estate…"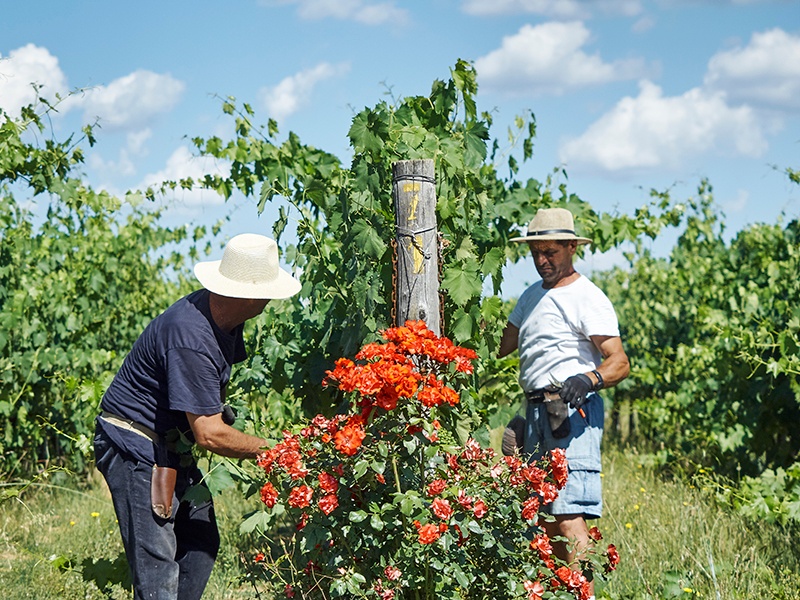 The vision and investment that has led to Il Palagio's wines winning international awards began by importing viticultural expertise. Sting and Styler found like-mindedness in the late American biodynamic wine consultant Alan York. His approach was close to Styler's heart, whose own father was a farm manager in the English Midlands and was "instrumental in teaching me that everything begins in the soil."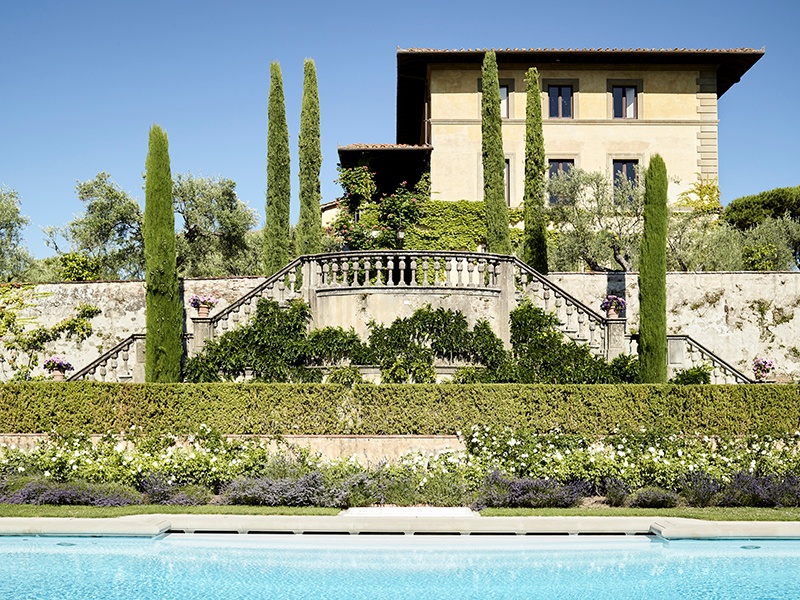 York replanted 28 acres and delivered proper irrigation and cultivation to the Il Palagio terroir. A further 37 acres were added in 2004, and the wines began their upward journey. When global wine consultant Daniel O'Donnell took over in 2013, he switched from moon-cycle methods to pure organic—and doubled the yield. Today, alongside O'Donnell, winemaker Paolo Caciorgna and estate manager Paolo Rossi are translating the terroir into six expressions, five with Sangiovese—Chianti's star grape—at their core.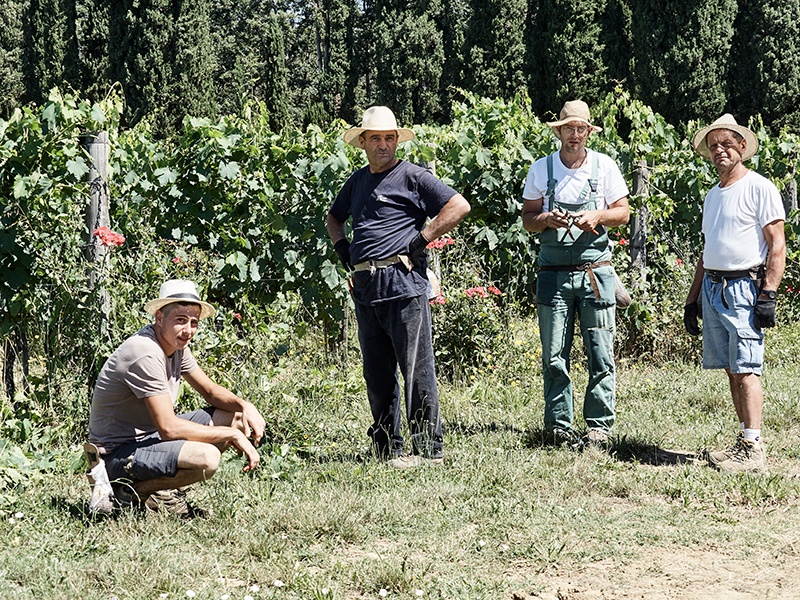 "There are two ways to make wine," says Rossi. "In the winery or in the vineyard. "We make
ours in the vineyard by producing excellent grapes, not through chemical manipulation as an afterthought in the tanks. Each wine is an expression of our land."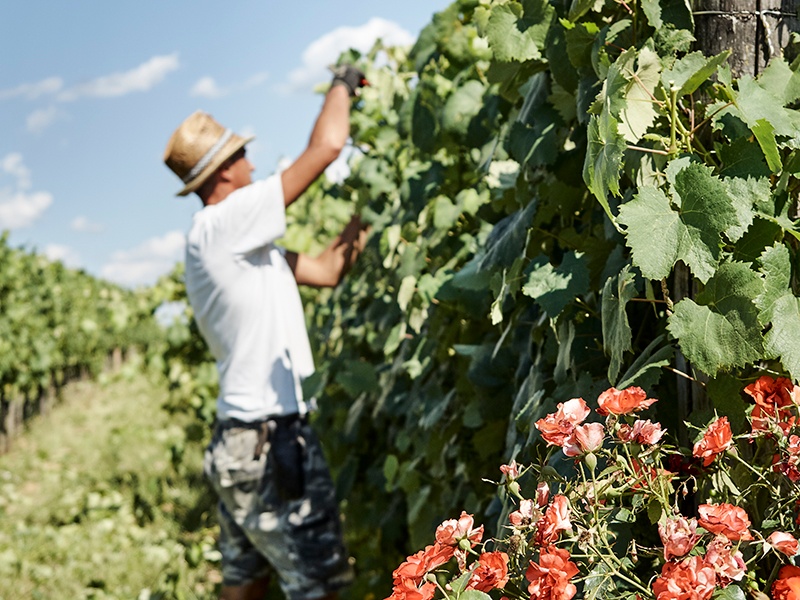 Hand-harvesting each vine three times in two weeks—selecting different grape clusters to achieve different characteristics—is not something entrusted to the usual September student brigade breaking their backs in vineyards. At Il Palagio, the year-round team of seven are augmented by 15 expert pickers carefully trained and overseen in the field by Caciorgna and Rossi.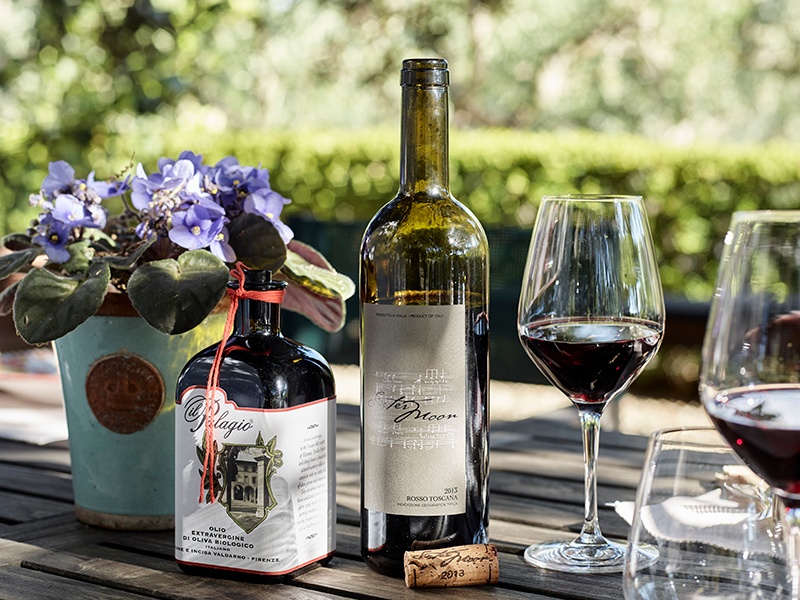 The wine enterprise here was never intended as a rock star's toy. It took major financial investment from Sting (that gig you saw way back when may well have financed the vines). Tenuta Il Palagio is now a self-sustaining commercial operation with six beguiling blends: four Sangiovese-forward reds, one predominantly Vermentino white, and Beppe Rosato, the estate's first rosé. Fans of Sting's music will delight in recognizing some of the names: Message in a Bottle, Sister Moon, and When We Dance.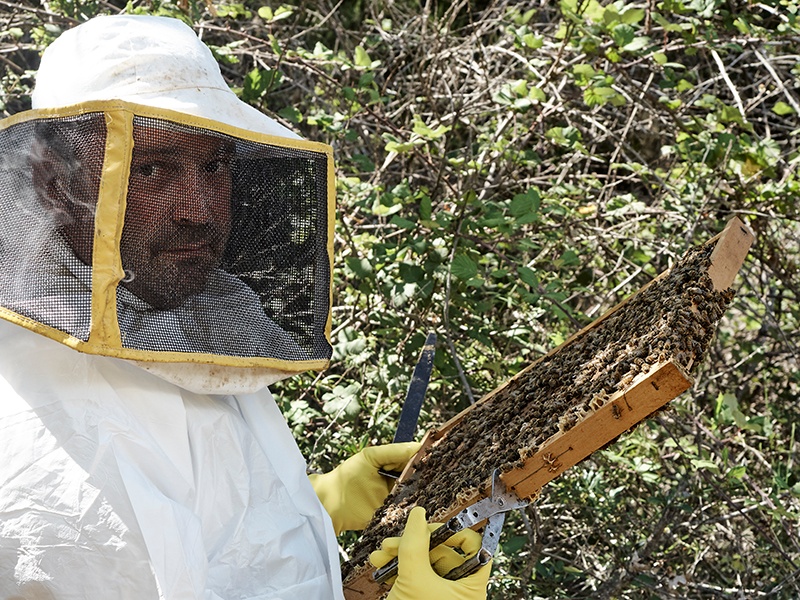 Extending the invitation
In 2015 Styler and Sting decided to share all of Il Palagio's attractions—beyond their award-winning wines, cold-pressed extra-virgin olive oil and five excellent honeys from the estate's 80 hives—by making the estate available as a private rental for vacations and special events such as weddings and conferences, when they're not there with their own family. Guests can spread out in the main villa (sleeps 18), or any of the three other houses set around the grounds: Casa Colonica (sleeps six), The Red House (sleeps five), and The Chalet (sleeps two) are self-contained with their own kitchens, sitting rooms, and gardens.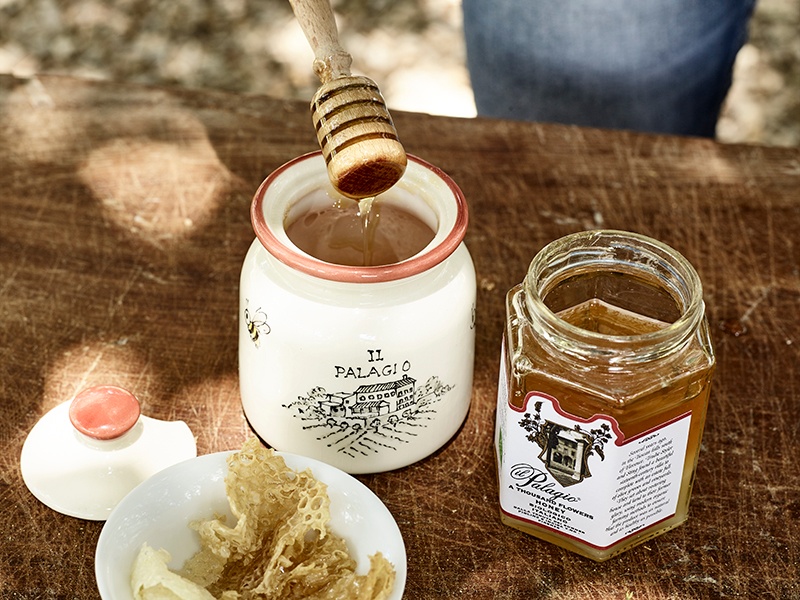 The villa's interior design scheme isn't a design scheme at all. Scattered throughout the several sitting rooms are cavernous sofas, more cushions than you'd find in a souk, and side tables and open shelves housing innumerable books, games, and artefacts from the family's travels. The walls are all soft ochre. "I remember being so glad," says Rossi, somewhat misty-eyed, "that Trudie insisted we keep all the old paint, even if it was a little cracked in places and, where possible, restore not replace."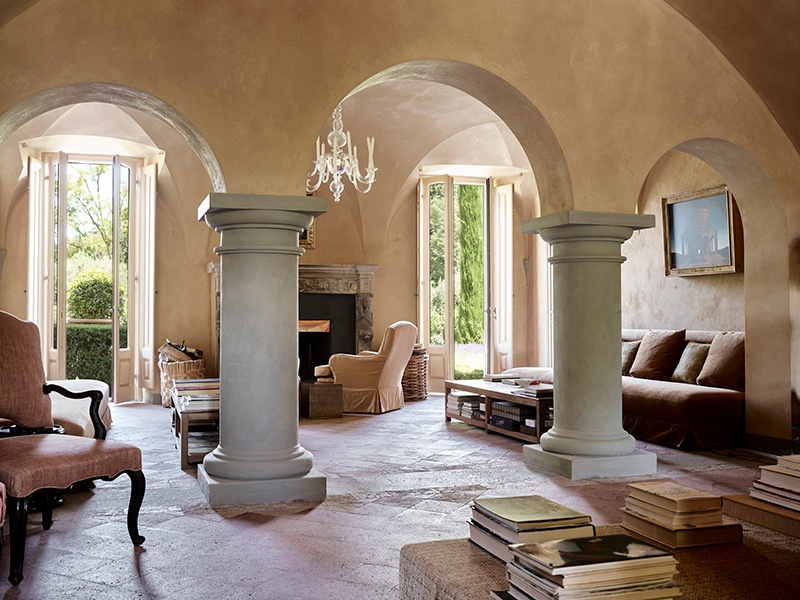 Upstairs, the nine villa bedrooms are cool, spacious and serenely un-upholstered. Simple dark-wood furniture complements vast beds dressed in white linens. Every window captures the rolling landscape. The Madonna suite, named after the queen of pop's first sojourn, is the only one that discloses its connection to the list of Sting and Styler's well-known friends who've visited.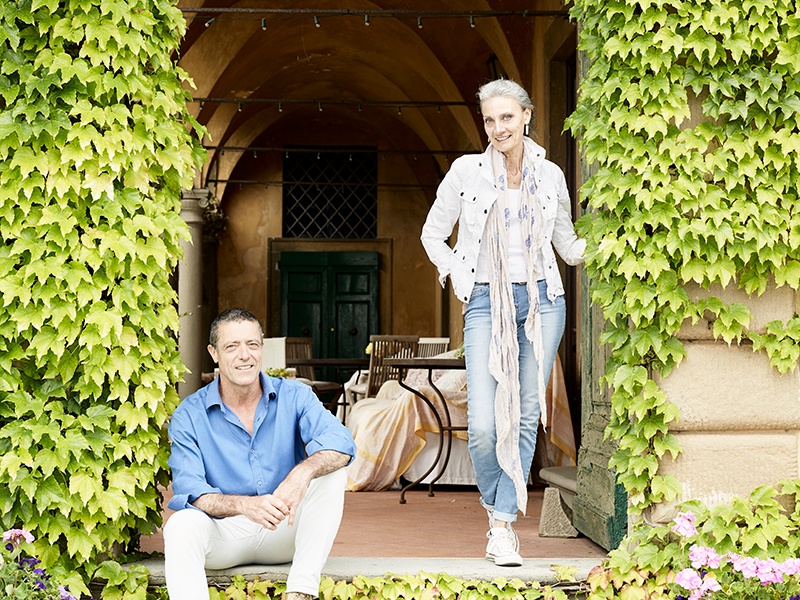 Il Palagio's two international incomers aside, the entire staff (60 in high season, 15 in winter)
are not just Italian but local; some even cycle to work. Central to sustaining the family feel that so charms Il Palagio's guests are Rossi and his sister, Bina. "We're the family in the middle," says Bina. The Rossi siblings were both born here and have lived on the estate their whole lives.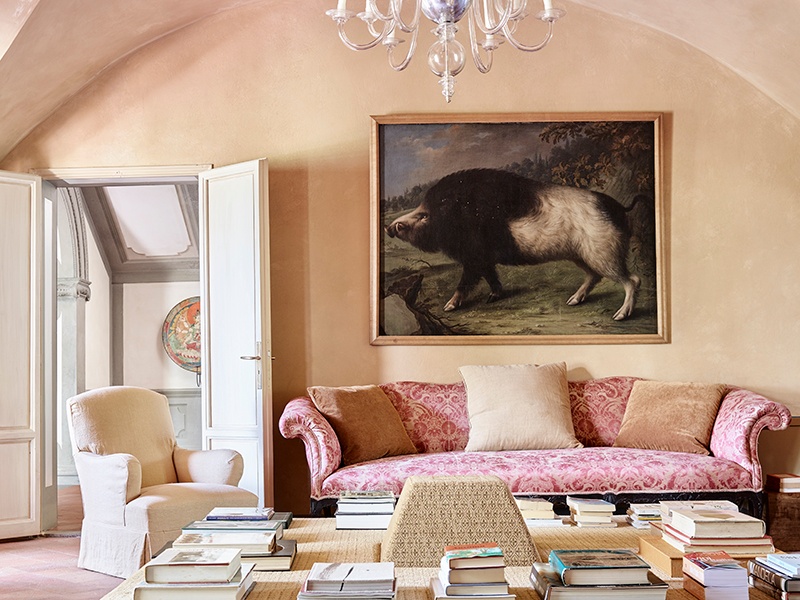 Bina's housekeeping team, whether ferrying poolside drinks or serving glorious fragrant salads from the organic kitchen garden on the long outdoor communal tables, all speak excellent English, with Tuscan warmth running through their veins. The cucina, run by four talented chefs including Vanessa Benieni, is the heart of the home, with enormous stoves, an open wood fire, and copper pan regalia on the walls. There are no foams or deconstructions here; Benieni's dishes are just like those Nonna used to make: if a tiny flower graces a dish, it's only because it looked pretty when she meandered through the garden that morning.
Surprising to find so many personal photos of the family dotted around? They remind you, as if that were needed, that this is a home, not a hotel. The extended family gather here when they can (though never coinciding with guests), and when they do, even more layers of personal presence are added to the atmosphere.
Each wine is an expression of our land
It could have so been different. Paolo saw the 1997 transfer of ownership as a sign to look for new horizons. But as soon as Styler and Sting met him, they made Paolo's staying on a condition of sale. Initially skeptical, thinking that his beloved Il Palagio would become an itinerant celebrity's plaything, Paolo was quickly converted.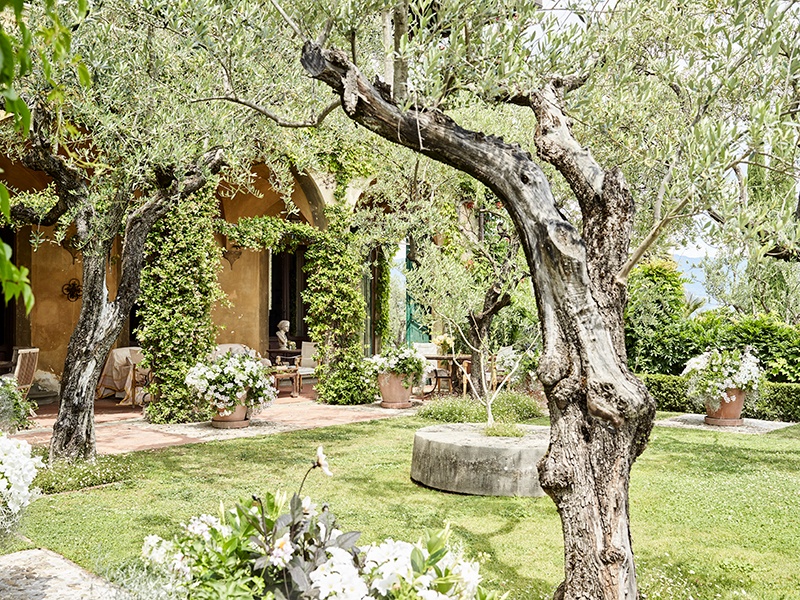 "Sting and Trudie came across as totally genuine people," he says. "They didn't want a VIP holiday mansion, they wanted to create a family home. If you compare the estate in its unloved state to how it looks today, you can see how much respect they have. They felt the soul of the place."