Adam Dant creates narrative drawings based on contemporary public life. Meticulously researched, the works have been described as similar to those of Hogarth, who also chronicled the world around him. In 2002 London-based Dant was awarded the Jerwood Drawing Prize for his Anecdotal Plan of Tate Britain, and his work can be found in the collections of a number of major galleries, including The Museum of Modern Art in New York. We talk to Dant about the Christie's project, other work, and early influences.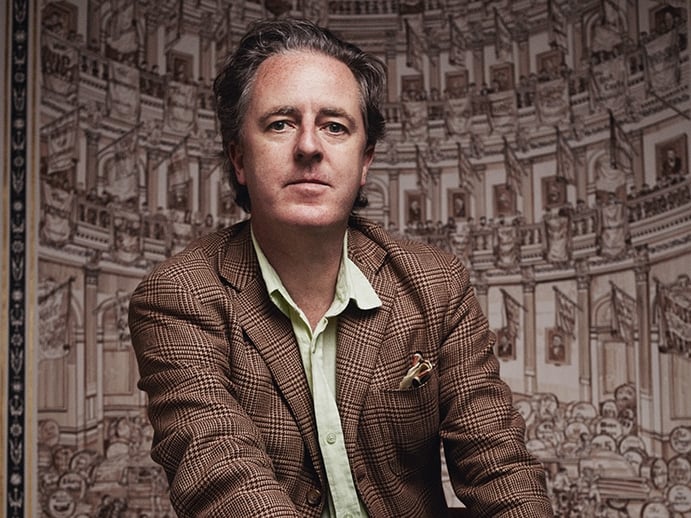 What have you done with Christie's to celebrate its 250th anniversary?
I've drawn a detailed timeline of 250 years of Christie's history to celebrate its big moment this year. My engagement with the extensive archive at Christie's is, from my own artistic interest, to identify the auction house as a conduit for, and an unwitting witness to, the history of the world.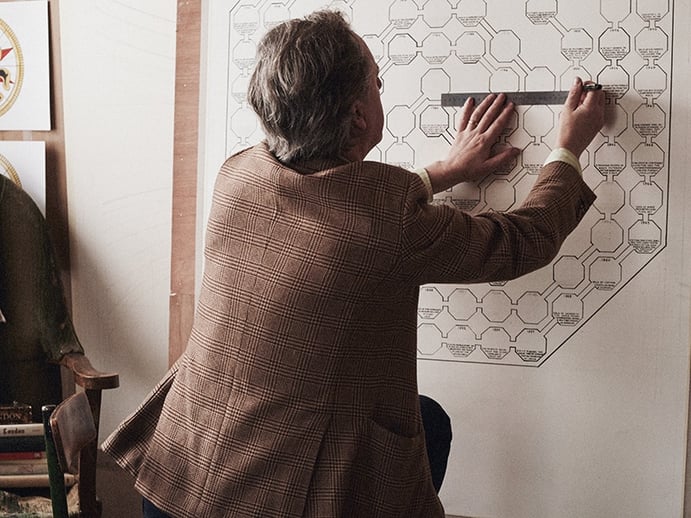 How did the collaboration come about?
Much of my work as an artist involves examining institutions, such as the UK Parliament or City of London, and visualizing them as systems, or as attractive and strange vistas. Christie's has many captivating factors in this respect: it has a chronology that, given a bit of time, could be woven to embody or encapsulate the history of the world.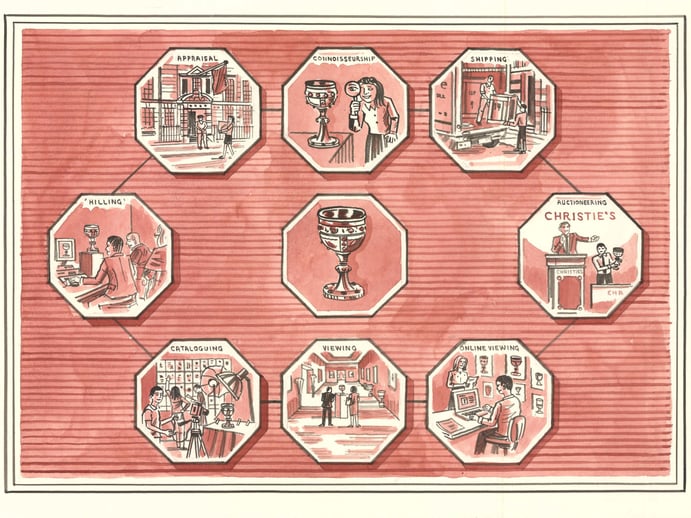 Was it your childhood dream to be an artist?
More of a childhood necessity. Once my teachers at primary school noticed that I was painting and drawing all the time they sent me straight up a ladder with buckets of paint to decorate the sets for the school's production of Alice in Wonderland.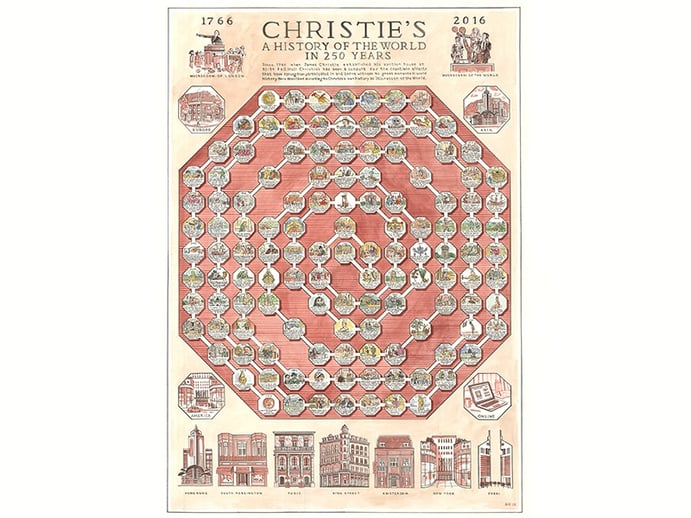 When did you start drawing?
I cannot remember not drawing. My very early obsession with The Three Musketeers was manifested in hundreds of drawings copied from the book of the Gene Kelly movie. The particular purple of the Duke of Buckingham's cloak and ostrich feather plume continues to resonate as vividly as anything in the Uffizi [Gallery, Florence].
Have you always favored ink and gouache or did you experiment with other materials beforehand?
I had to study graphic design for pragmatic reasons. Making drawings for graphic reproduction in solid black line made me appreciate the wonderful work of Aubrey Beardsley, Albrecht Dürer, Hans Holbein, Félix Vallotton et al, and the stuff I saw in the daily print media, [cartoonists] John Glashan, Bernard Kliban and fellow son of Cambridge Ronald Searle.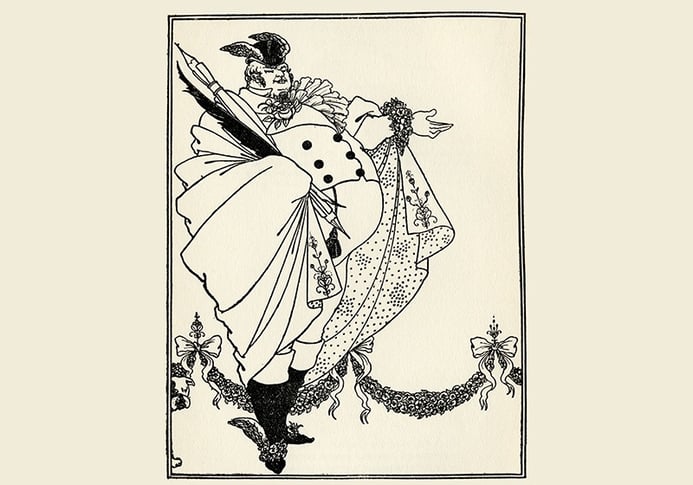 Tell us a bit about your background.
I was born [in 1967] in the fens near Cambridge. It was cold, muddy, and windy all the time. The people were all farmers, scrap merchants, and watermen – proper fen folk. I grew up in The Fitzwilliam Museum, where my mother would dump me during Friday shopping trips. I'm not sure what would have happened to me were it not for Cambridge, it was like growing up in a fantasy world.
Where are you based these days? Where do you live? And work?
I've lived and worked in East London since 1993. When I first settled here I lived in my tiny studio; a former taxi-cab office, sweet shop, Huguenot fish-and-chip shop, and in the 18th century, a shop selling rabbits. Around the corner were master lithographers, lithograph plate-makers, letterpress printers, foil blockers, guillotine-blade sharpeners, and everything an artist with an eye on print could dream of.
Your work has been described as Hogarthian. How would you describe it yourself?
Hogarth is certainly to the fore nowadays as the artist chosen to embody the spirit of London. This is perhaps due in part to similarities between his and our age – for example particular types of politician, big disparities between rich and poor, a fascination with the nitwittery of celebrities. I make a lot of drawings and maps of London's public spaces and institutions, and often include reference to the history and the ghosts of these places, so Hogarth and his age crop up regularly.
You like to have narratives in your work. Why? Give us a couple of examples?
In British Drinking I depicted the crossroads outside my studio, which is now a destination for all manner of bacchanalian, and worse, "delights." The narrative is constructed from the vast lexicon of British terminology for drunkenness.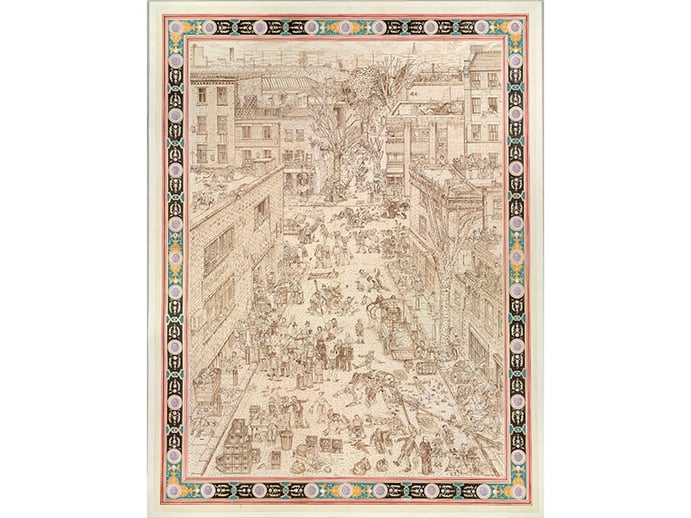 Once the viewer realizes this, the picture becomes something of an animated puzzle for them. I am keen on the notion that something produced with minimum means – a brush and a bottle of ink – can sustain the attention and engagement of the viewer for a similar length of time as the latest Tinseltown blockbuster.
Your work, as one critic put it, "creates dense, elaborate narrative drawings that examine and depict public contemporary life, space, mythologies and histories." How do you decide on the subject matter of a work?
Quite often a subject will present itself to me. It might be something that I've been observing over time, and suddenly an opportune moment or situation will arise for the construction of something based on all these random observations and research. This was the case with my recent exhibition at Bloomberg, where I presented a 13 ft-wide drawing depicting 2,000 years of one city block in the City of London. The site I depicted was the former location of a Roman mithraeum, Sir Thomas More's home, [portrait painter] George Romney's studio… it also happened to be where Bloomberg is building its new European headquarters.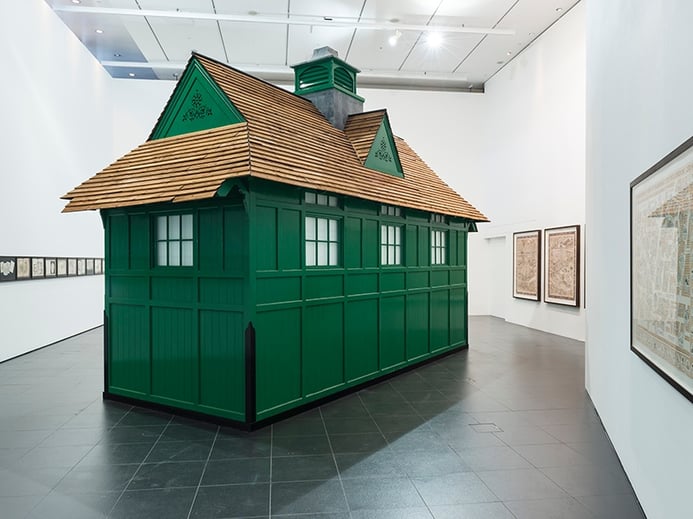 In 1995, you created the Donald Parsnips Daily Journal, which appeared daily for five years. Tell us about it.
Donald Parsnips Daily Journal was an eight-page A5 pamphlet, which I produced every day in an edition of 100 and handed copies to strangers in the street. At the time I didn't have the space to produce studio work as an artist, so I'd often work in public – on the bus and so on. It was possible that early pamphleteers would have handed their work directly to their readership. Donald Parsnips Daily Journal as an operation had the same notion of there being an absence of mediation, just as the work of art traditionally has no mediation between artist and viewer. This is how I imagined that a newspaper could become a work of art, handed directly to its readership. The pamphlet often embodied the general zeitgeist of wherever I happened to produce it that day in a "Dadaist" fashion. It appeared in French, German, Italian, and, while I was in Egypt, in Arabic produced on papyrus.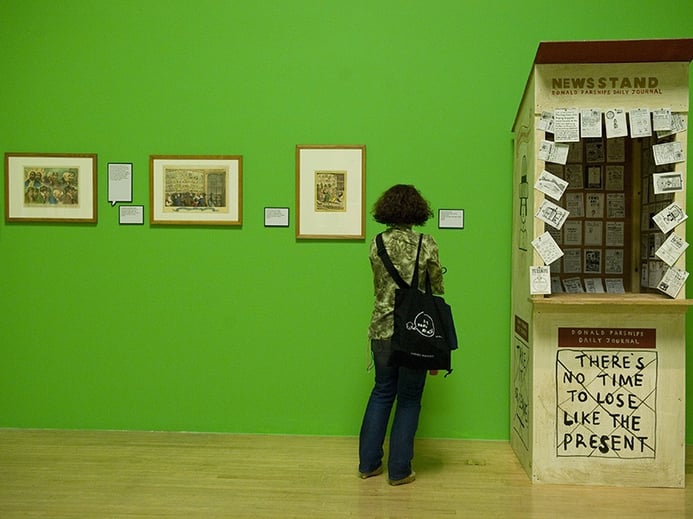 You were official Election Artist documenting the 2015 UK general election. What was that like?
When I was selected for interview for the job of UK Election Artist I showed the speaker's advisory committee on works of art a series of reportage sketches I'd made during the Scottish Independence referendum. The MPs on the committee seemed to like my approach of witnessing the action first-hand with a crayon and a sketchbook, which curiously got me closer to political campaign action than if I had been behind a camera or snapping away on a smartphone like everyone else. The sketches I made during the election campaign of various canvassing events and the like served as an aide memoire for The Government Stable, [click here for interactive version].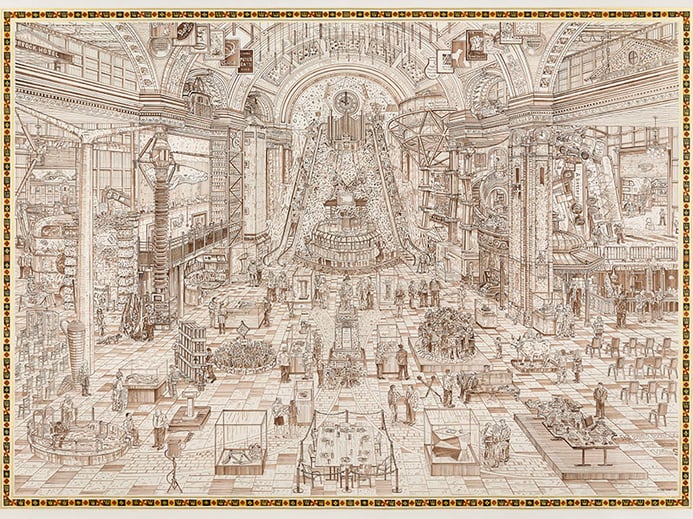 What do you like to do when you are not working?
My wife and daughter are extremely intelligent and inventive people. I like to spend as much time as possible arguing with them, which is why I often enjoy drawing at home on the dining room table, the breakfast table, and that bit of the drawing room table that is mine before it's covered with printouts of essays by 19th-century Viennese authors – my wife writes fiction and has been reading a lot by Viennese writers.
I am keen that something produced with minimum means can sustain the attention of the viewer for a similar length of time as the latest Tinseltown blockbuster
Which artists do you admire, and why?
If one wants to understand the motivation of the artist, the letters of Van Gogh are the crucible, as is the testament of [sculptor] Henri Gaudier-Brzeska. When I was 15 I gave my mother his biography, Savage Messiah, as a gift. When she finished it she said to me, "My god, what a pathetic loser!" That made him my hero, along with Louis Aragon, the Comte de Lautréamont, Huysmans, Buñuel, Jarry, and all the other artists for whom the order of the day was a haphazard irrelevance.
What music do you listen to?
I was in a garage band as a teenager, and I still listen to Texan 1960s garage punk music. Every song is the same. I also listen to Bach and complete Beethoven piano sonatas, and it's Riviera Radio between 6am and 8am, and Mozart's requiem when things are going very well.
If one wants to understand the motivation of the artist, the letters of Van Gogh are the crucible
How would you describe your working style?
I can make whatever I have to make anywhere. The idea of an artist's studio nowadays best serves the estate agent rather than the artist.
What about your personal style?
When I studied printmaking, I was told that you should be able to edition prints in a white shirt and not get inky. Maybe as a consequence I wear quite smart clothes in the studio. I made some designs for silk squares for Drake's, the tie manufacturer, and was paid in neckwear and some rather nice shirts and jackets.
Tell us your plans for winter and beyond.
I'll be realizing a project at the Louvre involving the animation of malevolent objects in their arts decorative collection "the bibliotheque maciet" – next to the Musée Des Arts Décoratifs on the Rue de Rivoli, Paris.